3578 Farnam Street
Omaha, Nebraska 68131
(402) 345-1708
It's no secret that I started reviewing bars for one reason…to have an excuse to get out of the house on a weeknight and pound a few beers! Of course, that excuse has been wearing thin at home, so I graciously invited my wife out on a Friday night to have a few beers with me and help to review a bar or two. I decided to let her pick the place (within my price range of course) and with very little deliberation at all, we were off to the
Crescent Moon Ale House
.
First Impressions
: This is pretty much a college hang out, but with people of all ages all around the place. The bar has real "old school" bar stools (a plus in my book), a big Pee Wee Herman-looking bike hanging from the ceiling and signs for craft beer everywhere. All I can say is "good call so far wife!"
The Bar
: What is unique about this place is that it's really three bars in one. Where we sat was the Ale House, but there also is a German beer hall downstairs and Belgian beer tavern attached to the other side of the Ale House. There are roughly 30 beers on tap and, and as best as I can tell, another 600 (or so) bottled beers available as well…including a Belgian strong ale that is 10.5% alcohol. This is NOT where to go if you're strictly a But Light drinker.
The Crowd
: College kids. Old dudes. 30ish couples. Some people in overalls and others dressed to the "Nines". In other words, a little bit of everything. Everyone in the place was very friendly and fun to talk to. We were there around 8:00 pm, so my guess is that as the night wears on, it's more of a college crowd. But who cares? With this many choices of craft beer and the diversity of the people having a good time in the place, I have to assume that there is never a bad time to come here.
Service:
I will go on record as saying that this was the greatest bar staff I have encountered in many, many years. The staff behind the bar were mostly women, always hilarious and all of them looked like… that in a different era…they would have been the cool chicks working at the local eclectic record shop. But, better yet, the second we sat down our bartender told us the special of the night immediately ($2.75
Abita Turbo Dog
). And then she went out of her way to tell my wife how to save some money on her food order AND insisted on pouring my wife's Boddingtons (in a can) for her. Attention bar owners in Omaha, please send your staff here for lessons on how to treat customers properly.
Prices
: For the extensive list of beer that this place has, the prices are surprisingly cheap. Like I said, I was drinking pints of Abita for less than three bucks. A pint of craft beer will run you between three and four dollars, and a pitcher of the same will cost you somewhere between $10-12. Considering the alcohol content of some of the beer they have in-stock…you're getting a pretty good buzz for your buck. I even spotted a sign for $3 Hurricanes somewhere on the wall as well.
Food:
Typical bar food menu…burgers, sandwiches, many things of the deep-fried variety. I had the Buffalo chicken sandwich and it was pretty good and reasonably priced. Mrs. HitThatDive had a burger (no bacon) that also looked pretty good. This is not a place to come if you're in the mood for anything more than your basic pub grub. But even if you find a bar with better food in the area, I guarantee you that can't beat the service and beer list here.
A/V:
There are six TVs around the bar area and the sound system (cranking out a variety of 80's oddity music) was very good. There also is a dart board, pinball machine and best of all, a tabletop video game that has several classics…most notably
Galaga
. (Men, here's a tip, if you go to the restroom and notice there are 3 credits on a video game, it might be a good idea to let your date know that you're going to make a side trip on your way back. I was KILLING it on Galaga but then noticed my wife did not look all that thrilled with me once she spotted where I was sitting. You have been warned).
Restrooms
: Don't know why, but I really was thinking these might be the only letdown in the place. And to my surprise, I was wrong. The were clean and bigger than you would think…the men's room was of the
Chuck Woolery
variety (two and two)…meaning two urinals and two places to have a seat.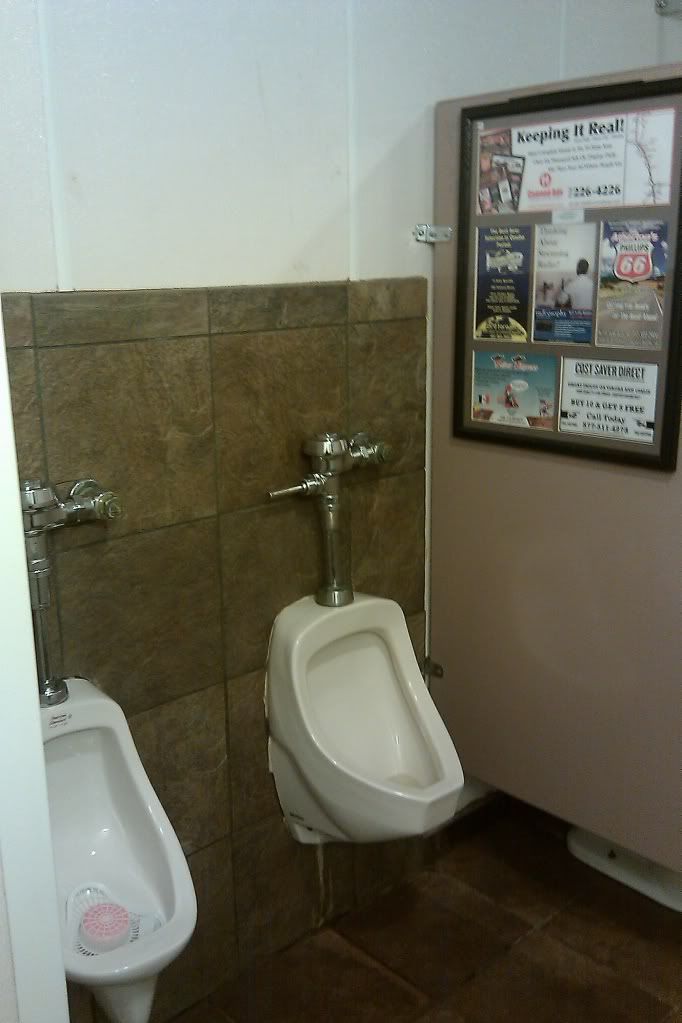 Bartender Chat
: We talked to all the staff about many things from raising kids to how drunk people get at the annual Oktoberfest that the bar sponsors every year. But the real conversation centered around one topic, "Do people with ugly babies know that their children are ugly?" At one point most of the bar staff and several of the people at the bar debated this topic for quite some time. The verdict was split. But, more importantly, you just have to love a place where everyone, including the staff, gets in on totally meaningless bar babble.
How Far Did My $20 Go: Sticking strictly with the special of the night, $20 would have bought me seven Abitas…not too shabby. Of course I had the old lady in tow, so that cut into my drinking money.
Final Impressions
: This is a bar that other (and more expensive) bars in the country should aspire to be. It's hard to find a flaw with this place. Great service. Great crowd. Incredible beer selection all in a relaxed dive bar atmosphere. I cannot stress enough that you should
HIT THIS DIVE!
DIVE-O-METER
9