The Captain Loomis Inn
540 Main Street, Clarion, PA 16214
814-226-8400
I found myself in Clarion, Pennsylvania on a Sunday and needed somewhere to sit and watch the Pittsburgh Steelers game. I grew up a few hours from here, but I had never set foot in this town until this review…so I had no idea where to go. I flagged down a couple wearing matching Steelers jerseys (how cute) and asked them where they would watch the game, the answer, The Captain Loomis Inn. Works for me…so off I went!
First Impressions
: The sign out front claims the place has been serving "Food & Drink" since 1845, it doesn't look like a building that is THAT old…but what the hell do I know? I walked in the front door which took me directly into a restaurant with no bar to be found. A walk of rather confusing left and right turns got me out of the restaurant and into the bar area which was huge and pretty empty…granted it was just 12:30 on a Sunday. But what the hell, I'm here for the next three hours people or no people.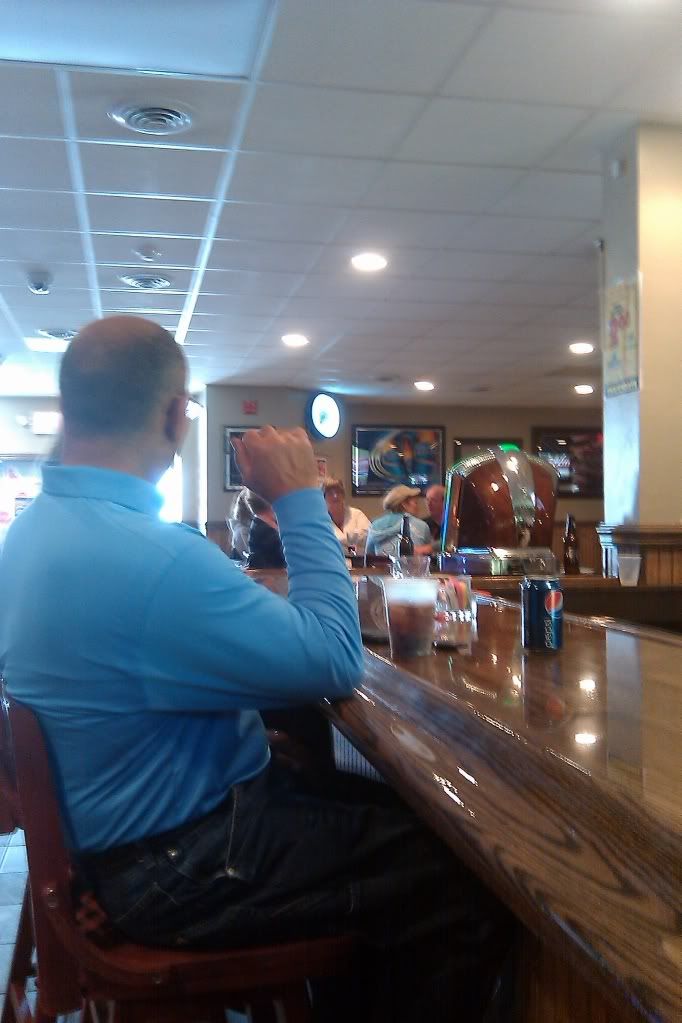 The Bar
: Like I said, this was a pretty big bar area…think of the size of the party room at your local VFW…just less drunk volunteer fire fighters. I will say this, the place was very clean, had a bar that seemed to seat in excess of 30 people comfortably and seemed well-stocked with anything you would want to order including a gigantic cooler of takeout beer.
The Crowd
: As the day wore on the place filled up very quickly with a good combination of bikers and college girls (a seemingly dangerous mix). As it turns out, I was sitting next the owner and his wife for the second half of the game. Seemed like a nice enough guy who wanted to run a bar that people wanted to come back to…and most of the people that came and went during the day seemed to know him by name and vice versa. This is a big bar in a college town so I can only assume this place is crawling (literally) with drunk college kids on the weekends. The college crowd that showed up to watch the game all looked hung over from the night before…and were generally quiet…even during a Steelers touchdown.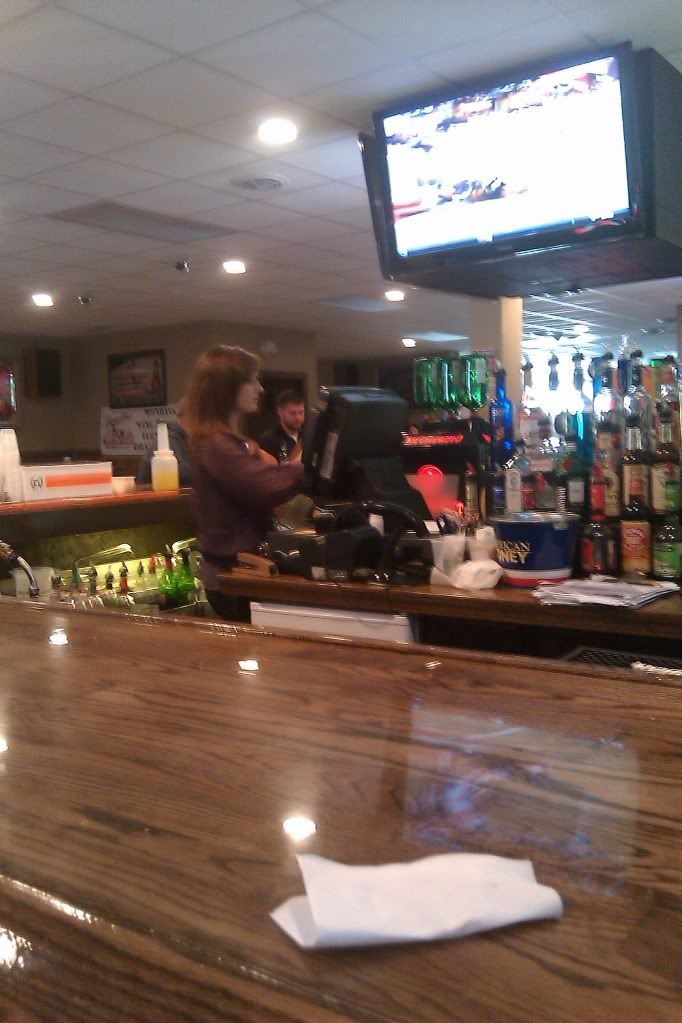 Service
: I will say this, the service was not horrible, it wasn't great either. BUT, if you're a single guy that goes to the local university, you will have no complaints when it comes to looking at the bar staff. There were two girls working behind the bar and both were your typical cute coed-type college chick. Not a single guy in the place complained (including me) about the service, even if they were a bit slow here and there with the drink orders.
Prices
: Here's a tip to bar owners who don't do this already…have your daily special clearly marked somewhere in the bar. The second I sat down I knew I could get $1.50 drafts all day on Sunday. Or, $1.50 Captain and Cokes on Thursday, OR $.99 Rolling Rock drafts (which I would never order because they don't make it in Latrobe any longer) on Tuesday…you get the point. This is a cheap place to drink if you know what the specials are.
Food
: I ordered some type of cheese steak sandwich. It was OK, not at good as I had hoped for. On the other hand, I was there for cheap beer and football…so who really cares.
A/V
: Great place to watch the game! Lots of HD screens all over the place, and all of them were set at good viewing angels which made it very easy to watch the Steelers kicking ass that afternoon. And, because the Captain Loomis Inn does a good job of advertising their specials, I also learned that on Monday nights they also offer free pool and free juke box (had I been in town longer I would have back to this place the following night thanks to good marketing).
Restrooms
: Funky (In a good way). The restrooms in no way match any other part of the place, but may be some of the coolest-looking places to take a leak anywhere I have been in a while. They were black and red with matching red sinks, not sure why they went to high end in the restroom? But who cares…they were clean and big!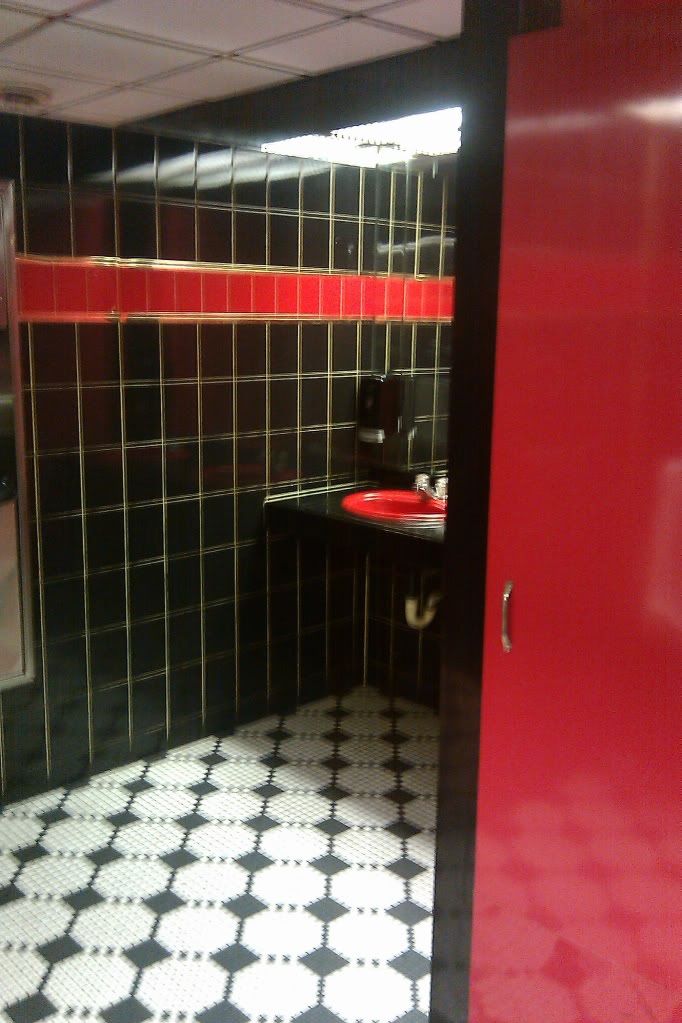 Bartender Chat:
I noticed more than a few people come in from outside and buy some type of alcohol in big, colorful cans. I asked the young coed what the hell she was selling and it turned out to be 12% alcohol fruit flavored malt liquor. She let me know that for about $2.75, you can buy a can of this shit (most people were buying two) and get pretty hammered in no time flat. In doing some research they contain almost as much alcohol as four cans of Budweiser….that's plenty to get some adults legally drunk if consumed within an hour or two. Thanks for the head's up bar girl, remind me never to be on the streets of Clarion after dark.
How Far Did My $20 Go
: In three plus hours of football, I had six beers and some food and still had enough money leftover from my $20 to leave a 20% tip (even if it wasn't completely earned).
Final Impressions
: For a place I stumbled (not literally) into just before kickoff, it turned out to be a good little find. Not great, but certainly not awful. I would recommend checking this place out for any sporting event you wanted to watch at a bar, or at the very least, a place to go for a few cheap drinks with cute (albeit a bit slow) bar staff.
Dive-O-Meter
5.5