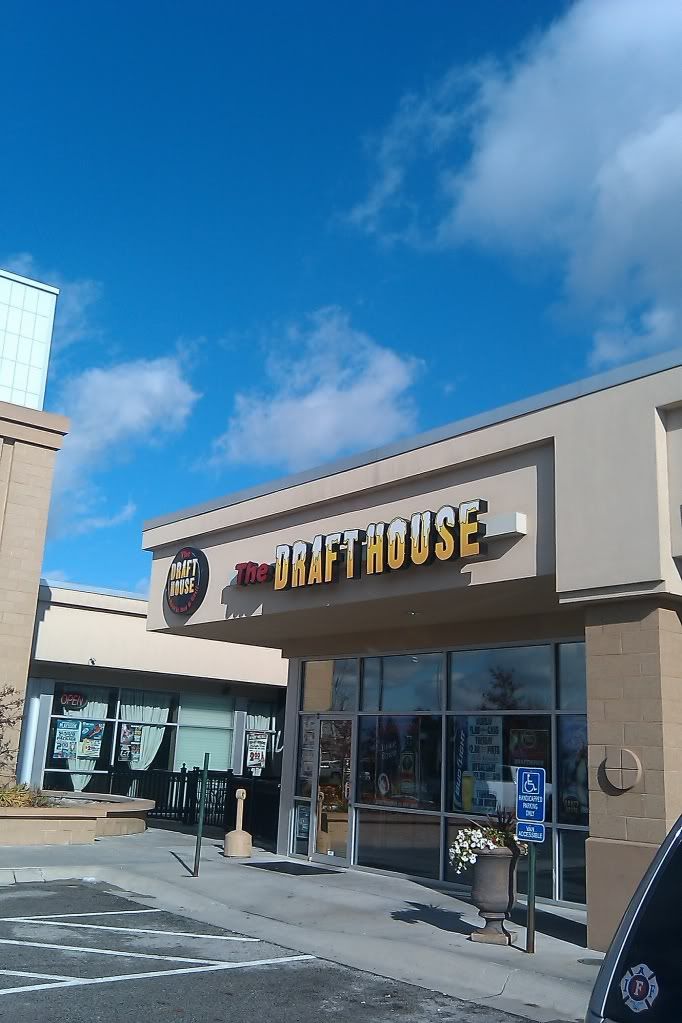 The Draft House --

Sports Bar Edition
1201 S 180th St
Omaha, NE 68130
(402) 884-2845
This is the first in a series of weekend reviews of places that claim to be "sports bars". As a Pittsburgh sports fan, that no longer lives in that part of the country, I rely heavily on sports bars to watch Steelers games during the season. But, as you quickly learn, not all sports bars are created equal.
So with that in mind, first up is West Omaha's Draft House that claims to be a sports bar (and grill!). Now, I've been in the place more than once in the past and know for a fact that it also can claim to be a meat market, a good place to see a fight, or a place where the bar staff, at one time, would flash their tits for $5. But, is it really a good sports dive? I decided to put the place to the test on a Saturday afternoon before the Huskers played a night game. Knowing that Omaha is a big college sports town, I figured this was a good way to see how good of a sports bar/dive the Draft House really is…or isn't.
First Impressions
: I've been in here many times so I know what to expect (at least looks-wise) when I walked in the door. For 2:00 pm on an action-packed afternoon for college football the bar was quiet and had a whopping 6 people in the place. The upside is that I will not have a hard time finding a seat, the downside is that empty bars usually make for boring reviews. Oh well, the show must go on.
The Bar
: There were three people sitting at the bar and another group of 50 year old gamblers at a table on the back wall. The Draft House lives up to its name with roughly 20 beers on tap including the usual list of swill beers, but also a few other higher end choices like Bass, Smithwick's 2 Below and Guinness. Like most bars these days, they carry enough vodka to drown a horse and they also have the seemingly required chilled Jager machine. The room is a big "L" shaped area with a long bar, DJ area, tons of tables and now even comes equipped with a stripper pole (is stripping considered a spectator sport?).
The Crowd
: While the place only had a handful of afternoon boozers, they were all very into the games that were on TV. Even the one and only woman in the place seemed to be watching the various games on TV as intently as the dudes she was there with. By the time I left, the crowd grew to about 15 people….but keep in mind…if you're coming here for a Husker game arrive early. I have seen this place packed for a Big Red game before.
Service
: Since the Saturday afternoon crowd can be described as sparse, there was one bartender on duty for the entire place. She too was a football fan, cute (like most Draft House staff seem to be), and pretty good about keeping my pint from getting empty. Although, how hard is that to do when I was one of seven people seated in the place?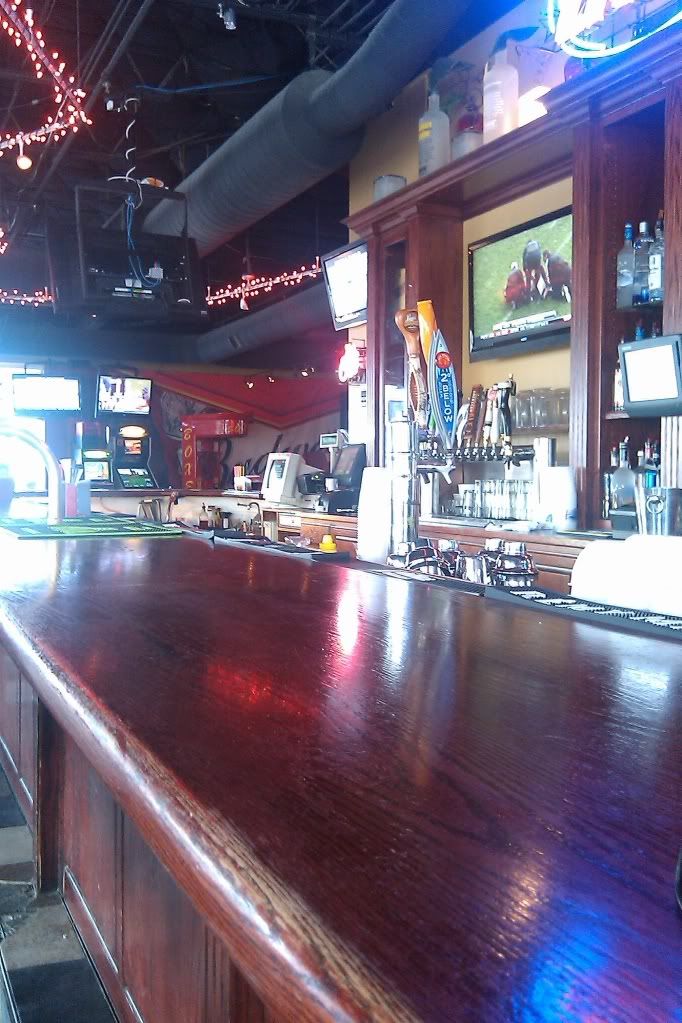 Prices:
I was drinking nothing more than Miller Lite pints and paid $3.25 each…not a great price. I asked about any football-based specials and found out that there are NO specials on Saturday afternoon. However, I did see a sign for a Miller Lite "special" during the Nebraska game. The "special" is that they take a whopping .25 cents off of the regular price making it three bucks. WOW! They also sell $10 buckets during Husker games too. A few signs in the bar alerted me to a few other specials during nights where there are big sporting events. Monday Night Football has $1 Bud cans. Thursday night football has $10 buckets. Sunday night football offers $10 buckets along with 25 free wings. And even though Wednesday nights aren''t a very big sports night, they have their best special of the week then which is 34 ounce beers for three bucks.
Food
: I didn't eat there this time around, but have generally always liked their food. Of course all I've ever ordered there are wings and french fries but both are usually very good. They have a full bar menu and the food is generally well-priced…unlike the drinks.
Entertainment:
There are TVs everywhere, but it seems like they are always hard to see no matter where I am sitting. Another problem is that they have DirecTV and COX as their cable provider which means the feeds come in at different times even for the same game. So it's not unusual to be watching one TV and notice that the same game on a different TV in the bar is a good 10 seconds ahead of the one in front of you. It's odd to hear people in the same bar cheering for a touchdown (in the same game you're watching) long before it happens on the TV you're sitting in front of. Other than that oddity, they have the usual Golden Tee and a new boxing machine along with a juke box and the aforementioned stripper pole. (Editors note: Knowing what this place is like on a Friday or Saturday night when it goes from "sports bar" to "meat market" I can only bet that stripper pole sees action the entire night.)
Restroom
: I remember the men's room in the Draft House being cleaner than it was on this trip. In any case, it's big, pretty clean and has a TV above the sink so you never have to miss sports action even if you have to take a whiz (or is it wizz). That's a nice touch I must say.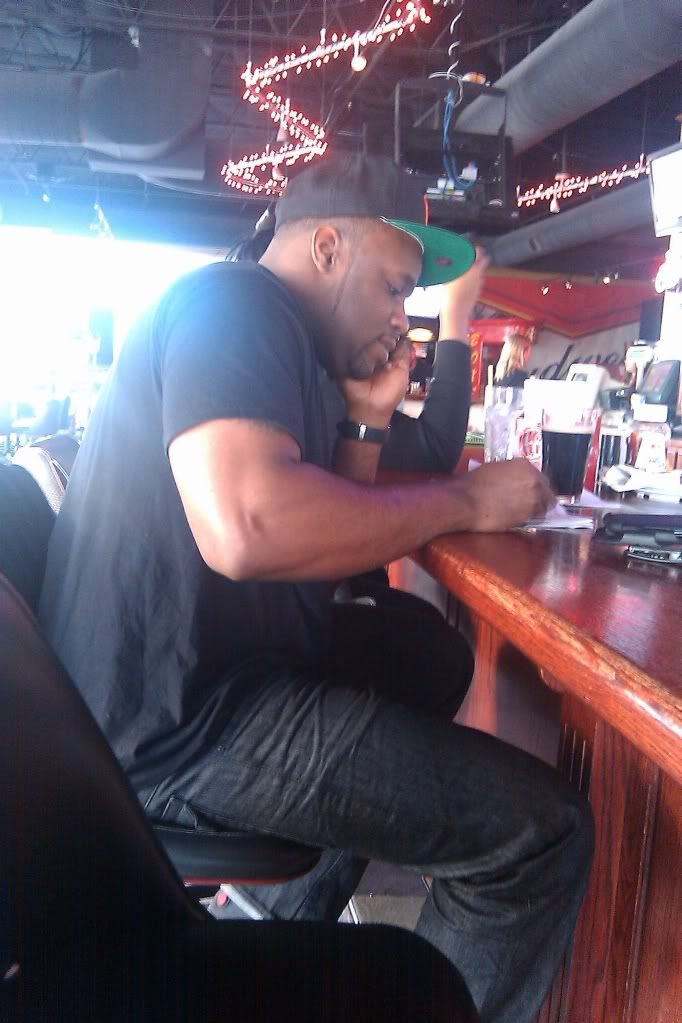 Bartender Chat
: Maybe it's just me, but in the few years I've been gong to the Draft House, I have never really ever had a conversation with any of the staff. They usually bring you your order than go stand at the end of the bar checking their phones for new text messages. So other than "What can I get you?" "Do you want to start a tab?" and "Do you want another beer?" There is never a lot of bartender chitchat going on…but like I said….maybe it's just me.
How Far Did My $20 Go
: This way pretty disappointing. Even at the height of the college football-watching day, you can get roughly 5 pints of domestic beer at the Draft House, depending on how much you're going to tip. And even had I stayed for the Husker game, I would have only been saving a quarter on each beer I ordered. Definitely NOT the best prices in town.
Good Place for Sports
: Ummmmmmm…sure. Is it a great place for sports…(Other than Nebraska games?) not so much. It's not awful, but it is no way like going to DJ's Dugout where the place is usually packed with loud cheering sports fans. You'll never walk out of here after watching a sporting event and claim to have had a bad time…it's just there's not really anything going on during the day that would make you think you had a great time. I'm not really sure I would classify this as a sports bar…it's a bar that plays sports on TV…but I think more than anything it's a place to come on weekend nights to try and score a drunken hook-up…and that is a sporting event of a very different nature.
Dive-O-Meter
5