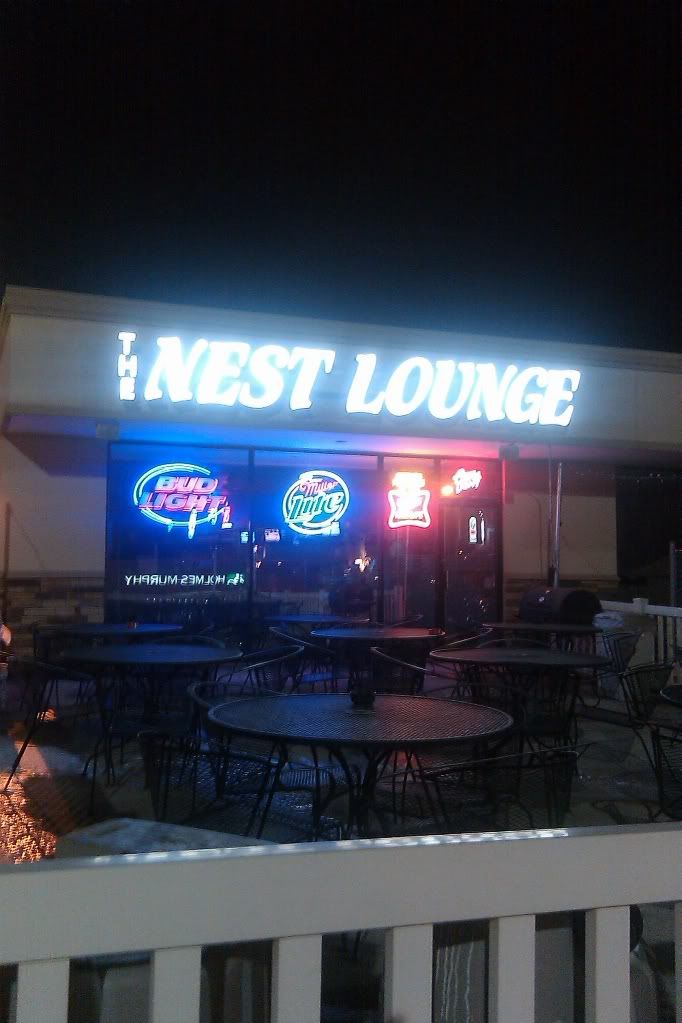 2638 S 158th Plaza
Omaha, NE 68130
(402) 330-4855
A few weeks ago I was reading one of Omaha's weekly city papers and saw an article for a place that said "The lounge chairs and bar stools are exceptionally comfortable, and encourage guests to kick-back, relax and stay for a while." The article (I'm sure it was really an ad disguised as an article) also stated "They have a fun and welcoming environment that has yielded a loyal clientele, and become a favorite watering hole for many." Then I realize…this is the place connected to a pre-school! I'm going!
First Impressions
: Yep…this place is in the same building as a pre-school. Unless the playground in front of the bar is for the patrons? Walking in the door I immediately thought the place smelled like an old Vegas casino, you know the places way (way) off the strip where they still have $2 blackjack. But, it looked like a lounge should look and did seem rather comfortable in a 1970's loungy sort of way. So far so good.
The Bar
: They weren't kidding, there are a lot of places to "kick-back". The bar seats 20 people or so comfortably, and there are roughly 20 tables with padded kitchen chairs on coasters at each table. They do look rather comfy I suppose in a groovy 70's way (hey this is getting "loungier"…is that a word?). Five beers on tap including Sam Adams Winter Lager and the usual domestic stuff. But, in what I can only assume is cardinal sin of Omaha bars, they ran out of draft Bud Light (not that I was drinking it …but still). They have the standard issue Jager machine, but in a new twist I had never seen, they also have its next of kin …a Southern Comfort machine (just writing that gave me the shivers)
The Crowd
: When I got there (which was around 6:15 on a Wednesday) there were 10 people in the place all over the age of 50. By the time a left, several beers later, there were at least another 15 people that came and went including a younger couple and a dude in his 20s drinking alone. By 7:00 pm, a loud table of drunks behind me were leaving to go to another bar (wait….drunk at 7 on a Wednesday?) and if I overheard them correctly, wanted to go to a bar closer to home so they don't have as far to drive while hammered. Can't argue their logic I suppose.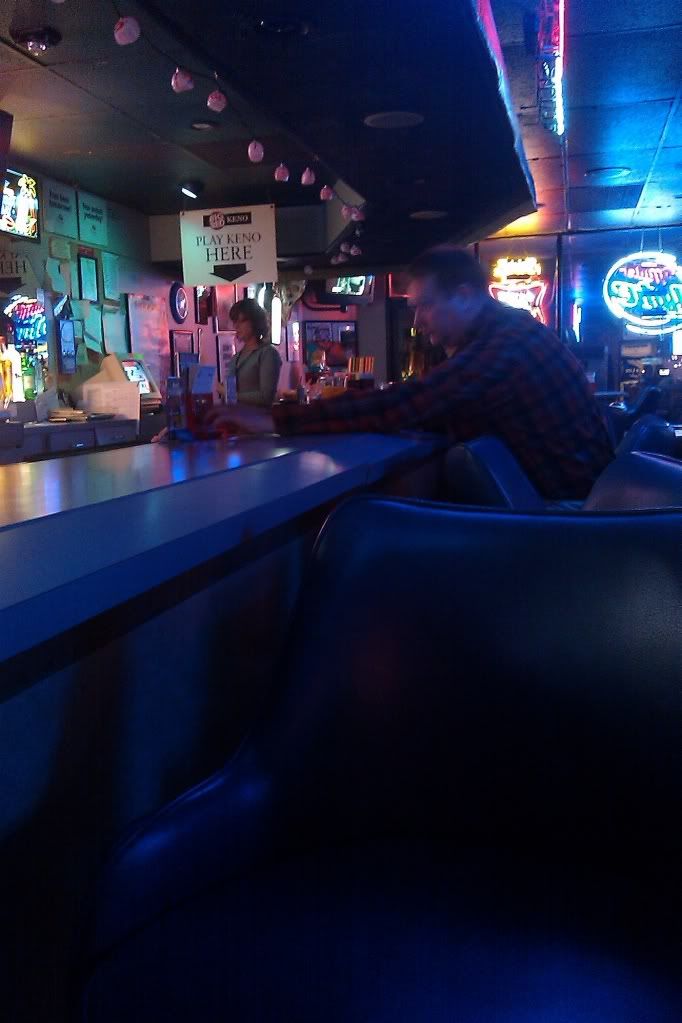 Service
: I was barely even in my "comfortable" bar stool before my bartender for the evening swooped in for my drink order. Nice! This is how great of a bartender she was the entire time I was there…if my pint glass had a low-fuel indicator like my car does, she never even let the glass get to ¼ of a tank before asking me if I was ready for another one. Loungy feel…good service…this place is growing on me.
Prices
: They have some specials listed like $2 PBR all day and $1.75 Miller High Life bottles at happy hour. I, however, was a bit disappointed that I was paying $3.25 for a run-of-the-mill domestic pint. They seem to have some decent weekly specials including $1 draft nights, $5 pitchers on Sunday, and $2 wine, wells and domestic draft on Tuesday. Make it a point to ask about specials when you sit down…that can greatly impact your drinking dollar here.
Food:
No menu…but it seems like they do provide free food every so often including during Husker football games. I also read that they have menus behind the bar from other restaurants that will deliver and they'll let you order food right to your bar stool. I like that idea.
Entertainment
: The standard issue Golden Tee game, a dart board (with the throwing line directly in the path of the way to the restrooms) and a pretty kick-ass jukebox. There are 7 TV's in throughout the bar, although some are on the smallish side. According to the ad I read, "Regulars of the bar boast that the place has one of the best jukebox selections in town." Not sure I would go that far, but it had a great speaker system, and I guy I assume was one of the owners, was playing some great tunes. The place really seemed to pick-up when the music kicked in (or maybe it was the beer kicking in).
Restroom:
Kind of confusing to tell which was the men's and which was the women's. As it turns out folks, men's is on the right. But, the door to each was open, and as you wash your hands in the men's room you can see the sink in the women's (Why I point that out I have no idea.) As far as a useable restroom it was fine. Standard size and not all the dirty. Fine enough as far as I'm concerned.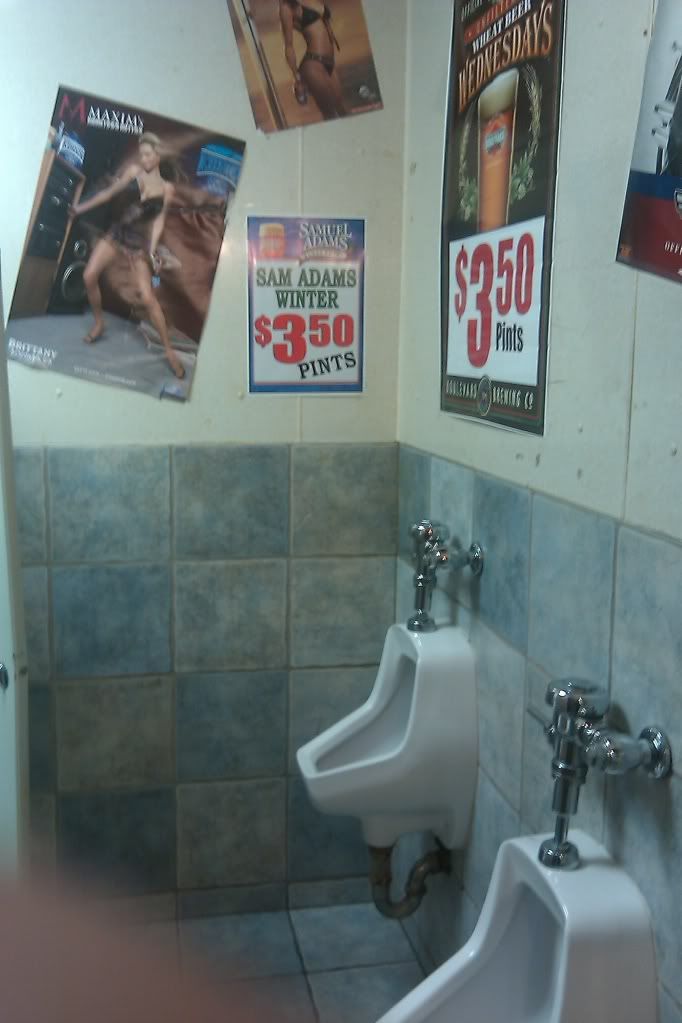 Bartender Chat
: In an attempt to change the "kicked" But Light keg, bartender extraordinaire Joanne removed a bottle of "Sunny D" from the cooler. I asked her how many drinks she makes with a kid's juice, and her answer was "none". Now, I'm not a bar owner, but if I was and my bar was next to a pre-school I suppose I would keep the stuff on hand too. Not sure why, but it just seems like it would be the right thing to do. If nothing else, who's meeting me there for a Sunny D Bomb some day?
How Far Did My $20
Go: Not as far as I had hoped. At $3.25 a pint, that's just enough for five domestic pints and a tip…not quite what I though I would be paying. On the other hand, if you're not loyal to one drink or beer, always go with the nightly special at The Nest. You will clearly get more bang for your buck.
Final Impressions
: They were right…this place IS comfortable. At one point, and maybe it's the time of the year, I felt like George Bailey having a few at "Martini's" bar. This is a good place to come with friends and get loud and drunk, or a place you can come to by yourself and just sit without anyone hassling you. The more I was at The Nest, the more the place grew on me, which is why I am struggling to give it a final rating. Anything above a 5 means you should
Hit This Dive
…and this place clearly scores above that. If the non-happy hour prices were better, I would like it even more. As it is, it comes in better than the
Wet Lounge
but not quite
Zogs
…two other places in the same general area.
Dive-O-Meter
7