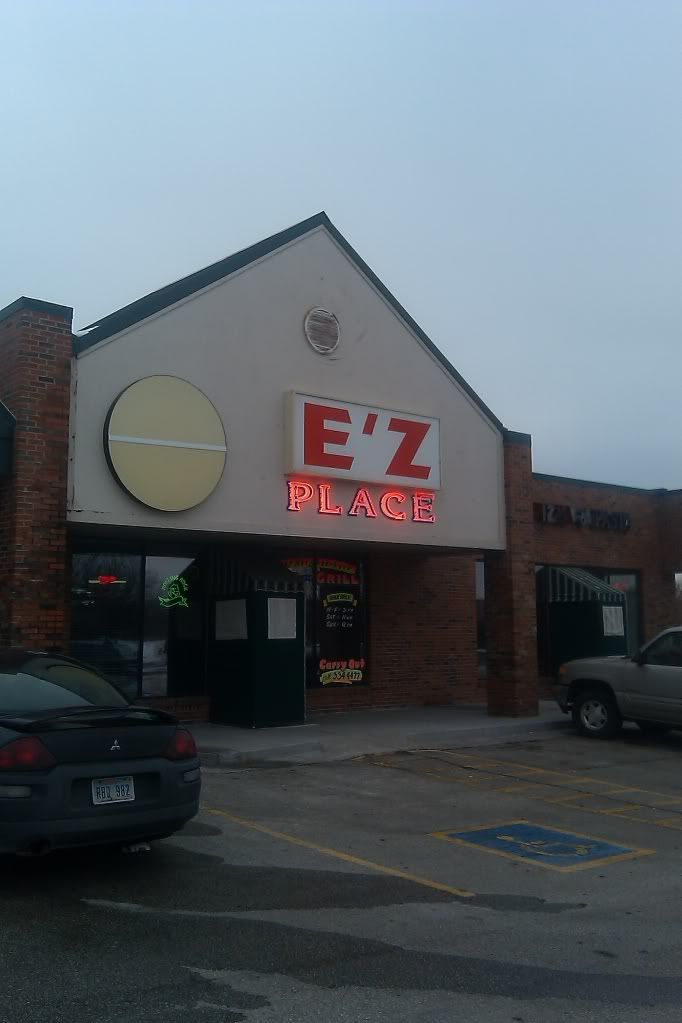 E'Z Place. Hard to find.
15761 W Dodge Rd
Omaha, NE 68118
402-334-4477
Being from Pittsburgh, I am always on the lookout for new places to watch the Steelers play on Sunday. Other than the fantastic
Doghouse Saloon
in Waterloo, Nebraska, I have not found any place that I would consider an authentic "Black and Gold" bar. If you look at the
Post-Gazette.com
, they list a place in Omaha called E'Z Place as one of the few Steelers bars in the entire state of Nebraska. Even though the football season is all but done, except the Super Bowl of course, I figured that I should do a little "recon" for the 2011 season.
First Impressions
: It's a bit of a strip mall maze to find this place. Best way to find it is to go to where the Taco John's used to be off of Dodge and keep your eyes open from there. I opened the front door and was amazed that in exactly one step, you are standing IN the bar. Good for the lazy drunks in the group. It was pretty empty, but not bad looking, and low and behold…there is a framed Rocky Bleier jersey(he yelled at me once, but that's a story for another time) hanging on the wall…this IS a Steelers bar!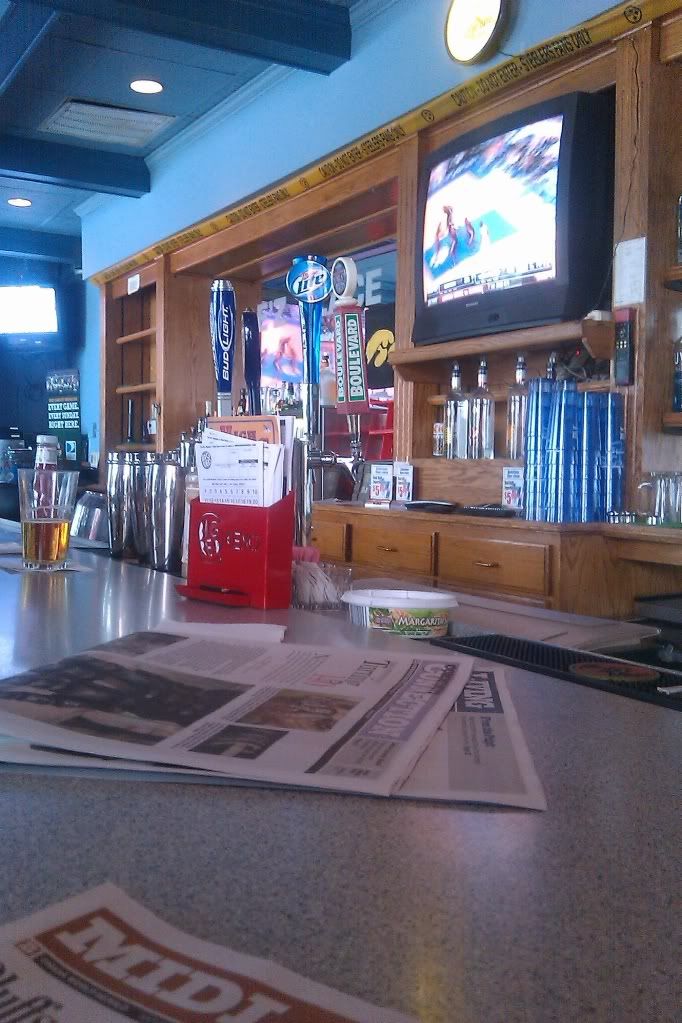 Tidy little place
The Bar
: It's a nice, clean-looking place. Almost too nice…it looks more like the bar in a Hilton airport hotel then it does a place to watch the Steelers play. They have four run-of-the-mill beers on tap and at my count, roughly 20 different types of bottled beer as well. The tidy bar seats about 12 people and there are 15 table in a restaurant area to the right side of the bar. And, true to their word, there is a good amount of Steelers things on the wall, including the mandatory "You're in Steelers Country" banner behind the jukebox. Nice!
The Crowd
: It was 5:00ish on a Saturday, and there were no real sporting events on TV, so the crowd was pretty thin. There were three 20-something dudes at the bar, hat on backwards types, that sat fairly quietly and just basically "chilled". I was slightly buzzed from my trip to the
Poop Deck
earlier in the day so I just tried to emulate the others in the bar, so I too just basically sat there and checked out the Steelers stuff on the walls. I'm usually more lively than that, I swear.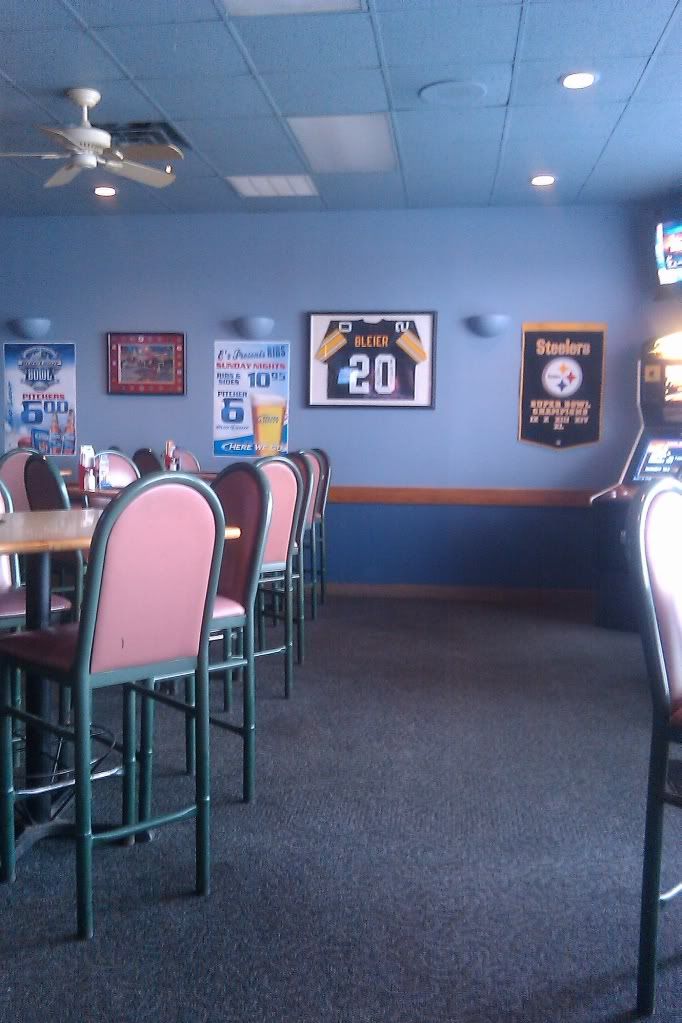 Steelers stuff!
Service
: One cute bartender on duty. Hard to tell how efficiently she can work because the very un-animated dudes seated at the bar were drinking slowly from a pitcher, and I was really the only person who seemed to throw a few beers down quickly. It was great for me because I basically had a 1:1 bartender to customer ratio going on. Hard to bitch about that.
Prices:
I was only drinking domestic draft beer, and each pint set me back back $3. This is just me being cheap as usual, but $2.50 would be a much better price for the place and MAY get a few more people in here on non-Steelers days. But what do I know, I've never been here before. I did see a few signs for $6 Bud Light pitchers on certain nights, so maybe that's the way to go when you're here. IF you like Bud Light that is.
Food
: I didn't eat, but I have to say, the onion rings looked and smelled fantastic! I did give the menu a look, and they seem to have a great selection of bar food including pizza, pasta, wings and burgers. I can only vouch for the onion rings that I saw, but take my word, if you order them you won't be disappointed.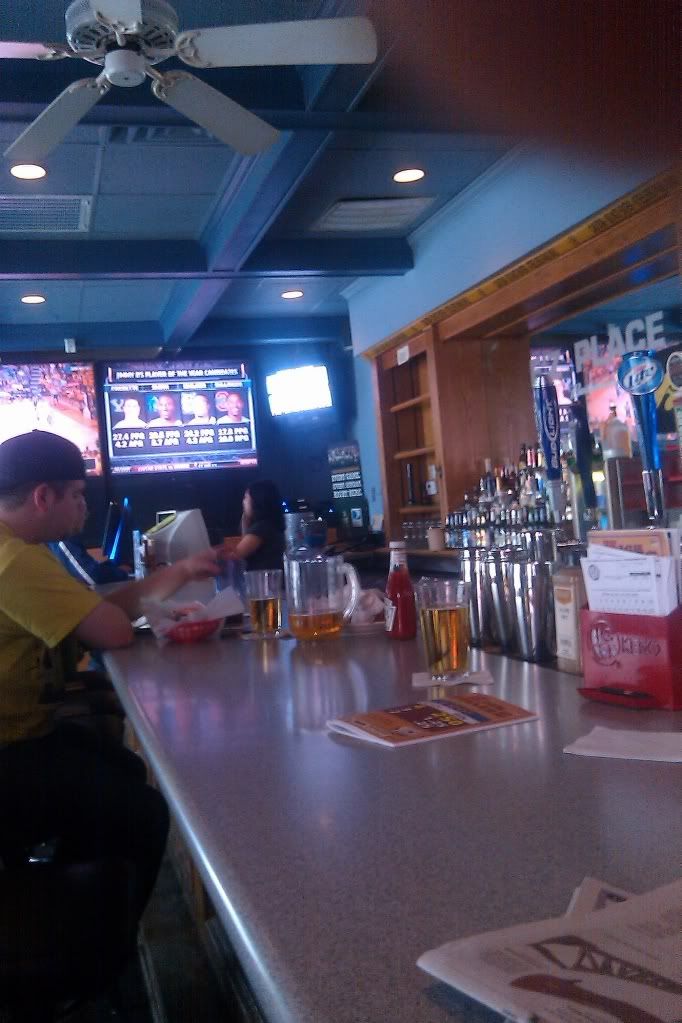 Talk about "nursing"one.
Entertainment
: There are TVs on pretty much every wall, so this does strike me as a great place to watch a game. They have a dartboard in the back of the restaurant area, a Golden Tee game tucked in a corner, and a jukebox on the wall directly behind the bar. I think I saw a sign for a Karaoke night at some point during the week, but I hate Karaoke, so I didn't read the rest of the sign.
Restrooms:
The men's room was big and clean. There were two urinals and two stalls, but hopefully (if you really have an emergency) you get the one stall that has a door. The other one did not include any privacy, just like the doorless stalls in my high school. Maybe people sneak in here to smoke too with all the smoking laws these days?
Bartender Chat
: I learned several things during my brief chat; the owner is a HUGE Steelers (and Iowa) fan and can usually be found in his bar on game days, they don't have a children's menu, and on Sundays the place is PACKED with Steelers fans. That either is a very good thing, or very bad thing depending on who you are. And, don't come here looking for other games if Pittsburgh is playing, even though they have 15 or so TV's all but one will be showing the Steelers.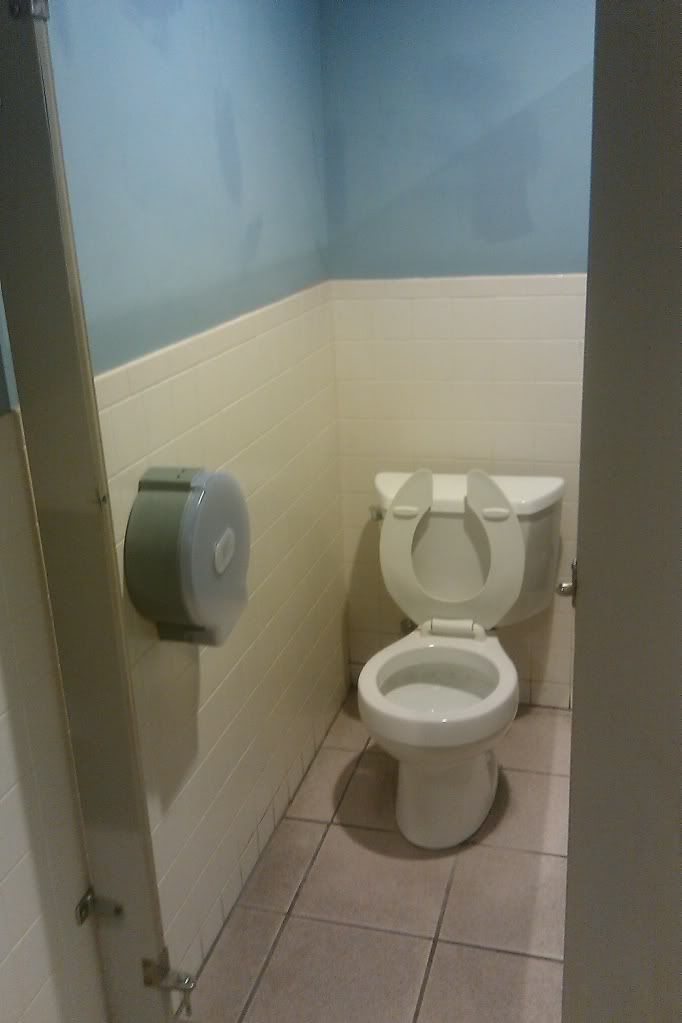 No door??
How Far Did My $20 Go
: Twenty bucks will buy you six pints of domestic beer. Eh…that's OK I guess. Well, that is actually a fine price by me during a game if that means I can watch the Steelers, and do not have to pay an outrageous sum to DirecTV for the NFL Sunday Ticket. But, during the week, I had hoped that the prices were just slightly better. Bitch, bitch, bitch…all I do is bitch.
Final Impressions
: I have to go back during a football game to figure out what this place is really like. It's nice enough, I would go back for a pizza and beer, but I don't think I saw E'Z Place at it's finest…by no fault of their own. More like bad timing on my part. Make no mistake, this is a good little place that should be added to your list of places to check out. Here's my deal, I will be at E'Z Place for a game next year and do a new review. As it is, don't hesitate to stop by here if you're in the area.
DIVE-O-METER
6 (subject to change next NFL season)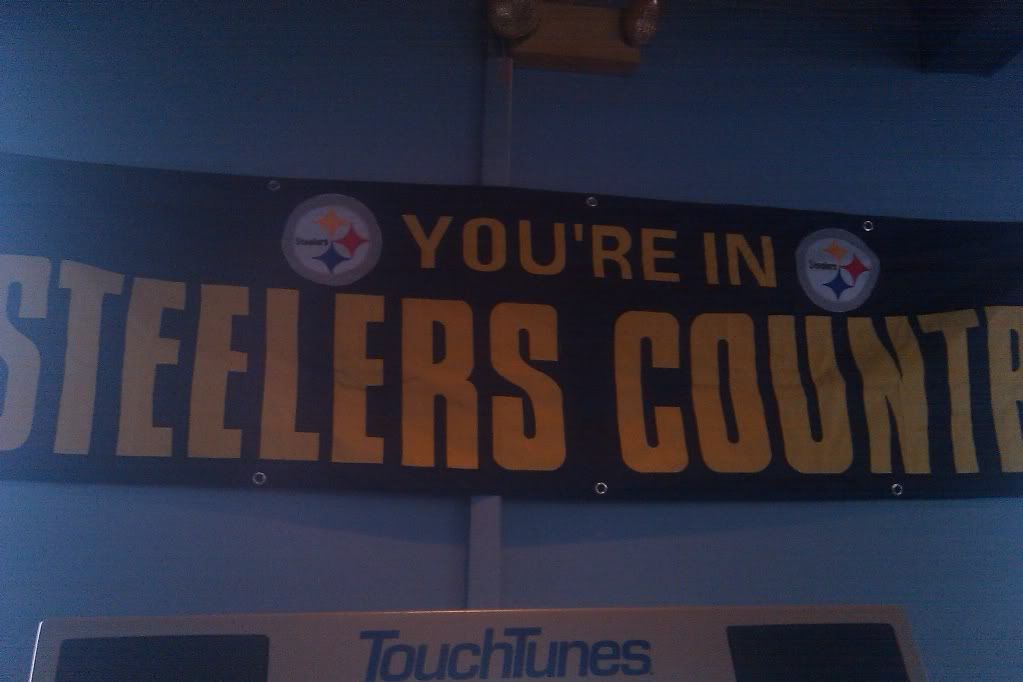 Even West Omaha is Steelers Country.