Sadly I am a "regular" here
National Airport
Thomas Ave & Abingdon
Arlington, VA 22202
Frequent Flyer Edition
Dive bar in an airport…I'm sure most of you didn't ever think such a thing could exist. But, for those of us that are forced to travel to Washington DC on occasion...and that have the pleasure of being booked on one of the cut-rate airlines in the country...(thus forcing us to use the crappy old terminal at DCA) you know that the entire terminal is a dive. So, by definition, the one and only bar behind security falls into dive bar status.
First Impressions
: It looks like a lunch counter in an old-time G.C. Murphy's. Nothing really to note. It's impossible to miss, because you have to walk past it to get to the handful of gates in Terminal A, and it's directly across from the only shoe shine stand in the terminal. If you still can't find it…it's the only thing on your left as you walk through security. However, if you
still
can't find the place, you must already be too hammered to fly and should consider hitting the coffee place you passed just before security.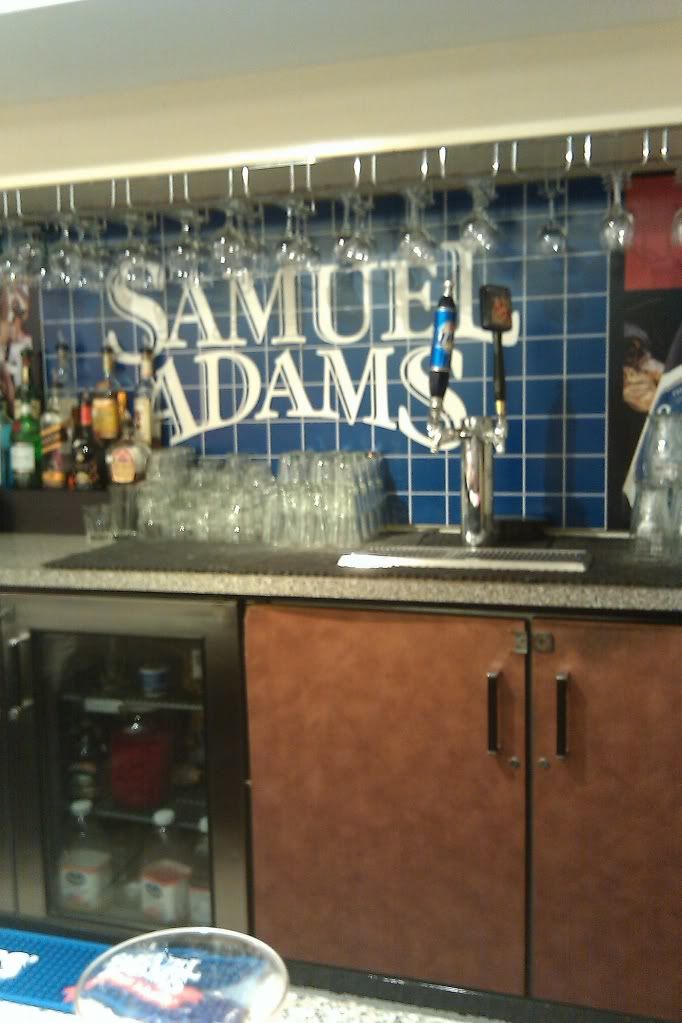 Not the most options ever...oh well.
The Bar
: It seats about 11 people, keep in mind that 10 would be the better number of stools, but they always seem to have an extra one crammed in there making everyone at the bar uncomfortable...especially when it's packed. There are a few tables to the left of the bar to take a seat if you want, but I would highly encourage that you jockey for a seat at the bar…there's never lack of conversation there. There are about five beers on tap, including mostly Sam Adams products and Miller Lite that costs a bit less than the "Sam" beers. As for as booze behind the bar, the standard issue of overpriced vodka, bourbon, and whiskey.
The Crowd
: This can vary wildly…it is an airport after all. But I have to say, after spending many hours at the joint over the years, I have always found this to be the most friendly group of tipsy travelers anywhere in the country. Maybe because we all know we're in the crappy DCA terminal and we're getting ready to board some of the worst discount airlines that the country has to offer in terms of in-flight amenities. On many occasions I have had someone buy me a drink, and I (of course), always return the favor.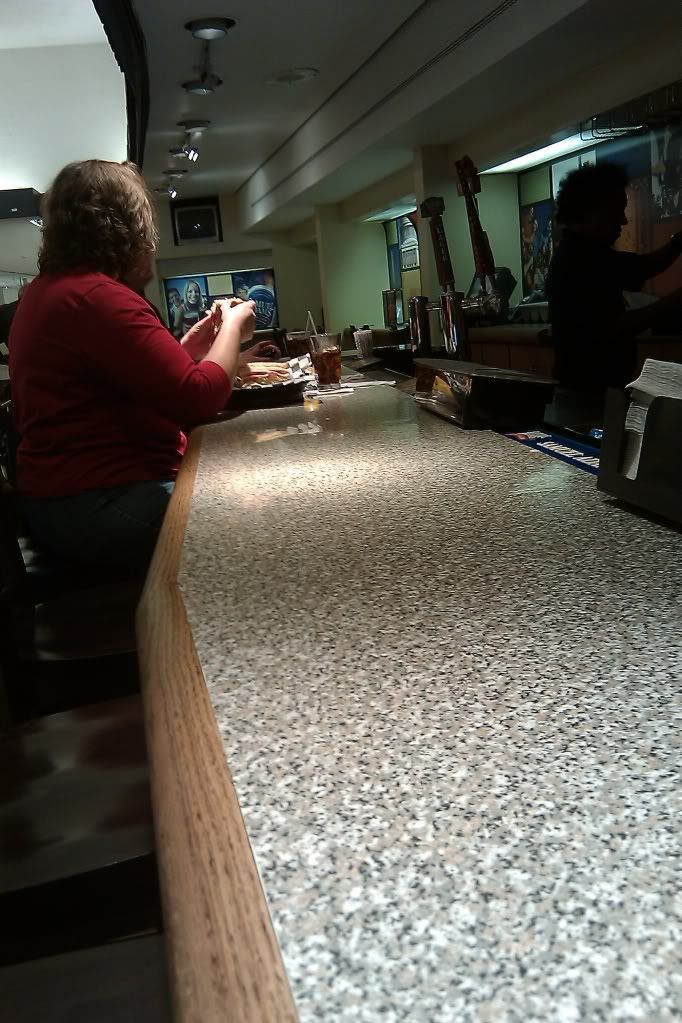 Don't sit at the bar and drink Coke!
Service
: Being a frequent traveler has a few perks; I always get on the plane first, I can request a non-bedbug room at "select" hotels, and bartenders at airport bars across the land know my drink order. But, in no airport bar do I ever get service like I do in DCA from the always smiling Napoleon. The dude speaks several languages and always remembers the last time I took a seat at his bar. More than a bartender, Napoleon is like catching it up with an old friend when you take a seat at his place. This may be an airport, but this guy treats regulars like you would expect to be treated at your local watering hole. Have a drink at this bar for the service alone, it's not like you have any other options behind security anyway.
Prices
: Despite the great service, this is still an airport bar and you will get dinged the airport price for anything…with no happy hour prices...ever. Here's a tip I learned from another airport bartender, ALWAYS say yes if they ask if you want an extra shot for a dollar or two. Why? According to my source, it's the only bargain you get in an airport bar. Example, you're already paying $7 for a Bloody Mary with one shot, why not DOUBLE the amount of alcohol in your drink for only another buck or two. You already paid the premium on the first shot, the second one is the only bargain you will ever get at an airport bar.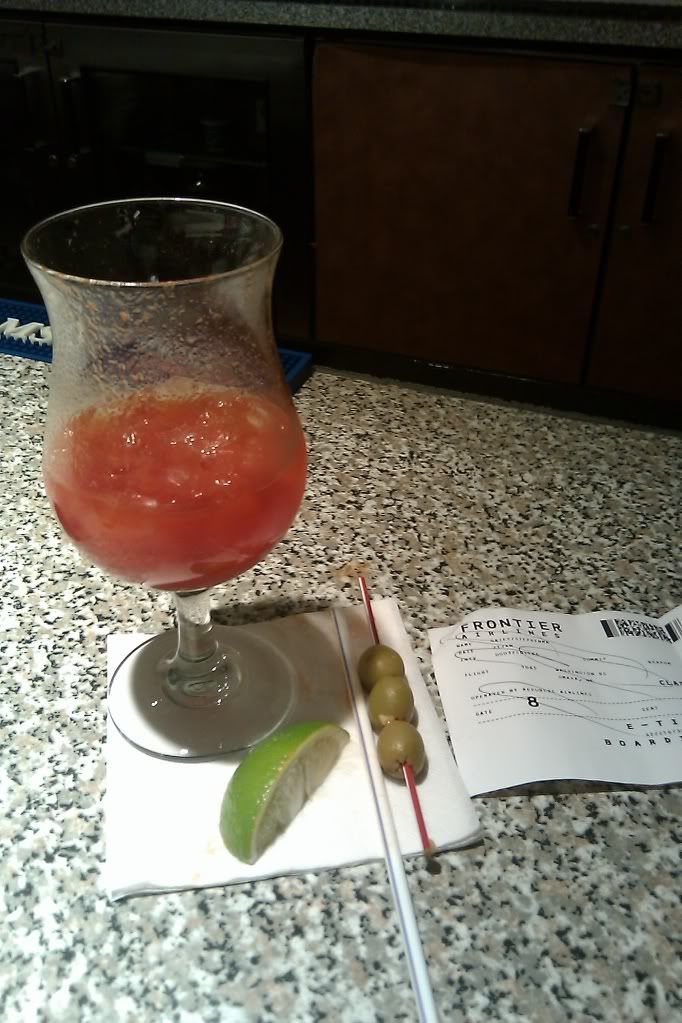 Olives in a Bloody Mary? No Thanks.
Food
: There is some kind of nondescript deli on the opposite side of the hallway from where you're sitting. I've never ordered food from there, but thanks to some deal between the bar and the deli, you can order your food directly from Napoleon he will place your order than walk over and pick it up for you. Service, baby!
Entertainment
: Not really the strong suit of this particular establishment. There is one TV that is on old school "rabbit ears" and only seems to be able to pick up the local NBC affiliate. Actually, I take that back...from your bar stool you have the perfect vantage point to people watch for hours. What better place to witness some of the best freaks the country has to offer than in an airport at the Nation's Capital.
Restrooms
: No airport bar has their own restrooms, but luckily, the only restrooms behind security are directly next to the bar. They upgraded them (somewhat) a year or two ago. But they still are fairly dirty-looking and never smell pleasant, at all. Let Napoleon know where you're off to and he will place a cocktail napkin over your drink so no one messes with it, or more importantly, so people know that your seat is still being occupied.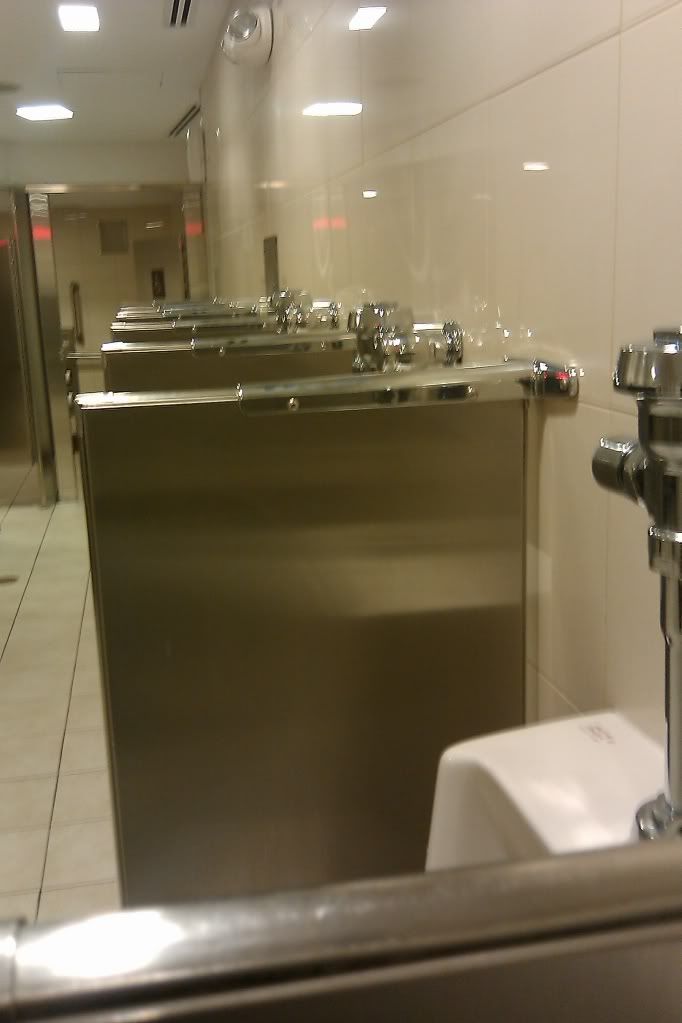 Bartender Chat
: You name it, Napoleon knows it. Politics, the weather, local sports, airport gossip, flight delays…pick a topic…he can talk about it. In several different languages I might add.
How Far Did My $20 Go
: Not far, but I don't expect it to go too far here. For a tad bit more than $20, you can get a Bloody Mary and two beers. Stick with just beer, and you can have a grand total of three.
Final Impressions
: I decided to review this place for one reason, and one reason only…Napoleon. He could go out of his way to give you the worst service ever…and you would still order a drink from this place because you have no other choices. But the dude goes out of his way to treat everybody in a friendly and polite manner…and always with a smile on his face. This bar is run like a neighborhood dive, even if it's in crappy Terminal A at National Airport...and that is not easy to do.
Dive-O-Meter
3 for the bar. 9 for the service.
Grand Total
6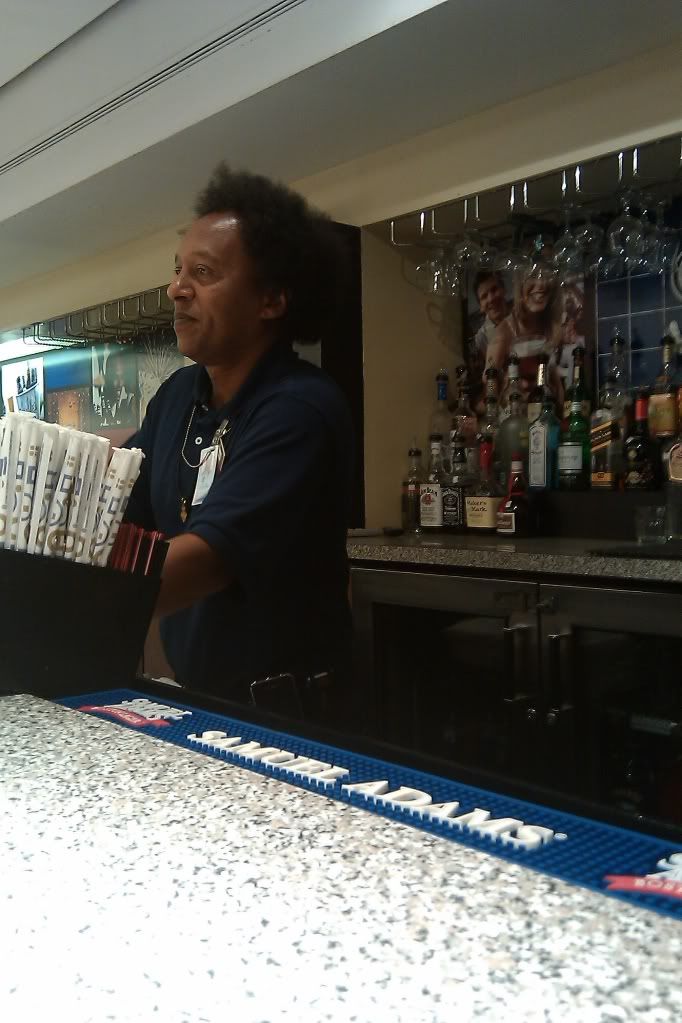 The always fantastic Napoleon