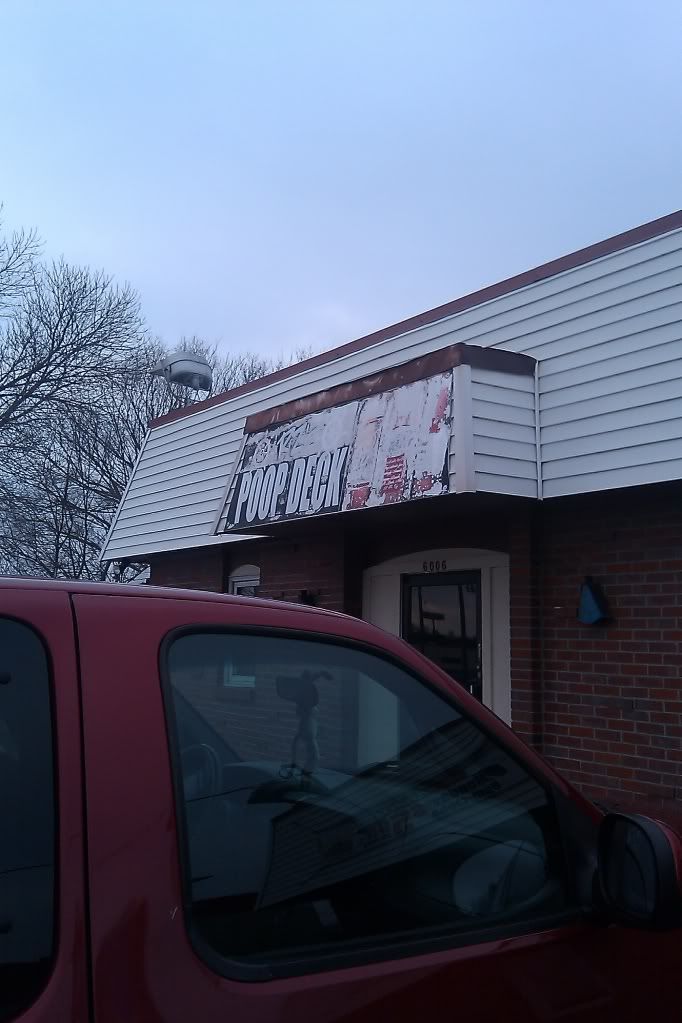 Omaha's Poop Deck
6006 Grover Street
Omaha, NE 68106
(402) 553-3193
When I found out that there is a bar called the Poop Deck smack dab in the middle of Omaha, I got in my car and drove there as quickly as possible. From what I could tell from a few boring reviews on Yelp, this place doesn't have any sort of nautical or pirate theme. Even better! Poop Deck…here I come.
First Impressions
: It sure is an easy place to get to. It's right off of Interstate 80, so if the place pans out, I'll have to make sure to add this to my list of places to stop at for "one last beer". It's kind of a rundown-looking place on the outside, but even for a Saturday afternoon, the parking lot had quite a few cars in it. The inside looked to be a bit nicer than the outside…and there are no empty seats at the bar. Bummer.
Small bar, good service
The Bar
: There are enough seats at the bar for about 10 people, give or take. It's not the most orderly looking bar area but they did seem to have just about anything you would want to drink including four beers on tap (they are almost hidden below the bar so you have to look very closely). The beer cooler behind the bar has at least 20 or so ice cold beers ready to go as well. There are eight comfortable-looking tables scattered throughout, but much like someone's cluttered basement, there seems to be just a lot of "stuff" all over the place.
The Crowd
: The people at the bar clearly were regulars, but what a great group of people. It was a bit of an older crowd, with a few young couples there as well, but within a few minutes of sitting I realized that I didn't feel out of place at all. This is the kind of crowd that when someone walks in, everyone says "hey" and gives you a wave. Out of nowhere a bell rang. Why? Some dude just bought THE BAR a round. For good measure, he later got everyone a shot too! This is a bar crowd the way it should be!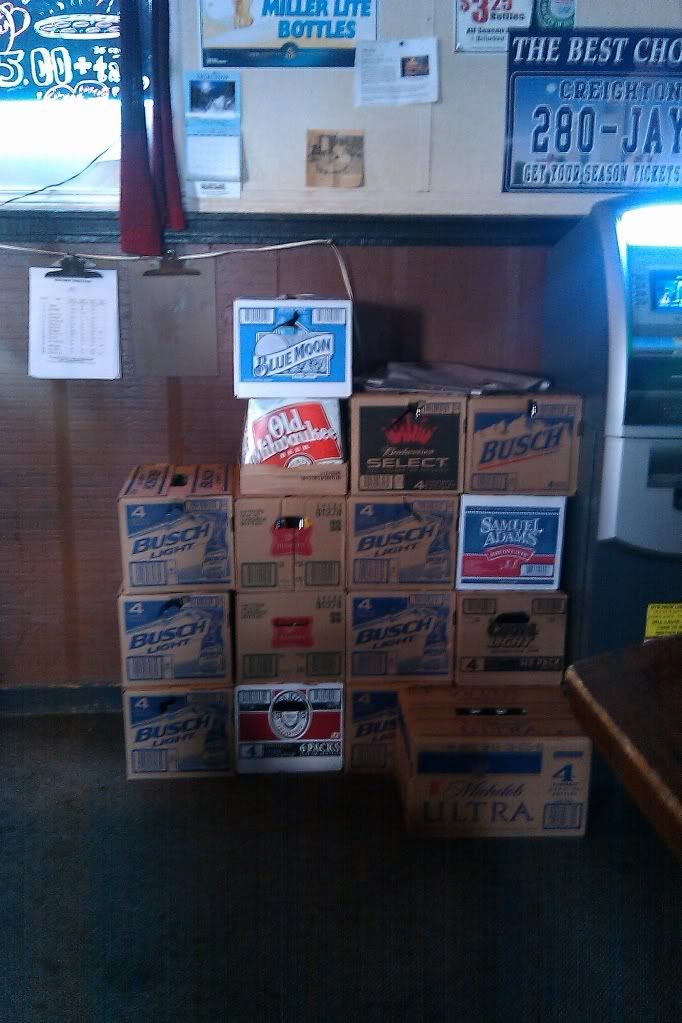 A bit cluttered. Who cares?
Service
: A younger former football-looking type bartender. He immediately gave me shit about wearing a Steelers shirt before I even ordered my first drink…in a funny way of course. How long did I have to wait for my next beer, usually on the average of 5-10 seconds. So far for those keeping score at home, we have a great crowd and great service…I am digging the Poop Deck more and more (editors note…I never get the chance to write the word POOP nearly enough in my usual reviews.)
Prices
: A bottle of domestic beer will set you back $2.75...seems to be the standard-issue price these days. There was a sign for $1.25 can of Old Milwaukee and they do an occasional $6 pitcher special as well. Mixed drinks were in the $4-5 range, but they looked good and strong. For those early morning boozers reading this, the Poop Deck has an early morning happy hour that goes from 6-10 AM! On Thursdays, at those early morning hours, you get $2 well drinks…good luck with that!
Food
: The usual bar snacks such as Slim Jims and chips. But, unlike many other places, they will fire you up a frozen pizza for five bucks. According to someone on our
Facebook page
, they will even make you a pizza in the early morning during happy hour.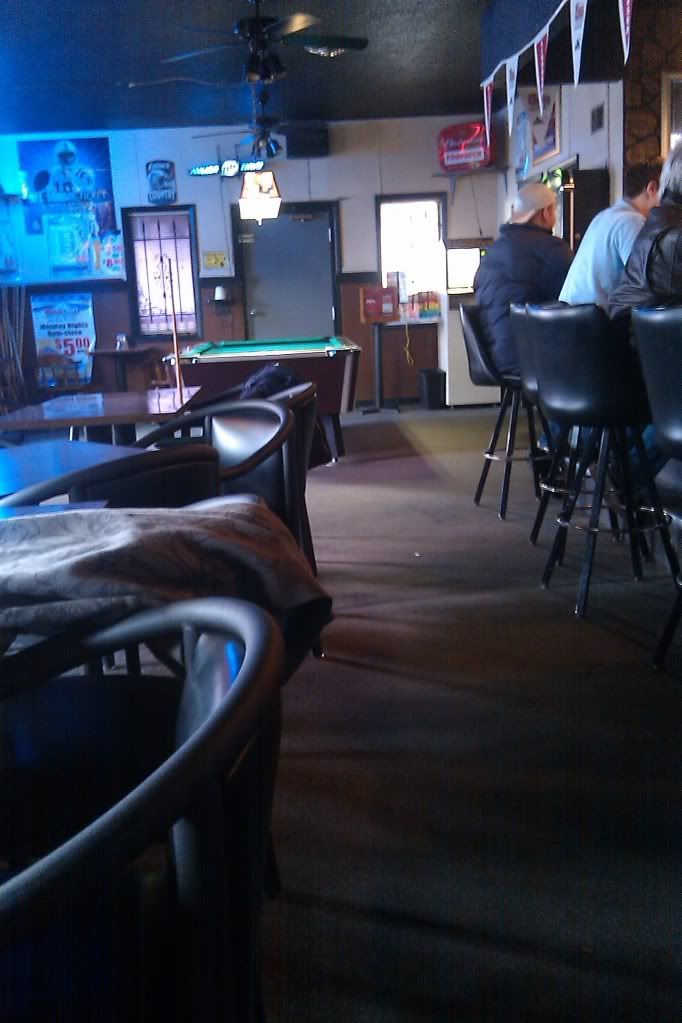 Game of pool anyone.
Entertainment:
There are 12 TVs all around the bar, and they even carry the NFL Sunday Ticket…I'll keep that in mind for next football season. Plenty of things to keep you busy if you don't feel like sitting in your chair while you're there including a pool table, dart board and a shuffle board table ($1 for 15 minutes). The now seemingly standard issue Internet jukebox hangs on a wall next to the restrooms, and for the smokers in the bunch, they have a covered smoking area so you don't have to freeze your ass off to get your smoke on.
Restrooms:
The door to the men's room is always in the open position. Make sure to zip up before you start walking out the door, or someone will get a show. It wasn't the worst ever, but not sure that the Poop Deck is a place you want to take a….oh never mind…no need to go for a cheap laugh on this one.
Bartender Chat
: I bought a round for the guy (and his date) that were buying drinks for everyone, so as the dude behind the bar was making a Jack and Coke, gin and tonic and cracking a beer…he went out of his way to point out which one was which…just to bust my balls. Always bonus points for a bartender that knows how to joke around with customers, even the new guy.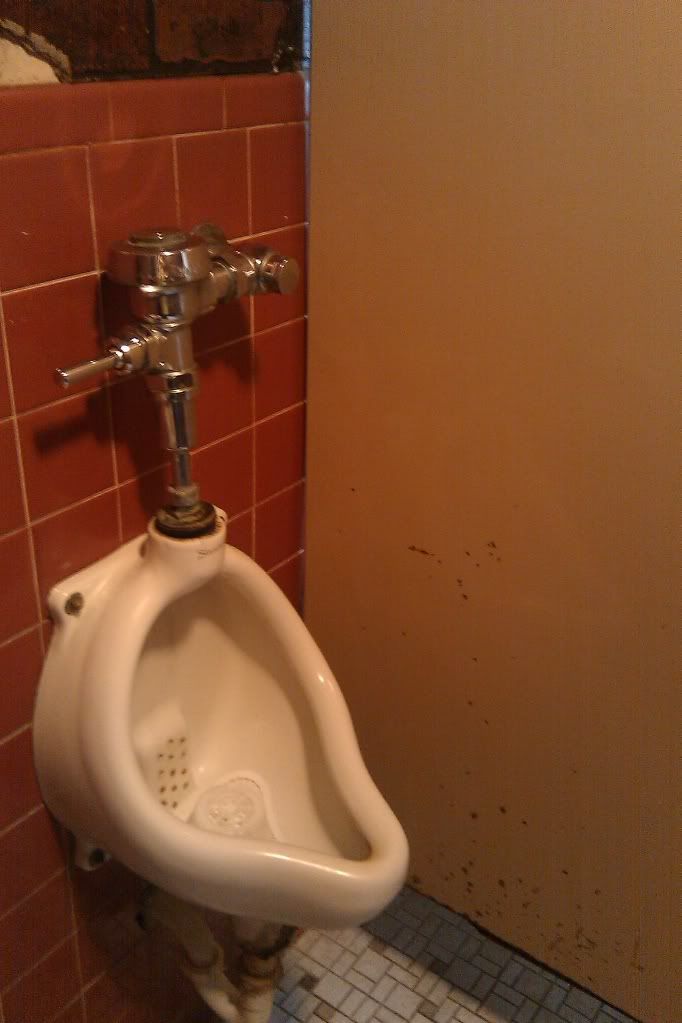 I've seen worse
How Far Did my $20 Go
: Good question? Standard pricing will buy you seven domestic beers, but my twenty buck didn't need to go that far because of the great couple that kept buying EVERYONE free drinks. Play your cards right here, and your $20 can take you a lot further than just the listed prices.
Final Impressions
: This place is why I love dive bars. Sitting at a table with some new bar friends as I can hear the crack of pool balls just barely louder than Kid Rock on the jukebox…I could sit here all day (and night). The Poop Deck is a very friendly place where I never felt out of place and I will definitely stop by again. A few more listed specials may make it a bit better, but it's still a great place.
Hit This Dive
!
Dive-O-Meter
8.5
Hit This Dive!