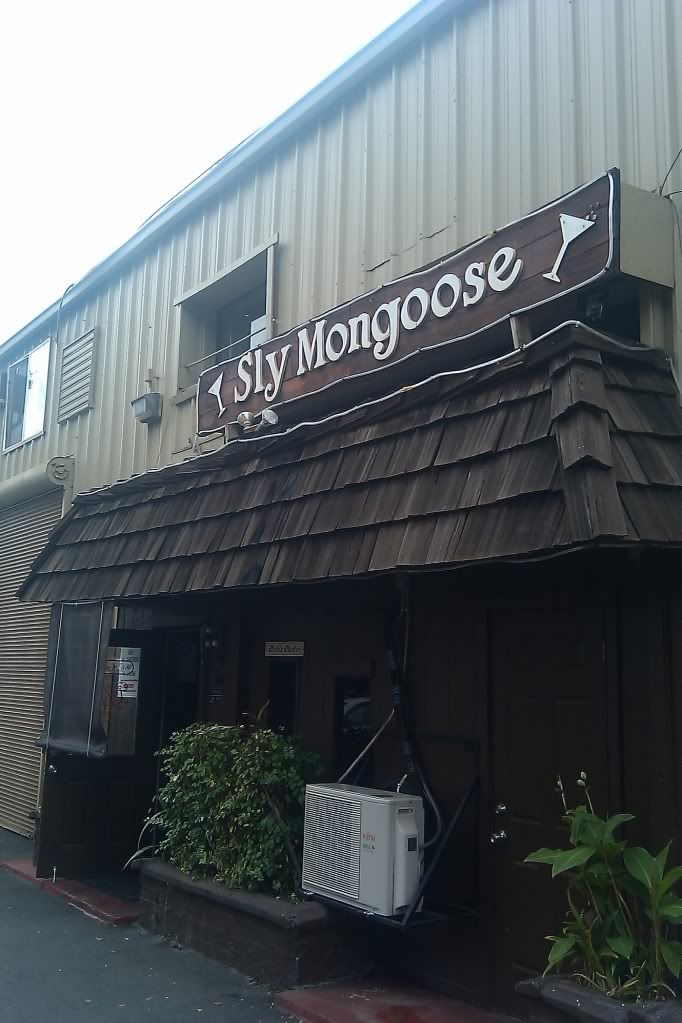 Hard to find. But worth it.
1036 Limahana Pl
Lahaina, HI 96761
(808) 661-8097
Just because you're in a island paradise, does not mean you can't find a dive bar while you're at it too. Right? Well that was my thinking anyway. In my mind it would be some cool-looking rundown beach shack right on the water with surfers and
Don Ho
music playing all day long. A quick stroll through the touristy area of Lahaina quickly revealed that a place like that was not to be found. Damn. OK, time for "Plan B". I quizzed a local from the snorkel shop and he told me about the Sly Mongoose. He said he didn't think it was my kind of place, but, clearly he had no idea who he was talking to!
First Impressions
: My GPS led me to a very industrial area complete with car repair shops, plumbers and long-term storage areas…this can't be right. I drove around for a bit and could not find anything that looked like a bar. Then I looked up a bit of a side street and saw that only thing that looked like it wasn't a place to have something repaired. Two things jumped out at me immediately, the bar was packed and even in the middle of the day, the inside was dark. So far, so good.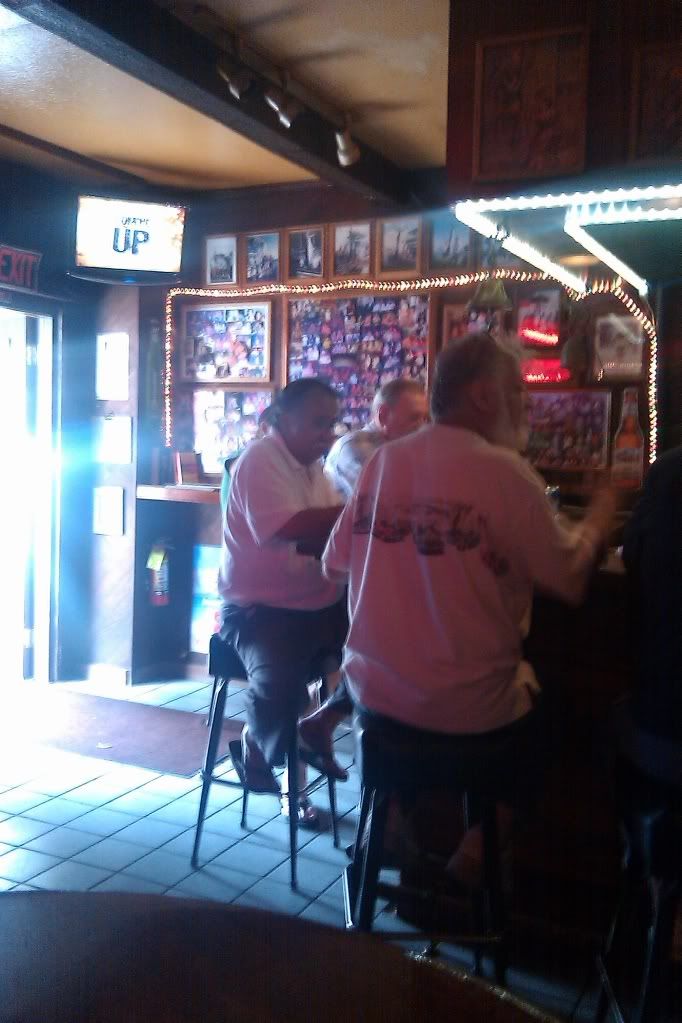 Regulars playing cards.
The Bar
: It's a small little place but pretty much looks like you would expect a dive bar to look like whether you're in Ohio or Hawaii. The bar has room for 11 stools and there are two tables and a handful of chairs. I did notice a sign that it's the only bar in Lahaina that has air conditioning…not sure why that matters…but apparently it does. Like I said, this is a dark place but it is not as intimidating inside as it might appear from the outside. From my seat at a table in the back, I had a hard time not noticing how much the room smelled like a urinal puck.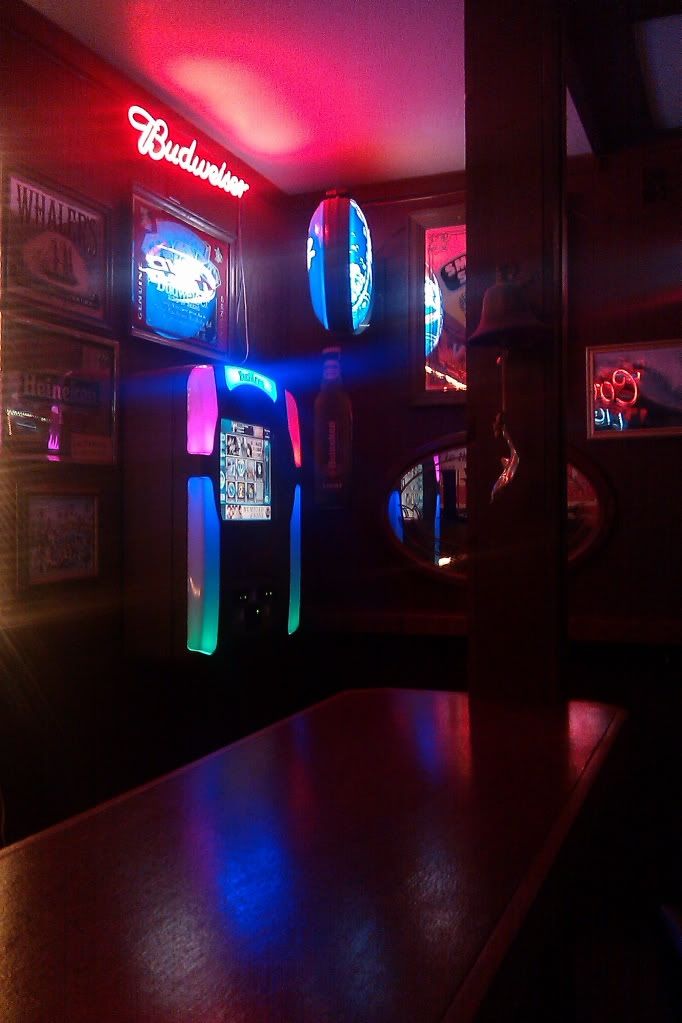 They love the jukebox here.
The Crowd
: A mix of locals and apparently a few people who bit on the "hard sale" for a timeshare and have nothing better to do during the day. I clearly was the only non-regular sitting there but that didn't seem to bother anyone. Most people were over the age of 45 and some were well into their 70s. A group of people sat at the corner of the bar and played cards while everyone else seemed to be catching up with how everyone's day was going. A quick look up and down the bar will tell you this is a mixed drink and shots kind of place and you'll also get a very strong sense of "
Ohana
" that the regulars have for one another (I learned that word from
Lilo and Stitch
). A handful of bikers showed up right at 4:00, which ironically is when happy hour begins. Coincidence? I think not.
Service
: I walked up to get a drink and quickly realized that there was no one behind the bar. Do I serve myself and risk one of the regulars yelling at me? Screw it, I'll wait. A minute or so later a crusty (but great) female bartender walked in from hauling about 50 pounds of ice in from somewhere outside and immediately apologized for making me wait. She was not Hawaiian but did seem to be the bar owner and was quick as a cat with the refills. She was what I assume "
Brandy
" looked like in the Looking Glass song by the same name back in the 70's. So I have to assume she's heard the line "My love, my life and my lady is the sea" more than a few times in her day.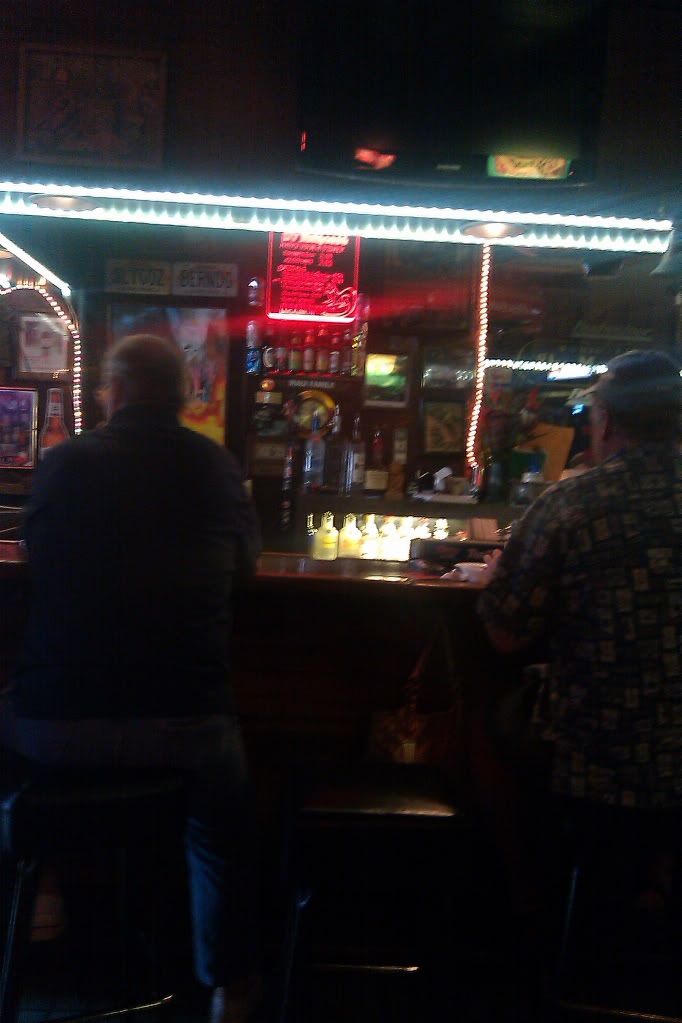 They save seats in this place.
Prices
: Keep in mind that this is Maui and the price of just about everything sucks. The non happy hour price for a 12 ounce beer is $3.25, hell that's still cheaper than kid-sized Pepsi at the hotel. Happy hour goes from 4-7 everyday and that will get you $2.50 beers, $2 shots of schnapps or a Starbucks Mind Eraser for $3.50. There are a few other specials listed on a board behind the bar, but I guarantee you that these are the best prices for at least a 20 mile radius of this part of Maui. Other than going to the ABC store and buying your own liquor, this is about as cheap as you will find while you're here.
Food:
All I saw were bags of chips behind the bar and two crock pots sitting out on a table. Make a run to Subway or Taco Bell before you get here, they're in the same general area. Also, that will save you from paying the astronomical prices at a lot of the local restaurants and resorts.
Entertainment
: There's a jukebox and three TVs. But don't come here to watch sports anyway, come here to be part of a group of people that have said F*** it to living on the mainland and packed up and moved to live in the tropics. I'm sure every person in the bar (except for the two native Hawaiians) had quite a story to tell about how they got to Maui and why they're a regular at the Sly Mongoose. Had my stay in Hawaii been longer, I would have loved to find out why the one burly plumber I talked to moved from Texas to snake toilets in Maui? Actually, dumb question on my part…it's Hawaii…that's why!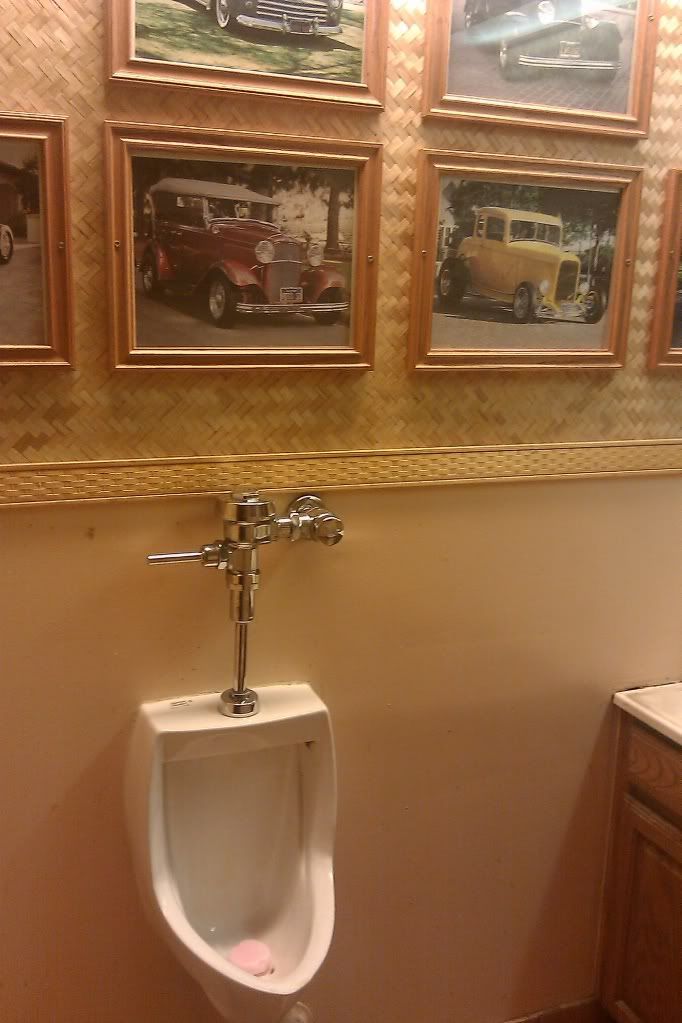 Fine enough looking restroom
Restrooms
: Small with framed pictures of cars everywhere. The men's room was clean and more well-lit than the rest of the Sly Mongoose. Oddly, it smelled less like a urinal puck then my seat in the bar did…just sayin'.
Bartender Chat:
Not much, she was one hard working woman and between chatting with her regulars and running the entire place, didn't have much to say. For the smokers in the group, she did tell me that those electronic cigarettes really work as she was puffing on one that was still plugged into the wall. On a another bar chat note…I, was proudly wearing my
HitThatDive t-shirt
and for at least the third time that day, someone read the back of the shirt and laughed. Why does the shirt only get a reaction from people in Maui I wonder?
How Far Did My $20
Go
: At happy hour, and 20 bucks will buy you eight beers…and let me tell you…that is an amazing price for the area. Keep in mind that my first day there I ordered two beers from the hotel bar and paid more than $15...before tip! The Sly Mongoose is one of the few bargains for your drinking dollar in Maui.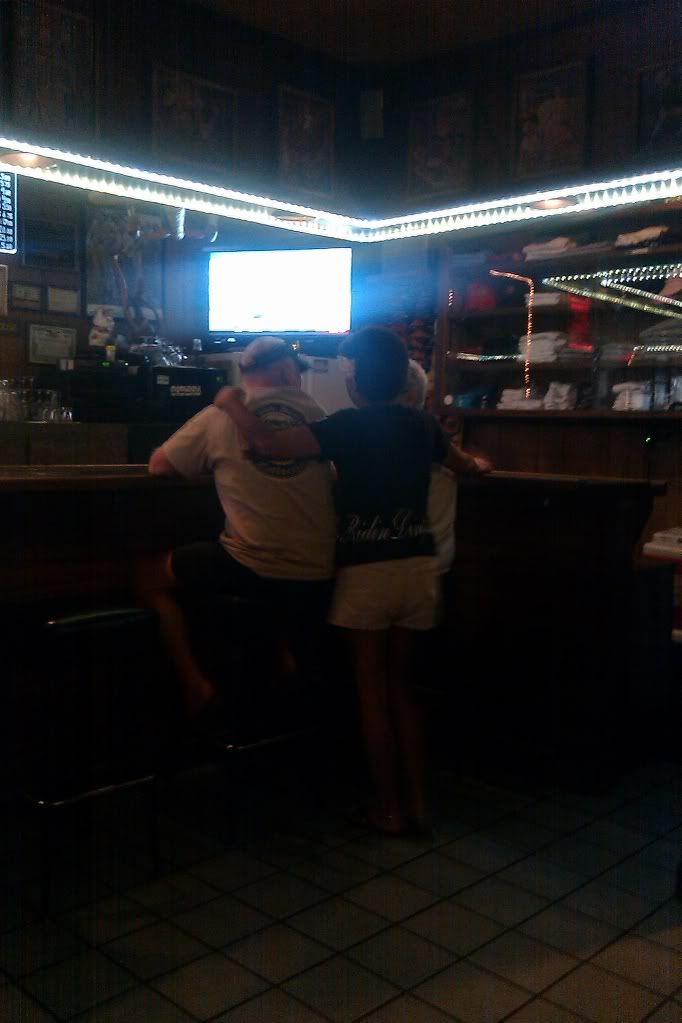 Ohana
Final Impressions
: If you're like me and get claustrophobic in a "resort" and hate paying a fortune for everything, make it a point to stop here. My one note of caution, if you're a first timer like me, don't sit at the bar if there are tables open. More than most places I've been to, there seems to be a certain amount of seniority needed to sit with the regulars. Again, the people here were very friendly, but they all seemed to have one thing in common that no tourist has…and that is they moved to Hawaii to get a new perspective on life. And, that sense of Ohana seems to be why I felt a bit like I was eavesdropping (ever so slightly) on a family reunion. In any case, after you're done going diving in Maui…make it a point to HIT THIS DIVE to celebrate the fact you're in Hawaii. Mahalo.
DIVE-O-METER
7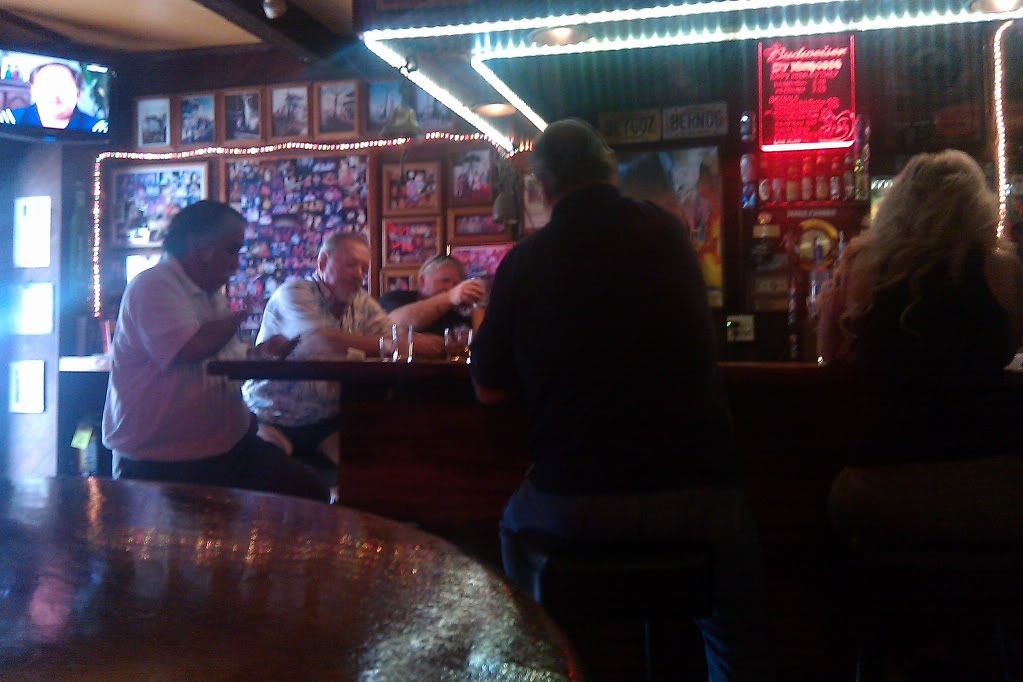 The guy sitting at the corner had a major spill seconds later.