Serving cheap drinks since 1937
3216 Leavenworth Street
Omaha, NE 68105-2016
(402) 341-5190
There are so many bars, and so few of me, that I am always willing to check out a place at the advise of one of the"loyal" HitThatDive readers (insert rimshot here). Thanks to a note from karaoke madman "The G-Man", I decided to give the bars on Leavenworth Street yet another try...my luck here hasn't been too good so far...but if nothing else it will be nice to finally meet The G-Man in person. (On a sidenote, I don't like karaoke, but check out the G-Man if you ever get the chance...best karaoke guy ever!)
First Impressions
: No bar I have ever walked into has ever had this many signs for drinks specials on every inch of every wall. Ever. It was 9:30 on a Friday night and the place was loud and crowded. It's bigger than your run-of-the-mill bar, (as far as the size of the building) and I noticed a sign as I walked into the door that said this dive has been an "Omaha drinking institution since 1937". So far so good!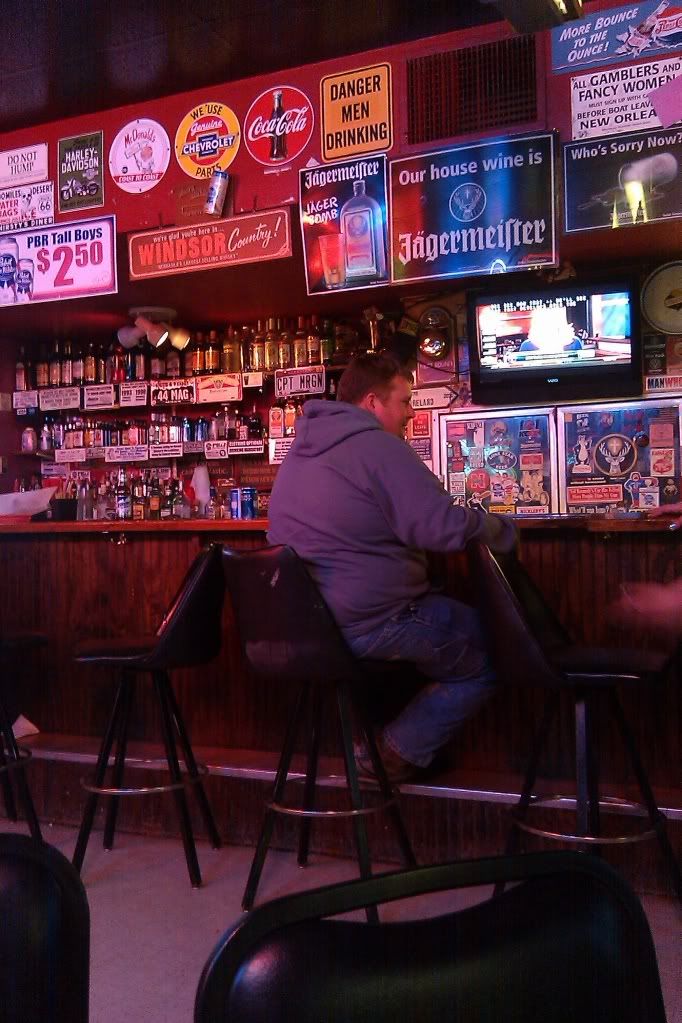 Not there to sing
The Bar
: Like I said, this is a larger-than-usual bar, but not too big. There are 12 stools for people to belly-up and the chairs aren't all crammed together, so it's a pretty comfortable place to sit. Alderman's has 8 beers on tap, TONS of drink specials including $2.50 PBR "Tall Boys" and my all-time favorite $2.00
Mickey's
on Mondays. The room is a big "L" shape and easily can accommodate the 8 old-school tables and two pool tables without feeling cramped. And best of all, the biggest picture on the wall was the classic shot of
Johnny Cash flipping the finger
.
The Crowd
: For the most part I would say this was a group of people who were all older, loud and drunk. But overall, a good blend of bikers and construction workers mixed in with a rhinestone cowboy couple and even a dude in Docksiders with a polo shirt with the collar popped (
Ahoy Polloi
) . Everyone seemed hell-bent on having a good time, but don't get in their way…they were there to pound drinks, dance their asses off, and sing as off-key as possible.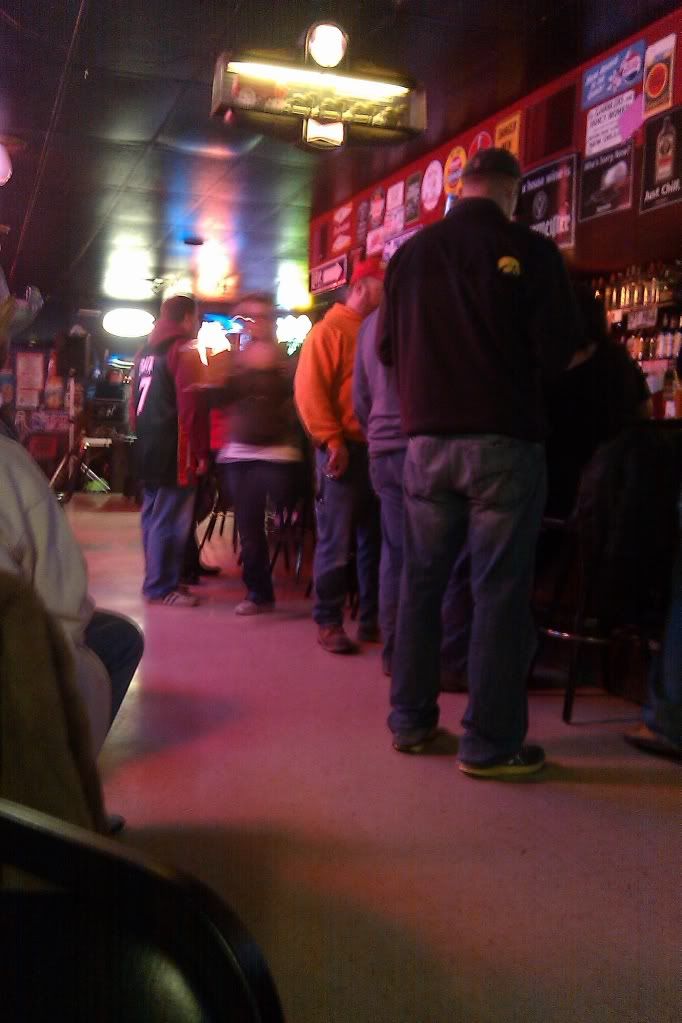 Busy but not packed
Service
: I wasn't able to score a seat at the bar, so I had to keep walking up to get my drinks. But, no big deal, as fast as I could squeeze my way to the bar, the bartender was ready with another beer as quick as he could grab it. There was only one guy serving the boozehounds on this night, and everyone always had a full drink. I didn't catch his name, but this dude even looks like how a bartender should look…50ish, friendly, not intimidating but with a touch of "I can kick your ass if I have to" look about him.
Prices:
I may run out of space trying to list all them. So here are a few, just so you get the idea…$6 pitchers, $2.50 Captain Morgan drinks, $2 UV drinks $3 bombs and $1.50 domestic bottles, 64 ounce fishbowls of various drinks including the "Liquid Panty Remover" for $16 and an entire list of shots that can be ordered with HitThatDive's favorite mixer
Liquid Ice
. Including my personal favorite Liquid Ice vodka drink, The Donkey Punch. Take my advise when you walk in, check for the special of the moment…I am sure they have one.
Food: A few assorted bags of no-name chips for a $1.00. Come here to drink, not to eat
Entertainment: Friday and Saturday nights from 9:30-1:00 is karaoke night. I am usually not a fan, but The G-Man is an awesome Emcee (and one heck of a singer too) and really gave the place a fun vibe. They also have two pool tables and a boxing machine that I actually saw someone using…and thank God he didn't take a swing at me because that dude could punch. Some TV's were on behind the bar, but the show here on this night were the drunk people singing off-key as loud as possible.
Restrooms:
Whoa. What the…these are clean. How did that happen? Not all that big, but, damn, these things are actually useable. I did not see that one coming. Nice!
Bartender Chat
: Not having a seat at the bar, makes this one tough to answer. I did like the fact that the dude behind the bar always called me "partner"…or one of those words. Bartenders that can work that sort of stuff into a sentence, without making it sound forced, clearly know how do run a bar where all the drinkers are happy.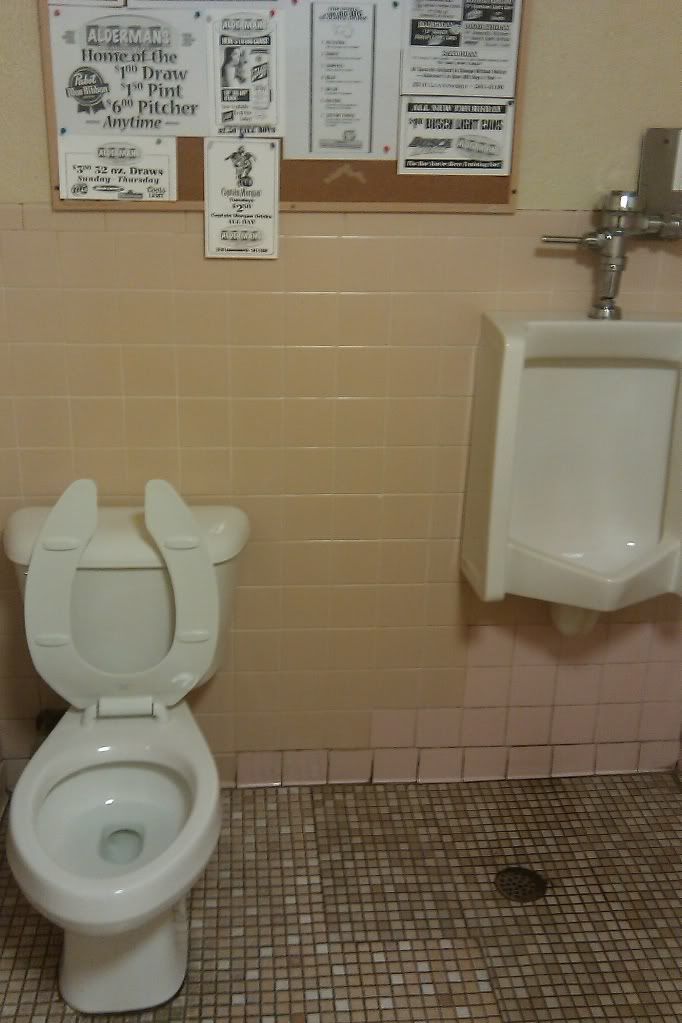 Clean? Clean!
How Far Did My $20 Go
: I was drinking domestic bottles for $2.75, sounds about right, but had I been there with a designated drive (AKA Mrs. HitThatDive), I could have really tied one on under budget. Hell, for $18 bucks, I could have had three pitchers of PBR and still had money for some chips.
Final Impressions
: This has to be my favorite bar in Midtown on Leavenworth Street so far. From what I can tell, this is a great place to get drunk, have fun or even find a fight (if you're looking for one). This really is a place that you would
think
most great dives should look like...complete with the kind of barflies you want to drink with in a place like this. The G-Man hit the nail on the head when he announced through his speakers, "Welcome to the best little dive on Leavenworth" so far I would have to agree with him.
Dive-O-Meter
8.5 (Hit This Dive!)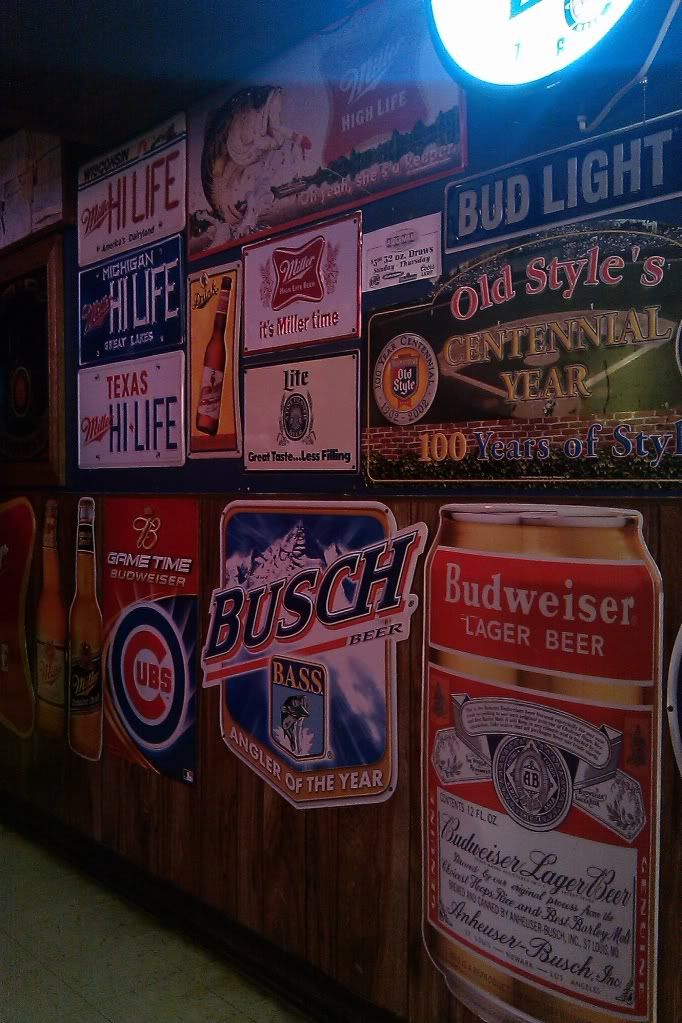 Hit This Dive