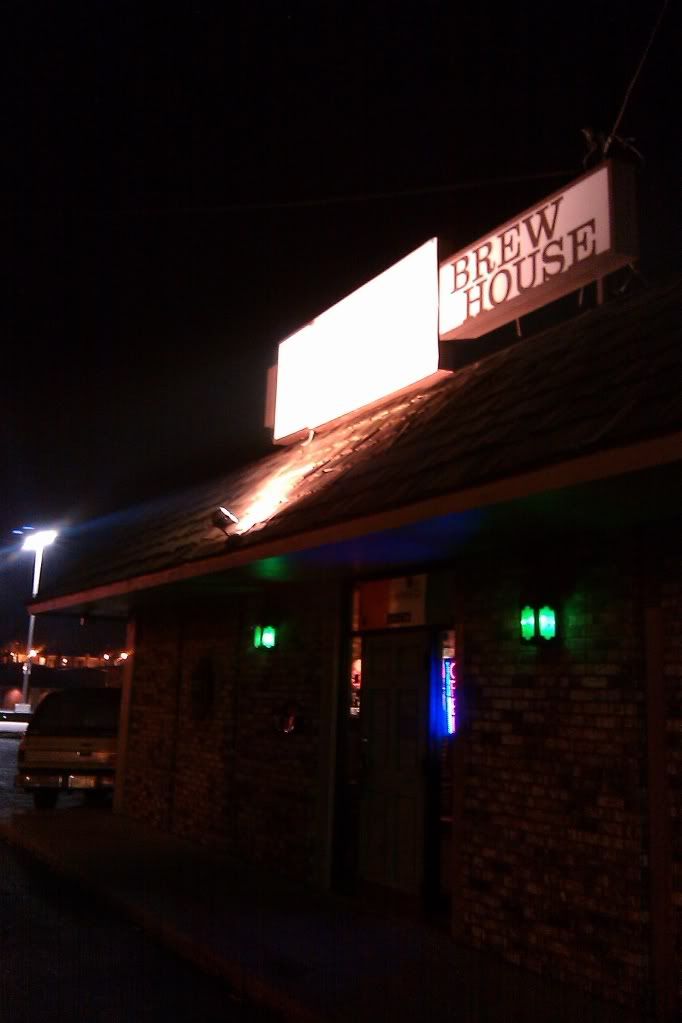 I'm a bad photographer
1830 North 72nd St
Omaha NE
(402) 502-1880
This was not a planned stop on my night out, the original plan was to stop at a different Irish-themed place. Now, I can't tell you name of the original bar (but it does rhyme with 'Raisin Fred') because I left there after being told to pay unadvertised $3 cover charge before 8:00 pm and laughing uncontrollably as I walked out. So I jumped back into the Dive-Mobile and headed over to where I thought I had seen a cool-looking place just off of 72nd Street…but I just could not remember the name.
First Impressions
: Maloney's! That's it. The first thing I saw was a fireplace to my left (thumbs-up for Irish bars with a fireplace) and a decent amount of people sitting at the bar that were good and loud. This place is a bit of dive meets Irish bar and that has been exactly what I've been looking for. Thank God I'm cheap and refuse to pay a cover, or I would have never walked into this bar.
Great selection
The Bar
: There are roughly 15 seats at the very long bar and 15 or so tables and high tops around the rest of the room. It's a pretty decent-sized place so make this a stop for an entire group of people if and when you're out this way. They offer 6 beers on tap, have a good selection of Irish whiskey, and for the first time I spotted my first
Tuaca
machine. I have had that stuff once, and I was not about to order it again. Not that we could use it on this night, but they also have an outdoor beer garden and sand volleyball court to boot.
The Crowd
: I counted 25 or so people sitting, and standing, in various parts of the room. They were old and young…drunk and sober. But one thing was evident from the moment I sat down…this place attracts real people who want to go out, have fun and catch a nice buzz. Other than a few women with some of the dudes in the place, the majority of the crowd was guys…which I guess is a good thing for the ladies who read this.
Service
: I never did catch her name, but the bartender was awesome. Quick with the drinks, and the jokes, she was a fine mix of all business mixed with all fun…is that even possible? It was nearly eight hours into her shift, a point where I would be crabby to customers, and she was great from the second we sat down until the moment we left.
Plenty of Room at Maloney's
Prices
: A draft beer was setting me back $2.75 a pint because of bad timing on my part. Had I been there after 10:00 pm, those same drafts would have only been a dollar. They have decent beer specials every night of the week and a happy hour that runs from 3-7 every day. Figures that I would have been there right in the middle of two drink specials. Check their
website
if you're going to see what's the special that day…or duh…just ask when you sit down.
Food
: Unlike other "Irish" bars in the area, Maloney's actually puts their menu on a chalkboard…like a real pub. They don't have a ton of food options except for nachos, burgers and ruebens but I would come back here to have some good pub grub.
Entertainment
: Because the pub is in a decent-sized area they have, among other things, 4 dart boards, shuffle board, pool table and that ever popular Golden Tee…that I never see anyone playing anywhere! Not sure if this counts as entertainment or not, but they also sell "French Ticklers" in the men's room and they are "ribbed for her pleasure". Guys, here's a little trick I learned years ago; next time put your French Tickler on inside-out for YOUR pleasure! It's your .50 cents…right?
Fireplace. Nice!
Restroom
: When you're not buying a condom in here, there's really no issues in the mens room. Clean enough, pretty big and just past the kitchen so you can smell some good fries on your way back to your bar stool.
Bartender Chat
: This was more of an entire bar chat. But somehow the topic was about some guy's nipples that were the size of dimes. How that topic was brought up I have no idea, but it quickly turned into why do guys even have nipples in the first place? But, just as it was getting interesting, some guy walked in selling door-to-door pork chops (and he was not wearing a Schwan's uniform either). A few things here…never buy unsolicited meat (that's what she said) and always assume someone selling pork chops at night stole them from somewhere. Quick thinking by one of the bar owners to check the origin of said chops, showed that they WERE indeed stolen. A few moments later and apparently the pork burglar was in police custody…and the world is a safer place today!
No Glove. No Love.
How Far Did My $20 Go
: Had I sat down in Maloney's an hour later, I would have had a jaw-dropping 20 beers for 20 bucks! As it turns out, the everyday prices will buy you a bit more than seven pints of domestic beer at the regular price. Not too bad…I suppose.
Final Impressions
: It's places like Maloney's that give the term "neighborhood dive" a great name. When you can walk into a bar, feel comfortable about being there and get treated like a regular (even though you're not) what else do you want in a spot to throw back a few drinks? Add Maloney's to your list of bars to check out, just remember, don't buy any pork chops!
HIT THIS DIVE
DIVE-O-METER
8
Great Place. I'll Be Back