Looks like a dive
5250 South 21st Street
Omaha NE 68107-2839
(402) 733-1466
‎
I had to meet up with a friend of mine to discuss something (can't remember what it was) so he suggested that we meet at Old Settler's Saloon. Or is it Old Settler's Headquarters Bar like the sign says? Or is it the NEW Old Settler's Bar like their drink special advertisement says? Anyway, let's just call it Old Settler's and be done with it.
First Impressions
: This is the type of bar that gives me just a twinge of anxiety to walk into alone for the first time because it's nearly impossible to see inside from the street. Making it through the front door unharmed, I was amazed that it wasn't as bad on the inside as I had imagined...and then I quickly notice a very cool hand-carved wooden bar area. Could be much worse so far I guess.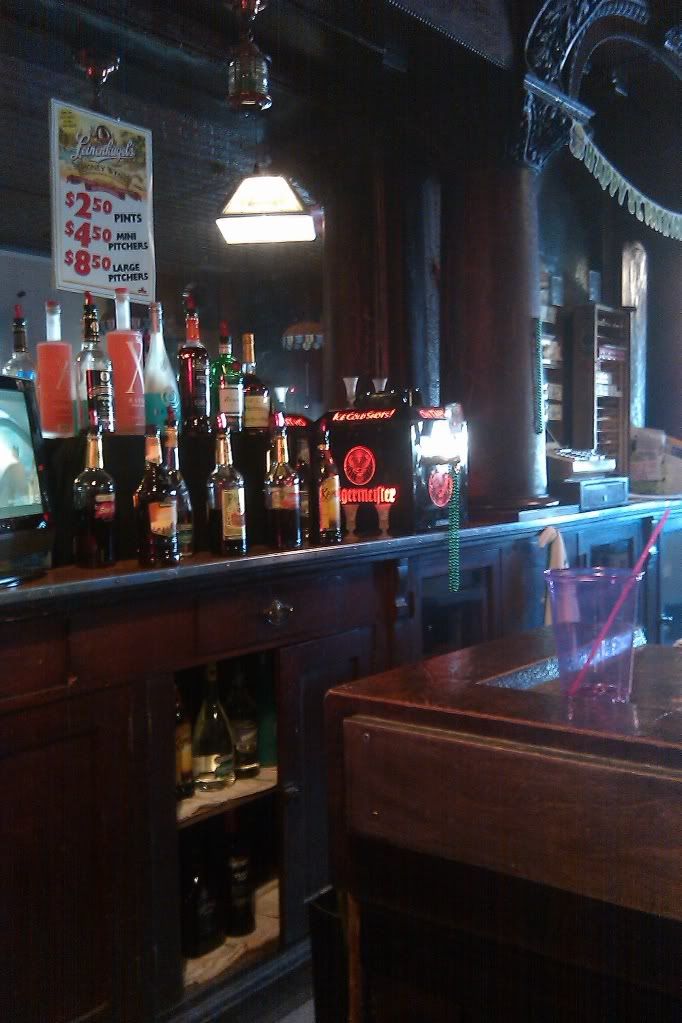 Cool woodwork
The Bar
: A decent-sized bar area with plenty of places to grab a seat. Again, the first thing you will notice is the cool hand-carved area behind the bar, but other than that, it's just a bar as you would imagine. The other thing that stood out to me was that it seemed to have one of the smallest selections of liquor I've seen in a while. Also, it's kind of cluttered around the walls with an assortment of random stuff and boxes. I'm not the neatest person in the world, so that didn't really bother me one way or the other.
The Crowd
: A mix of tough guys and older dive-type all day drinkers. Not that I would ever have a need, but I'm sure someone in here knows someone that can help you with a dirty deed (done dirt cheap) if you're really in a pinch. Everyone seemed relaxed enough as they were sipping on their drinks, but I would always suggest being on your best behavior in you're here, unless of course you want to get your ass kicked, in that case, just look at someone at the bar the wrong way.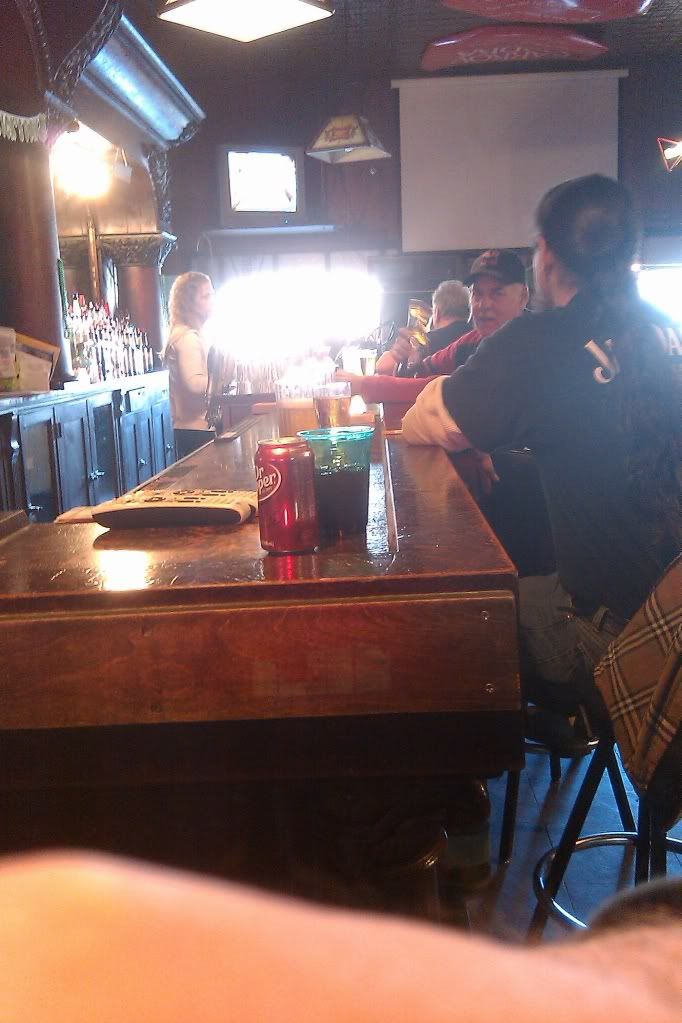 All day (and night) drinkers
Service
: They have bartenders, they circle around to eventually bring you a beer once in a while…and then they just stop waiting on you. Well, that was my experience anyway. It wasn't all that busy, maybe 10 people or so, and it became impossible to flag someone down for another round. For the first time in a long time, I just got up and left (long before I was ready to leave) and went to a different bar.
Prices
: Happy hours are from 10am-12pm and then from 3pm-6pm…but I was never sure what the discount was. I was paying around $2.75 for a domestic bottle which seemed OK to me. They do have daily specials that usually seem to be $3 for drinks or shots with SoCo, Jack, Jim, and or Captain Morgan depending on the day...with some $6 pitchers thrown in for good measure. As always, ask you bartender what the specials are that day…that is if she will wait on you first.
Food
: All I could really see were M&M's, bags of peanuts and a microwave. I guess if you're hungry you can always bring a Hot Pocket and have them heat it up for you…but then again…that may take a while.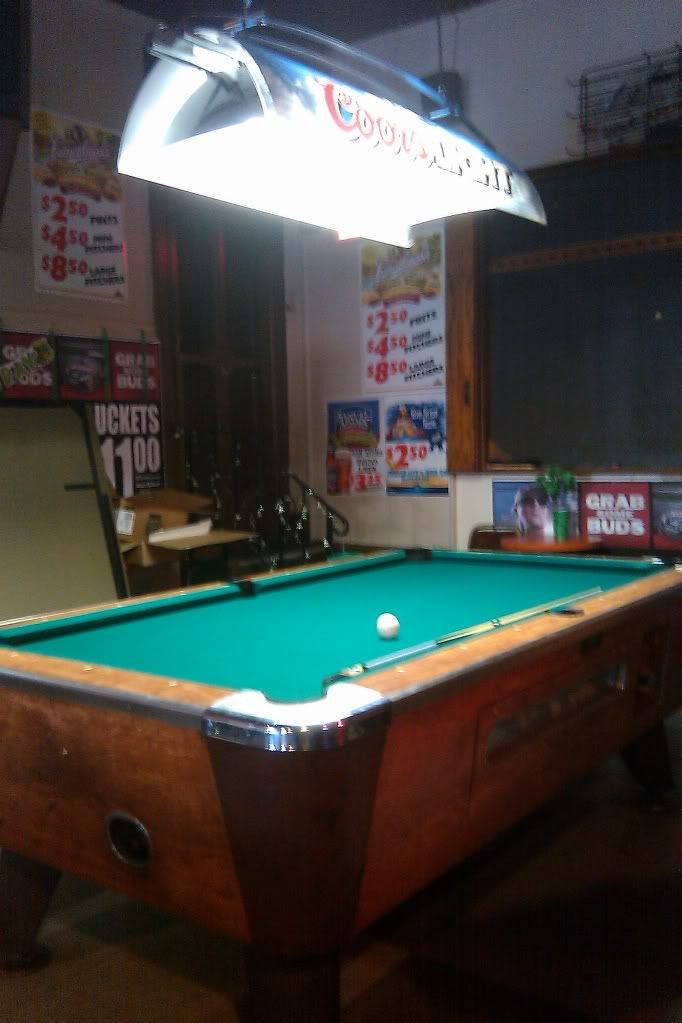 Don't trip over a box
Entertainment
: For a bar this size, they have a good number of electronic dart boards (6 at my count), a pool table, and in a bit of a twist NO Golden Tee Live. They do, however, have boxing machine…this is more of MMA crowd than it is PGA crowd after all. The only sound in the bar was coming from an episode of Dog the Bounty Hunter. There are a lot of TV's around the place, some that looked quite new, and others that look liked they have been in use for a few decades.
Restrooms
: Wow…just awful…literally falling apart…all with thin walls. How thin are the walls? So thin that one classy dame walked out of the women's room to tell a dude walking out of the men's room "You sounded like a donkey pissing. I could hear you while I was in the ladies can!"
Bartender Chat
: Who guessed that there wasn't any yet? The staff wasn't overtly rude; they just seemed indifferent to most of the customers. Now I know, I'm not a regular, so I don't expect to be shooting the shit the entire time I'm there. But, I was also a new customer, and just an ounce of service could have made me a REPEAT customer. Oh well…
Worst so far
How Far Did My $20 Go:
Twenty bucks can get you a good buzz if you time it right. Better yet, if you're lucky, you may there for S.O.P Pitcher night which buys you a huge ass pitcher of Bacardi, Smirnoff, and peach schnapps with a bunch of straws in it for $9 each. Two of those should get you good and hammered.
Final Impressions
: Have to call it like I see it, the service was bad. Like, walk out the door bad…yet I'm not completely down on this place. Check out their
Facebook page
and you will see that they are really working hard to build up a following by having tons of drink specials and even giving away $50 bar tabs on occasion. Old Settler's has all the making of a good dive, but it's not quite there yet. I'm willing to give it another try to see if they become any better at wating on new customers.
DIVE-O-METER
4.5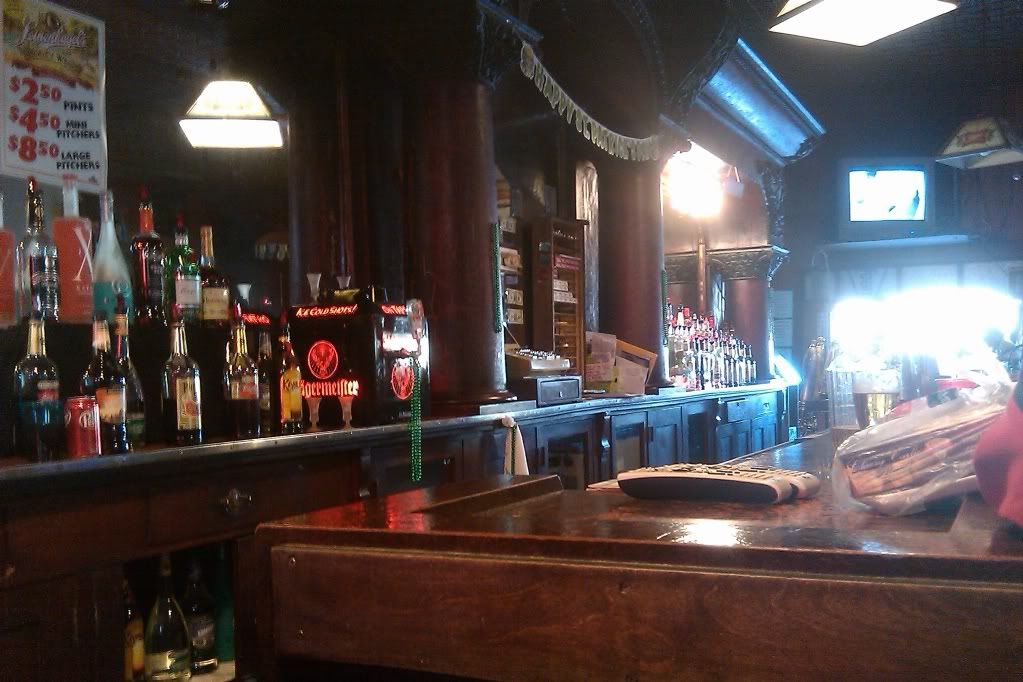 Old Settler's has potential