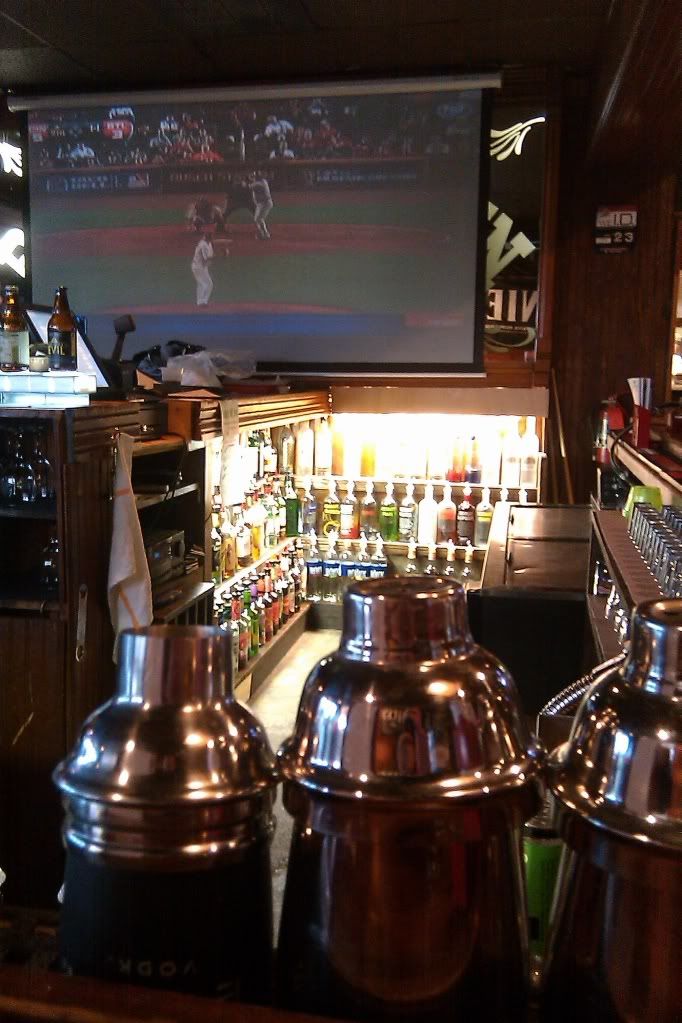 Less cluttered than before
The Rusty Nail Inn
14210 Pierce Plaza
Omaha, NE 68144-1037
(402) 333-7370
I made my return visit to the
Rusty Nail Inn
(now billed on the signs in the bar as the Rusty Nail "Pub") to see if my first visit was just an off night for the place, and to see if they did indeed improve their customer service…as the new owner had claimed.
I don't make it a habit of writing an entire new review, I am lazy after all, so I decided to show where the Rusty Nail showed improvement, and where they still need some work (with recommendations). I figure if I'm still being somewhat critical, I need to offer a few improvement tips...that only seems fair of me.
Improvements:
Much better service!

Walked in the door and was greeted with a "Hello" from the bartender before we ever sat down (I had the old lady in tow to corroborate any of my claims). Kudos! An ounce of customer service...things have already started better.
They seemed to not have quite so many bar stools crammed into the corners of the bar area. Move a few chairs, get a better score. Simple as that.
The woman behind the bar was a nice, friendly and a hardworking bartender…even if she did space-out for about five minutes between our last drink orders. In any case, she was a 100% improvement over the last person who waited on me here...and did not remind me of any of the Spice Girls.
Not really sure what we paid for drinks, but a few draft beers and a shot of vodka with Liquid Ice came to only $11 (and some change). I wasn't sure if I was charged correctly, so I left a nearly 50% so I didn't short-change the great server.
The "party room" in the rear of the bar looks like a good place to have a private party…and they will rent it to you for nothing.
The food still smells good…and is cooked by a younger version of Wilfred Brimley.
Still Needs Work:
Still a weird vibe.

In my first review, I noted that everyone sat quietly at the bar and that there was a "weird vibe" in the place. That has not changed. HOW TO IMPROVE: Have more music playing than just a radio station…do I really need to hear commercials through loud speakers when I'm out for a good time? SUGGESTED IMPROVEMENT: Pay a couple of bucks a month for satellite radio or Pandora. It will improve the "vibe" immediately.
There are still no real drink specials. The happy hour is still just a $1 off alcohol 3-7 daily and a reverse happy hour on Sunday nights. HOW TO IMPROVE -- Come up with some additional specials. Anything! SUGGESTED IMPROVEMENT -- Dollar Bud Light draws. $10 buckets of beer. Liquid Ice shot of the day at half price. Something, anything that makes this bar standout. The location is not great to begin with, and there are no good reasons for new customers to check the place out. HAVE A BETTER HAPPY HOUR.

Empty. The bar not my beer.

Have more of a variety of draft beers. Currently there are only four, and as Mrs. HitThatDive pointed out, the beers we had were pretty flat and on the warm side. If we were pounding a few pints in London that would be fine…be we are in the Rusty Nail. HOW TO IMPROVE -- Add more tap handles. SUGGESTED IMPROVEMENT -- Have your draft equipment checked/cleaned on a more frequent basis if adding more taps is financially not an option at the moment. If I want non-happy hour warm beer, I can go to the Draft House.
The lack of any sort of fun, and the dire need for more drink specials still needs some major work (in my opinion). Mrs. HitThatDive felt the same way I did about the lack of "vibe" in the bar…and she is far less picky than I am. They do have two free poker two nights a week and karaoke on Wednesday (if you like that sort of thing) so maybe that helps liven the joint up on those nights.
My first DIVE-O-METER rating for the Rusty Nail was a big fat 1. Feeling generous because of the great bartender (and because I had mistakenly written that they had closed), the second score comes in at a 5.5. Making the new Rusty Nail a DIVE-O-METER rating of 3.5. Still not great, BUT, showing signs of improvement a little at a time.
MORE SPECIALS!!!!!!!!