Beer for a buck? Yes please!
12356 Ballpark Way
Papillion, NE 68046
(402) 734-2550
Yes, I know, Werner Park isn't a bar…and even if it were…it would not be a dive bar. BUT, any place where I can watch sports (live in this instance) and actually sit at a bar and have $1 beers deserves some kind of review.
Keep in mind that I liked going to Omaha Royals games at Rosenblatt, and I am bit of curmudgeon, so the thought of now going to a Storm Chasers game in Sarpy County did not sit well with me. But I figured, what the hell, it was "Thirsty Thursday" which meant dollar beers…I am never one to pass up a chance to drink dirt cheap beer…so off I went.
First Impressions
: Pulling into the lot, I wasn't initially wowed with facility. But did I just see a sign for "free" parking? Yes I did! I hopped out of my car and was immediately greeted by a dude in Storm Chasers shirt "Great night for baseball" he shouted my way with a smile. I don't remember that kind of greeting at Rosenblatt? Keep in mind that friendly Storm Chasers staff will be a recurring theme. Hey, so far, not too bad.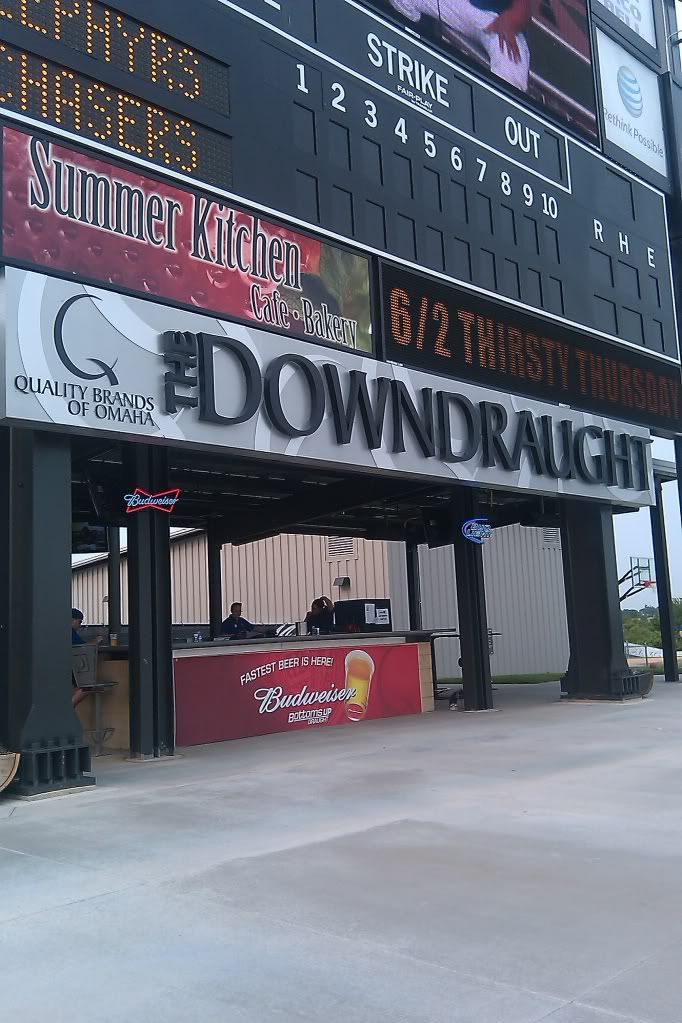 Sit at an actual bar and watch the game
The Bar(s):
Not counting various concession options around the park where you can get everything from craft beer to rum on tap, Werner Park has two actual BAR options the Downdraught bar in the outfield and the Jim Beam bar that seems to be part of the club seats. Being a man of the people, I took a seat at the Downdraught and realized…you can actually pay just six bucks to get in here and drink $1 Bud or Bud Light draws or $1 cans of Busch Light. Oh yeah, and you can watch live baseball…for once in my life…I did not bitch about the "cover charge".
The Crowd
: The Storm Chasers have gone out of their way to create an atmosphere where baseball fans, guys out on the town, and families with small children can all coexist and have a great time. In my seat right behind home plate, I was sitting next to a group of men in their 60s keeping track of every pitch. A quick glance of the luxury suites showed people in their 20's and 30's drinking and having a great time. Here with your family? Grab your drink and head out to the "Family Fun Zone" you can still see the action on the field and you're never too far from your next beer!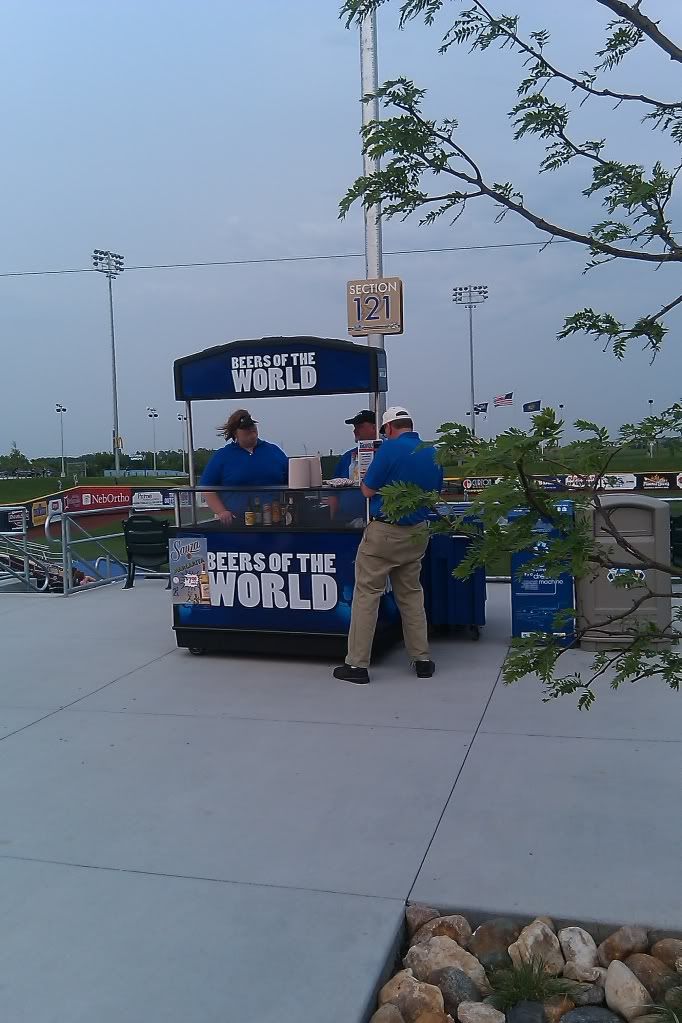 The more options the better
Service
: I was here for several hours, and in that time, walked past several dozen Storm Chasers employees and just about every single person went out of their way to smile and say hello or ask if I was having a good time. And unlike some teams (Omaha Lancers) that use $1 beer night as a gimmick (but make nearly impossible to get a cheap beer), Werner Park makes getting a $1 beer as quick as getting a drink of water. I will say the lines at some of the concession stands seemed a bit long for food…but even after waiting for about 5 minutes to get some nachos…the woman working behind the register apologized for the wait. Not that I even cared…it was DOLLAR BEER NIGHT!
Prices
: Not interested in the $1 beer selection (fools) you can get a domestic pint for $5 or a 24 ounce draft for $7. Higher-end selections, like Stella Artois, will set you back $8 for a 24 ouncer. Margaritas and a few other mixed drink selections will set you back roughly $7 a pop.
Food:
There are many food options, everything from burgers and dogs to pizza and my personal favorite…Frito Pie. And the real kicker, the prices now seemed to be less at Werner Park than they were at Rosenblatt. I only had nachos for $4 and they were fine enough. The cheese was a bit bland, but if that is my only complaint so far, I can easily live with that!
Craft beer anyone?
Entertainment
: Duh! Baseball. One thing that has not changed from games at Rosenblatt is the fact that the Storm Chasers still know how to entertain fans. The things that you always enjoyed between innings at Rosenblatt are still part of the show…the spinny bat races, the "race" (with the beer, corn and steak), the couple balloon pop, and the always bad ass flames in the outfield after a homerun. In chatting with Storm Chasers Assistant G.M. (and part time Steelers-watching football buddy) Rob Crain he commented that entertaining fans is something "that we always felt that we did well". I agree. The difference is now the Chasers higher-ups have a venue that they personally designed and have taken entertaining fans to a whole new level. Oh…plus they are putting a first-place team on the field every night.
Restrooms
: The only real downside of the restrooms is that they are a bit of hike from the club seats where I was sitting. Other than that, they are decent-sized, have TVs over each of the urinals (not that the women care) and even have those Dyson super-duper hand dryers. As dollar beer night wore on, the lines did get a bit longer. Coincidence? I think not. As a wise old man once told me "You don't buy beer, you only rent it".
Never miss any of the action
How Far Did My $20 Go
: Including the price of the McDonalds Berm seating, you can park for free, get in for $6 and still have enough money in your pocket for 14 beers! Perhaps the best deal I have ever seen at any quality sporting event…ever.
Other Observations
: Never before have I seen so many things that have corporate branding and that includes the foul poles and the seats. One aspect that I especially liked is that you can walk around the entire field and still be able to watch the game from anywhere. Want to get your exercise while you're here? Three laps around Werner Park is equal to one mile. And, no matter where you sit (as long as you have seats and not sitting in the outfield berm) you are never more than 16 rows from the action, and there's NEVER a bad seat in the house.
Final Thoughts
: Even if you're not a baseball fan, Thirsty Thursday at Werner Park should be a MUST on your list of things to do this summer. Bring your buddies, bring your kids, hell bring the whole damn neighborhood. It's fun, it's cheap, and it is more cost-effective than going to the movies…and you get A LOT more entertainment. The Strom Chasers have taken affordable entertainment to a whole new level…beers for everyone!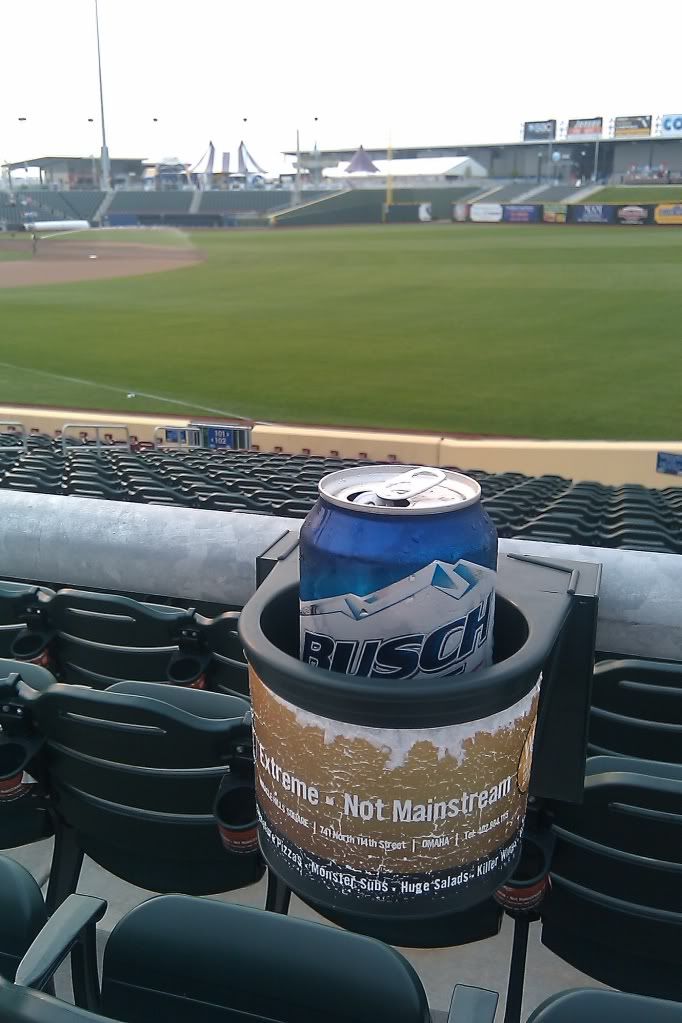 Dollar beer!!