Start with "Char-Buffed"
17330 Lakeside Hills Plaza
Omaha, NE 68130
(402) 758-1910
Restuarant 2
My quest to find Omaha's best wings next took me to West Omaha's noted spot for wings…
Oscar's
. Now, over the years, I've consumed countless dozens of wings here (and even more pints of beer than that) so I'm no Oscar's rookie. Actually, the first time I had wings at here, I wasn't the world's biggest fan. But, that was seven years ago, and for the life of me I can't remember why I didn't like them the first time? Anyway…let's get down to the business at hand…
For those keeping score at home, the best HitThatDive wing score is a total of 50 points based on scores from five separate categories. But, enough of me babbling…let's eat some wings.
First Impression
: It starts with the menu…there are several sauces that you can choose from. Here's what I would do if I were you, order them "Char-buffed" and then have them "double-dipped" in the Buffalo sauce…or do whatever you want…it's your money after all.
Have them "Double-Dipped"
The first thing I noticed, because usually I'm here with a buzz and not really taking notes on about my food, are that these wings smell JUST like the wings we would make at tailgate parties in Pittsburgh. And why is that a good thing you ask? Good question! It's because the char-buffing (is that a word?) makes them smell like they are hot off an outdoor charcoal grill. That being said, for the wing "purists" in the crowd, they are not quite classic Buffalo wings. But who gives two-shits, they are making my mouth water.
Score: 9
Sauce:
Again, not a classic Buffalo-style sauce, but it has a great taste and has a bit of zip to it…without being too spicy for the wimps in the crowd. Now, some Oscar's regulars will tell you it's a sin to ruin a char-buffed wing with extra sauce…but their sauce mixed with the grilled flavor is a great combination in my book.
Score: 9
Crispy
: Here's where ordering you wings char-buffed really pays off…Oscar's has perfected the art of making wings crispy without over-cooking them to small pieces of charcoal. In the past I've been here with people that order them "char-buffed AND extra crispy"…like I said earlier…there's a lot of ways to order your wings here so it's always a good idea to experiment with several different combinations.
Score: 10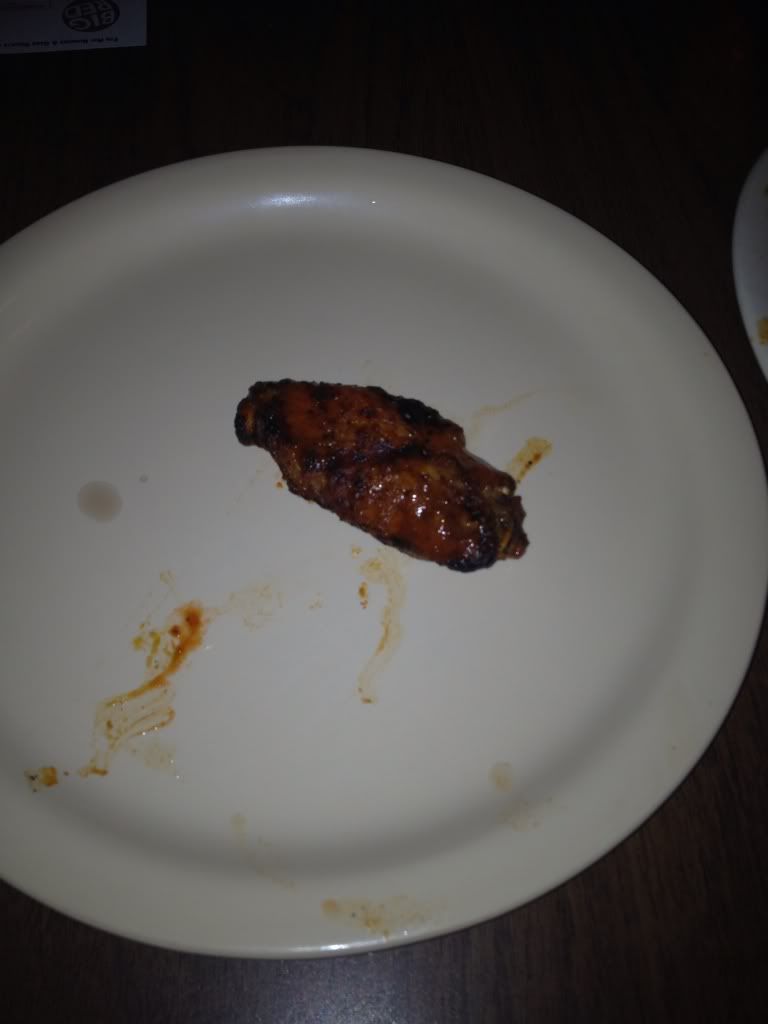 Perfect Size
Size
: Perfect! I don't understand people who want those huge mutant-looking wings…like they have a
Tanner's
. Oscar's wings are of a normal size for a chicken…meaning the wings don't look like they spent some time with Barry Bonds at the BALCO labs. Having normal-sized wings ensures that they are all cooking at the same rate and guarantees that you don't bite in to an ALMOST fully cooked wing. And wings of this size, when cooked properly, make it easy to "Fred Flintstone" them, meaning you can just put a full wing in your mouth and then slide out nothing but a bone (yes, please make some sort of oral sex reference here…I know I would have).
Score: 10
Extras
: Celery, plenty of napkins and several extra plates. Throw in a few wetnaps and two sides of blue cheese and Oscar's seems to have everything covered. One sort of nitpicky thing, the blue cheese and the ranch pretty much taste the same to me. Good blue cheese is almost impossible to find anywhere these days so maybe I should just start bringing my own.
Score: 9
Oscar's has some of the best wings, in my opinion, in Omaha. Again, they are not "classic" Buffalo wings…but who cares? They are great wings and they are consistently great. Keep in mind that this is one of the best-run restaurants in town, it's always crowded and you can bring your family here or show up with your drinking buddies and get hammered while watching sports all day long. Great wings and a get sports bar…this will be a hard place to beat.
Final Score: 47 out of 50.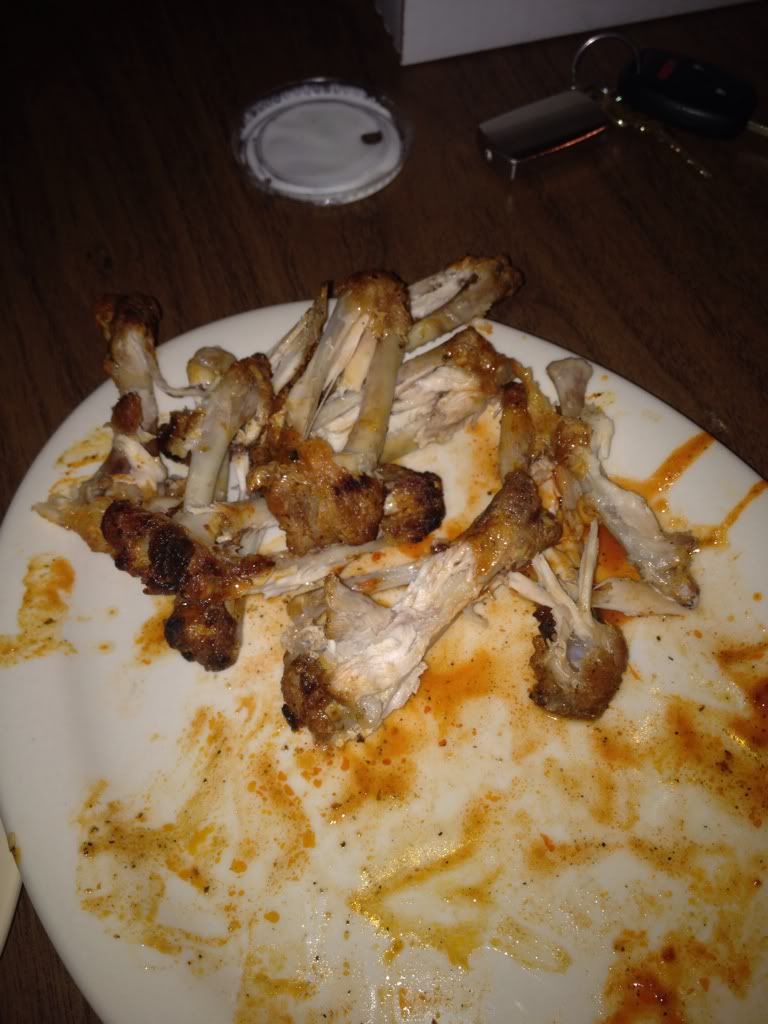 47 out of 50. That's hard to beat!