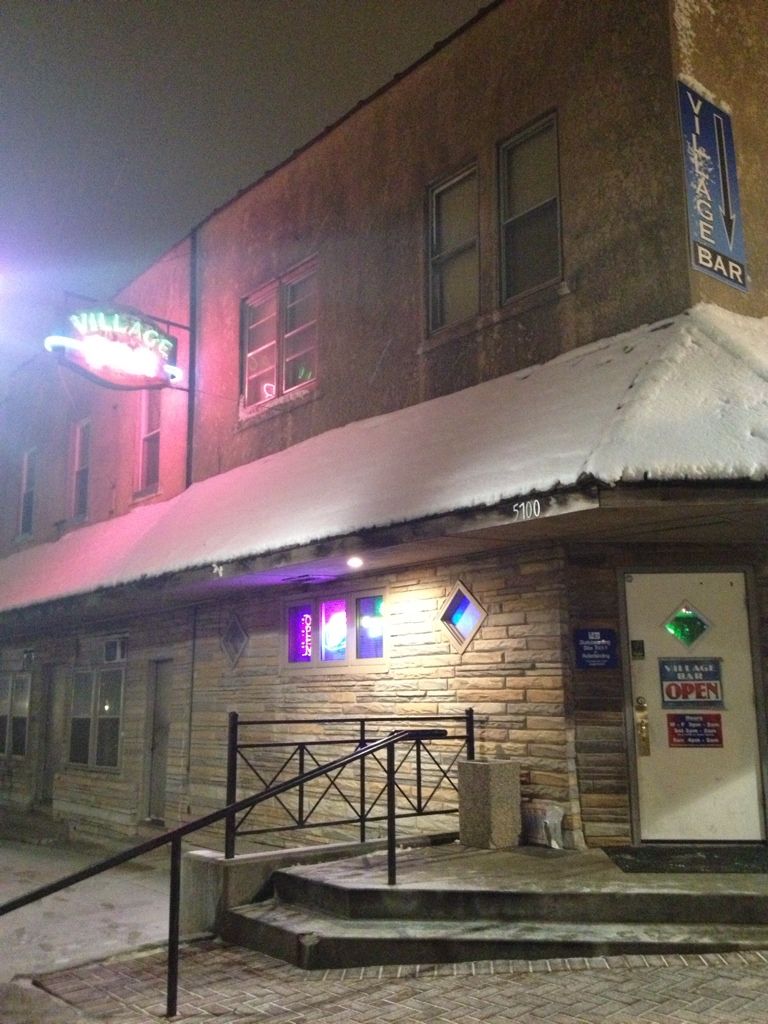 Now THAT'S a bar
5700 South 77th Street
Ralston, NE 68127
I got a note on
Facebook
from Heather H. that said I had to make it a point to stop by the
Village Bar
in Ralston.
As Heather stated the bar has "
Old school video games, skeeball, Buck Hunter HD, the occasional live music/DJ night and of course home of the delicious 14'r Bloody Mary! It's my second home!
"
Sounds like a great place to me, plus, it gives me a reason to sneak out of the house after being cooped up for holidays.
PROS:

Reminded me of old school Pittsburgh bars. Laid back atmosphere.
CONS: Either the bar is an inch or so too tall or the stools are a touch too short.
Two-tiered bar
First Impressions: The neighborhood between 84th Street and 77th on Park Street reminded me of my hometown of Irwin, Pennsylvania so I was already encouraged before I parked in front of the Village Bar. The character of the place is evident immediately when you park out front; it's a big old building, but not intimidating-looking in the least.

A huge "OPEN" sign is on the front of a dingy-looking door so I walk in and immediately like the place, even though it feels like I've shrunk an inch or two when I take a seat at the end of the bar.
The Bar:

While the building itself looks like vintage 1950's, the bar itself seems to be pretty new.

And, I might add, the bar stools are some of them most comfortable in town…even if they are an inch too short.

They have four beers on tap, a fairly large collection of vodka and a larger-than-usual selection of bottled beers.

For as big as the building is, the bar itself is relatively small, but not too small.

In fact, I would argue that this is the perfect size bar for a neighborhood watering hole.

Make it a point to look all over the walls and especially above your head Old Style Beer chandeliers on the ceiling.

It's kind of the Homy Inn, Jr. just without the pretentious customers ordering snooty drinks.
The Crowd:

Tough to gauge this one, becasue it was a bit of a slow night.

From what I've been able to read online, it has a devoted following of people who have been drinking here for 50 years mixed in with a younger fun crowd, some of which were sitting at a table by the restrooms.

I'm pretty sure Heather H. was one of the people at the table, but not wanting to appear creepy to a stranger if it wasn't her, I decided to happily sit at the end of the bar and talk sports and music with the bartender.
Service: Great bars, for me anyway, are judged on their service.

And even though, as usual, I was the only non-regular in the place, bartender Mike made me feel like a regular in no time at all.

My glass was never empty, we talked sports and music for well over an hour, and he even let me pick some songs out on the jukebox from his tip money.

Mike was easily the reason I could have stayed until closing, but I saw the Ralston cops have extra money to bust people until the 1st, so I ended up leaving before I would have wanted to.

Mike sort of reminded me of someone, and it wasn't until right now that I realized that, just for a second, I thought I might have been talking to Steve from Ghost Hunters.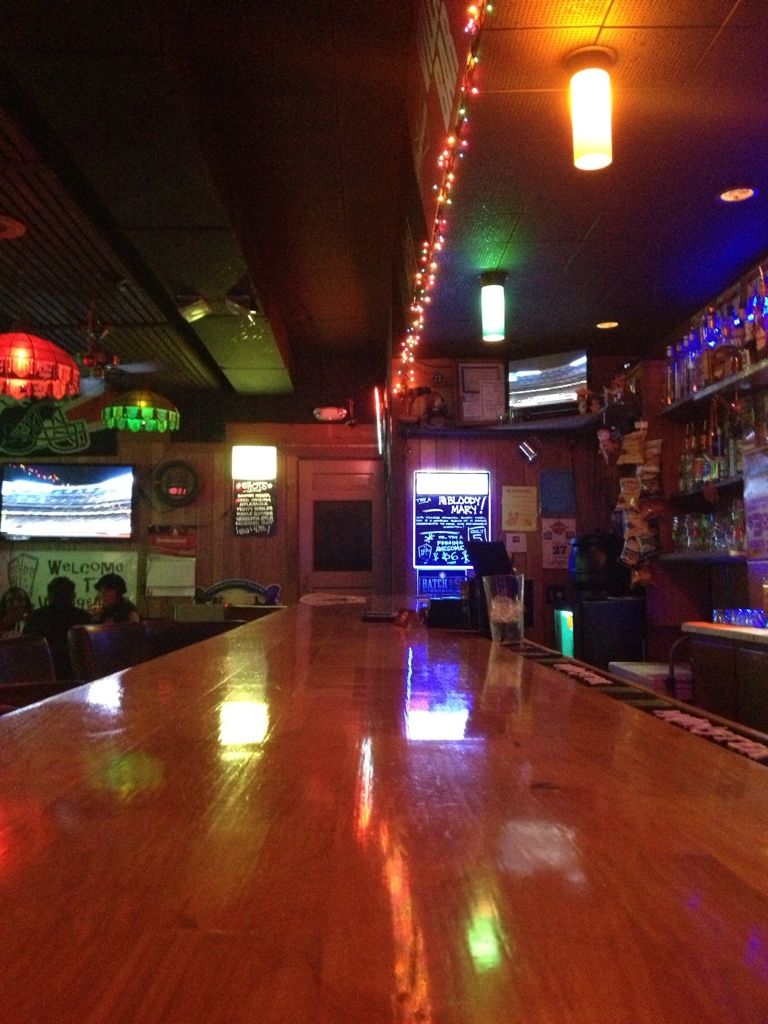 Looks like shuffleboard
Prices:

I was having such a good time shooting-the-shit with Mike, that I sort of lost track of this one.

I know that I paid $12 total so I'm guessing that I paid $2 for a domestic pint.

And I could be wrong again, but I think the dude sitting next to me was paying in the $3.50 range for a vodka and soda.

In any case, let's say prices here are on the lower end of the spectrum, which is always a plus in my book.
Food: Did I just spot some pickled eggs behind the bar?

YES!

Not in the mood for an egg…their 14'er BloodyMary looks like a meal all by itself…including beef jerky!
Entertainment:

For not being all that large of a bar, there is a lot to do in here including six TVs, Skee-Ball, darts, Big Buck Hunter HD, an old school tabletop video game and the best of all…Karate Champ circa 1984.

The Internet jukebox also somehow takes pictures and the Village has some of the best sounding speakers in town.
Restrooms:

Small but pleasantly warm.

You can usually tell the age of a bar by the size of their restrooms and this is one that was clearly built in the 50's.

Why did people like such small places to take a leak 50 years ago?
Bartender Chat:

Sports, music and the question of the night from Mike…"If you could only have one last meal what would you eat?"

The guy next to be oddly chose beef stroganoff, I of course quickly answered wings.

And huge thumbs up to a bartender who plays DIO on the jukebox and then follows it up with the Ting Tings…variety is indeed the spice of life.
How Far Did My $20 Go:

By my meager calculations, my twenty smacks would have been good for 10 pints.

I know for a fact that's the price at happy hour because I read it on a sign behind the bar.
Final Impressions:

Antiques are antiques for a reason, because no one makes that type of quality anymore.

The same can be said for The Village Bar.

If you like a bar with an actual history that also serves as a community center (the way bars once did when this place was built) this is a must stop on your list.

Add to that cheap prices, great bartending and enough things to do to keep you happy if you get bored (how that would happen I have no idea)...and you can't go stopping by here any chance you get.

HIT THAT DIVE!