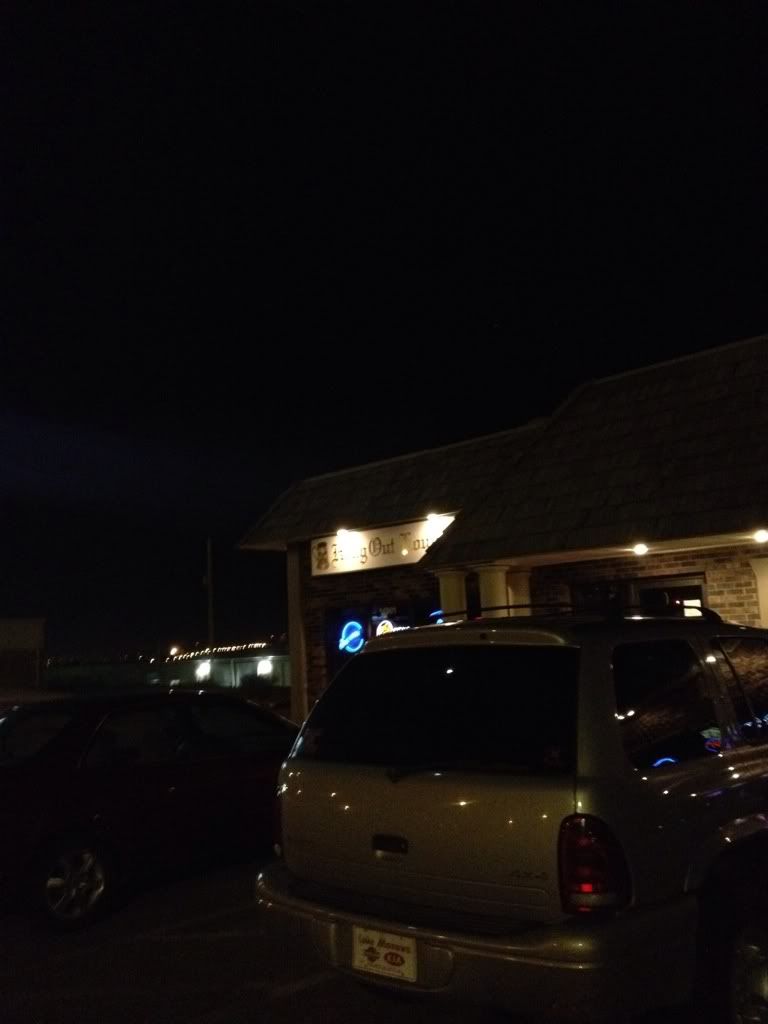 Not my best picture attempt
Maybe the key to a great bar experience is not having any big expectations when you walk in the door. Case in point would be The Hang Out Lounge in West Omaha…I'm not even sure I ever even said my famous last words about this place…"I need to stop in there some day!" But, I was in the area (spending the afternoon smoking cigars and drinking beer in a warehouse) and wasn't quite ready to head home yet. Plus, I figured the more I reeked of booze, the less I would smell like a big 'ole stogie…clearly rational thinking is not one of my strong points.
Pros: Great regulars. Great service. Great owners. Great barbecue.
Cons: I was a bit buzzed when I got there and had to leave sooner than I would have liked.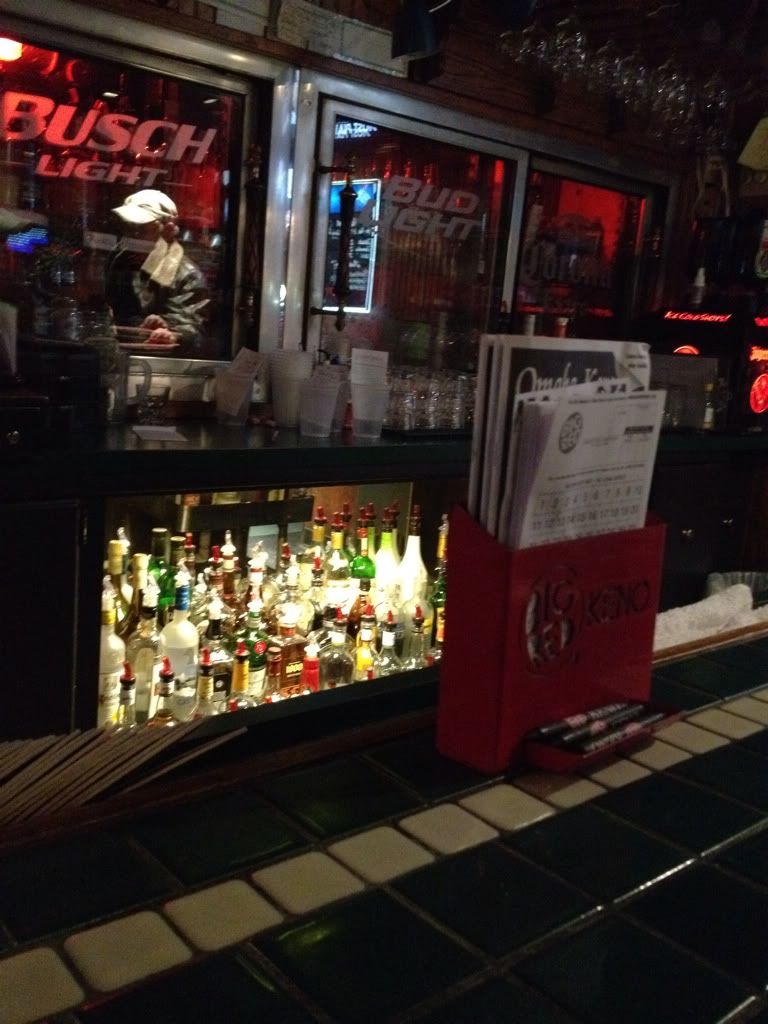 Clean AND friendly
First Impressions:
I had to fight my way through a crowd of middle-aged smokers to get through the front door, which was fine with me, and they look WAY more like dive bar drinkers that the douche bags at the
Homy Inn
. Getting through the front door I was amazed at how big and clean this place was…yet still had a great regular bar feel to it. So far, this is exactly the type of neighborhood watering hole that this part of Omaha is sorely lacking.
The Bar:
It's a nice and roomy L-shaped bar to belly-up to, and the room itself is large enough that you never feel cramped. At my count, they had nearly 20 bottled beers and 6 beers on tap…to go along with a very well-stocked and very orderly collection of hooch. If you like to drink at a bar where you can feel relaxed, this is the place for you. It's also home to
Uncle Ernie's Barbecue
, so there are more than enough tables in case you're here and want to eat some brisket.
The Crowd: As great as everything has been about The Hang Out so far, the people there are what really made this a great experience. The bar attracts middle-aged "professional" drinkers who are out to meet up up with friends, catch an affordable buzz and have a good time. It's the kind of place where the regulars introduced themselves and joke around with you almost from the moment you sit down. Again, there was an older crowd here (not like that even matters) and for those of you on the prowl…there were more that a few well-dressed cougars here to boot! Good stuff!
Great regulars
Service: Exactly what you would expect in a bar like this. The bartender was quick with the drinks, knew every regular by name and had no problems giving any of the men shit if they tried to, as we would say in Pittsburgh, "yank her chain". Hell, the couple sitting next to me that I assume were the owners even bought me a beer. Funny, but it's just no coincidence that the best bars ALWAYS have great owners. Thanks for making me feel welcome the entire time I was there.
Price: I'm a little fuzzy on this one…I had four beers (I think) and paid about $6. Of course, at least one of my drinks was on the house…but still…those are some good prices. I did notice a sign for happy hour that had on it (among other things) Dewar's for $2.25, domestic beer for $2.75 and well drinks for $3.00. Let's just say this is a good place to catch a nice buzz and not break the bank.
Food: Like I said, this is also the home to Uncle Earnie's BBQ, so if you ever make a stop here…make sure you're hungry too. Now, I didn't eat on this trip to The Hang Out, but having spent countless hours drinking beer around my charcoal smoker, I can tell you this looked and smelled like great barbecue.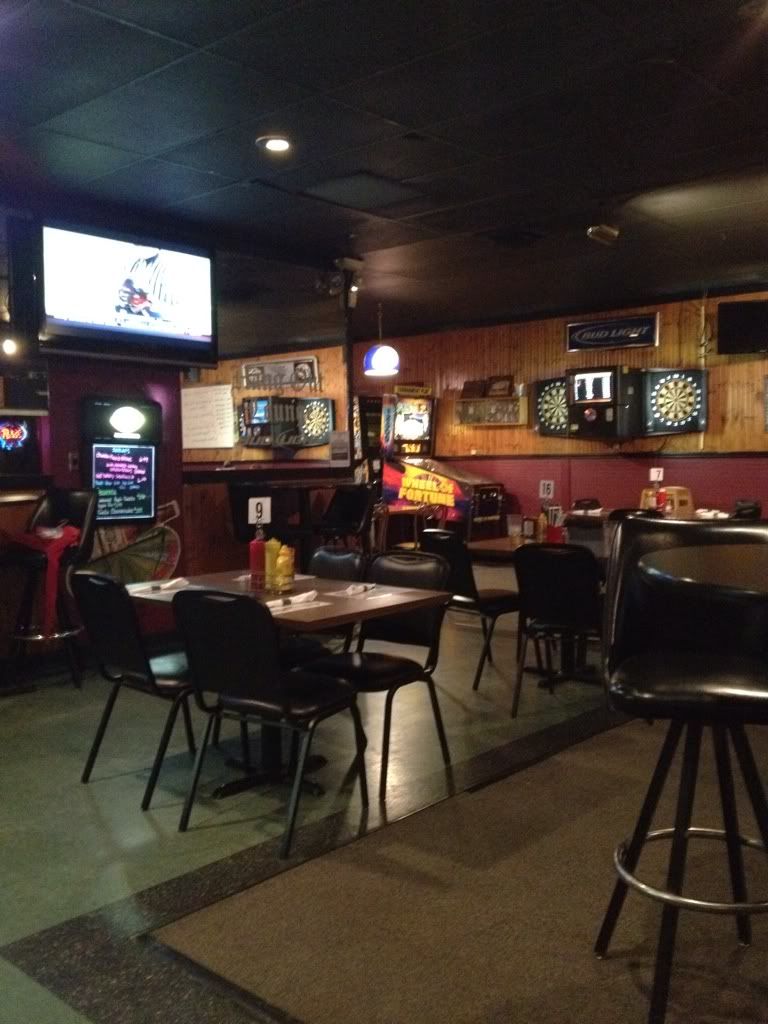 Grab some ribs!
Entertainment: Dartboards, a pinball machine and Keno…your usual sort of bar stuff…but this clearly was a Keno-playing crowd. There may have been a jukebox there too (geez, maybe I was a bit more buzzed that I gave myself credit for) but the music that they had playing through what seemed like Pandora radio station seemed to be a perfect fit for the place.
Restrooms: Not the worst I've ever seen, not the best I've ever seen. On the upside, much like the rest of the bar, they are big and roomy. Look, if so far the only remotely negative thing I've said is that the restrooms aren't the best I've seen…consider this a bar you would like.
Bartender Chat: This should be more like bar chat. Keep in mind that I had never been here before, yet I sat and talked to pretty much everyone in the bar the entire time I was there. There's no need to sit and bend the bartender's ear when you're sitting around a group of people that make you feel like a regular the moment you grab a seat at the bar.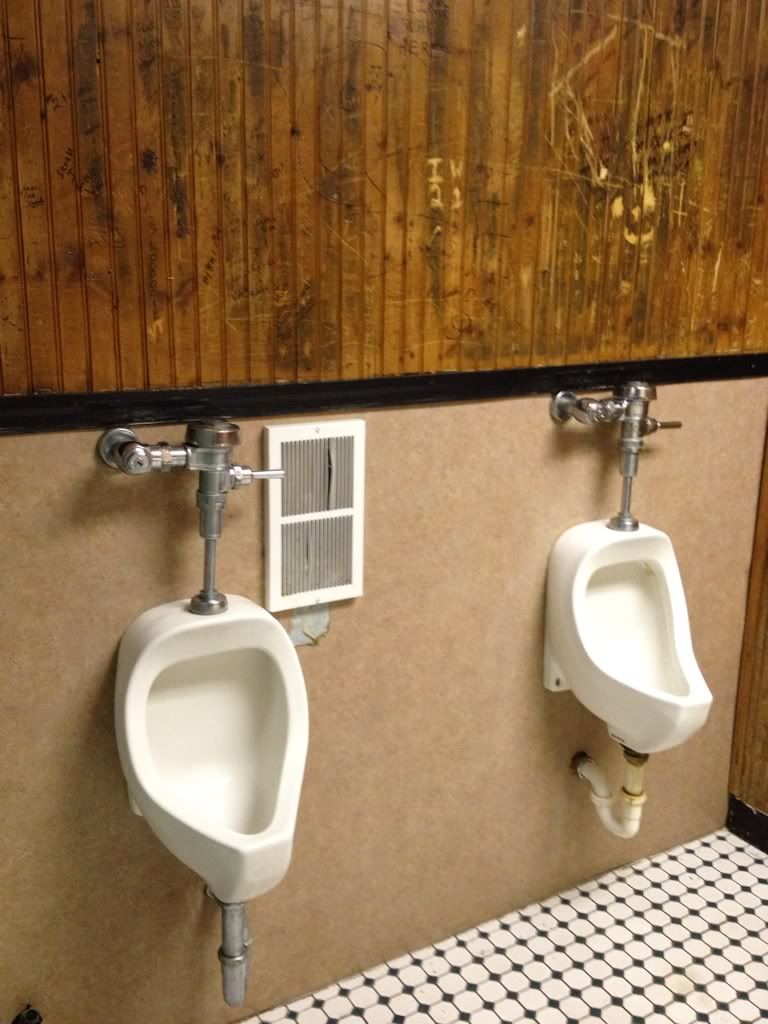 Plenty of room between the two
How Far Did My$20 Go: Well, I did need to make it home, so I didn't even come close to reaching my $20 limit BUT if you were so inclined, that would be more than enough for eight Dewar's on the rocks. Why you would want to do that I have no idea, but it's nice to know you could do if you wanted to.
Final Impressions: I'm not quite sure what's not to love about this bar? By the time I left, everyone in the place was calling me by my first name (even though I was having a hard time remembering it at this point) like I'd been a regular there for years. In my opinion, this is the best dive bar in West Omaha. Make it a point to spend some time hanging out at The Hang Out Lounge…just don't tell a bunch of douche bags about the place…that would ruin all of its charm.
DIVE-O-METER