Nice knocker
3012 North 102nd Street
Omaha, NE 68134
(402) 572-9400
After a long week of doing stuff for people (employer, friends, family), I was exhausted and in need of self-medication in the form of a Friday after work belly-up. Planning ahead, I had the HTD CEO, Scuba Steve on standby and my trusty sidekick, "Tristed Tea", by my side. The only thing left was to find this hidden relic of West Omaha's past….THE BRASS KNOCKER!!!
Pros: No nonsense. And if you get there before 7 or 8, you will have the place to yourself.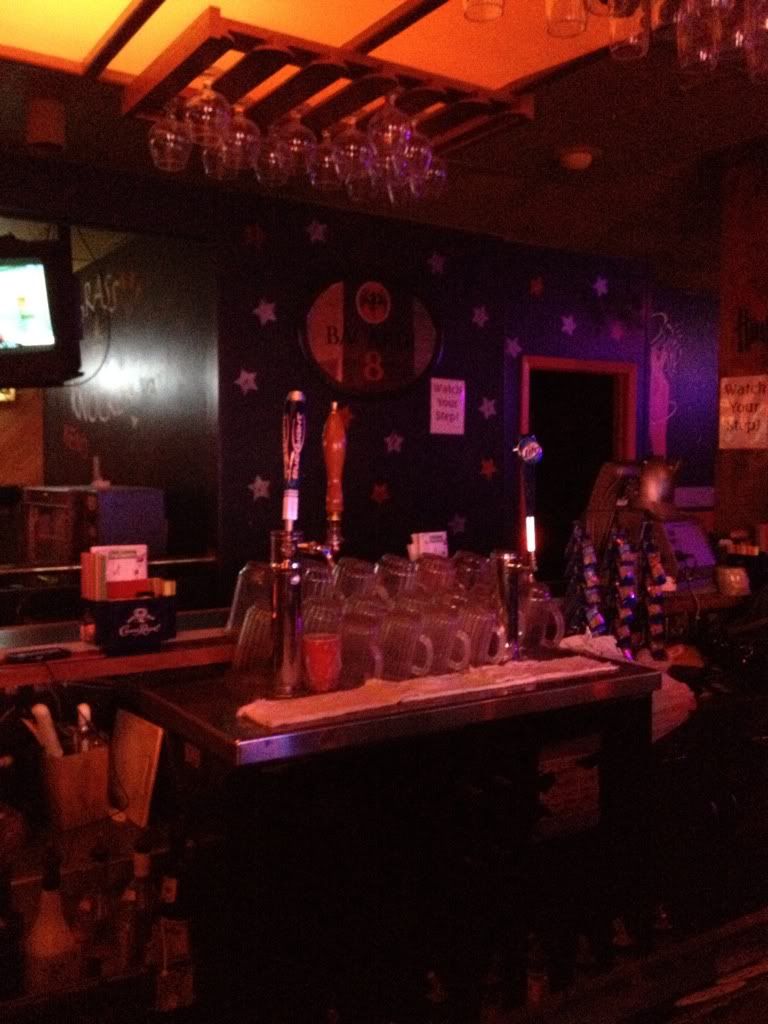 Easy to find a place to sit
Cons: Nothing about the bar jumps out at you and screams "Come back!". No specials, no clever house drink concoction, no crazy regulars in sight. Chair. Bar. Beer.
First Impressions: Is this place open? The sign on the building has been removed and not replaced so don't expect to just run into this joint…no-no my friends, you have to be looking for it. In fact, I actually phoned Scuba to tell him that the place was defunct, minutes before he showed up and took a closer look (persistent and thorough that Steve) and discovered that in fact it was still open for business. Well…..kind of.
The Bar: A very dark and quiet bar, this is the epitome of West O dives. Plenty of room around this horseshoe shaped oasis of simplicity, especially when you're the only ones there. The patchwork memorabilia on the walls captures decades of music and sports memories and the mix 'n' match seating includes everything from bingo-hall chairs to lifted 70's bar stools to modern office furniture. If you can't get comfortable here than you're sh$t out of luck pal! Wait a sec...is that a twelve inch diameter disco ball hanging there for no particular reason? You bet your dying ass it is.
Karaoke goes on here
The Crowd: Our posse of three instantly doubled the number of people in the place…one of which turned out to our bartender. Well, she was our bartender AFTER she was done eating her Jimmy John's. The three of us walking in there was somewhat like an old west movie, with tumbleweed in the background (it was a windy evening), the new drunks in town walk in on the change-averse bartender and what appeared to be her son...plus the one other patron whom I'm guessing was the bartenders' "besty". Either way, it was a tight-knit bunch who did not seem prepared for AN ENTIRE ENTOURAGE consisting of me, Scoobs, and T.
Service: A bit standoffish at first, it was dinner time as well, but not too awful considering we were throwing off the "vibe" in the empty room. After awhile, we were able to forge some conversation with the bartender and her right-hand gal (Whatup Rhonda!!!). They are a fun bunch after you earn their trust (buy them shots). They even shared some fun facts about the Brass Knocker. Built in the late 70's, karaoke hot spot, etc.
Price: Pretty standard. $7 a pitcher. Couple bucks a shot. Not expensive but no can't-miss deals either. Here's a tip…buy the pitcher…a regular old pint sets you back $2.50.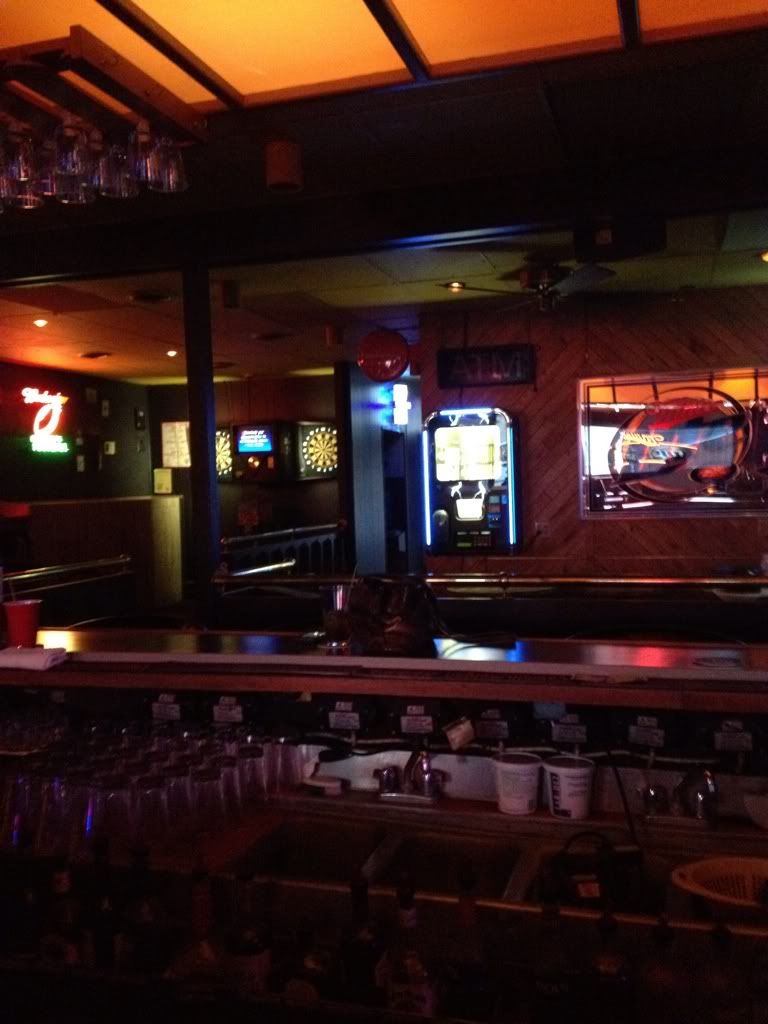 Looks like a bar
Food: None…other than the bartender's #4 from Jimmy John's
Entertainment: It turns out the Brass Knocker is a staple of the Near-West Omaha Karaoke Circuit…which they seem to have nearly every night of the week. (Although not witnessed or sponsored by Hit That Dive or any of our affiliates). Other than that, your run-of-the-mill dart boards and Internet jukebox. A few small TV's were scattered around the bar, which gave us the perfect spot to watch a rerun of "How I Met Your Mother".
Bartender Chat: Before her Jimmy John's and the purchasing of her to take a shot: N/A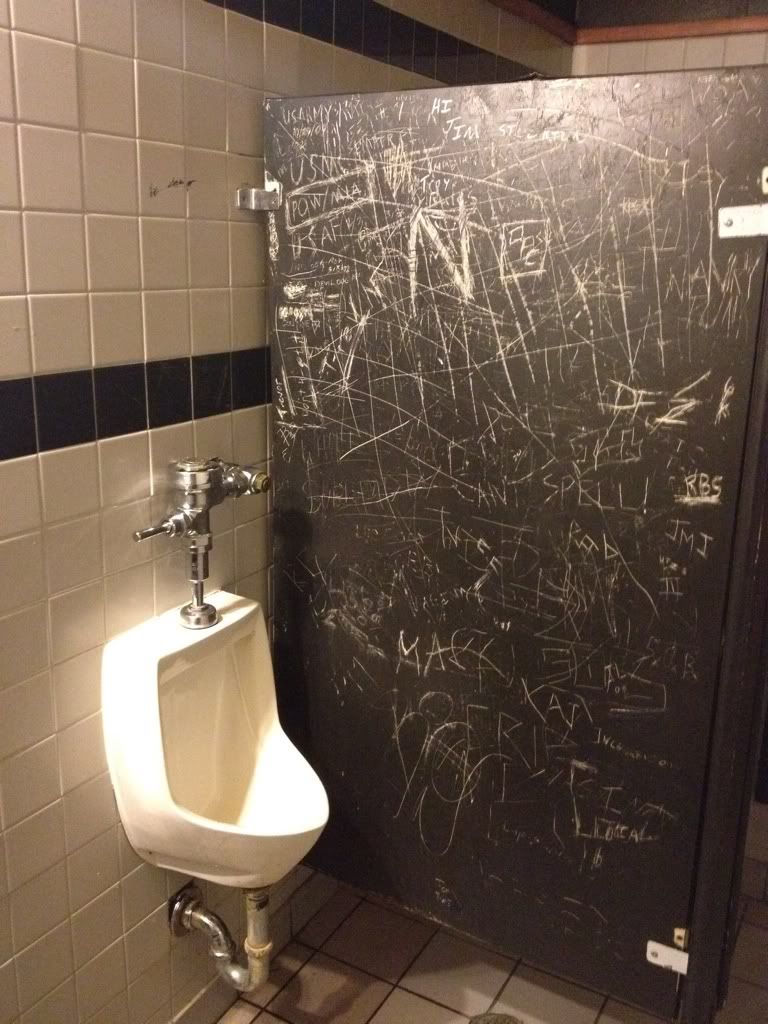 When you gotta go...
After her Jimmy John's and the purchasing of her to take a shot: Fun, kind lady. My type of person. She told me how when she's meltin' faces on the karaoke mic, it throws people off because she sounds so much like a dude. And that's crazy because her speaking voice was very sweet and feminine. And for the record, she did buy us a shot in return. Did I mention she is also the owner? Great lady. And Rhonda, her sidekick is the bee's knees too.
Restroom: Small and a bit dingy. Worst ever? Not even close.
How Far Did My $20 Go? Stick with the pitchers and you can get two and have a few bucks leftover for a shot or two. Buy one for the bartender first, she's more fun after that.
Final Impressions: This is a West O dive. Bottom line - good times, laid back, great way to end a strenuous week and begin another glorious weekend. This is the kind of dive I was raised and still live in. Also, if after a few spirits you feel the need to get your girl/boyfriend's name tattooed in cursive on your neck, pop in some gum and walk next door to Dr. Jacks. Let's be honest, if you've got nothing better to do then go ahead 'n'….HIT THIS DIVE!
DIVE-O-METER: 6/10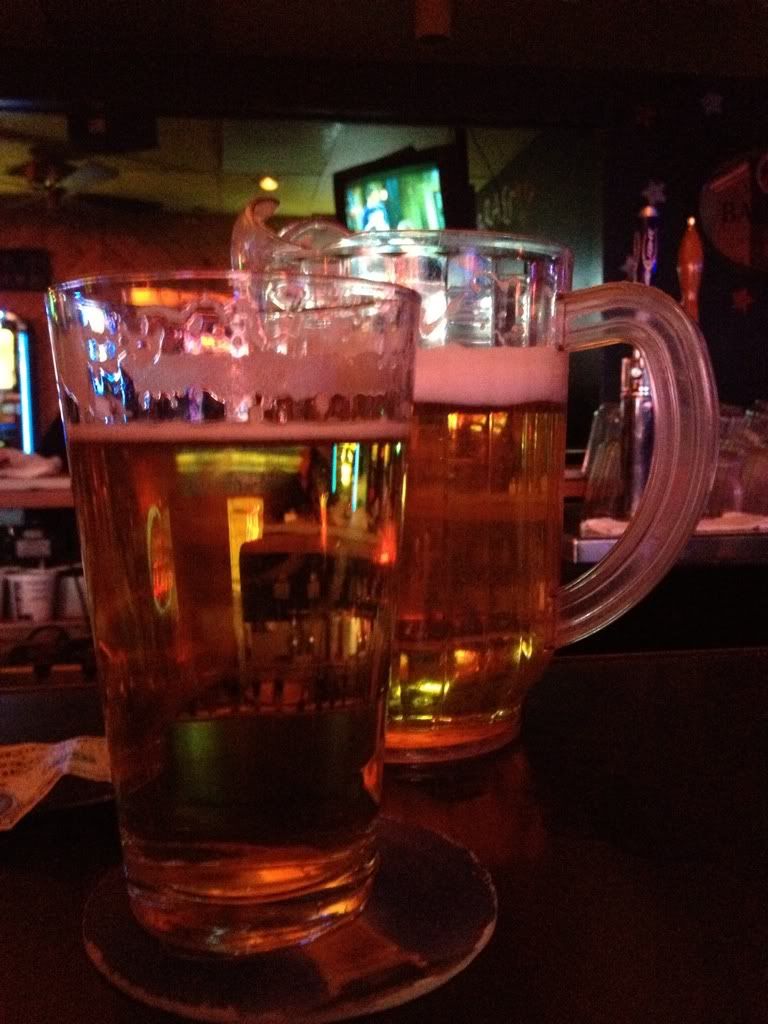 BUY THE PITCHERS