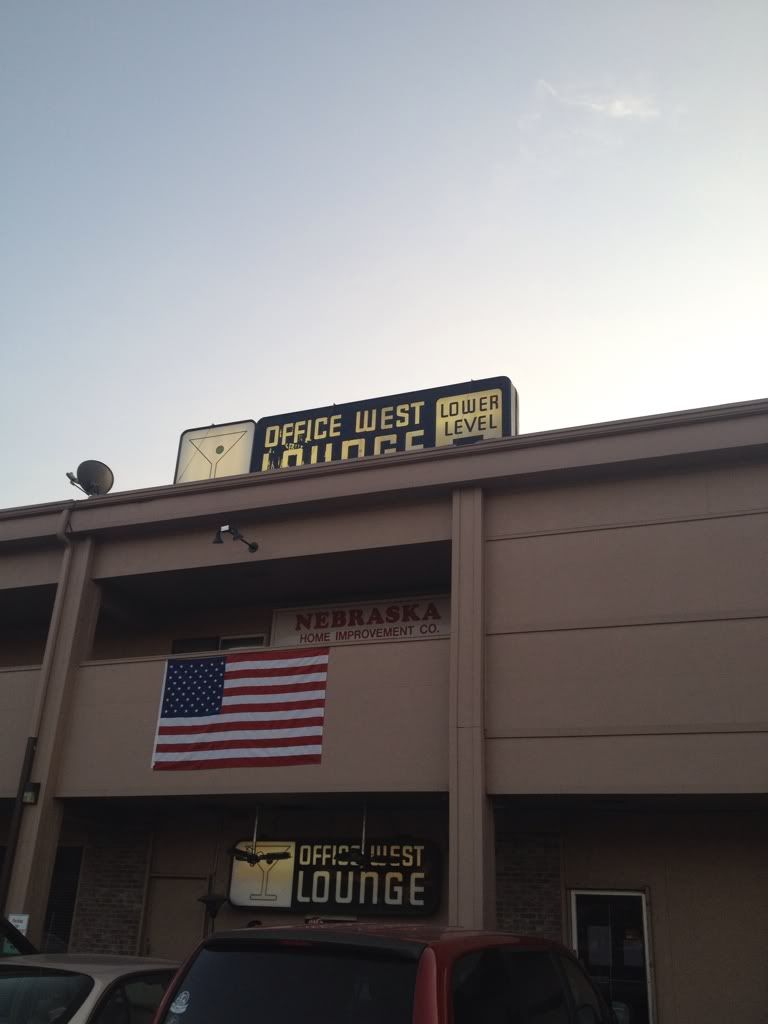 Looks OK so far
266 S 119th Ct
Omaha, NE 68144
(402) 330-1122
I hit big on .25 cent Keno the other day and decided to take Mrs. HitThatDive out on the town for a night. So, after living it up at Zio's (quarter Keno only pays so much you know) we decided to spend the rest of my winnings at a local watering hole…but where? Heading East out of Zio's I made a right on 120th and BINGO…it hit me…I've always wanted to stop into the Office West Lounge. Hey wife…don't spend all my money on cheap wine…OK?
PROS: It was on the way home. I didn't hate it. Good place to bring a date if you're cheating on your spouse.
CONS: Smelly bar area. The bartender seemed leery of us. Haven of cheap polo shirts
First Impressions:
A few dudes that looked like
Shooter McGavin
from Happy Gilmore were sitting out front smoking cigars. As we walked through the front door I was immediately overwhelmed by a smell that resembled my Dad's old leather dress shoes after a long day at the office…that's not a pleasant memory! Other than that, it looked like a bar that has some sort of invite-only party room to the right as you walk in. Could be worse…I suppose.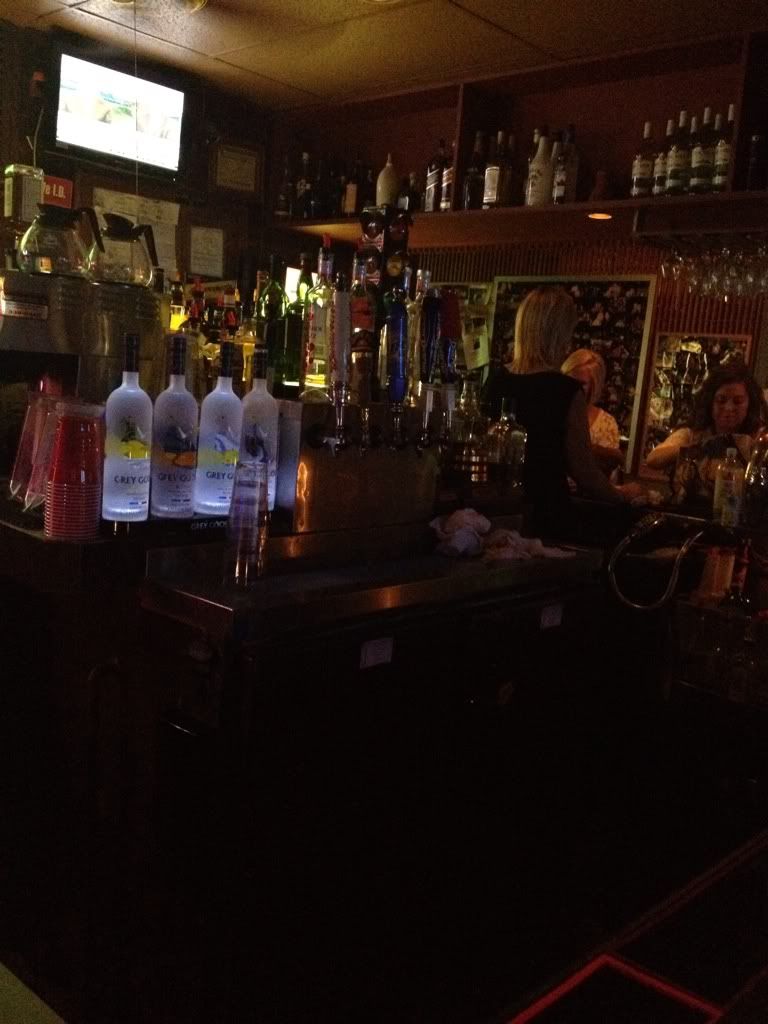 She didn't like us
The Bar: The bar itself is kind of "Z" shaped…is that possible…and has roughly 10 bar stools. Five-ish beers on tap, a decent collection of vodka choices, and several pots of coffee ready to go. And, some of the coldest beer from a cooler ever (right Speck). In the "main" bar there are 10+ tables and booths several of which looked to be the perfect place for, in my opinion, a secret rendezvous with a person that is not your spouse. Why I thought that, I'm not quite sure…but Mrs. HitThatDive begrudgingly agreed. There also is a separate "Jack Daniels" room that was home to a birthday party of some sorts…complete with small children. Oh yeah…the bar-area smells like a sewer.
The Crowd: An odd assortment of bar-goers in this one. I can only assume after looking around the bar that had, easily, a 80/20 male to female ratio…that Gordman's was completely out of $9.99 fake polo shirts. A "hot-spot" for middle-aged men after a round a golf, there also were a Mom/Son tandem, a few grandmothers doing shots and a well-dressed blonde that was THE catch of the night for any dude willing to fawn all over her…or pony up enough cash to get her drunk on white zinfandel. Most of the dudes seemed too harmless to call them douchebags, they are more of the regular old schmoe variety.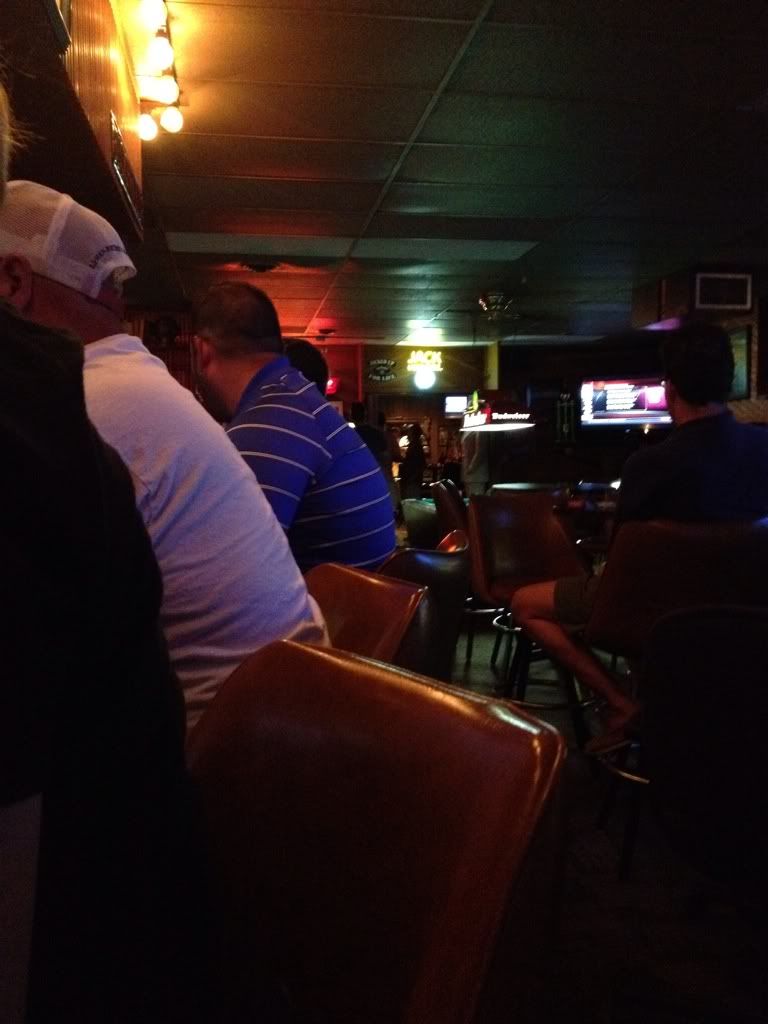 More polo shirts!
Service: Cute-enough blonde bartender in a rather short denim skirt. She greeted us with a hearty "HELLO" but then seemed to be watching us as if we were up to something sketchy. Nothing to see here "Toots", I was just wondering where that AWFUL smell was coming from.
Price: Domestic drafts were setting us back $2.25, BUT, after each one we were given a new "chilled" glass. On the other hand, the glasses were being hand-swashed in the sink where the STENCH clearly was emanation from…so maybe you should go with the bottled beer. Of course, I'm cheap and have no idea how much that costs. There may have been a few signs for happy hour prices, but I was too busy trying to not look shady to the bartender and never got a picture of any of them.
Food: I assume none…but since I was stuffed from Zio's, and was trying not to vomit from the ever-worsening smell, I didn't even pay attention to this one.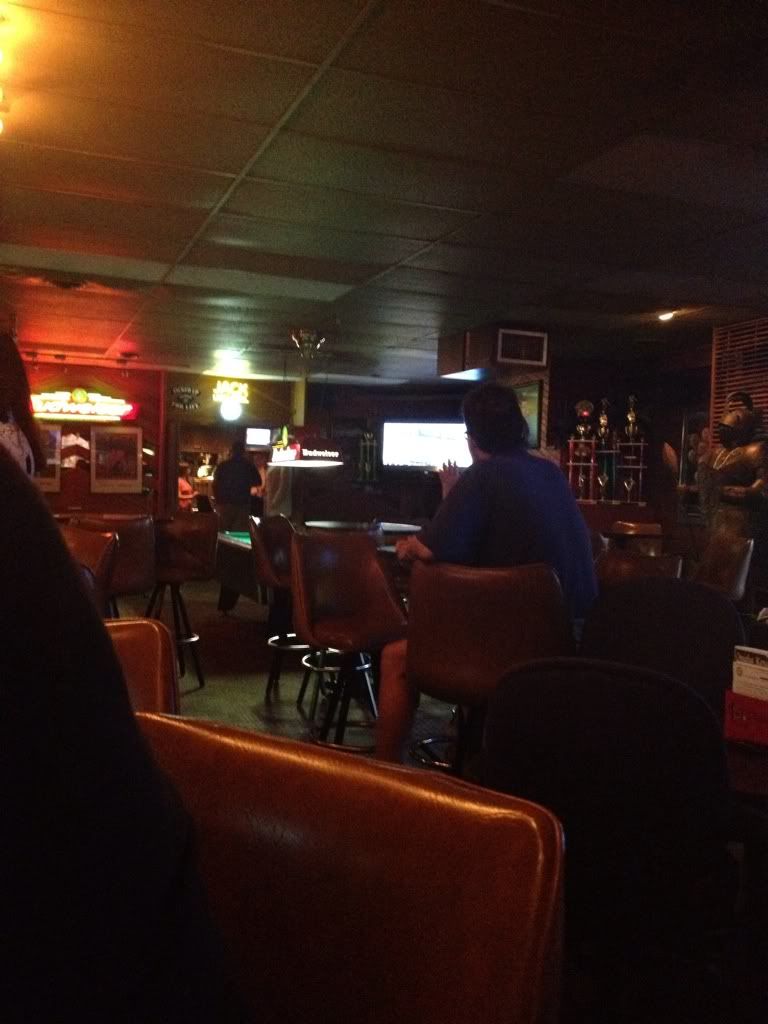 Great place to bring your mistress
Entertainment: Two shady-looking "skill" games, a pool table and four TV's. They do have their own matchbooks (a lost art these days) so make up your own game as to the best way to use a match to mask the nasty sewer smell.
Bartender Chat: Not an overly chatty type, I didn't have any notes on things that we may have talked about. Had she been just a touch friendlier, I may have asked her about the smell. But, since she already seemed leery of our presence, I thought it made more sense to just sit and make small-talk with the Wife…it was date night after all!
Restroom: Clean, not very private BUT in an odd circumstance…smelled WAY better than the bar itself. If you become easily nauseated by bad smells, you may want to just pound your drinks in here.
How Far Did My $20 Go?: Not seeing any real specials indicated, the going rate of domestic draft beers would get you a rather pedestrian eight beers. Ten would have been better considering the smell.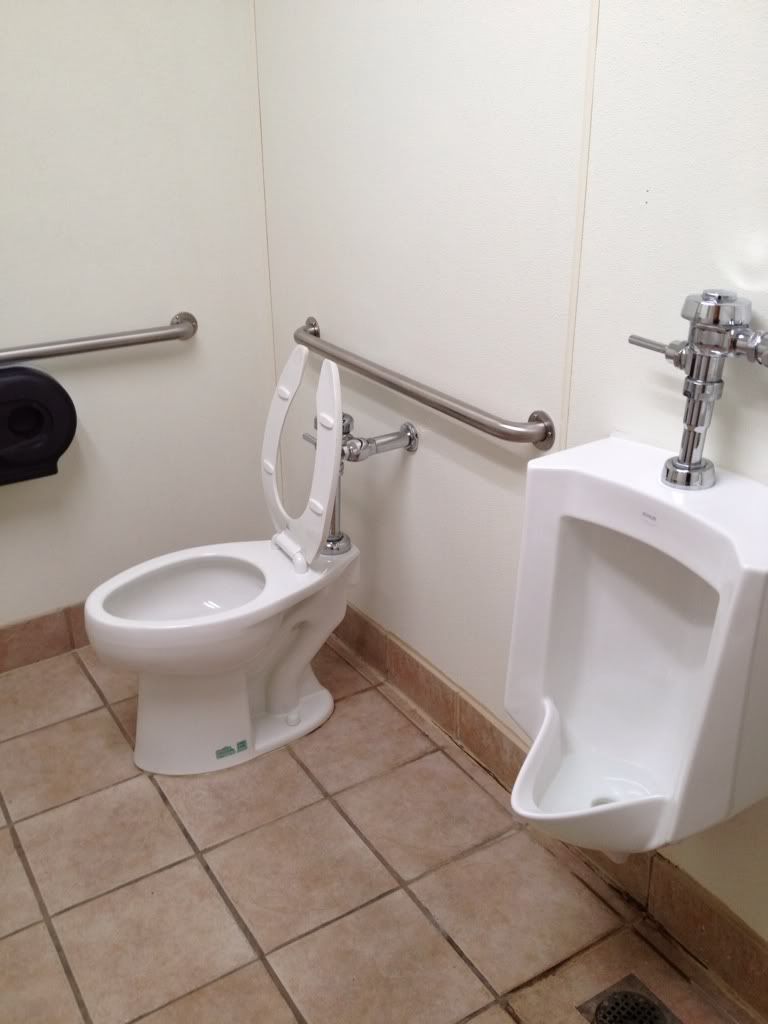 Smells better than the bar
Final Impressions: Ummmmmm…it's…well…I guess…maybe…but not quite. Oh, I don't know…it smells, the service was not all that great, there were a hoard of golf-types in there and yet…I didn't totally hate it. Did I love it? Hell no, but, other than a few glaring problems, it was not a total loss. Would I highly recommend it, not on your life…BUT…if you're looking for a place to bring that lonely MILF down the street who has been begging for your undivided attention, the Office West Lounge is just what you're looking for. Plus, the smell in the bar is so bad, the old lady will never catch a whiff of perfume anywhere on you.
Dive-O-Meter
4
Only person not affected by the smell