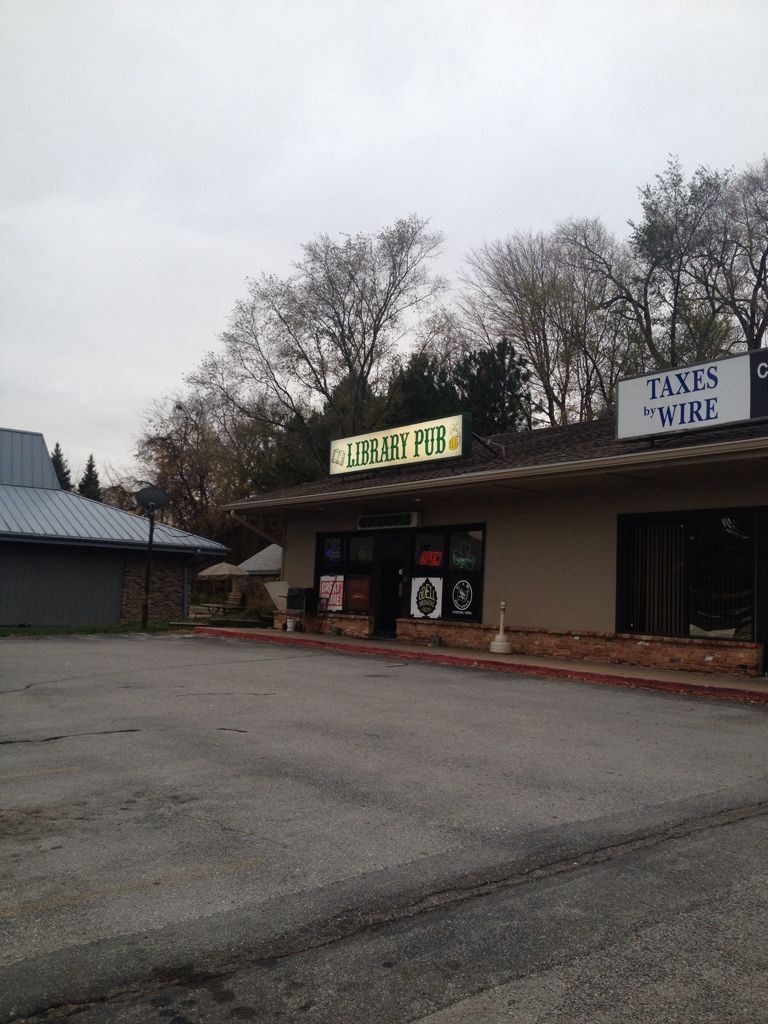 Divey looking
5142 North 90th Street
Omaha, NE 68134
(402) 571-6262
Facebook fans of HitThatDive voted two weeks ago for a place in town that had to have the word "pub" in the name of the bar for the next review.

The votes were tallied and the clear-cut winner was the Library Pub.

In briefly looking at their website, the Pub describes itself as "the cozy neighborhood bar with Northwest Omaha's best selection of craft and imported beer as well as fine Scotch, Bourbon and other whiskies."

I immediately thought, this will easily go one of two ways…it's either going to be an Omaha hidden gem…OR…a bar inhabited with nothing but a bunch of snooty little fucks.

Both will make for a great review…so either way I win!
PROS:

The best stocked bar in Omaha.

Knowledgeable owner. Relaxed atmosphere
CONS: Bring more than your normal amount of drinking money.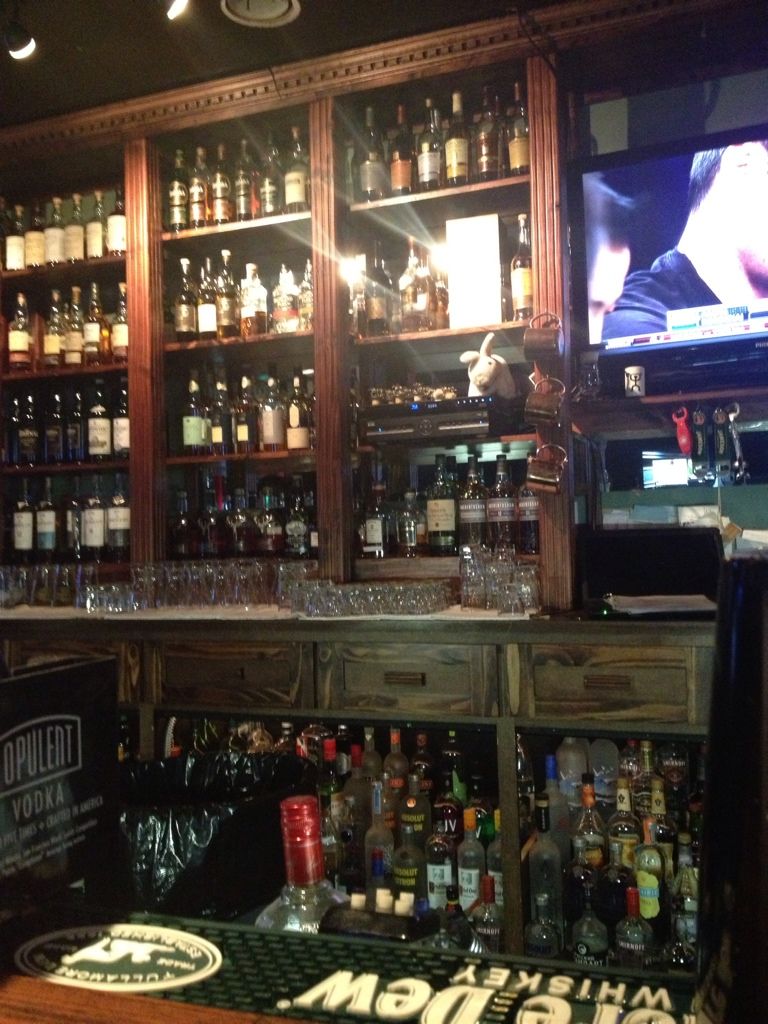 Look at all the booze
First Impressions:

For a place that boasts the best selection of scotch and bourbon it sure does have a good old dive look from the outside. And, living up its name of "Library" at first glance it does remind me of a dive bar version of what I assumed "The Study" to look like in the game of Clue.

I never even made it to an open bar stool before I was WARMLY welcomed by bartender Mark (who also turned out to be owner and resident liquor professor) .

More on him in a bit…there a section specifically for that you know.
The Bar:

Nothing particularly overwhelming at first glance, a long bar with 15 or so seats, booths on the back wall, and tables with comfortable-looking desk chairs.

And yes, there is even a wall with plenty of books on it.

Now, take a look behind the bar and you will be amazed at just how many various bottles of scotch and whiskey they have in stock.

There are more than 150 different types of beer (32 of which are on tap), more than 150 really high-end spirits, 10 of the top 50 single malt scotches in the World…and…Bud Light.

Of note, there was a creepy doll hanging from the ceiling behind the bar.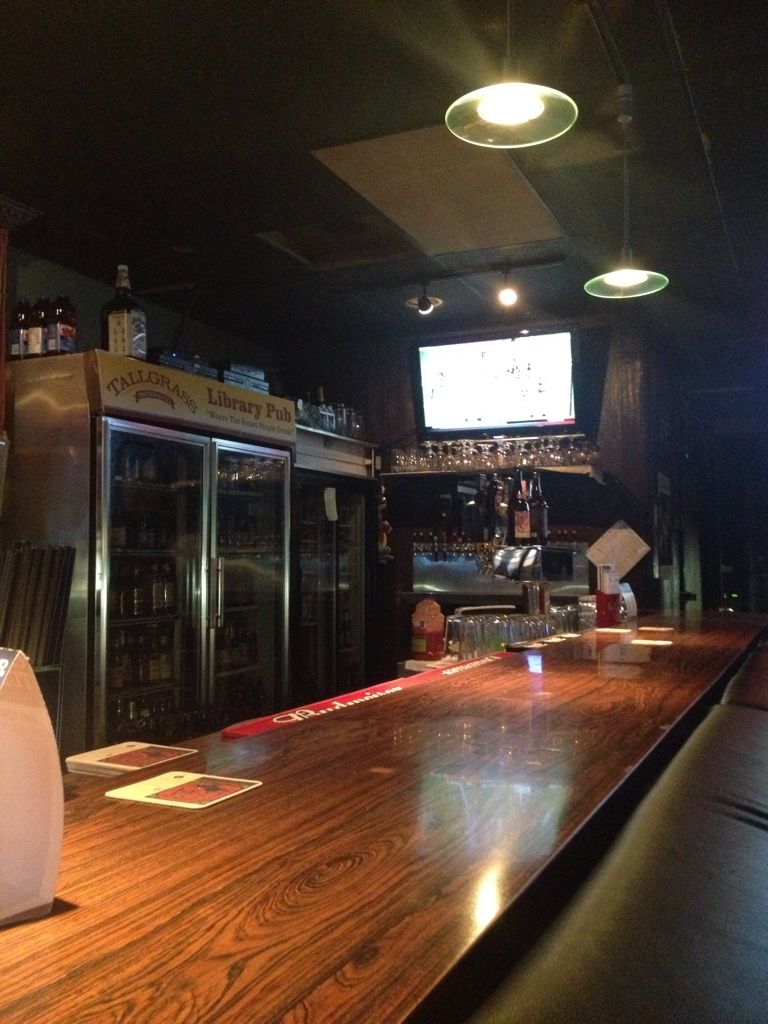 Not uppity
The Crowd:

For the most part the people here were late 20's-early 30's, ranged from single dudes drinking craft beer to a table of scotch sales people drinking really expensive booze, and a female regular drinking Busch Light from a bottle…and yet…I wasn't picking up any sort of pretensions vibe from this group.

A place where cheap beer drinkers and single malt scotch drinkers can coexist?

I can live with that.
Service:

Owner/bartender Mark may not be for everyone, and he seems perfectly fine with that.

He is clearly the king of his castle and seems to be genuinely interested in educating anyone at his bar about the various types of whiskey and scotch they might like…even if you're never had either of them before in your life.

My recommendation: if you stop by here is to bring a pen and paper to write down all the facts about high-end liquor that Mark can throw at you over the course of a few hours.

A former attorney, Mark is the perfect example of the phrase "Find something that you love to do, and you will never work a day in your life".

His enthusiasm for his bar and educating his customers is very apparent, and to me, very entertaining too.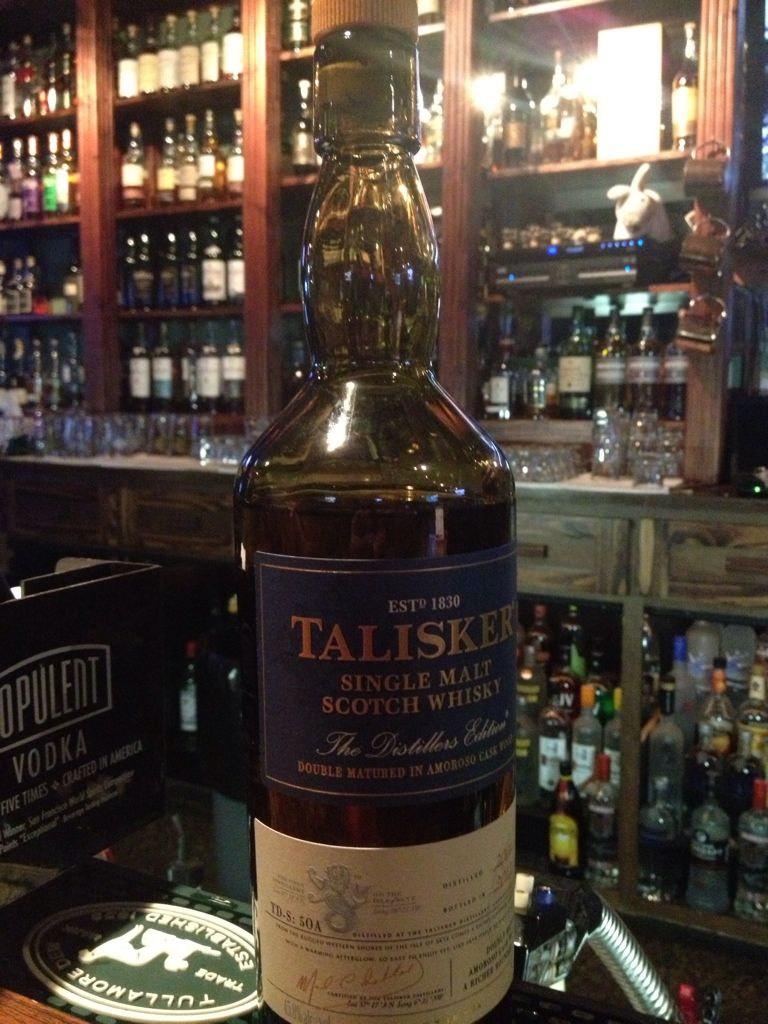 Not my speed
Prices:

These can vary WILDLY depending on what you order.

Prices go anywhere from $1.50 Bud Lights all day on Monday to scotch from a bottle that costs $480 at retail which will set you back nearly $50 for a two ounce pour.

Tuesdays are "Good Beer" day which gets you a $1 off all craft and import beer after 7:00 PM and Wednesdays is "Fine Spirit" day which gets you $1 off open to close.

Bring more than your usual amount of drinking money when you're here, or just stick to Bud Light…which almost seems like a crime in this bar.
Food:

Some of the best damn popcorn I have had in a while.

Currently, the Library Pub doesn't have a kitchen but it sounds like they are in the process of expanding the room and I thought I overheard Mark say that the expansion will also include a kitchen.

Stay tuned for that.
Entertainment:

Mark keeps the vibes in his bar under control by smartly having his own Pandora station playing though the sound system in his place.

There also are 4 TVs, a dartboard and the usual golf game that no one is playing.

When asked why he doesn't have a pool table, Mark quickly shot back that he is not about to arm his customers with weapons.

Good point!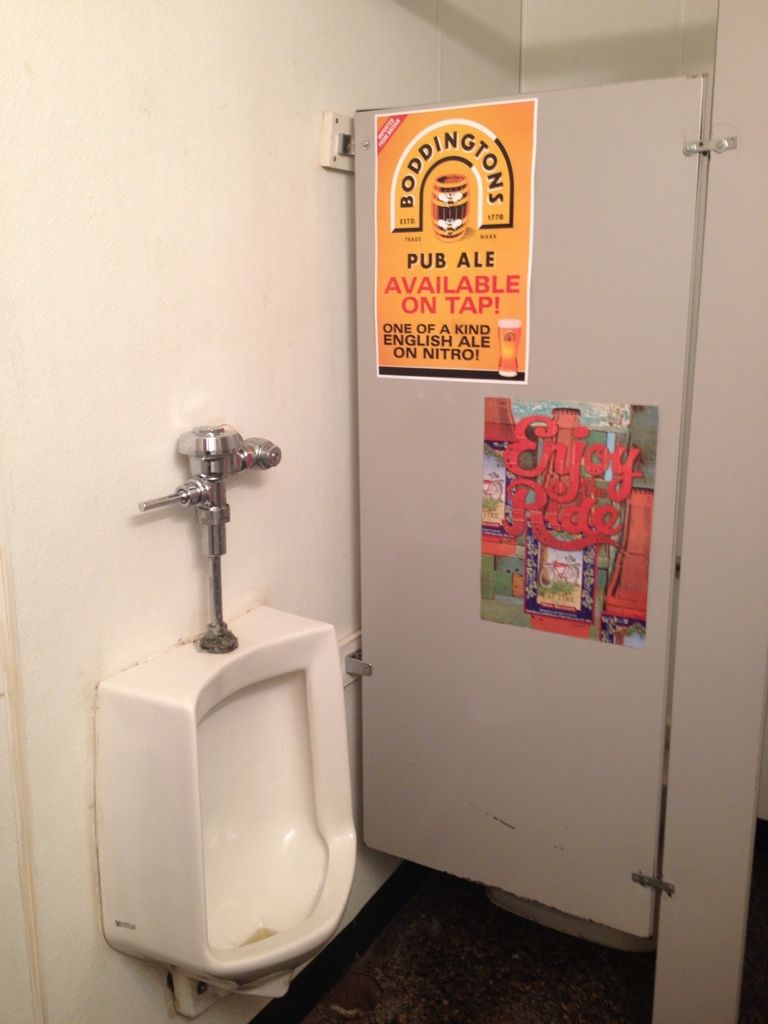 What you see is what you get
Bartender Chat:

When asked what kind of scotch I like, I quickly replied that it's not my thing.

Mark's response is that everyone likes scotch…they just haven't found the right one yet.

His enthusiasm for his bar, and his extensive knowledge of his inventory (more than $60,000 worth) is the best way to sum up my conversations with him
Restrooms:

Not horrible.

Nothing to write home about either.

I suggest if you plan on doing some reading at the Library Pub to do so in their comfortable chairs and make your stop to their restrooms brief and to the point.
How Far Did My $20 Go:

I was drinking Ska Brewing's Euphoria Pale Ale (6.1% ABR) which was setting me back $4 a pop on Good Beer Tuesday.

Five of those for $20 and few samples of whiskey bought me a far better buzz than I would have anticipated before I sat down.
Final Impressions:

This is the graduate school of dive bars.

It's low key with just the right amount of a dive feel and one of the more impressive collections of hooch anywhere in the area.

In one Yelp review, Mark was referred to as the "host" of the Library Pub…which is true.

But he's also the professor, bartender, character and soul of the entire bar too.

If you like Mark's approach to running a bar you will LOVE this place.

If you prefer to drink in a bit more solitude, buy a 40 and a paper bag…you will be much happier.

HIT THIS DIVE!
DIVE-O-METER
8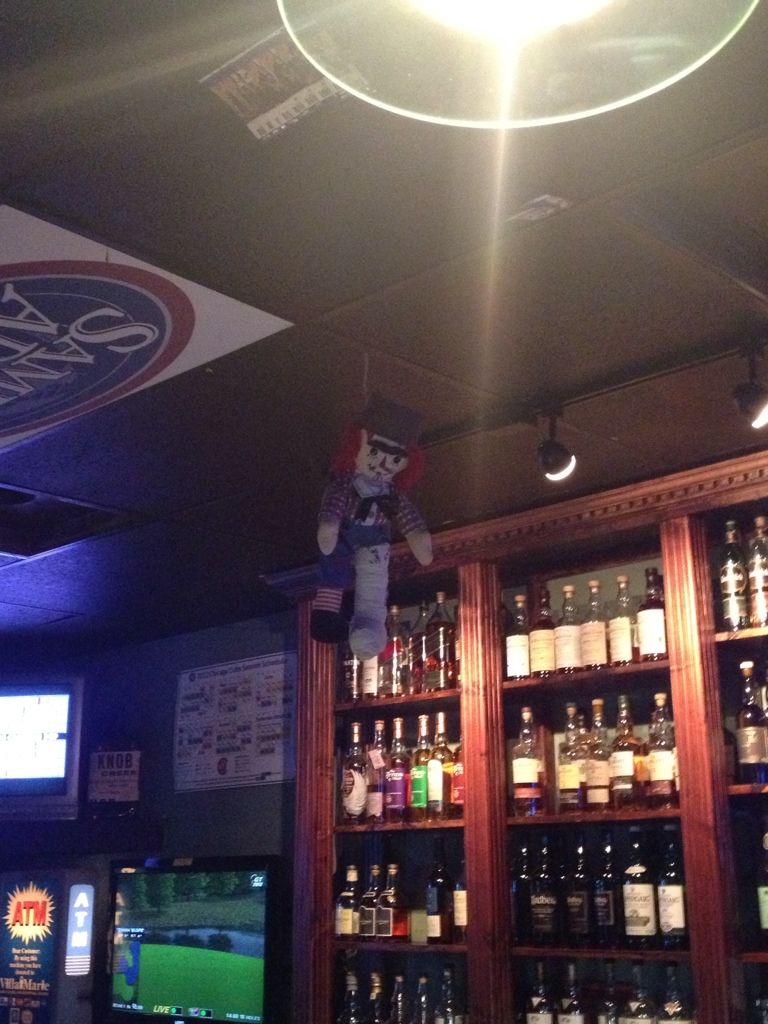 Creepy doll!