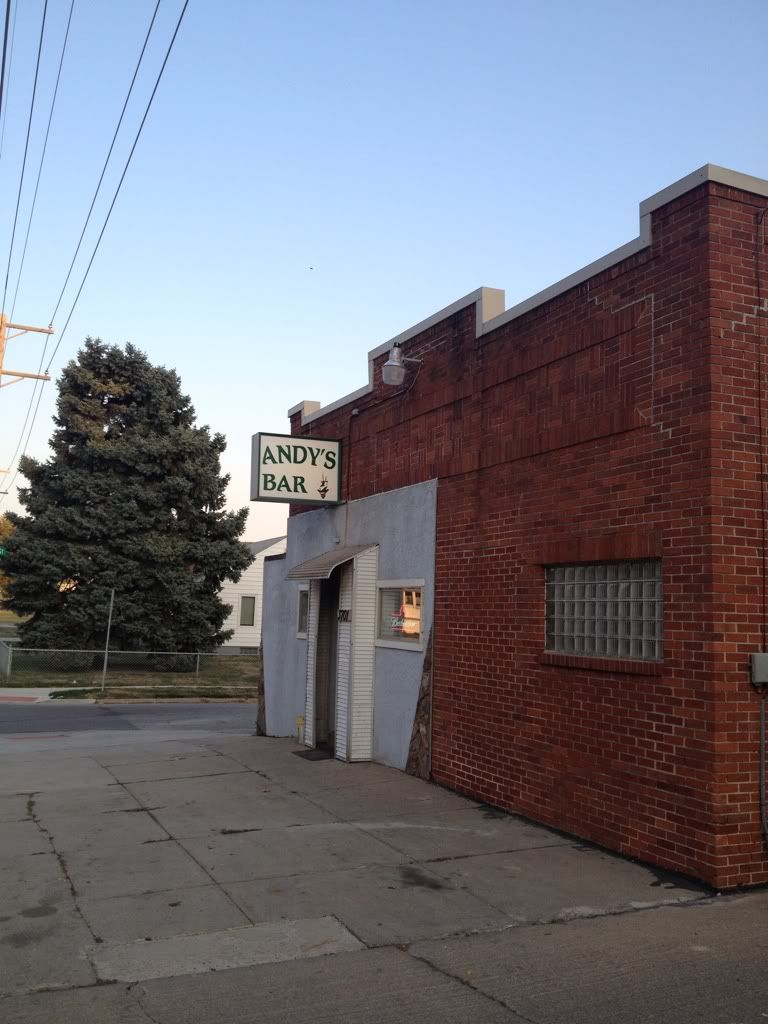 Welcome to Andy's Bar/Place.
(402) 733-1985
Thanks to a hot tip from dive bar connoisseur Howard Evans, I made my way down to the corner of 37th and F Streets to check out a bar called Andy's Place. Where, according to Howard, they say "You can't drink all day if you don't start in the morning." How in the world can you argue with that logic? Howard tipped me off that they open at 9 a.m. and that the bar still has "plenty of grit and grizzle" even though they are remodeling the restrooms. Since he also let me know that this was a "must stop" on my hit list...I'm intrigued enough (and thirsty) let's roll!
PROS: Fantastic neighborhood bar. Great regulars. Shot and a beer was $4.85!
CONS: Never could tell which person was Howard Evans. Restrooms were arguably too nice.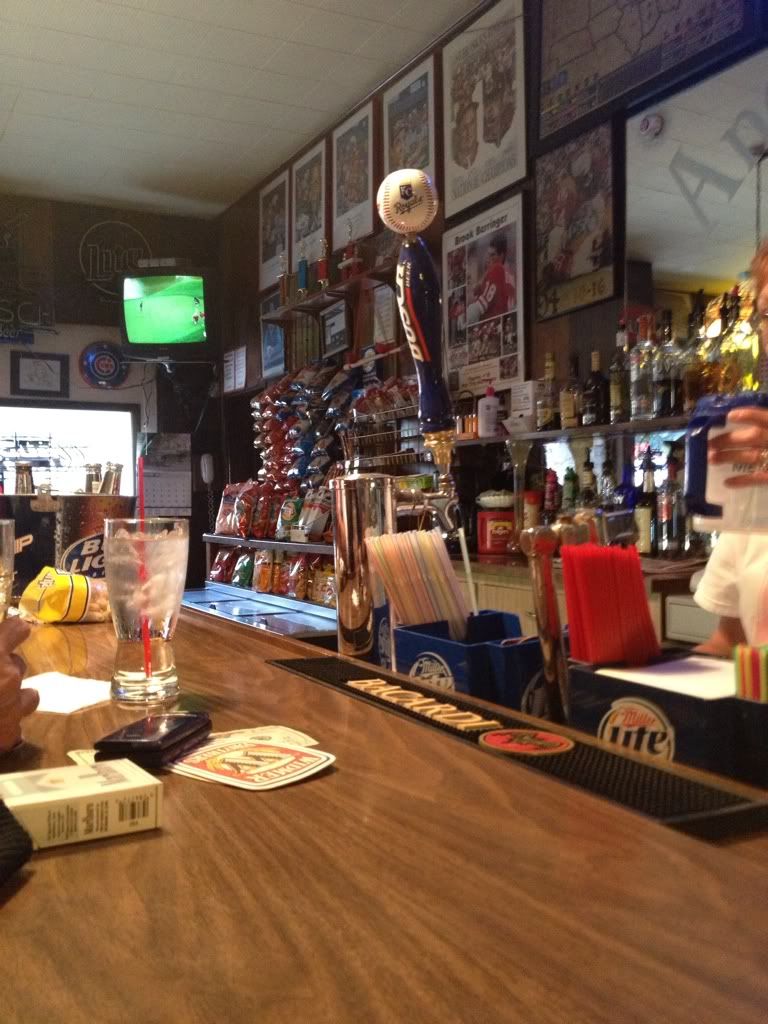 Busch or Busch Light...your choice.
First Impressions: Turning off of 42nd Street onto F Street puts you immediately into a residential area...for five blocks there are nothing but houses until you see the first non-house in the area...Andy's Place. So far so good. The old red brick building and no-frills sign over the door makes me think immediately that I'm going to like this dive. After walking though the front door and getting the usual "who the hell are you?" looks from the regulars, I took a seat and was amazed by how neat and orderly everything looked behind the bar. Note to self, this lady must run a tight ship, be on my best behavior.
But, make no mistake, so far this looks exactly how a neighborhood bar should look. First impression? Big thumbs up!
The Bar: Just a regular old bar, with regular old school bar stools. Two beers on the tap, Busch and Busch Light, and a well-stocked (and orderly as hell) liquor selection all in front of a mirror behind the bar that says "Andy's Place". I always assume having the name prominently behind the bar is a good public service move just in case you get a call from your spouse asking where you are and you're already too many drinks into your day. There are tables set up sort of German beer hall-style, posters and sports stuff all over the walls (this clearly is a Husker/St. Louis Cardinals crowd) and by far the best collection of snacks at any bar in the area. And, much like the rest of the bar, that is the most organized collection of snacks I have ever seen.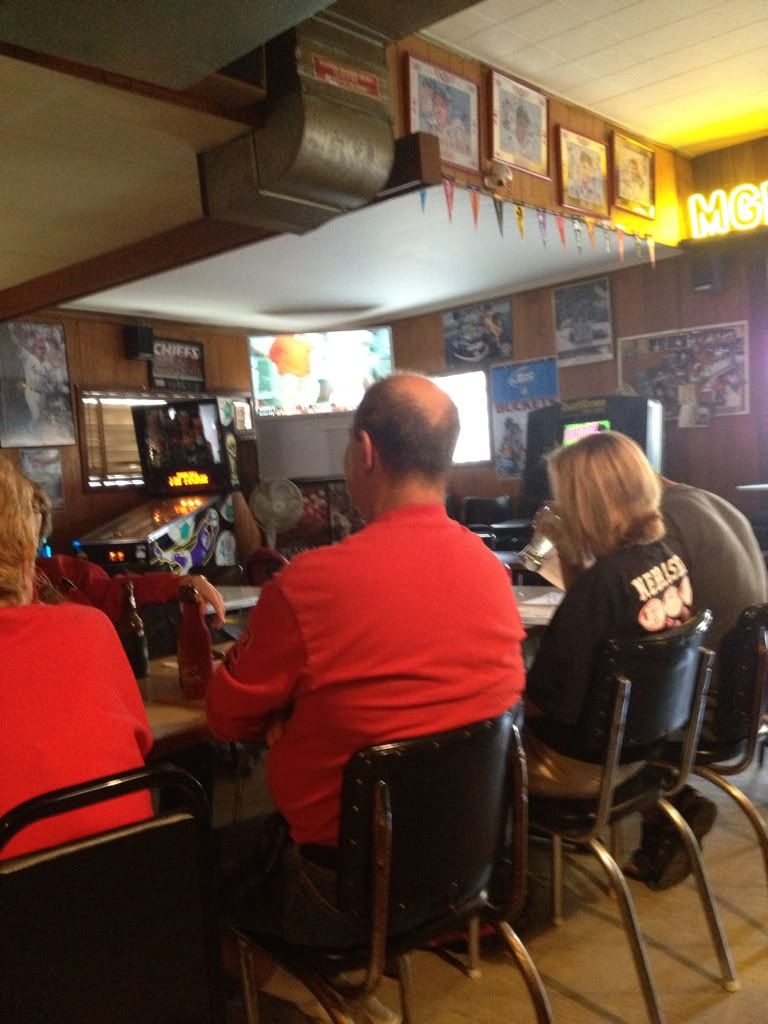 GBR!
The Crowd: What sets South Omaha bars apart from any others in the area are the great people. In what other part of Omaha do you see people that wear "Proud to be from South O" and "S.O.B" shirts on at least a third of the drinkers? For the most part, this was an older crowd of regulars that seemed to know everyone in the place by name. As a rule of thumb, walk into any well-run bar in South Omaha and you will never be made to feel like an outsider by the regulars. Want to fit in with the regulars at Andy's? Here's a quick tip...order your beer in buckets...that seemed to be the drink order of choice here from what I can tell. Once you get your bucket, just sit at the bar and enjoy the company and conversation of all the new friends you're about to make.
Service: An older bar lady that never makes you wait for service. She was all business and made sure everyone was always with a full glass, or bucket. Younger bartenders, want to know how to properly work a bar? Have a seat at Andy's one Saturday afternoon and take notes. Also, please include in your notes, "not once will your bartender ignore you while she is on her phone commenting on some inane picture on Instagram". This place has old school service the way it was meant to be.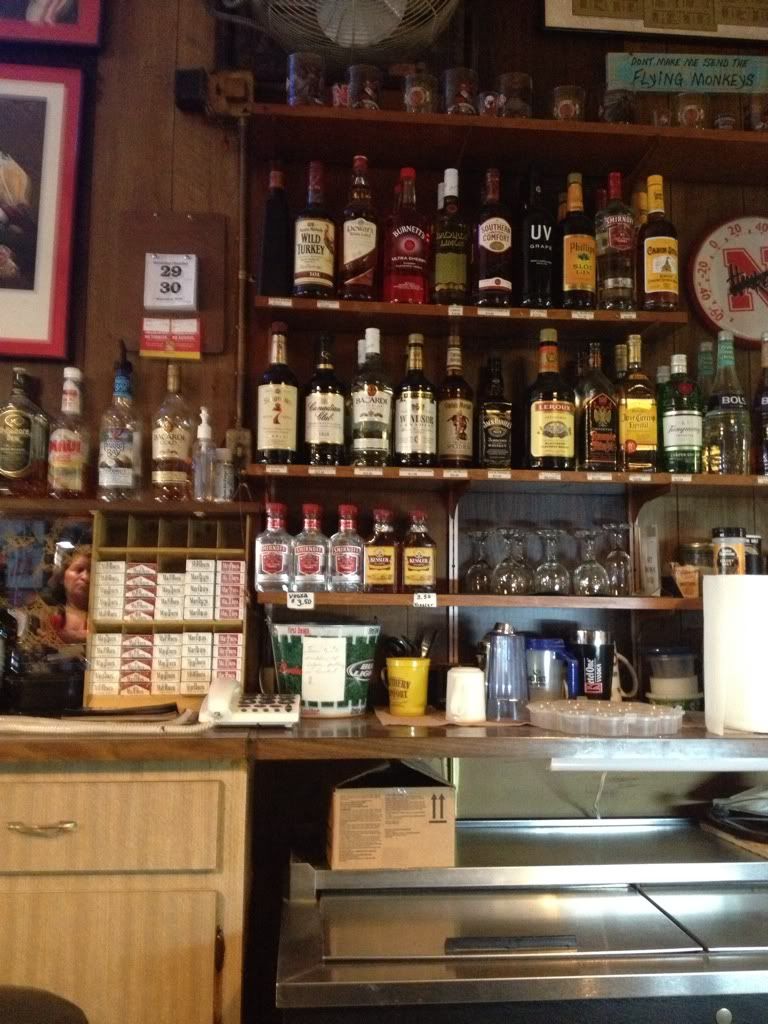 Even the smokes are orderly.
Price: All I can tell you is what I was paying...a domestic draft beer was setting me back $2.25. But, when I ordered a shot AND a beer I was charged the whopping total of $4.85. Let's see, let me do the math...carry the one...ummmm...that's $2.60 a shot! Shot drinkers...add this to your list of places to stop by every now and then.
Food: Like I said earlier, one of the best collection of snacks I've seen in a very long time behind a bar. Also, there were a few crock pots that smelled pretty good...my guess is they have some sort of chili or meatballs during Husker games.
Entertainment: One oddly placed pinball machine, darts, pool table and one of those fishy looking pickle machines. Andy's only has three TV's, but they were easily seen from any spot in the bar as we all watched the Ryder Cup...and when I left on Saturday afternoon the US was up BIG. The Ryder Cup is in the bag...what possibly could go wrong on Sunday??
Bartender Chat: As I ordered my second beer, the bartender said "You know, if you're having more than two beers, the mini-pitcher is the cheaper way to go." Now, I never did order the mini-pitcher...but ALWAYS a thumbs up to a bartender that gives unsolicited advice on how to get the most bang for your buck at her bar.
Clean as a whistle.
Restroom:
These are currently under a complete renovation, so the men and women have to use the same one. The protocol seems to be knock before you enter, wait for the entire bar to say "Helllllooooooooo?" and then enter if no one is in there. Man, when they are done fixing these up...they may be the best restrooms in Omaha. I can only assume that
Gunnery Sergeant Hartman from Full Metal Jacket
once walked into Andy's and repeated his line "I want that head so sanitary and squared-away that the Virgin Mary herself would be proud to go in and take a dump." That is the only reason to have restrooms this nice in an old bar.
How Far Did My $20 Go?: I didn't necessarily go this route, but 20 bucks will get you four beers and four shots...with some change left over. Stay strictly with the draft beer and that gets you nine pints. Mathematicians in the group lay off, I know that 9 x $2.25 = $20.25...but I'm sure you can bum a quarter from someone at the bar keeping your total to an even $20.
Final Impressions: Andy's is exactly what a neighborhood should be. Good service, friendly people, cheap prices and a laid back let's get drunk atmosphere. Thanks to Howard Evans for this little gem tucked away in South O. If you want to experience a quintessential dive in the best part of Omaha for bars (without question) you owe it to yourself to make a trip to Andy's...and if you can figure out which one Howard is make sure to buy him a "Polish and a can O' Bud" for the great advise!
DIVE-O-METER
9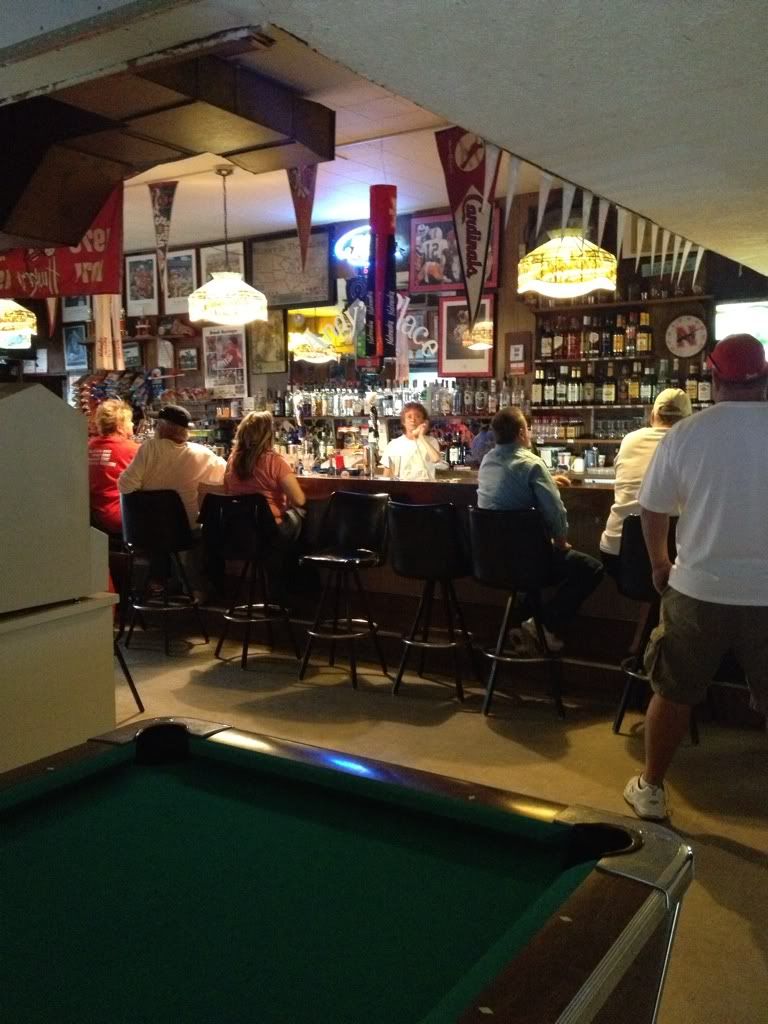 Nothing beats a South O bar.