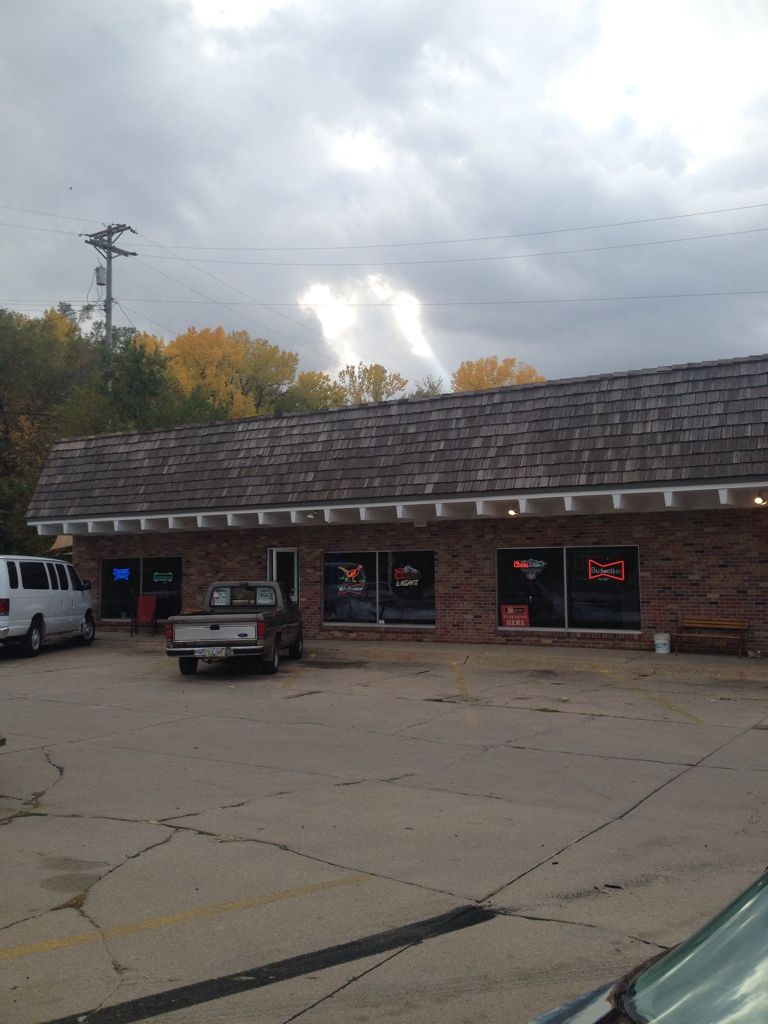 Don't look for a sign, there isn't one.
8805 Maple Street
Omaha, NE 68134
There was a tie on this week's Facebook poll about which Omaha "pub" I should check out for a review over the weekend. So, I went with a write-in candidate nominated by Scott B. named "Dave's Pud". Now, I don't know about you, but where I grew up the words "
pud
" and "pub" were two very different things. Assuming that he did indeed mean PUB, I Googled Scott's's nomination and immediately noticed they served "Big Ass Beers". The term big ass beer made me think of two things…1) drinking on
Beale Street
in Memphis and 2) this
scene from Tropic Thunder
. OK Dave's Pud…I mean PUB…let's see what ya' got.
PROS:
Big ass beers. Friendly bartender.Comfortable like an old pair of jeans.
CONS:
No sign on the outside. Really bad aim in the men's room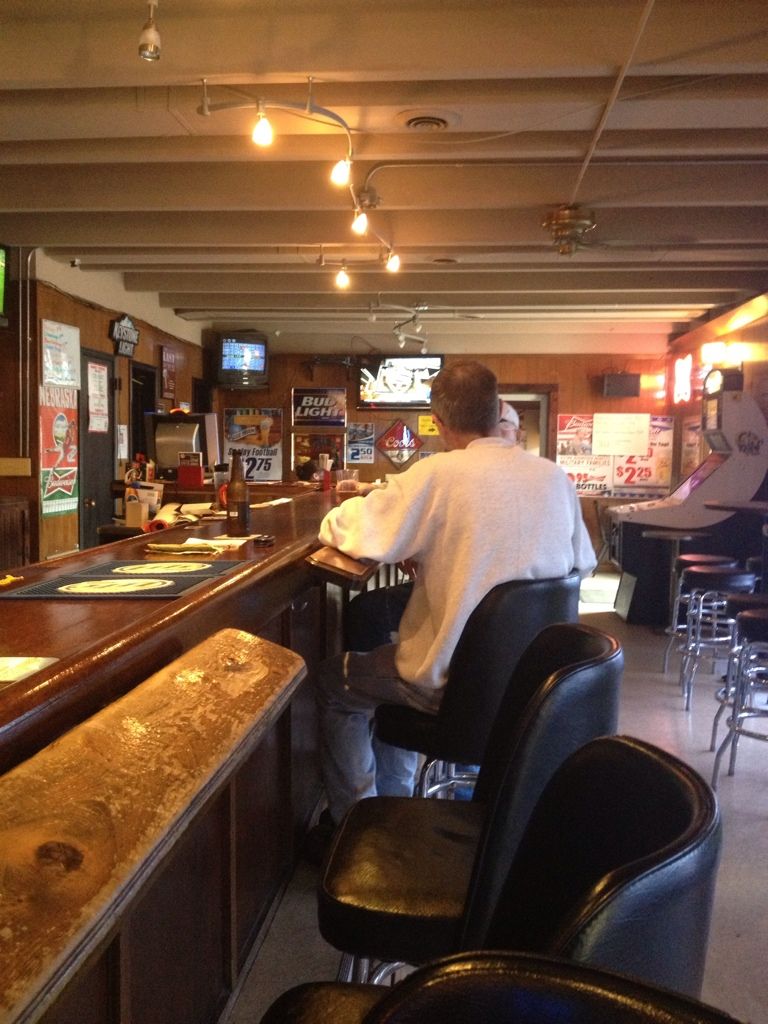 Rustic mountain lodge?
First Impressions:
I missed the only sign for Dave's, which is on Maple, so I had to turn into the Sizzler parking lot. I'll assume that the place at the end of shady strip mall is my destination and oh look…two good old boys are getting ready to fire-up a chain saw right in the front door. I walk past the dudes with the chain saw, check to ensure that I have all my limbs, and grab a seat at the rustic-looking (is that the right word?) bar. An odd start, but this is a straight-up dive. So far, so good.
The Bar:
Want a Cosmo? White wine perhaps? Then get the hell out, you're in the wrong place. They do have 7 regular guy beers on tap, the usual suspects of bottled beer in a cooler and a sign that says they have Apple Pie and Blue Pixie Stick shots. Definitely not the biggest selection of liquor, but who cares, I'm here for a few big ass beers! The well-used looking bar has 15 seats and there's an assortment of 12 or so tables scattered around the rest of the place. And even though I know I'm in Omaha, this bar reminds me of a dive I was at last year in the middle of nowhere Montana. HA…so "rustic" WAS the right word!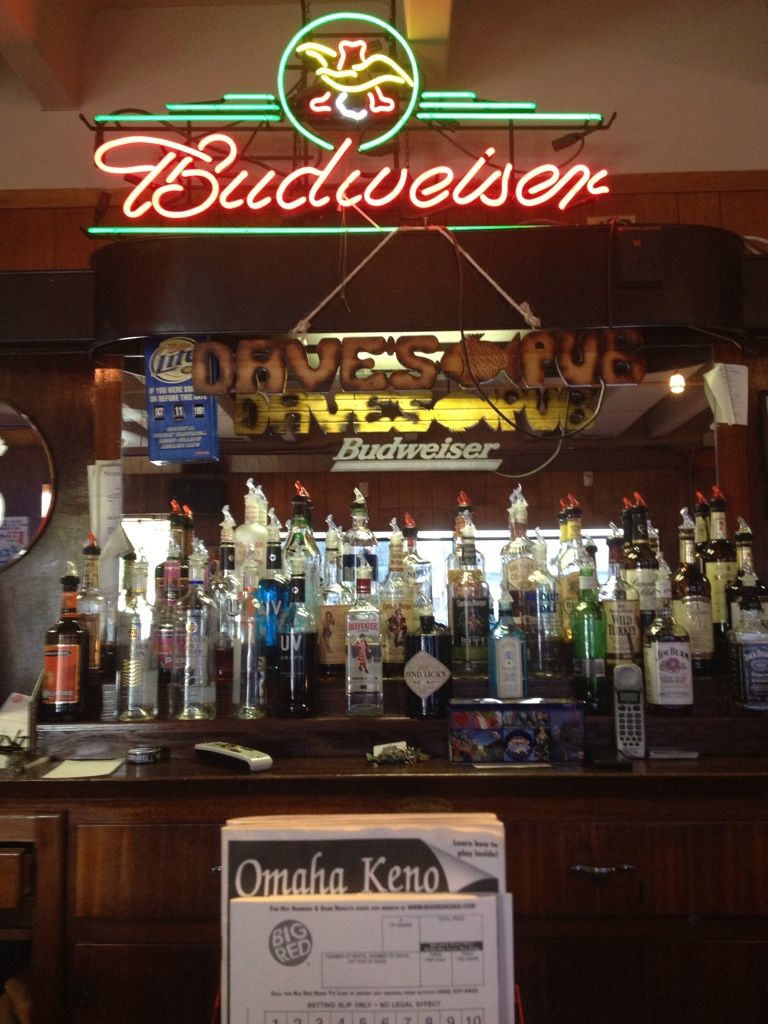 Not the most choices ever.
The Crowd:
This is a no frills blue-collar bar, so oddly enough, it was populated by a no frills blue-collar crowd. Mostly men, mostly older…except for the table of women that were polite enough to ask if they could interrupt the football game we were watching so they could play one song on the jukebox. The song was "
Older Woman Know How to Please a Man
"…hmmmm…seems a little early in the day for cougars on the prowl. Lots of talk about hunting, fishing, football and camping with the crowd here…which is fine…at least I'm well-versed in football. Of note, two pretty cute chicks walked in right as I was about to leave and started to drink Bud out of bottles. Does this happen oftenhere? I can't say. But it was worth making a note of nonetheless.
Service:
Friendly, like really friendly. My bartender for the day was a tatted-up good old boy and even had a dip in as he efficiently worked the bar. How friendly was he? After welcoming me and asking what I wanted to drink before I even sat down, he brought me my big ass beer and asked what football game I wanted to watch on the TV directly in front of me. I've been to my share of bars where I practically have to plead with them to put on certain games…hell…I even walked out of the Draft House last year trying to catch the first half of a Steelers game because they would not change the channel on one of their 20 TVs!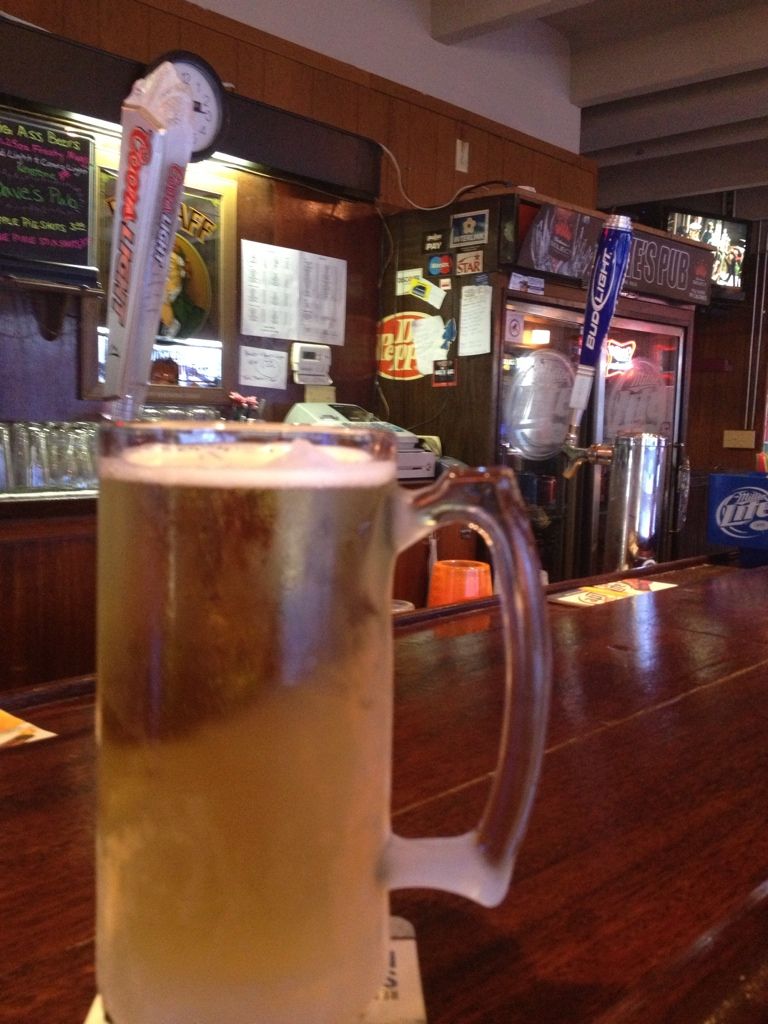 Big ass beer!
Prices:
A big ass 27-ounce beer is $4.00 a day…every day. The Apple Pie shots were $3.00 and there are assorted beer specials advertised all over the walls. But why would you not just stick with a big ass beer?? Oh I know, because some wimps in the crowd will say that draft beer gives them a headache! Worst excuse ever…
Food:
I even made it a point to look for chips, and never saw any. They did have an empty crock-pot on a table and a gumball machine…that's about all I saw. There is a door that connects Dave's to the Homestyle Café that advertises "daily lunch specials" on their outdoor sign. But, from what I can tell, they are not open on a Saturday.
Entertainment:
What are the odds that they have Big Buck Hunter in here? Answer 100%! Along with shooting fake wild game you can play darts, Golden Tee, or rock-out to a few cougar-themed songs on the jukebox.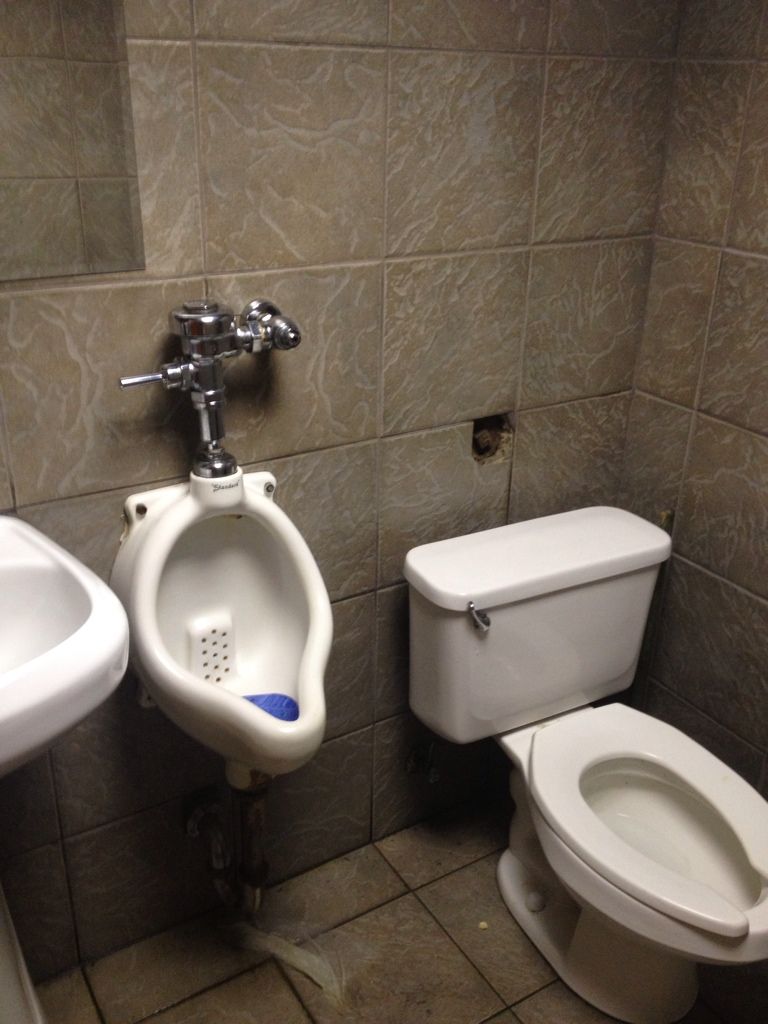 Target practice needed
Bartender Chat:
Hell, we talked pretty much the entire time I was in there…mostly about football. Here was a very telling exchange about the type of bar that Dave's is…at one point one of the regulars oddly enough named "Dave" walked out without his coat and a dude sitting next to me at the bar was going to run it out to him. Without missing a beat my bartender Tommy matter-of-factly says "That's just Dave, Dave just sort of comes and goes all day. He'll be back to get it later." Not sure they were looking for a tagline for the place, but "Dave's Pub: feel free to come and go all day" would be a good one.
Restrooms:
Don't let the picture fool you, they appear to be clean enough but they were kind of stinky. And for as much as they talk about hunting in this bar, I'll be damned if anyone has ever successfully shot and killed anything? Why…because the aim in the men's room was horrendous.
How Far Did My $20 Go?
How does the equivalent of more than 11 bottles of beer (on the wall) work for you? Yep…for 20 bucks you can get yourself 135 ounces of draft beer and one hell of a buzz.
Final Impressions:
If you like a regular old dive that feels every bit as comfortable as that old pair of jeans that you should have thrown out years ago but you just can't do it because no matter how warn they are…they still fit you perfectly. Then you will love this bar. Should you
Hit This Dive
? Did you just read the review…of course you should!
DIVE-O-METER
7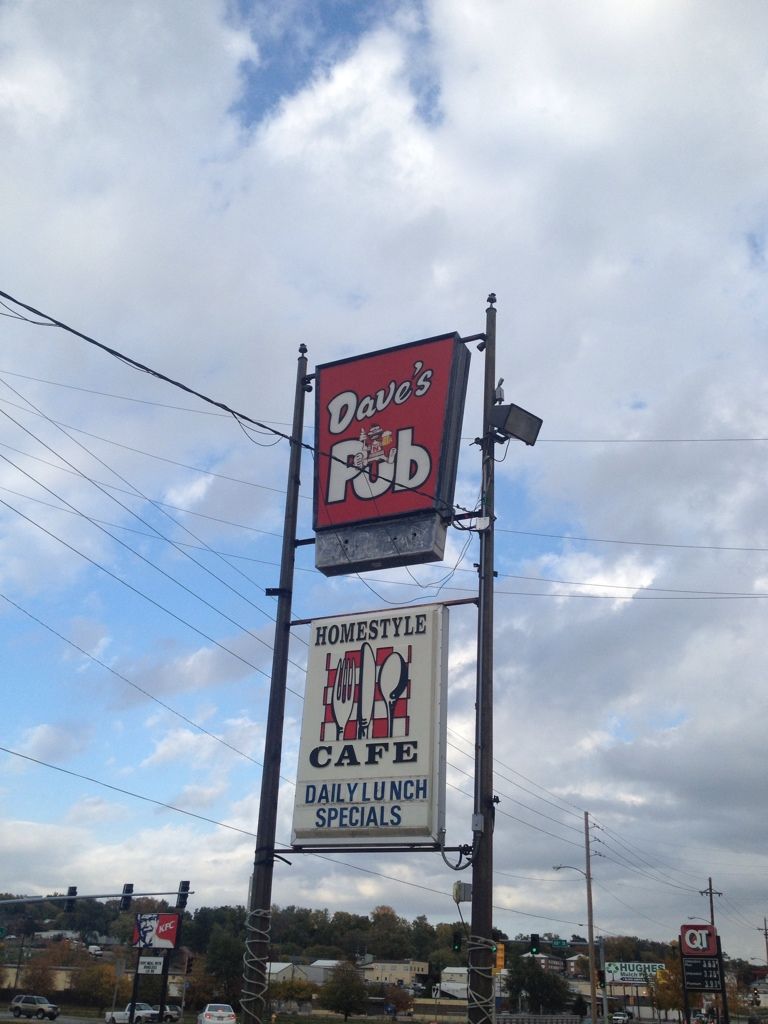 Look for this then trun at the Sizzler