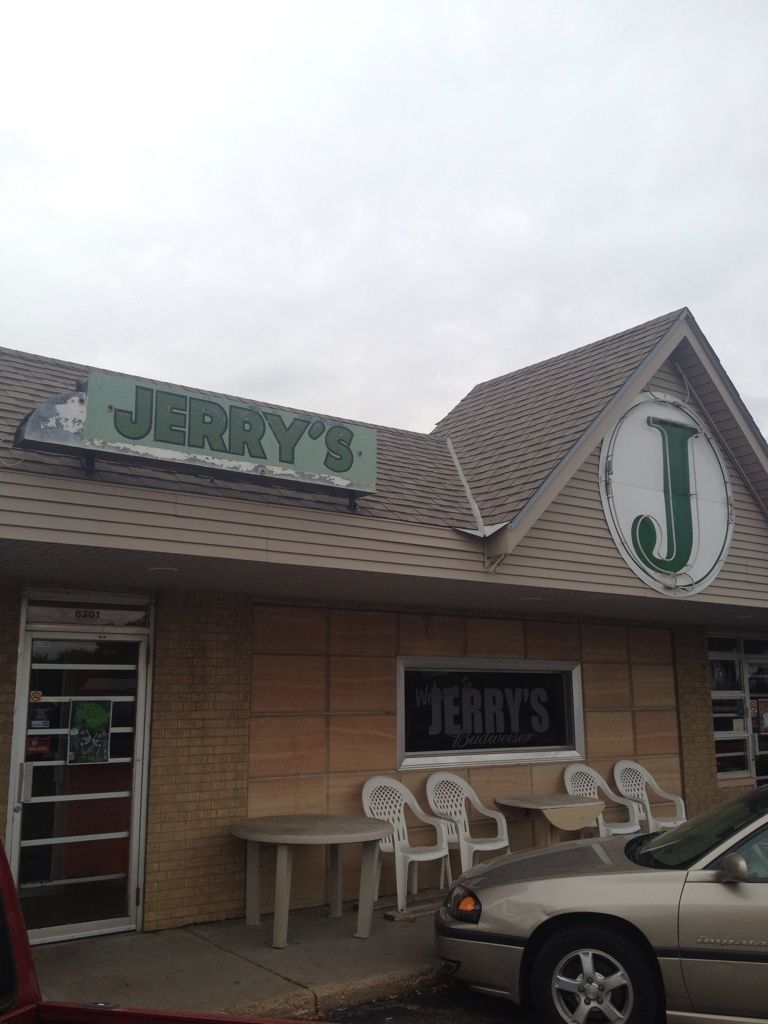 Hello, Jerry
6301 Military Avenue
Omaha, NE 68104
Thanks to everyone who voted on the
HitThatDive Facebook
page, the tallies were in, and Jerry's Bar won by a huge margin.
So, it was off the Benson to check out why so many readers thought
Jerry's Bar
, a place described on its own FB page as "neighborhood atmosphere w/ a modern twist-MOE'S (SIMPSON'S) meets the MARQUIS DE SADE/BLIND EYE (PRAGUE)!" would be a good place to review.Enough of the back story…let's get to it.
PROS
:
Cool vintage clothing store vibe.
Owner
Rob Rutar
. Shot and beer special
CONS
: Military Avenue confuses me.
Closes nighty at 12:00 a.m.
Great beer selections
First Impressions:
It's a strip mall sort of place, but I assume this was built before the term "strip mall" was even invented.
It appears to be just the right amount of "Krusty" on the outside and was a bit dingier at first glance than I thought it might
be…not an issue…just an observation.
Walking though the door this place already reminds of a different bar…but which one?
Eclectic assortment of draft beers…good assortment of bottled beer…old-dive vibe…Rob Rutar behind the bar.
Oh shit…is this the
Leavenworth Bar
?
I quickly check the coaster on the bar in front of me to make sure that it does indeed say that it's Jerry's Bar.
I'm actually kind of digging the place so far, and as usual, I stand-out as the only non-regular in the joint.
Here's a tip,
want to know if I'm in the bar you're in, I'm usually the only person you've never seen before.
The Bar
:
It really is a cross between an old-school dive, and retro vintage hip…I assume that the
Homy Inn
thinks it succeeds at this delicate balance...it does not.
A good assortment of 17 beers on tap, a well-stocked cooler of many other beers, and a tip jar behind the bar that dares to throw money into it with the words "Bet You Can't" written on the front.
There are 10 or so old tables with a matching old black stackable chairs and there are just enough cool vintage beer signs and clocks around the place to give it "hip" (I hate that word) vibe without looking like it's trying too hard to be too cool.
Maybe I'm just easy to amuse, but the vintage spinning PBR signs above the bar could mesmerize me for hours.
Hmmmm…Moe's meets a bar in Prague?
Yeah…I kind of see that already.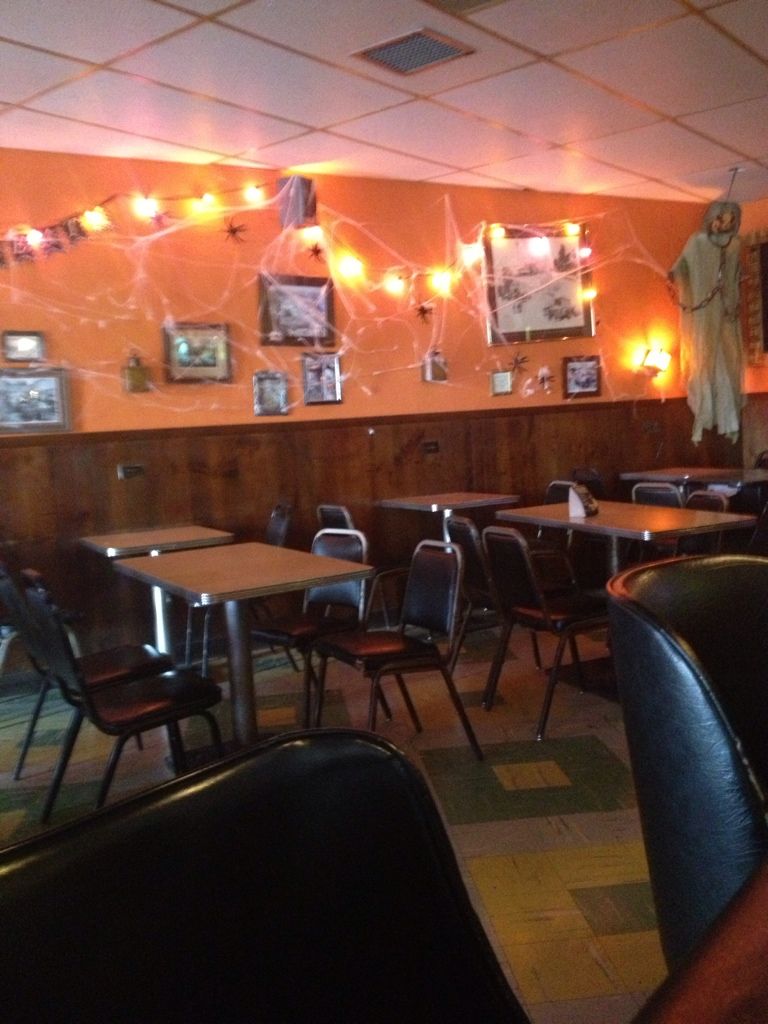 Looking spooky for Halloween
The Crowd:
A mix of courteous old guy drinkers to my right, mixed in with a group of younger drinkers to my left that someday aspire to be the cool old guys in a bar.
Cheers to Rob for running a bar where old guys, blue collar workers and people that shop in vintage clothing stores (and can actually pull that look off) can sit and drink in a relaxed vibe.
I failed to mention earlier that even though there were football games on TV, there was blues music on the entire time, which is ALWAYS a good thing to have on in the background.
I had to make a note of the one conversation going on beside me, the premise of the entire debate was, and I quote "Would you rather wrestle a sheep or a pig?"
For the record, I'm going to wrestle the sheep, but it was a close call.
Service:
Two years ago at the Leavenworth Bar, I was kind of put-off because it seemed that Rob treated the regulars better than he treated me.
Almost
two years later, and I still think the same thing but with a huge caveat.
Rob clearly wants to run a bar frequented
by regulars. Plus the fact that he knows everyone in there by name shows why he is one of the best bar owners in town.
Rob has a bit of a "cooler than you" demeanor…because he probably is cooler than you.
Lord knows he's cooler than me!
Do not confuse that with arrogance, he just seems to know what he likes in a bar, treats his regulars like he values their business and approaches running a bar like bars were operated 30 years ago. Basically, a professionally run establishment where regulars go to get drunk and talk to friends.
I get
it now.
I missed the mark about Rob's style two years ago.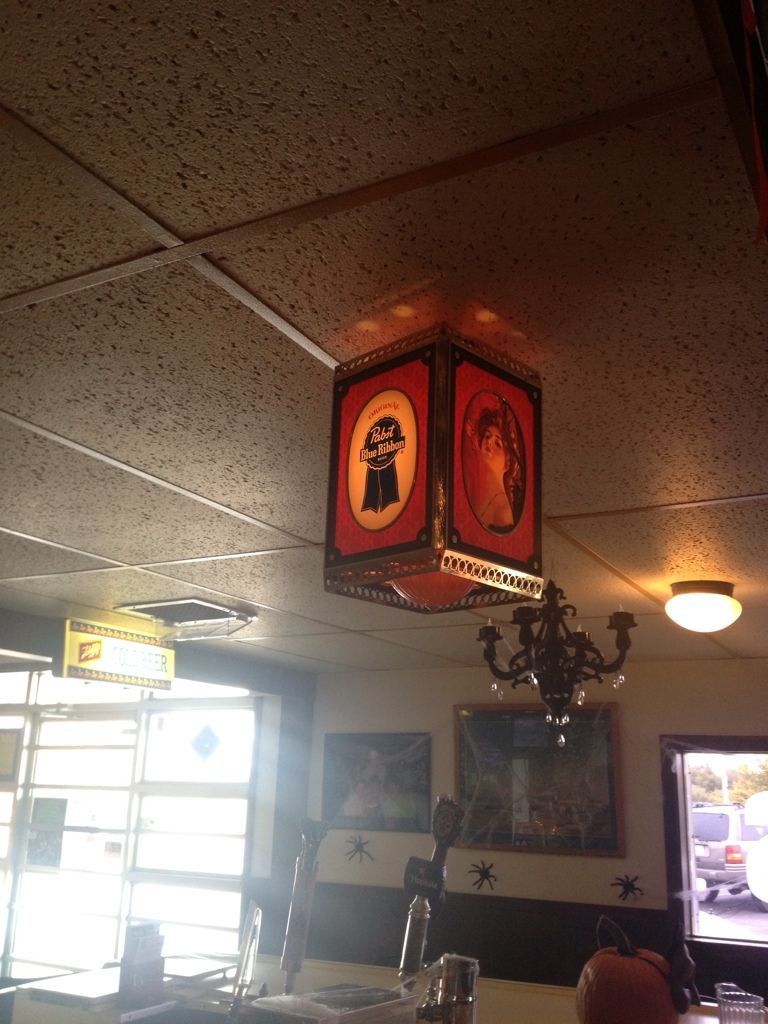 Love these!
Prices
:
I was paying $3.50 a pint for Shiner Oktoberfest (not my usual order at all, but Rob recommended it) and suddenly a sign that advertised Bud and Jager for $6.50 caught my eye. I didn't catch the prices of the mini-pitchers, but that really seemed to be order of choice for most of the bar.
My guess is that the prices here are comparable of what you would pay anywhere in Benson.
Do not expect $1 shot nights…but do show up for a Husker game…it seems they
hand out free shots after touchdowns on occasion.
Food:
The usual assortment of potato chips behind the bar.
But, from what I can tell during Husker games, they do have some sort of food for free including sloppy joes the day I was there and the occasional pig roast out in the beer garden
Entertainment:
There is a nice little dartboard room right behind the bar, a pinball machine and an old-time sit-down video game of some sort.
There are four TVs so watching a game
or two here as a possibility, but don't confuse Jerry's with a sports bar either.
Bartender Chat:
Not much, which was actually fine with me.
Rob is always polite, chats with the regulars and did mention that he once lived in Prague running bars there for a number of years as well.
I didn't try one, but Rob asked one of the regulars if he wanted a Bloody Mary because he was getting all the stuff out to make one.
If you're a Bloody Mary drinker at all, they
looked like some of the best in town.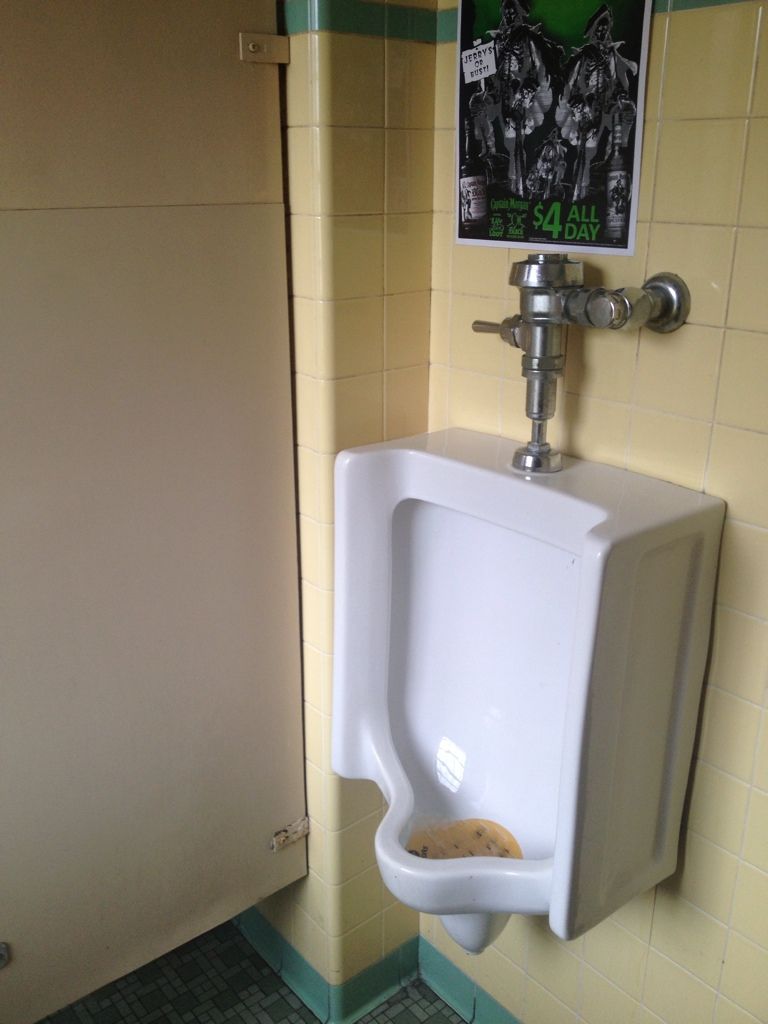 Not awful
Restroom:
Clean, old and small.
I'm guessing from the looks of this bathroom that this bar has been around since the 1950's or early 60's.
Why do I guess that?
Because the tile work on the floor reminded me of my elementary school that was built in the late 50's…and I'm guessing they haven't made a bathroom like this in at least several decades.
How Far Did My $20 Go
:
Three Shiner Oktoberfest beers and THEN a shot of Jager and a 16 ounce Bud with some money leftover.
Can you find a cheaper bar in town, of course, but every now and then I don't mind paying a bit more for a few drinks if I'm in a bar that's run the right way.
Final Impressions:
To fully appreciate Jerry's Bar, I'm sure that you have to make it a point to be a regular here.
But don't let that scare you off from stopping by if you like the idea of a place that can walk the fine line between being a dive and being a retro-cool place to hang out.
Cheers to Rob for clearly not heading the "advice" from my review of the Leavenworth Bar and running his business any damn way he pleases…he knows what he's doing as a bar owner far more than I know what I'm doing as a bar reviewer.
Hit This Dive!
DIVE-O-METER
7.5 (if you're a new customer)
8.5 (if you're a regular)
Hit This Dive!