Even the picture smells good
12203 North 225th Street
Valley, NE 68064
(402) 779-3192
Thanks to a suggestion from HTD reader Michelle Miller, I found myself on the way to
Elk
City
(even though their mailing address says Valley) for a few beers at Ponderosa Bar.
It's close to
Omaha
.
It's the middle of nowhere.
A text from part-time drinking buddy Speck said that Ponderosa Bar "...is as close to the middle of nowhere you can get in
Omaha
." Who needs a GPS when you can give directions to a bar just like this?
Take
Dodge Street west
then go north on
204th Street
. Hang a left at the John Deere dealership and take the road until it ends. Make a right...Ponderosa Bar will be the ONLY bar on your right.
Please, somebody (anybody) use just those directions to see if you get there.
If you get lost, I owe you a beer...but you're also a bit dim because it really is just that easy to get here.
PROS:

Great bartender. Great regulars.

I was called "sweet thing" more than once.
CONS:

Price of non-happy hour beers.

Short guys will need a step-stool for the urinal.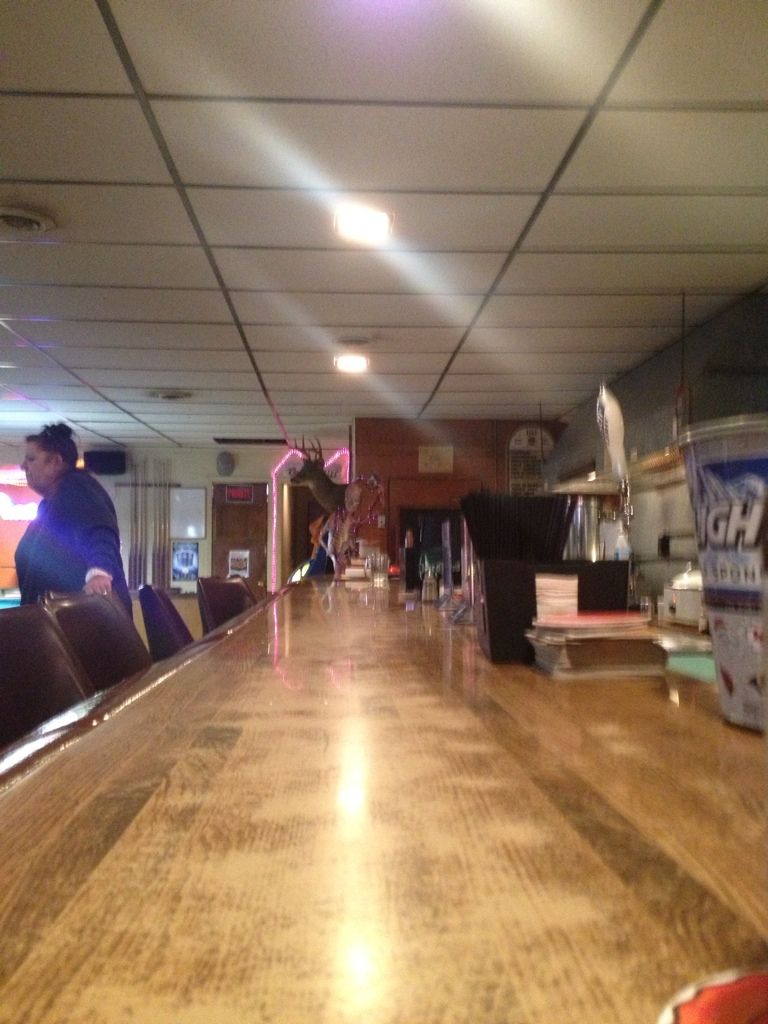 Now that's a long bar
First Impressions
:
My car is the only vehicle in the parking lot that isn't a heavy duty pickup or a Harley.
Gee, wonder just how much I'm going to stick out when I walk in? I didn't even get through the front door and something smelled amazing...kind of like really good fries at a bowling alley...but even better than that.
I, for once, didn't get the "who the hell are you" stares from the regulars and instead was greeted by the bartender who asked "What are you drinking honey?"
Why can't all female bartenders greet a new customer that way?
Sometimes I feel completely out-of-place when I first sit down at a new bar, but not here, it took exactly one minute to start talking sports with a few of regulars.
The Bar
:
The "Pondo", at least that's what the regulars call it, is a pretty narrow building but it's nearly three times as long as it is wide.
The extra-long bar has enough room for 13 stools and there are tables and seating for easily another 50 (if not more) around the rest of the room.
Like Busch Light on tap?
Well then, you're shit out of luck if you don't, because that's the only draft beer they serve.
There were plenty of domestic bottles of beer in an ice tub behind the bar as well as your usual suspects of liquor for those so inclined.
There was a sign for a $3.50 Jim Beam special...so something tells me the Pondo has served-up it's fair share of shots and beers over the years.
I want to come back here when it's cold outside too because they have a wood-burning stove on one of the walls...and a huge pile of wood outside.
Can't be the smell of a wood burning stove!
Also of note, they are closed on Mondays.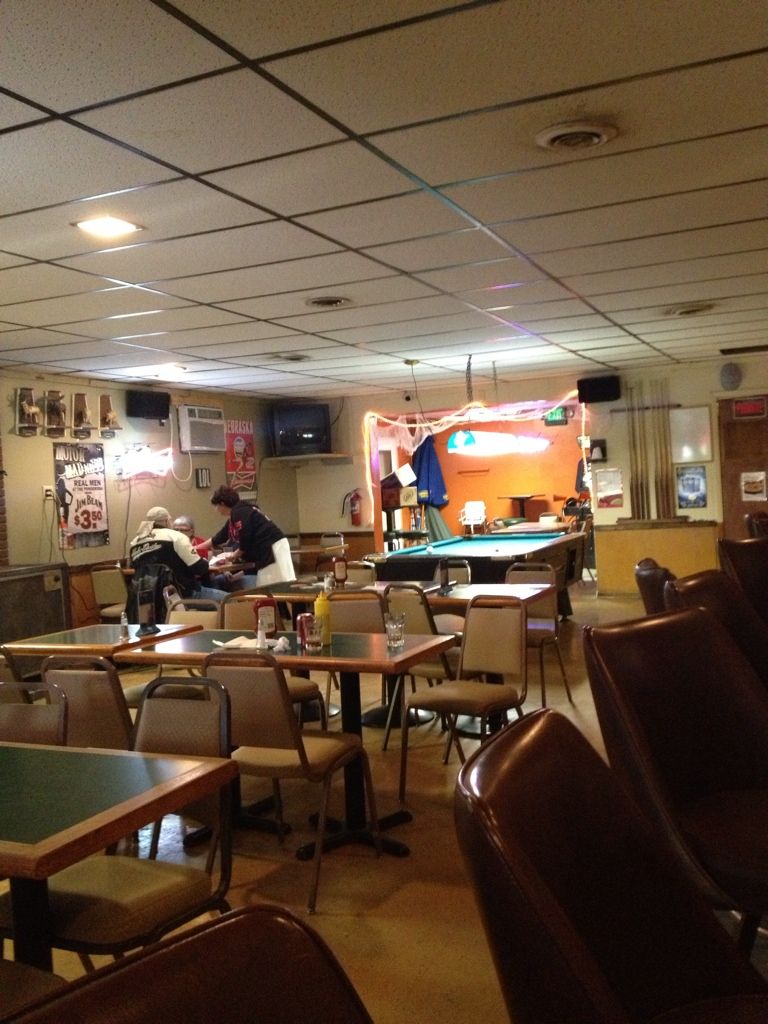 Plenty of room for Taco Tuesday
The Crowd
:
They have both kinds of regulars...bikers AND farmers.
This seems to be a place to stop at if you're out for a long ride on your Harley, or if you're looking to take a break from ranching (did I use that term correctly?).
People of all ages were coming and going as I sat there including a biker grandma (who was pushing 70) all decked out in her black leather riding gear.
Those not in Harley gear all appeared to be walking billboards for John Deere...but...everyone in the bar was just about as nice as they could be.
I love regulars that talk to you like they've known you forever, even though I didn't even know the "town" of
Elk
City
existed until three days ago.
Service
: Get out of the city, and the suburbs for that matter, every once in a while for service like you can only seem to get in an out-of-the-way bar like this one.
Bartender Rikki (not a dude) served up drinks, waited tables and even did the cooking without ever making anyone wait...for anything. Ever.
By contrast, I quit going to my local Starbucks because even with 7 people behind the counter, it takes 10 minutes for them to pour over-priced coffee into a cup and hand it to me.
Not only that, bartender Rikki was friendly, funny and even brought in some homemade soup for one of the regulars (ham and bean if you're curious).
I'm sure that if Andy Griffith went to a bar in Mayberry, his favorite bartender would be a carbon copy of her.
Prices
:
This one took me off guard just a bit.
I was not in the mood for Busch Light, so I ordered a domestic bottle which Rikki said will be $3. Not outrageous, considering I was paying $7 for warm Bud Light at the
CenturyLink
Center
later that evening, but I was thinking it would be closer to $2.
Once the Husker game started, happy hour prices kicked in and brought the cost of my beer to $2.25...that's more like it.
The Pondo has happy hour Tuesday-Sunday at 4-6, which seems to get you .75 cents off of beer and close to a dollar off of mixed drinks. Mixed drinks at happy hour will set you back somewhere in the $3.50 range.
Note to self...Captain and Coke next time I'm here will be a bigger bang for the buck.
Beers ready to go
Food:
Enough of me whining about the beer prices...the food smells AMAZING.
Like a fool, I ate at Jimmy Johns right before I came here so I wasn't hungry...BUT...the burgers and fries (cooked right behind the bar) looked and smelled incredible.
Saturday night is always prime rib night, and more than a few HTD readers swear by the Taco Tuesday here as well. If you like honest-to-goodness home cooked bar food...this place should be on your "must stop" list...that is if you have a list by that name in the first place.
Oh...they also have "warm nut" Wednesday (insert giggle here) and pickled eggs in a jar.
Someday I am going to run for the Unicameral and pass a law that requires ALL bars to serve pickled eggs. Once that law is enacted, I will immediately resign my position. Vote HitThatDive...PICKLED EGGS FOR EVERYONE!
Entertainment:
Three TV's, two of which were on.
One was a projector on a screen and the bulb needs replacing according to the warning at the bottom of the screen (just passing along a courtesy to the owners) and of course they have the omnipresent Golden Tee and Big Buck Hunter. There's also a pool table thrown in the mix as well. In a pleasant surprise they DON'T have an awful Internet jukebox and instead still have an older model that plays only the music the bar wants to hear...thank GOD!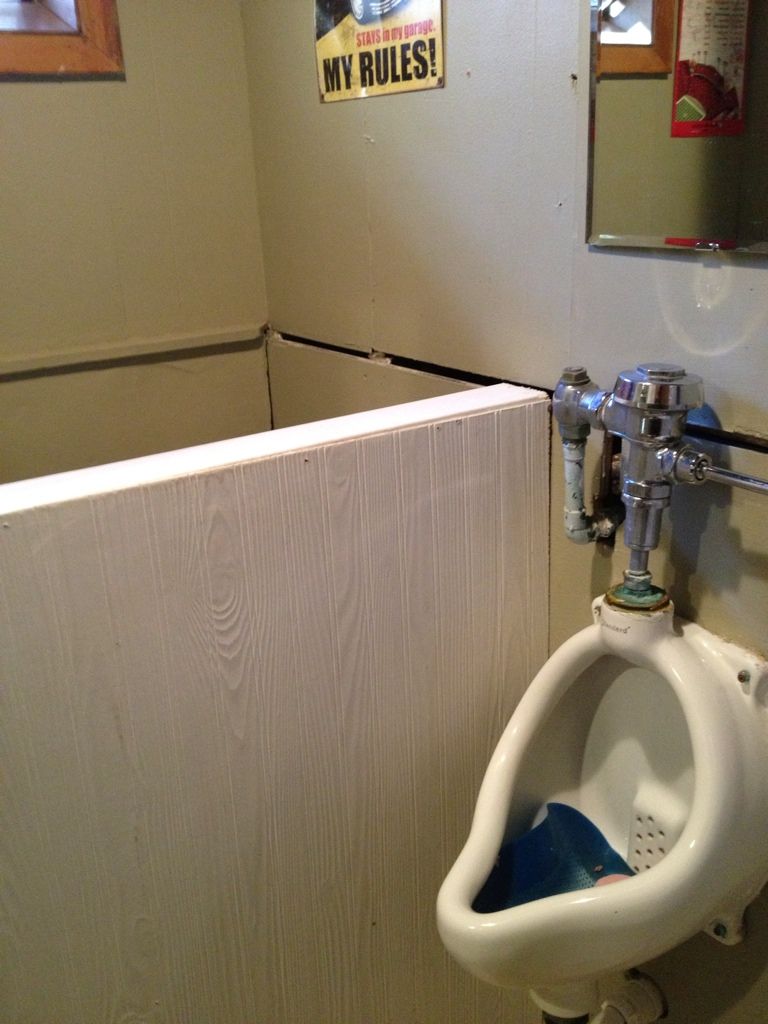 Bring a step-stool
Bartender Chat:
I was too busy talking to the regulars and Rikki for that matter, to write down any real notes on this one.
Let's just say this, when you have a bartender who immediately refers to you as "sweet thing" you're going to talk about just about everything under the sun.
Restrooms:
Old, small and yet clean.
However, in an odd twist, the one and only urinal is only useful for men above the height of 5'7" OR a short man who is unusually well-endowed.
If you don't fit either of those categories, just use the regular old toilet on the other side of the partition.
How Far Did My $20 Go?:
Non-happy hour gets you an adequate six beers. Make it a point to be here between 4-6 and you can slam down nearly nine for the same price.
Final Impressions:
There's a sign behind the bar that read "Treat others as you would like to be treated" and that sums up the Pondo perfectly.
If you're looking to get out of town, without actually getting out of the area...this place makes a great destination.
Its rural setting is how I expected all of
Nebraska
to look when I came here for the first time eight years ago...which made me like this place even a little bit more than I had expected.
Hop on your Harley, jump in your truck...hell...throw the kids in the old minivan and take a drive in the country and bring them here...it's well worth the trip.
DIVE-O-METER
7.5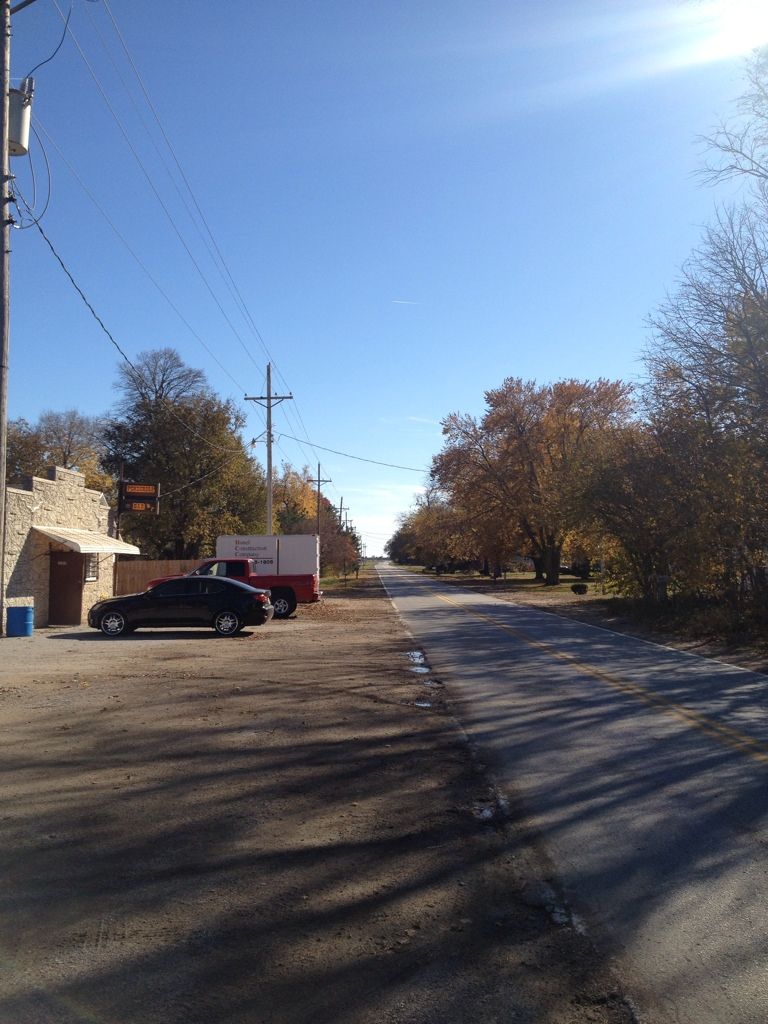 The ONLY bar in "town".