Can't beat the price
18101 R Plz
Omaha, NE 68135
It was a beautiful Sunday afternoon and I needed something to do with my 11 year old daughter…I've got an idea…I should take her to a bar for a wing review!
So, the choice was up to her where we reviewed (my "Father of the Year" award should arrive any day now) and she picked Two Fine Irishmen because it's her favorite popcorn in any bar in town.
Yes, yes, yes…I bring my kids to bars.
I've previously
reviewed Two Fine
, and before 9:00 pm (when it turns into a bit of a douche central club) it's a pretty good place.
Side note…out of all the bars I've reviewed, I get the most email saying I missed the mark on my bar review of this place.
Oh well, this isn't an exact science you know.
For those keeping score at home, the best HitThatDive wing score is a total of 50 points based on scores from five separate categories. But, enough of me babbling…let's eat some wings.
So far, the highest score has been a 48 at
Choo Choo's in Millard
.
Great sauce
First Impressions:
I'm not sure you can find cheaper wings anywhere in Omaha than what you first see on the menu "13 wings for $6.97".
At first glance, they look and smell well-coated in a spicy Buffalo sauce.
But, the wings themselves just seem to look a bit odd, almost like a few of them had some extra gristle attached to the wings with spackling tape to make them appear supersized.
SCORE: 8
Sauce:
I even made mention in the bar review from here that "And I will say this; the 'hot' sauce was very good".
Now, I know what you're thinking…how hard is it to screw-up hot sauce?
And you're right, it's really not that hard to use regular old hot sauce (it's as easy as that) but you'd be surprised how many places can't even get that right.
The sauce here has a good taste and kick to it, without being so hot that you regret in the morning.
SCORE: 9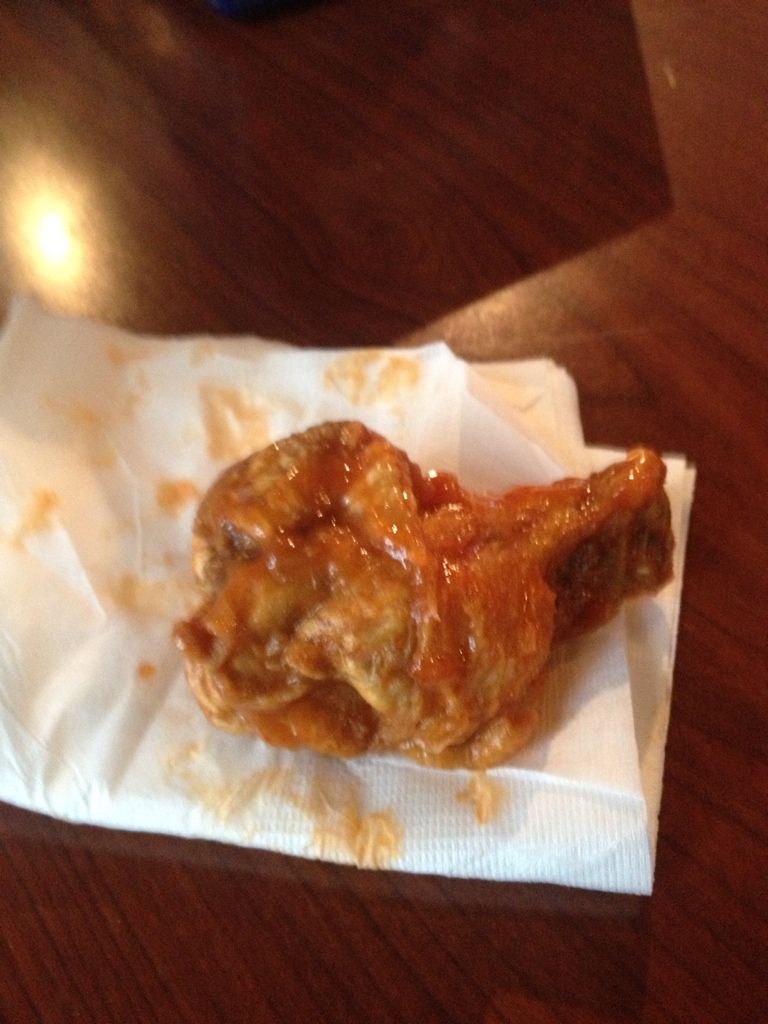 MUTANT WING!
Crispy:
I said in my bar review about the wings, "I think they must bake them first, and then throw them in a fryer at the very end"…and I still stand by that.
They are cooked all the way through, in fact too much so.
Instead of crispy, they are more on the chewy side.
And the most odd thing of all, only here do I see wings where the bones are of a blackish-brownish color on the inside.
For those that have ever cracked Maryland blue crabs, it sort of resembles the nasty stuff you scrape off of the good parts you eat.
That being said, I'd rather have them overcooked than undercooked, but they do something funky before frying them if they're overcooked and still not crispy.
SCORE: 6
Size:
Out of 13 wings, I would say just about half of them were the right size with a few mutant supersized gristly bad boys thrown in the mix as well.
Again, they were all overcooked and still uncrunchy (is that a word?), so there is more than just frying going on here.
Not horrible, but it seems like they are not the highest grade quality wings in town…maybe THAT explains why they are so cheap?
SCORE: 6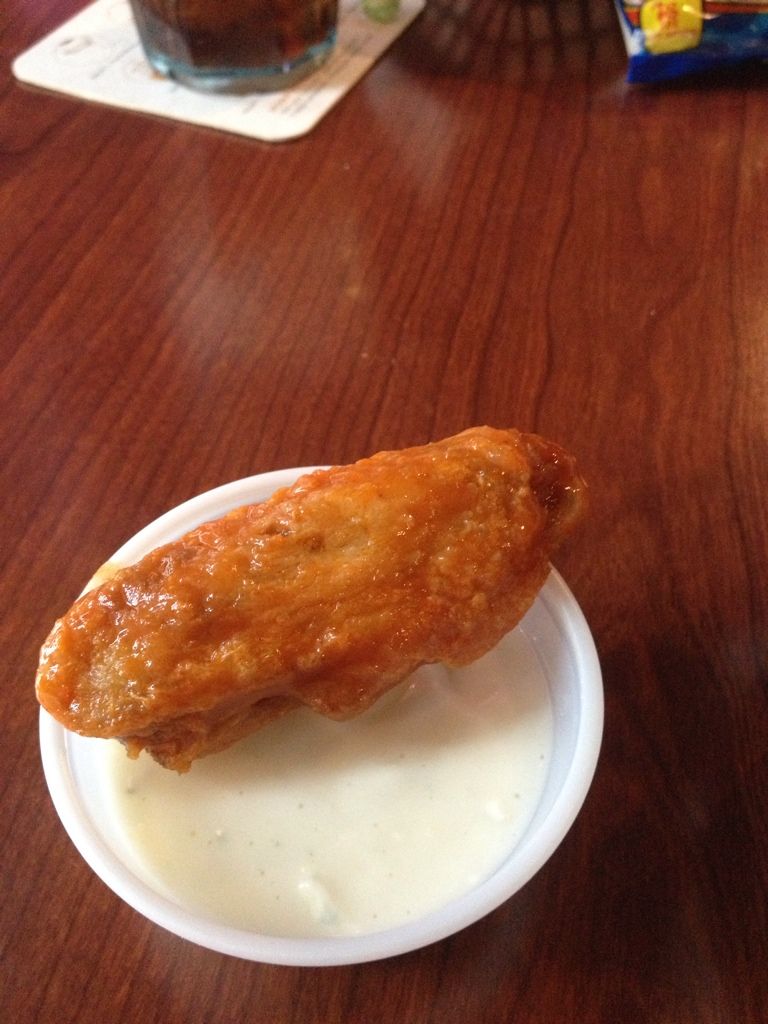 Better size
Extras:
My 11 year old quickly pointed out that not only did I not get any extra napkins, but there also wasn't a separate plate for the bones.
She also quickly observed that the celery was pretty "old" looking but that the carrots seemed fine.
She can't stand bleu cheese so let me just say it really doesn't taste like anything…which is hard to do with bleu cheese.
Oh well, at least it wasn't horrible.
SCORE: 6
FINAL SCORE: 35
Not even close in score to the current Omaha "
King of the Wing
" Choo Choo's…but if you're in the area and are looking for cheap, serviceable wings…you can do a lot worse.
My advice, come here on a Tuesday when it's all-day happy hour and suck down a few $1 pints and order the wings and walk out the door full and a bit buzzed for less than $15.
Plus, after a few beers, you won't even notice the weird blackish bones in the first place.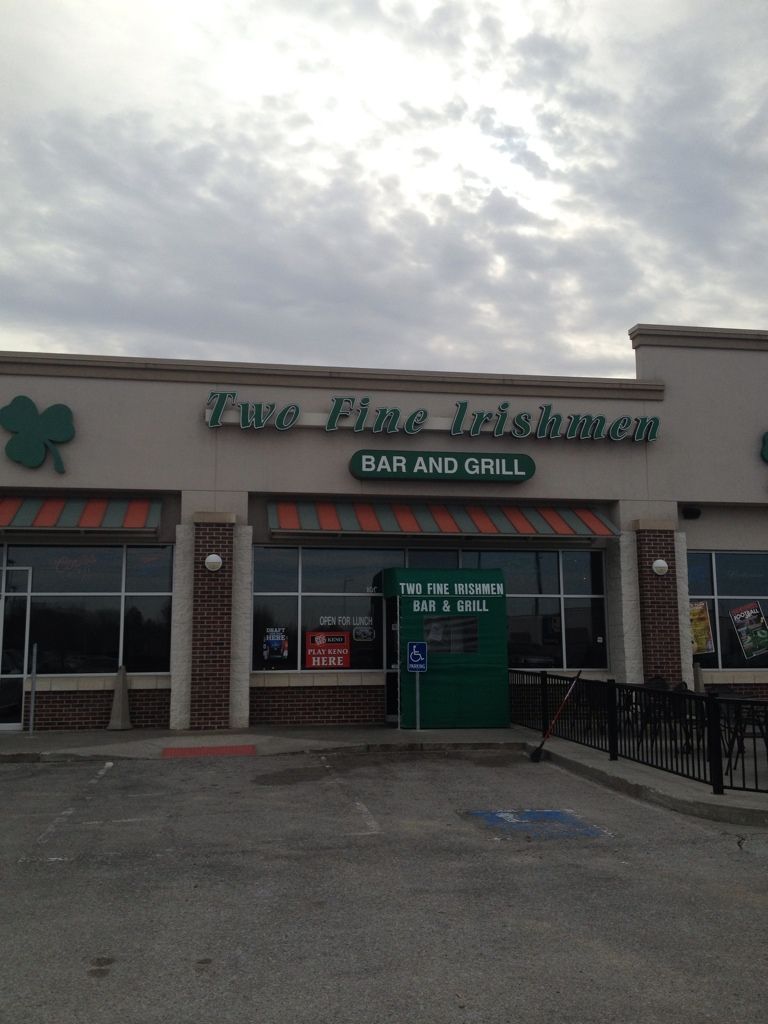 My kid loves the popcorn here