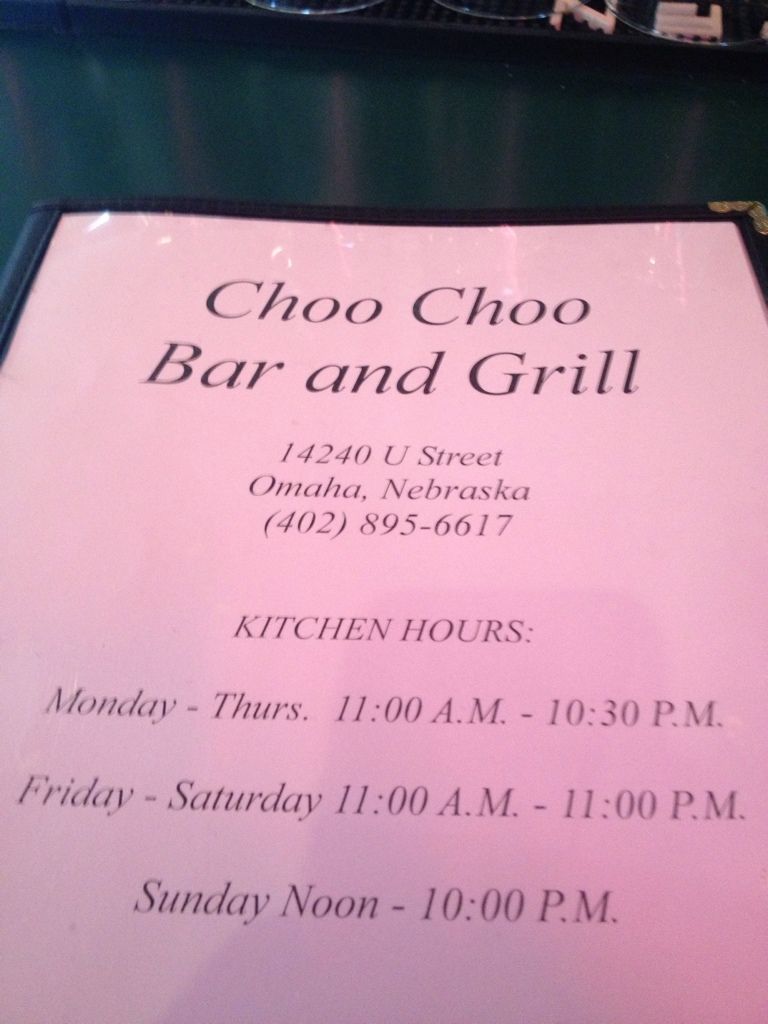 No Frills-Looking Menu
14240 U Street
Omaha, NE 68137
(402) 895-6617
Oh…about a year ago I set out to find Omaha's best wings, and then as usual…after several reviews…I immediately became distracted by a
dog with a puffy tail
.
But, fear not…the quest continues again.
I was doing some online "research" and came across the bar
Choo Choo's
several times as a place that had some of the best wings in Omaha… it even says so on their website.
And as you know, if you read it on the Internet, it must be true!
But, living by the philosophy "Trust but Verify" I figured I should go and find out for myself.
For those keeping score at home, the best HitThatDive wing score is a total of 50 points based on scores from five separate categories. But, enough of me babbling…let's eat some wings.
So far, the highest score has been a
47 at Oscar's
.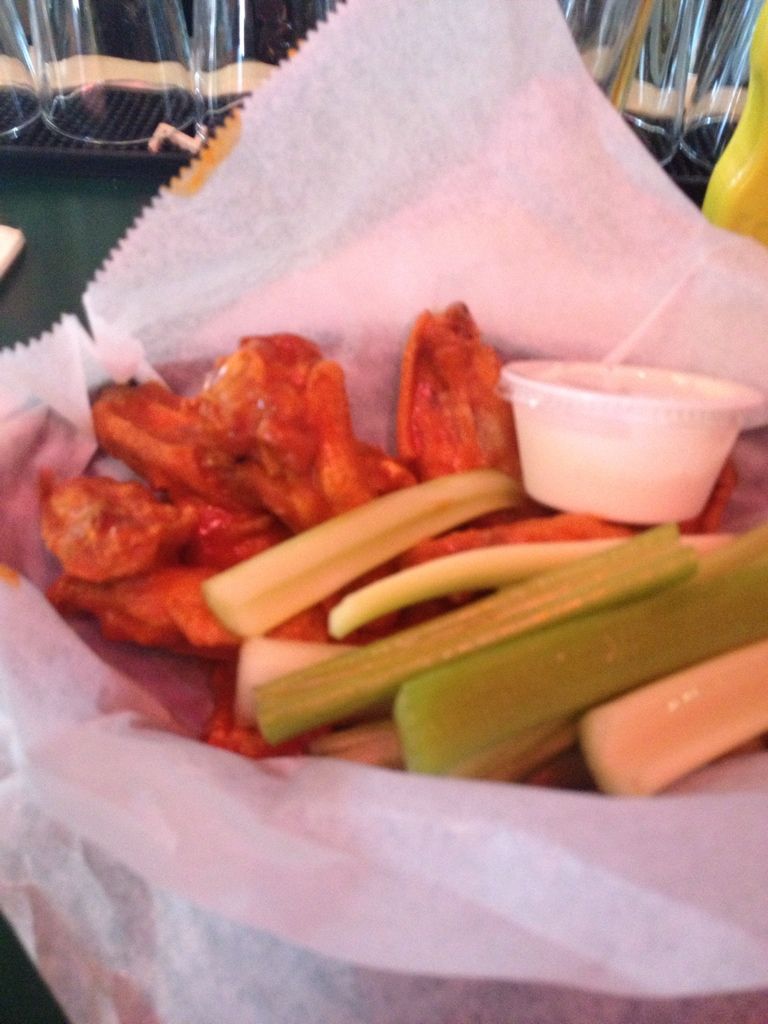 Looking Good So Far
First Impressions
:
The most barebones-looking black and white menu I have ever seen. Hidden toward the bottom of the first page of the menu gives you the option for "Large Hot Wings (15-16 wings) $9.95". Or "Small Hot Wings (10-12 wings) $7.95".
I went with the small order in case they weren't all that good…big mistake on my part.
After being asked my preference in sauces from mild all the way to nuclear…I decided on hot to keep things consistent with other reviews.
From my seat at the bar, I could HEAR my wings being fried (always a good sign) and then bartender Dana brought me out a steaming basket of wings that looked and smelled incredible!
Score: 10
Sauce
:
Even though Choo Choo's owner Joe says the sauce is just cayenne pepper sauce, I SWEAR it tasted just a bit buttery (like Buffalo wings do in the east) and eventually had a nice kick after a moment or two.
Joe would know better than I would what he puts in his sauce, but in any case, it's a very authentic Buffalo-tasting sauce that's not too overpowering but still has a good zing to it.
Score: 9
Perfect Size
Crispy
:
So what if they wings look and even smell good…the real question is are they crispy enough?
And at Choo Choo's the answer is hell yes!
I will never understand how a bar that serves wings can undercook these damn things…but it happens all the time.
However, big thumbs-up to the staff at Choo Choo's for frying my wings up perfectly and then even asking me after the first one if they were indeed crispy enough.
Answer…they are PERFECT!
Score: 10
Size
:
When it comes to making great wings, size does matter and bigger definitely is not better.
Owner Joe and I both agree that places that serve the giant turkey-sized wings are doomed to never have them cooked thoroughly.
Where do chicken wholesalers even find chickens that do bicep curls seven days a week?
The wings at Choo Choo's are the size that wings should be from non-mutant chickens…which enables their kitchen to fry them to perfection.
Score: 10
Perfection Again
Extras:
My small order of wings came with so much celery that I don't need to eat another vegetable all week!
The bleu cheese had more of a parmesan taste to it than bleu cheese…not awful…just a different taste than I was expecting.
The only "complaints" I have (if you can even call it that) would be a few additional napkins, a separate basket for the bones and the always elusive wetnap.
Other than that, the only other complaint I have is that I didn't get the large order instead!
Score: 9
Reading around on Facebook, it appears that Choo Choo's went through a complete change in kitchen staff within the last week.
But fear not, it seems that their formula for making great wings has not changed no matter who is doing the cooking.
Are they the best wings in
Omaha
?
Who knows…that's why there's a damn wing challenge in the first place!
But, as for now, we have a new
HitThatDive "King of the Wing"
and that is indeed Choo Choo's with a new high score of 48!
A personal thanks to Joe and his son for a great afternoon and a free beer too!
New King of the Wing!