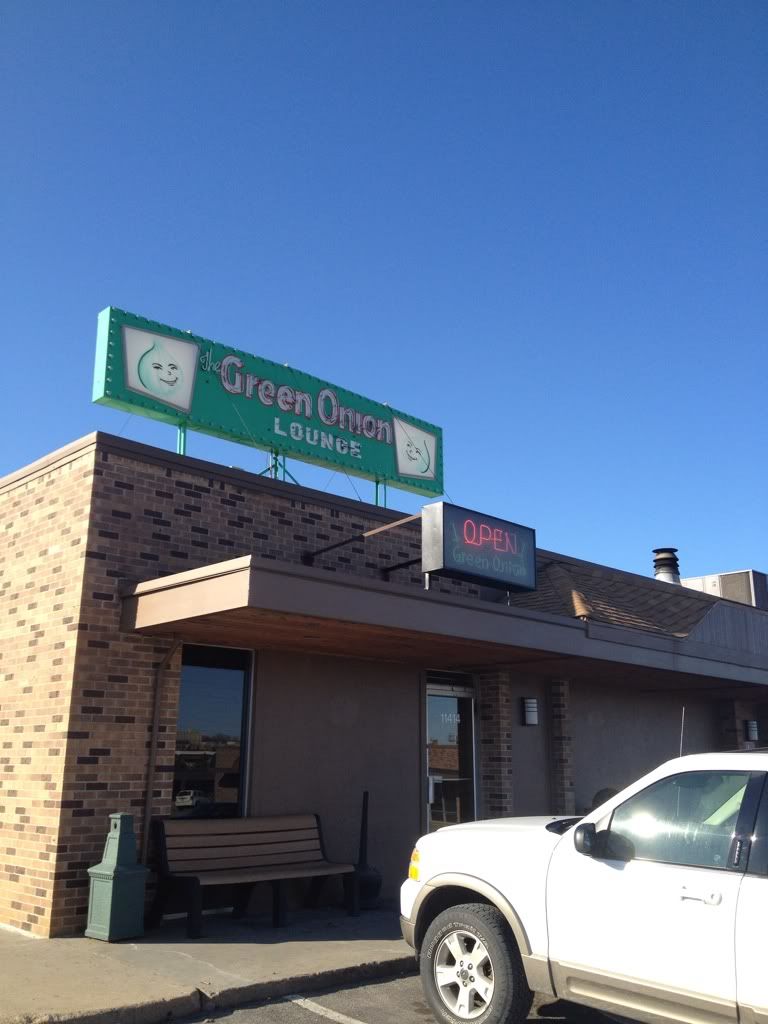 Home of STRONG drinks
11414 Davenport St
Omaha, NE 68154
(402) 333-2236
I've had more than a few people email and say that I HAVE to stop by the Green Onion Lounge for the area's strongest mixed drinks. Aside from that, I didn't know anything else about this bar other than the address…so what the hell…I was in the mood for a good stiff drink. Green Onion Lounge…here I come.
PROS
: STRONG drinks. Great loungy vibe. Fun "professional" barflies.
CONS
: I could not stay longer.
First Impressions
: Walk through the front door and you will immediately think one of two things…did my
DeLorean
reach 88 mph on my way here, or, does the Green Onion Lounge just have a
Flux Capacitor
built right into the front door? One step inside and I immediately thought I had stepped into a lounge in the year 1979…minus the smoke of course. Mrs. HitThatDive sent me a text message right after I took a seat at the bar asking me how the place was, my one-word note to her simply read "Awesome!!!"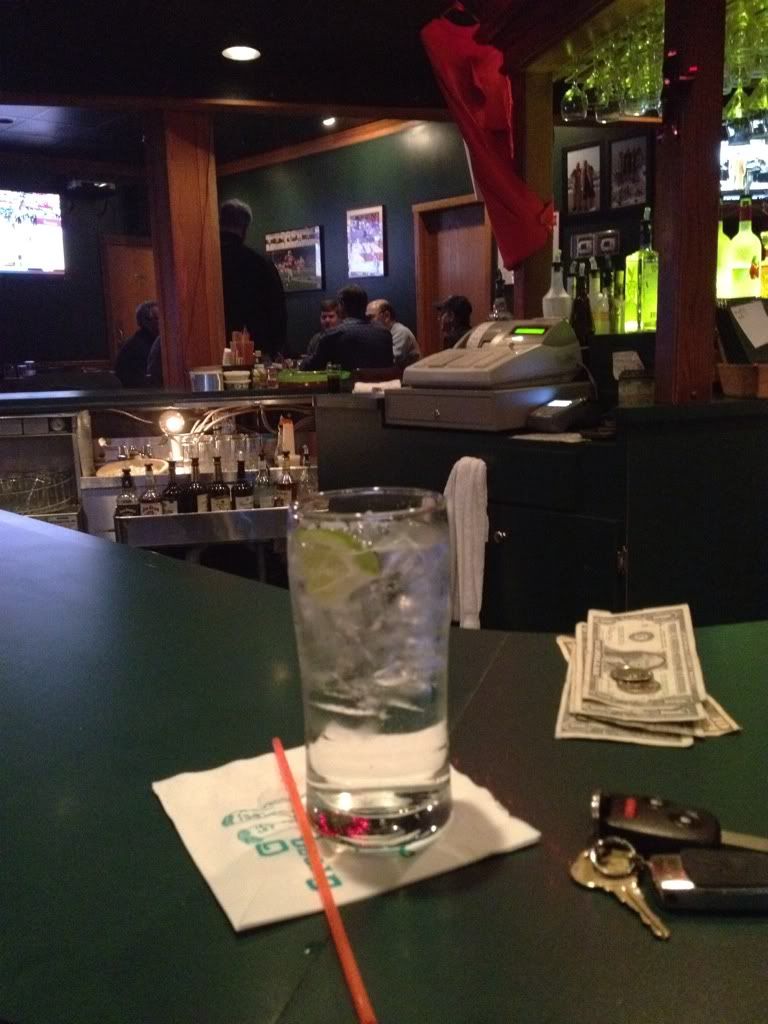 Not for amateurs
The Bar
: Belly up to a big sunken bar in your green lounge chair and take in the fact you are in one of the most well-preserved lounges I've ever seen. The bar has chairs for nearly 25 to sit comfortably and there are plenty of tables and booths to sit at if that's more your style. A fireplace in the corner looks like it would be the perfect place for
Hugh Heffner
to drink a cocktail in his smoking jacket and slippers. For once I wasn't drinking beer, but I can tell you that it is well stocked with liquor for their famous strong drinks…and the whole place is very neat and orderly.
The Crowd
: Keep in mind that this is a day drunk edition so I was there on a Saturday afternoon, and other than the cute bartender, the customers were all men 50 and older who must hang out here when it's too cold to golf. That said, the people here made for some of the most fun I've had as a bar in a while. Within 10 minutes the guy sitting next to me bought me a drink, 5 minutes after that, the owner got everyone there a free drink too! And, much like a lounge from the 1970's, there is not a hint of political correctness! From reading a few Yelp reviews after I got home, it appears that this can be quite the
Cougar Central
as well on the weekends (for those of you that are on the prowl).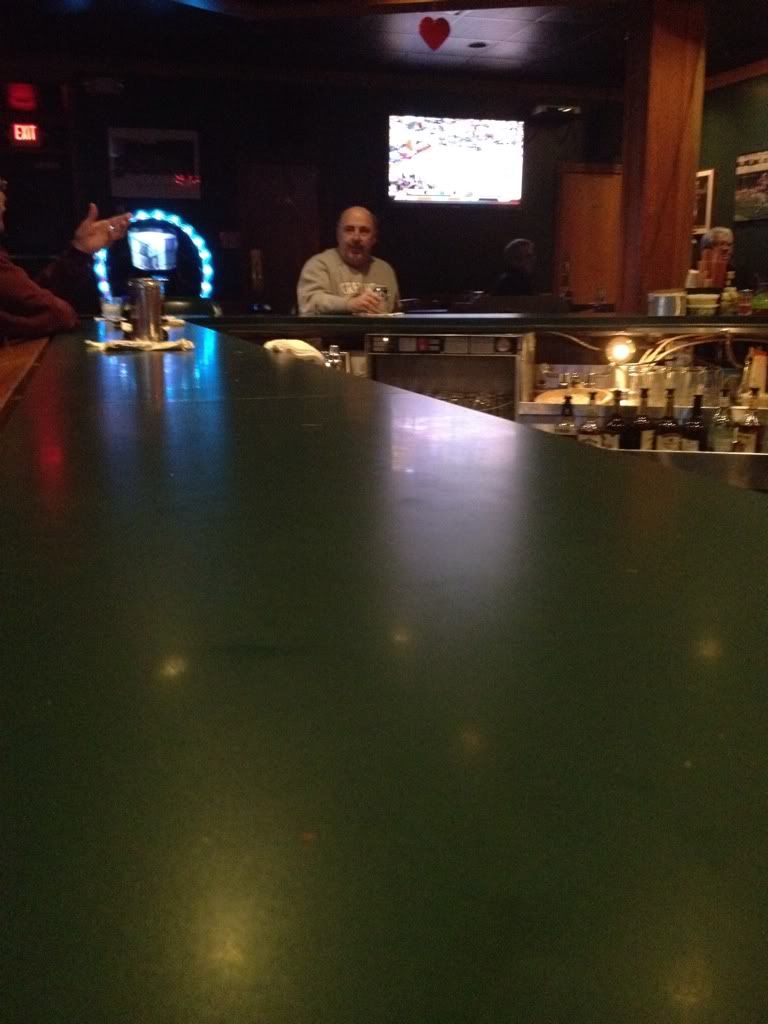 A few regulars
Service
: Never even made it to my seat before I was asked what I wanted to drink. Our bartender for the afternoon was by far the youngest person in the bar (and the most attractive too) but she could pour a mean drink, trade verbal jabs with the regulars and make sure no one had a drink close to being empty…all with a smile on her face. I'm sure in a different era, she would have made a great Bunny at the Playboy Club. WOW…this place puts you in a great loungy mood…or maybe it's the vodka and sodas starting to hit me.
Price
: Well, when I wasn't getting free drinks plopped down right in front of me, a glass of VODKA and
soda
was setting meback $5.50. Considering that you can pay close to that for a 12 ounce at some places, that's a fine price in my book. Tuesday is "Men's Night" and Thursday is "Women's Night". I want to come back on a Wednesday because that's "Pickle Night" where the pull tabs on a strip ticked reveal the price of your drink.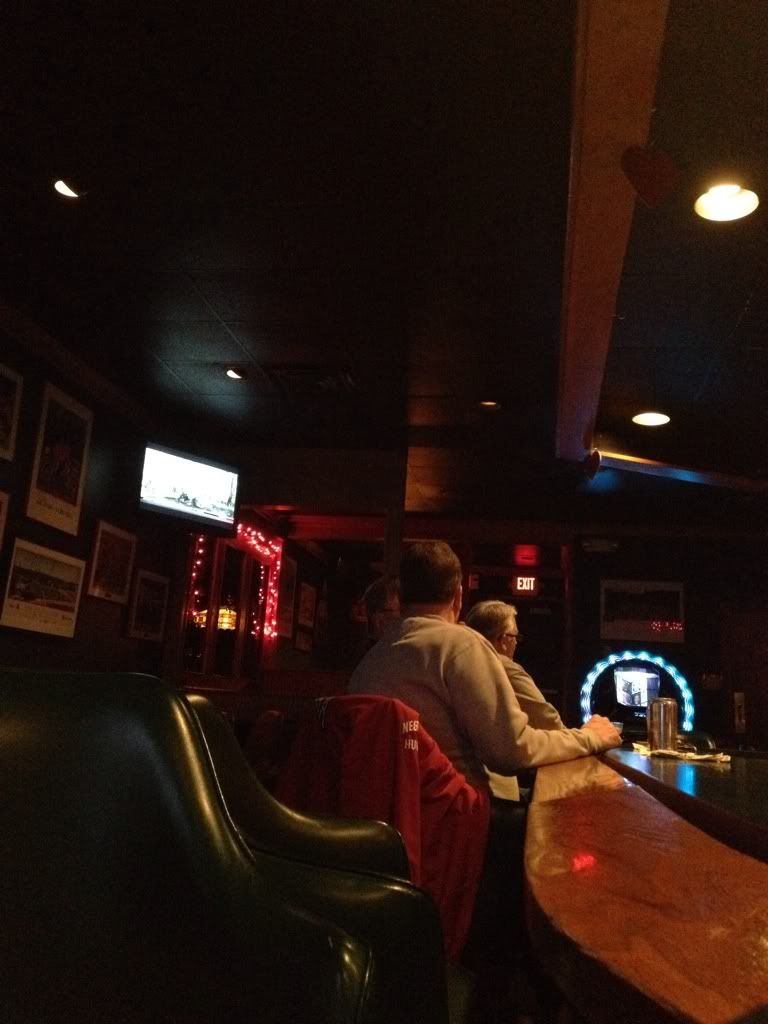 A few more regulars
Food:
No food that I saw at all. But I did learn from one of my new drinking buddies that they have free food on Saturday afternoons (word on the street is that it comes out around 12:30)
P.S. Eat before you get here…do not attempt the Green Onion on an empty stomach.
Entertainment
: If sitting in an awesome throwback lounge isn't enough for you, there are 4 TVs, a GREAT old school jukebox playing great bar music, and what looked to be a table top arcade game from the 80's.
Restrooms:
Bright. Clean. Some of the nicest I've seen in a bar in my life. This bar has everything!
Bartender Chat
: I spent so much time talking to nearly everyone in the bar that I didn't have much to talk to the bartender about. To her credit, even she got a good laugh from one of the regulars that yelled out "How much extra do I have to pay for a cold beer?" to the entire bar.
Cleanest in town!
How Far Did My $20
Go: I was on a time crunch, so I only ended up spending $11.00. But, for that low sum of drinking money, I had several strong VODKA and
sodas
because of all the freebies being sent my way. Even if you don't get any drinks on the house, $20 can still buy you quite the buzz.
Final Impressions
: If you love a good loungy bar, that in my guess probably has not changed a bit from the day it opened, you will LOVE this place. As I begrudgingly headed out the door while wondering why there aren't more lounges like this in the world, I was trying to figure out how to accurately sum-up my experience here…and then as I stepped out the door and back into the year 2012…a little song started playing in my head…"Making your way in the world today takes everything you've got. Taking a break from all your worries sure would help a lot. Wouldn't you like to get away?"
DIVE-O-METER
9.5 (Nearly a perfect score!)
Lounge central