3012 North 102nd Street
Omaha, NE 68134
(402) 572-9400
Only thing that hasn't changed
As you may, or may not recall,
Binge-Drinking Ben
and I stopped by the
Brass Knocker
last year and were immediately underwhelmed by the place.
Oh sure, after a few beers we didn't seem to hate it, but, we never made our way back there either.
At the beginning of the year, I received a note on the HitThatDive "Hotline" (I didn't even know we had one?) that said the Brass Knocker was closed as of the 1
st
of the year.
Not completely surprised I quickly slapped up a "Now Closed" note on their review and went on with my day.
Then, a few weeks ago I see an ad in the Sunday paper that the Brass Knocker was now hiring?
What the hell is going on?
Being men of action, and looking for a reason to have a few beers on a Sunday afternoon, Ben and I met up with Double-Shot Dave to do some investigating.
This isn't going to be a full review, but more of a reason why you should check out all the hard work that Butch, Derek and Justin have put into COMPLETELY renovating the place.
Not to mention they were all great to talk to while we sat there and marveled at how different everything looks! (Editor's Note: My "Now" pictures don't seem to do the place justice...just go and check it out for yourself.)
Then
First Impressions:
Then – Is it open?
Now
– Is it open?
Everything about the outside of the bar looks exactly the same.
In fact, much like the first time, I didn't think that it was open.
A quick text to Binge-Drinking Ben inquiring on his whereabouts let me know that he was already sitting inside at the bar.
I opened the door to be immediately blinded by a bright, shiny, clean, orderly and pleasant-smelling bar.
Is this even the same damn place?
The Bar
:
Then -- A very dark and quiet bar, this is the epitome of West O dives. The patchwork memorabilia on the walls captures decades of music and sports memories and the mix 'n' match seating includes everything from bingo-hall chairs to lifted 70's bar stools to modern office furniture.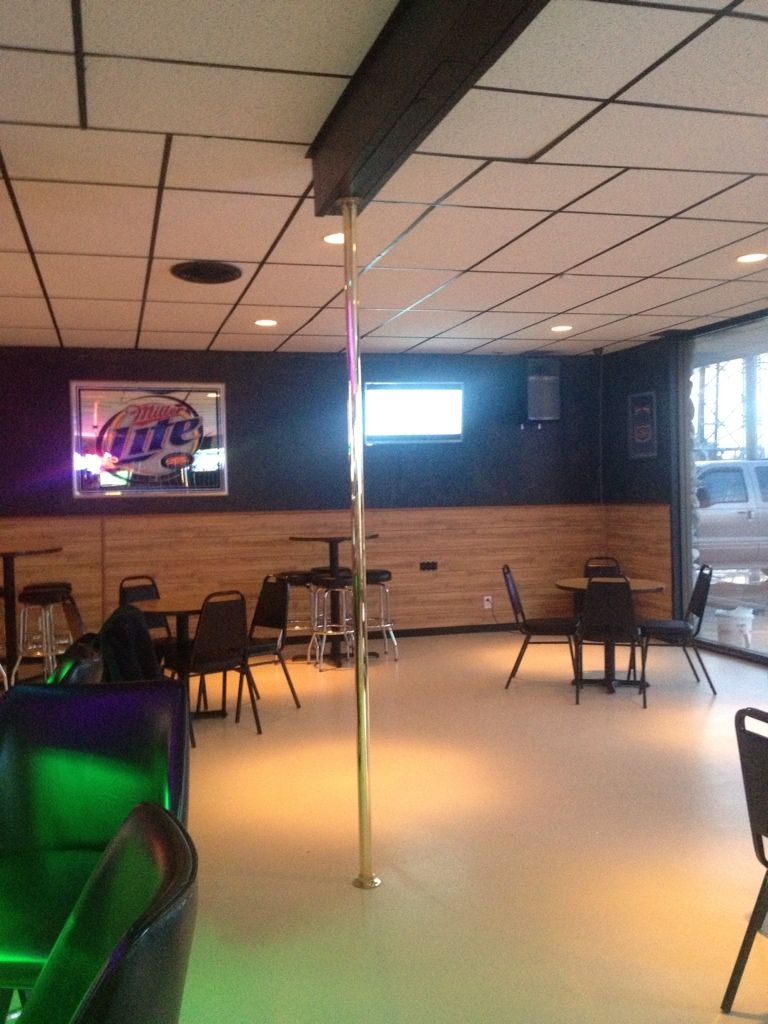 Now
Now
– Clean with a new car smell.
Everything, including the chairs, match.
The area that once was home to a huge disco ball now is the home to a stripper pole just begging for some attention.
Unlike before everything behind the bar is neat and orderly and gave the impression, also unlike before, that all the glasses and pitchers had actually been washed before they were used.
Service:
Then -- A bit standoffish at first, it was dinner time as well, but not too awful considering we were throwing off the "vibe" in the empty room.
Now
– Our man Justin was ready to serve-up some of the coldest beer in town in his Brass Knocker bowling shirt.
Even though the place was pretty empty on a Sunday, we were made to feel welcomed from the minute we sat down.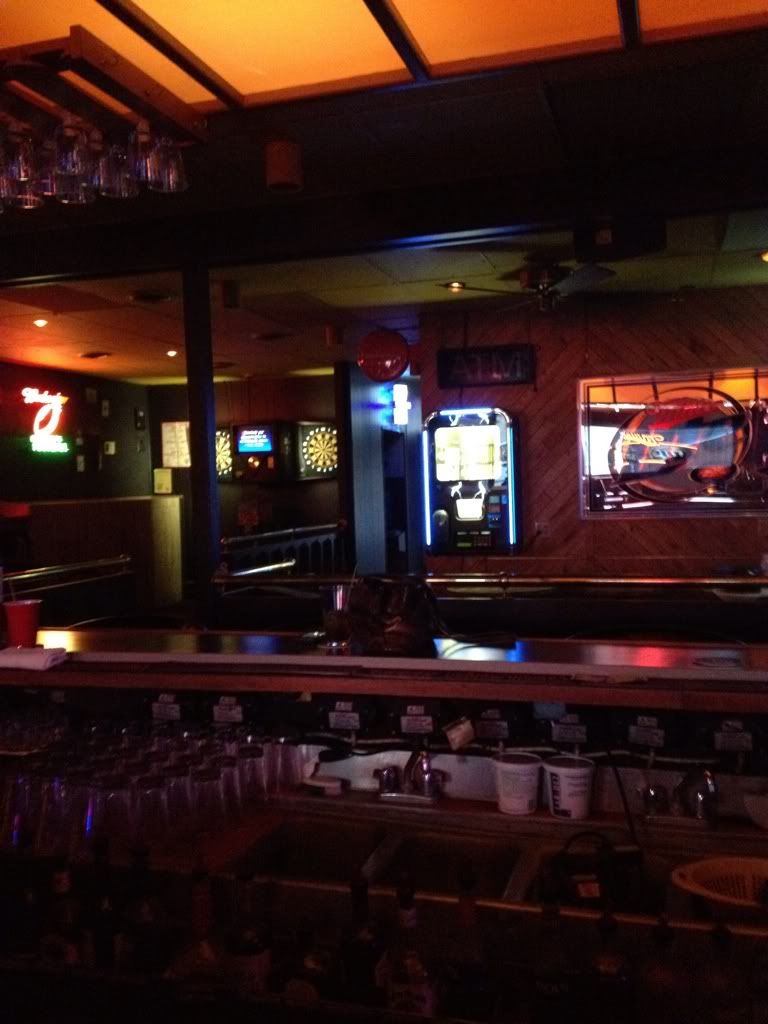 Then
Price:
Then – Pretty standard. $7 a pitcher. Couple bucks a shot.
Now
– We were drinking happy hour pitchers for $5 each.
Entertainment: Then -- It turns out the Brass Knocker was a staple of the Near-West Omaha Karaoke Circuit…which they seem to have nearly every night of the week.
Now
--
Karaoke Monday & Wednesday.

But there is a DJ with the option of karaoke Thursday & Saturday night as well.
Add into that a pool table, great-sounding jukebox and Buck Hunter HD and Golden Tee and you're good to go any time that you're there.
Bartender Chat
: Then --
Before her Jimmy John's and the purchasing of her to take a shot:
N/A
Now
Now – For the first time ever, I blew my cover and introduced myself because I wanted to get the complete story on just how much work went into turned this bar around in such a short period of time.
Justin let me look at 100's of pictures on his iPhone of just how much work was needed to make the Knocker look great.
Apparently 16-hour days, seven-days a week for two months DOES pay off.
Nice work guys!
Restroom:
Then -- Small and a bit dingy.
Now
– Remember that TV show "The Swan" where they take a bunch of overweight homely women and make them hot?
Ditto!
Final Impressions:
Then -- Let's be honest, if you've got nothing better to do then go ahead 'n'HIT THIS DIVE!
Final Impressions:
Clearly we all were impressed at what the bar looks like now.
But the real difference is that Justin, Butch and Derick really seem to care about running a great bar that they are proud to own. This is place I will definitely be back too again...soon. I can't give it a final number because I didn't actually write a full review...but this place is clearly Omaha Dive Bar Certified by HitThatDive standards! Make it a point to give the new Brass Knocker a try and let me know if you agree with our second, and MUCH better assessment of the place!
Now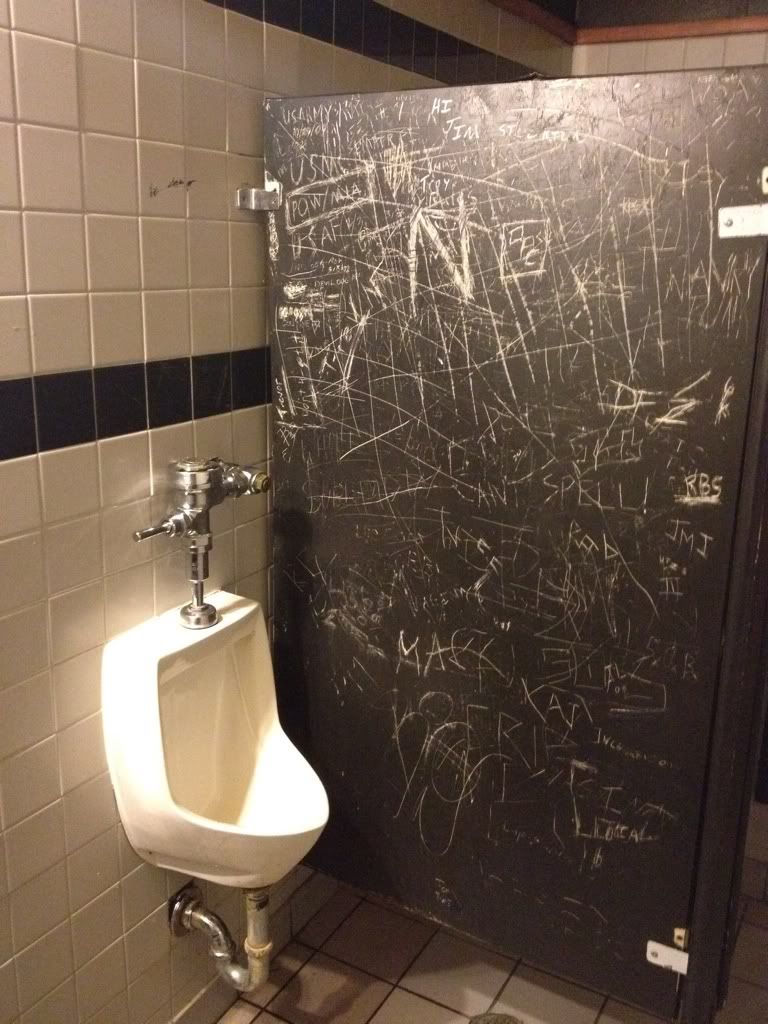 Then