601 N. 16th Street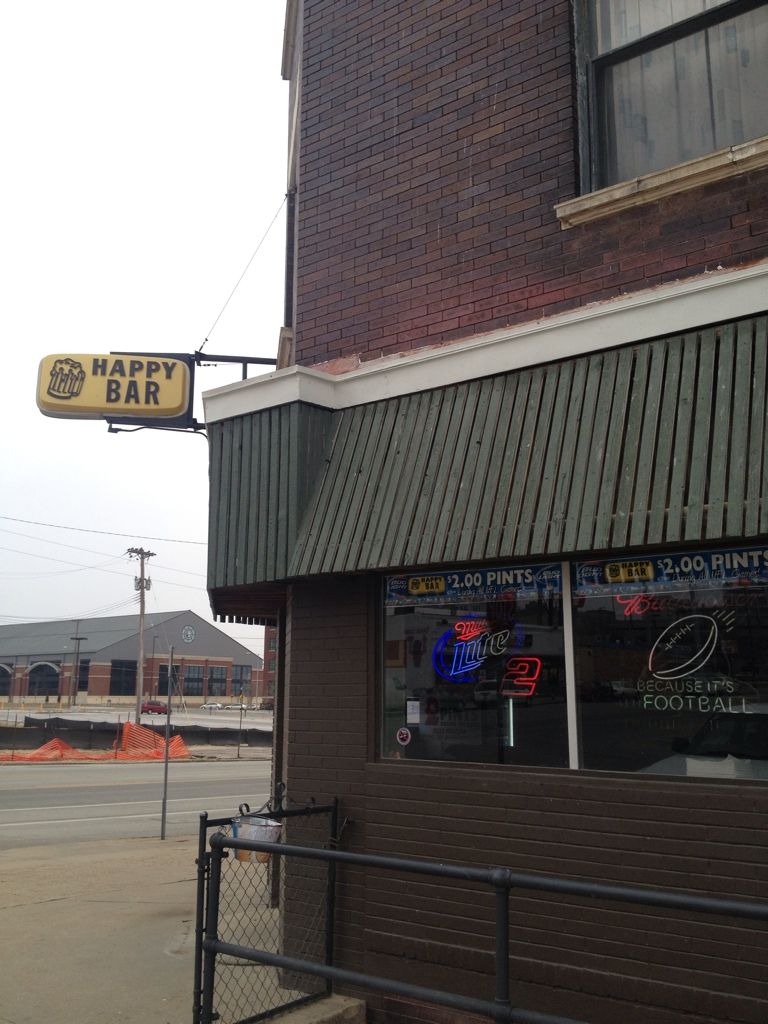 Come on get happy
Omaha NE 68102
402 346 9677
Every now and then I get some sort of smarmy comment on the
HitThatDive Facebook
page that I don't review nearly enough "shit holes", and what I really need to do (being the huge fan of unsolicited advice that I am) is go to a place like Happy Bar. Oddly enough, I've meant to meet HTD first readers (ever) Mark and Becky there for at least a year...and finally we were all in the same area at the same time and decided to stop by downtown's most well-known shit hole for a few drinks. Anticipating an afternoon in a dark, sticky, smelly dump...I was ready to get there.
PROS: OCD Friendly. Close to the downtown attractions. Flasks for sale.
CONS: Made me sleepy. Bathroom door does not lock. NOT a shit hole as promised.
Shit is orderly!
First Impressions:
Ummm. Well, yeah...it does smell a bit off. But not the worst aroma I've ever caught as I walked into the place. Looking around at the completely empty bar two words immediately did NOT come to mind. "Happy" or "Shit Hole". OK...make that three words. The bar gave off all the excitement of a old snail crawling on a Quaalude, but at first glance was very neat and overly orderly. Odd.
The Bar:
As standard as it gets. A decent-sized bar with roughly 10 seats, and an additional 10 tables scatted throughout the rather long but narrow room. If you like draft beer they have both kinds on tap, Bud AND Bud Light. A decent collection of cool sports stuff is hanging from pretty much every wall, and there is even an old beer can collection that had an
Iron City Beer Steelers can
from the 70's. Cheers for that! Of note, there is an entire section behind the bar of "To-Go" flasks that clearly are meticulously placed in exact order every 33.7 minutes.
Echo Echo Echo
The Crowd:
Rimshot please! Well, there were two people at the bar when the three of us walked in. One, as it turned out, was our bartender for the afternoon. The only other patron looked like the kind of guy you would anticipate that you would see in an empty bar on a Saturday. Seemed like a nice guy but had absolutely nothing to say. Throughout the afternoon, several people stopped in to buy a quick flask of vodka and then scurry right back out the door. Unless you're like George Thorogood, and prefer to drink alone, you may want to bring your own company if bar chat is one of your requirements. On the other hand, if you're looking to get hammered in privacy...look no further.
Service:
Apparently there is a old dude named Jack who has been tending far here for decades, but he wasn't on duty when we were there. There was a guy occasionally behind the bar to bring another round...but only after you sat with your glasses empty for a bit and finally asked for another round. Jack ultimately did make an appearance, but quietly sat at a table alone slugging Mountain Dew from a can.
Random phone
Prices:
I kind of spaced out on this one. All I know is that our first round, consisting of a tall Jack and Coke, a Bud draw and a bottle of water set me back $8.75. There are a few signs on the front of the building that advertise "$2 pints during all UFL games" Question, is there a UFL anymore? If not...Happy Bar has one of the greatest marketing scams in town! Nicely done.
Food:
Just below the orderly flasks you will find an equally orderly assortment of beef jerky, Slim Jims, Beer Nuts, peanuts and even some peanut butter crackers and a few bags of microwave popcorn. Talk about a selection!
Entertainment:
Pool table, dart board and music to my eyes...a 20 year old CD-only jukebox with a pretty good selection of stuff like The Doors, KISS, The Cars, Jethro Tull and The Black Crowes. What struck me the most odd were the four very nice higher-end flat screen TV's throughout the bar. They looked as out of place as an elevator in an outhouse. The assumption is that once the CWS moved downtown, Happy Bar figured they needed to make a few upgrades to attract even more people so they are guaranteed to make an even bigger fortune for those two weeks in June.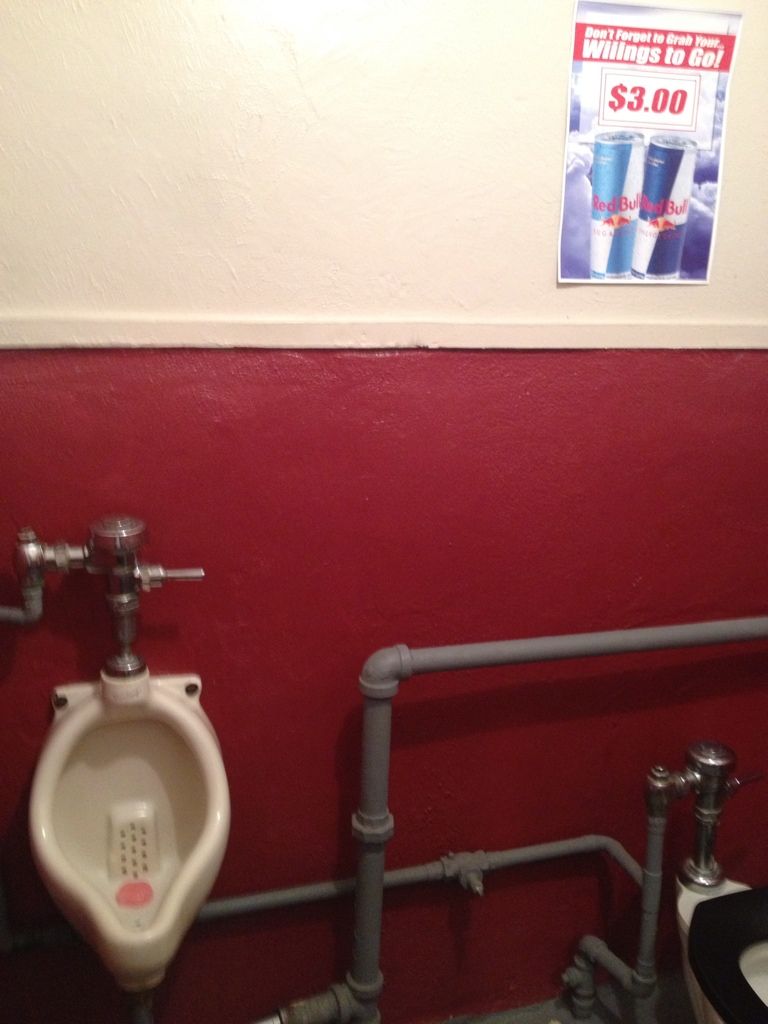 No lock. Be warned
Bartender Chat:
I just actually laughed out loud while typing this. Other than the usual "what can I get you" conversation, the only other thing I have in notes that I heard our man occasionally behind the bar utter was, and I quote, "Yeah, thanks."
EDIT
According to Omaha's only shoe-leather reporter,
Matthew Hansen
at the World Herald, the regular bartender is a big fan of "Walker Texas Ranger." Thanks for the usual great intel Matthew!
Restrooms:
Nothing too awful, and not that I needed it to, BUT, there is no lock on the door whatsoever. So guys be warned, if you have an emergency of epic proportions and have to take a seat, bring a door watcher. Oh sure, there was no one in the place, but just your luck some hot-looking chick could potentially walk in and mistakenly open the wrong door.
How Far Did My $20 Go?:
I'm not sure. But I do know, that the next time the Omaha Nighthawks kickoff, I can easily slug down nine beers and leave a tip. My guess is the prices here are average, had Mark not ordered water I might have a better guess on this one.
Final Impressions:
Nothing really to love. Nothing really to hate. I wouldn't avoid this place necessarily, yet it would not be on the top of my list of places I have to rush to get back to either. It's actually a relatively nice bar in a pretty old building. I can only assume how big of a dump (in the best sense of the word) this place was at one time. Walk in here not expecting a shit hole and also much of any sort of "happy" vibe and you wont have any issues with this place. *SIDE NOTE* If you're reading this because you're plotting out a trip for the CWS by all means stop here as opposed to some of the corporate crap bars we now have in abundance in downtown Omaha!
DIVE-O-METER
5
Insert customers here