21215 South Highway 50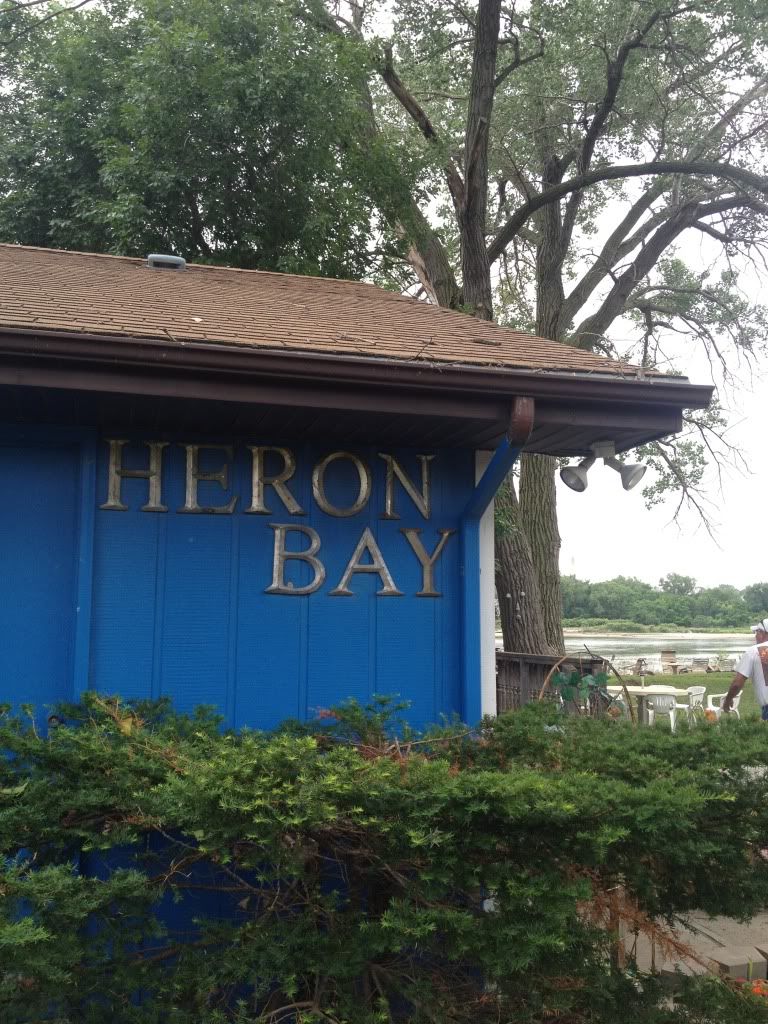 Sure is blue
Springfield NE 68059
I actually don't remember why I decided to find a bar in Springfield, but that was my plan for an overcast Sunday afternoon. While performing my usual half-assed "research", I came across a few reviews for Heron Bay...and noticing (in no particular order) that it was right on the Platte River, received some very mixed reviews, clearly sounded like a dive and that it was hard to find I knew that I had found my place for the day.
Thinking back to the last time I was in Springfield, for anything, was to go to the now defunct (and lame as hell) Christmas Wonderland. So, my only real impression of the area is from a rundown, overpriced shitshow. Clearly this trip south will be far better...OR...was that my lame attempt at foreshadowing? Oh, just keep reading then...will ya'.
PROS: Right on the river. Fun staff. The band for the day looked awesome
CONS: Price of beer. The entire area looked like the campground the day after Woodstock. The band for the day got SCREWED by the owner.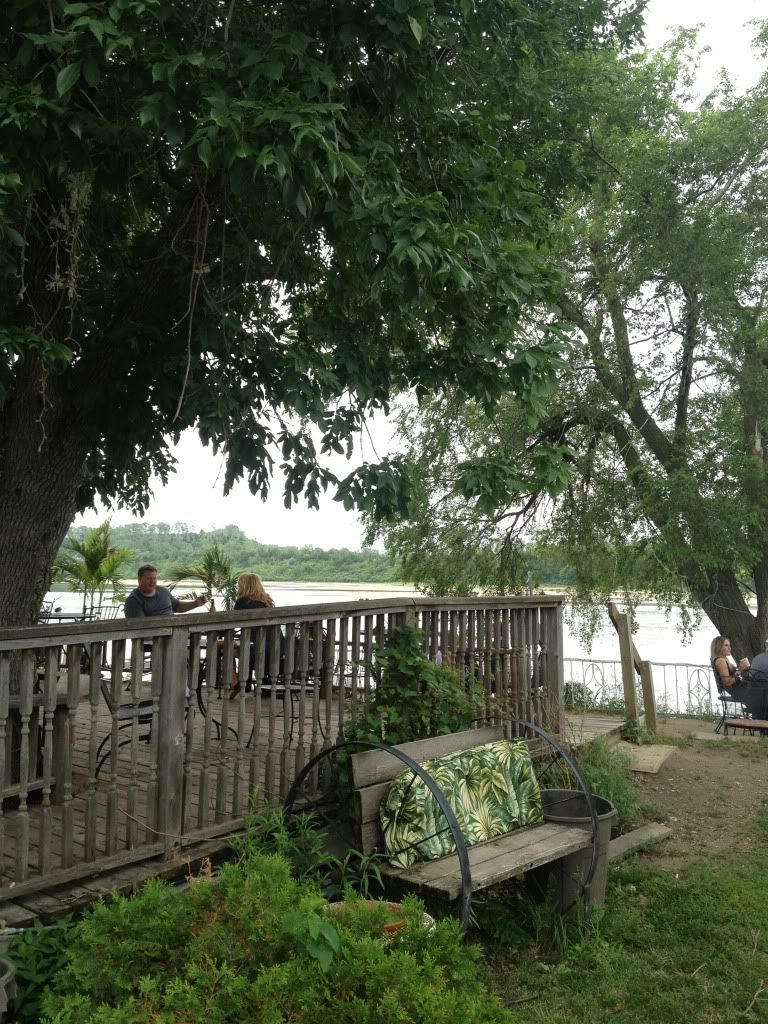 Nice deck
First Impressions:
It's not really in Springfield, I guess. I get to the Platte River and cross the bridge. Shit. I went too far. I cross the bridge and make the first left. DAMN that's not it either. I head north on 50 and now go too far the other way. WTF! Where is this place? Finally, I see an unmarked road on the left (once again heading south) and turn into a hillbilly village complete with assorted junk, more mud than the Warrior Dash and scattered beer cans aplenty. 20, (or so) bikes let me know that either I'm in the right place or about to forced to do the Pee Wee Herman "Tequila" dance within the next three minutes. I find a place to park my car in "parking lot", open my door and step right into a sea of mud. And yet...so far I kind of dig it.
The Bar:
The entrance is around back facing the river, so make a walk around to the right, dodge some assorted debris and walk onto the huge two-tiered deck. And, if you don't really look too far to your west, so you don't the bridge or the industrial buildings on the Louisville side, it feels rather secluded. I take a seat at the small, but kitschy bar and notice there are a few tables inside to sit, but the main attraction is all of the deck seating.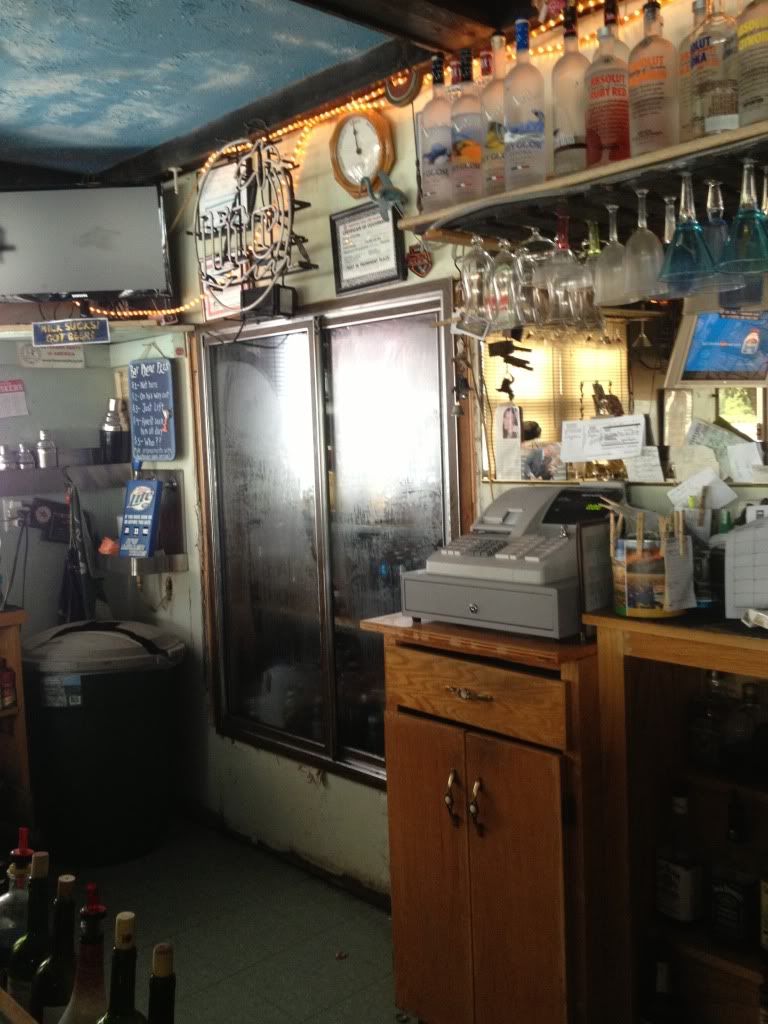 Could use a scrub
The bar will seat no more than eight, and is in need of of a good power washing to remove a higher-than-anticipated level of grime. The bar does have a good crusty, beach-bar feel and look to it, but quickly turn your head and the tables and chairs look like they purchased from a Ramada in Cedar Rapids. Of note...they have one nasty looking tap for beer in the back corner of the bar...stick with bottle or cans when you are here. Of course, the cooler does not look much better.
The Crowd:
A good mix of older and younger bikers, complete with a dude that looked a lot like Wade Garrett from Roadhouse...down to his limp. I would guess that 85% of the bikers here, at least when I was, were real, hard-working blue collar folks. The other 15% were the West Omaha "biker"types that like to go slumming every now and again to remind themselves why they are better than most people who hang in local bars like this one. There's no crime in driving your Range Rover to Whole Foods six days a week, so why every now and then act like you don't?
Service:
Tim, and his super cute co-worker, were fantastic. Fun to talk to, quick with the refills, and generally seemed to like working there which made for a great time sitting there watching the river go by. Tim is the kind of always-happy type of bartender that when someone found something that they were looking for and said "Oh, thank God!"...Tim immediately shot back. "You're welcome."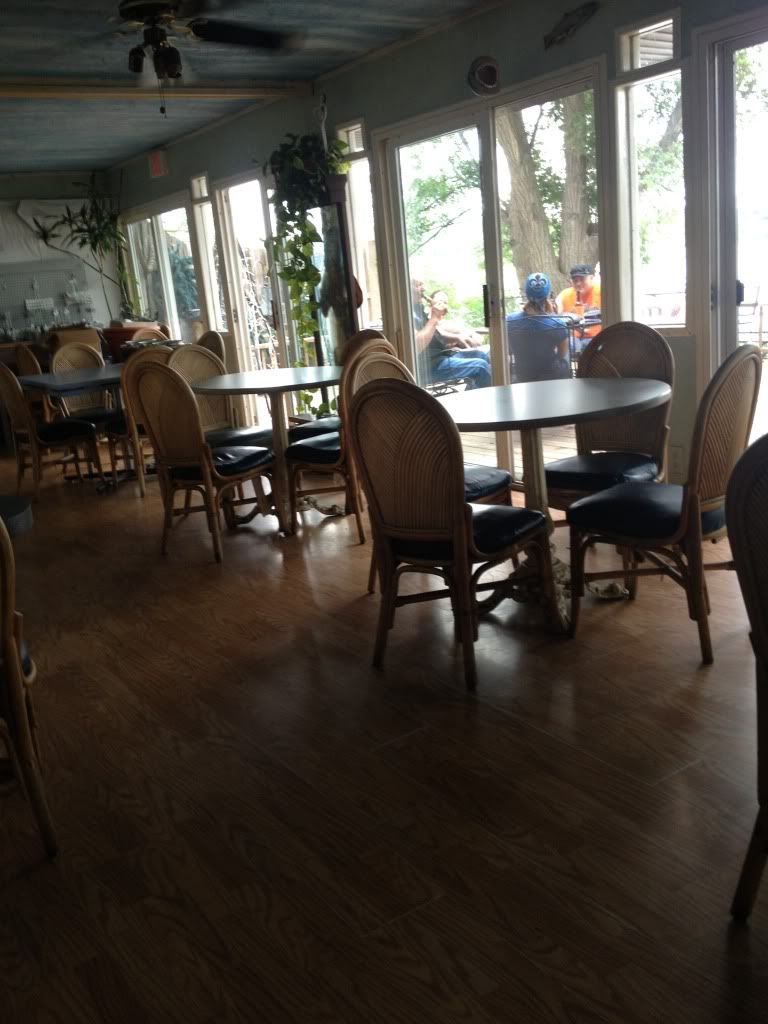 From the Ramada?
Price:
Because it's in a very obscure location, is kind of a dump, and frequented by a lot of blue collar people so I naively assumed the prices would be cheap(ish). Want a domestic bottle..that's $3.25. One of the band members (I'll get to them in a bit) payed $4.25 for a Corona...and if he thought it got screwed on the price of beer...it only got worse for Honeyboy Turner and his band of merry blues men from that point on.
Food:
They have a full menu, and do take credit cards, but I didn't order anything so I can't really help on this one. I will say that the burgers did smell pretty damn good, and a few Yelp reviews seem to back up the notion.
Entertainment:
They have a cool CD jukebox. OK...now let's get into how to fuck over a band 101. Long before I could legally get into bars, I spent almost every weekend in one from the age of 12 because my brother was the drummer in a bar band. So I know for a fact there is always an inherent dislike between bands and bar owners. Bar owners always think the band should have started by now, should take shorter breaks, charge far too much money and end the set 45 minutes too early for what they are being paid. On the flip side, most bands just think than the majority of bar owners are cheap assholes and move on with their evening.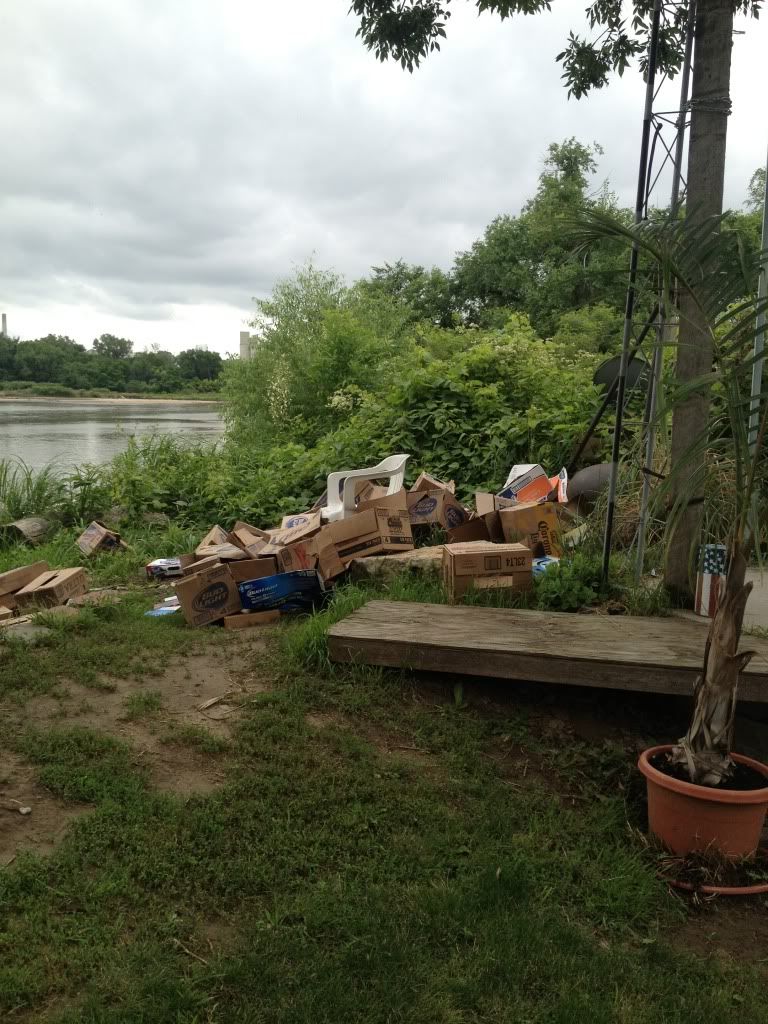 Rat's nest
Enter Lincoln's Honeyboy Turner Band. Unlike most bands, they showed up at least 90 minuets early and were looking for where to set up. Seems simple enough. I hear a rather odd discussion that the owner THOUGHT it might rain and that they should have called HER to see if she was going to cancel the gig...for no apparent reason. For the record, it rained at 5:00 AM on that Sunday morning and not the rest of the day...IN FACT...a quick look AT THE WEATHER CHANNEL in the bar showed NOT ONE single chance of rain in a 500 mile radius.
Insistent that the band was at fault for not calling, she cancels on them...ON THE SPOT...and then refuses to pay them a dime. Cheers to Honeyboy for being calm, cool and levelheaded about this complete lack of integrity, because let's face it, if the bar cancels the show...THE BAR NEEDS TO CALL THE BAND! Her argument? "The phone works both ways." These dudes wasted a day of their time, drove from Lincoln, showed up early on a beautiful day and were told to go home. Yes, the stage is outside...but who gives a shit IF IT ISN'T RAINING with no chance of it anywhere in the forecast!
Honeyboy, seemed resigned to the fact that the band would not get all the money for the gig, and decided he would settle for $30 in gas money. The response from the owner? "NO. I will not give you one dime." Really? This is how you run a bar? Really?? Show just one ounce of personal ethics. Did I mention that the bartender was really cute?
Most people sit outside
Local bands, think twice before you book a gig here and get royally screwed out of an honest day of pay. Now, back to our regularly scheduled review.
Bartender Chat:
It's hard to be nosey and have a good conversation, but at one point I went to order another over-priced beer and Tim asked me, "Do you want me to get it or the pretty girl to get it for you?" No offense to Tim, but given the choice, who can guess what the answer was?
Restrooms:
Small and cramped, but, a big open window does give everyone a great view from the muddy parking lot. On the other hand, I guess it doesn't smell for too long if someone drops a deuce.
How Far Did My $20 Go:
Well, it sure as hell went a lot further than the gas money Honeyboy Turner made for the gig...but not much better. 20 smacks was good for six beers, but I liked the staff so much that I didn't blow through all my money to give them a good tip... because my guess is they don't get paid shit to work here.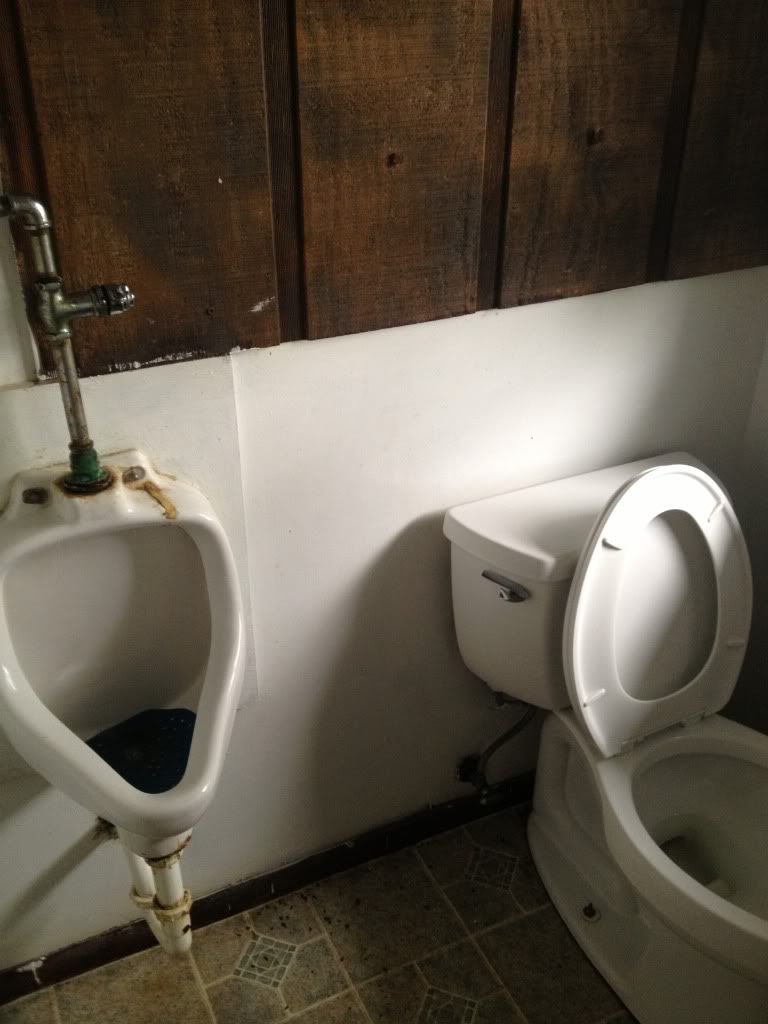 It is what it is
Final Impressions:
You know, this place has potential. Good view of the river, plenty of room to hangout and a staff that I enjoyed to be around. But, man, there was just sort of junk and clutter all over the place, drinks priced way too high, AND to top it off...when I went to check out the restroom...someone was in my bar stool talking to the owner...even though my beer, sunglasses and keys were sitting right there. And I was the only one at the bar! So I left with a pretty bad taste of overpriced beer in my mouth.
Should you avoid this one? I wouldn't. Add it to your list of places to stop by on a nice day. But do keep in mind the words, oh so many years ago, from the Gin Blossoms..."If you don't expect too much from me, you might not be let down."
Dive-O-Meter
5
Owner's Business Ethics
0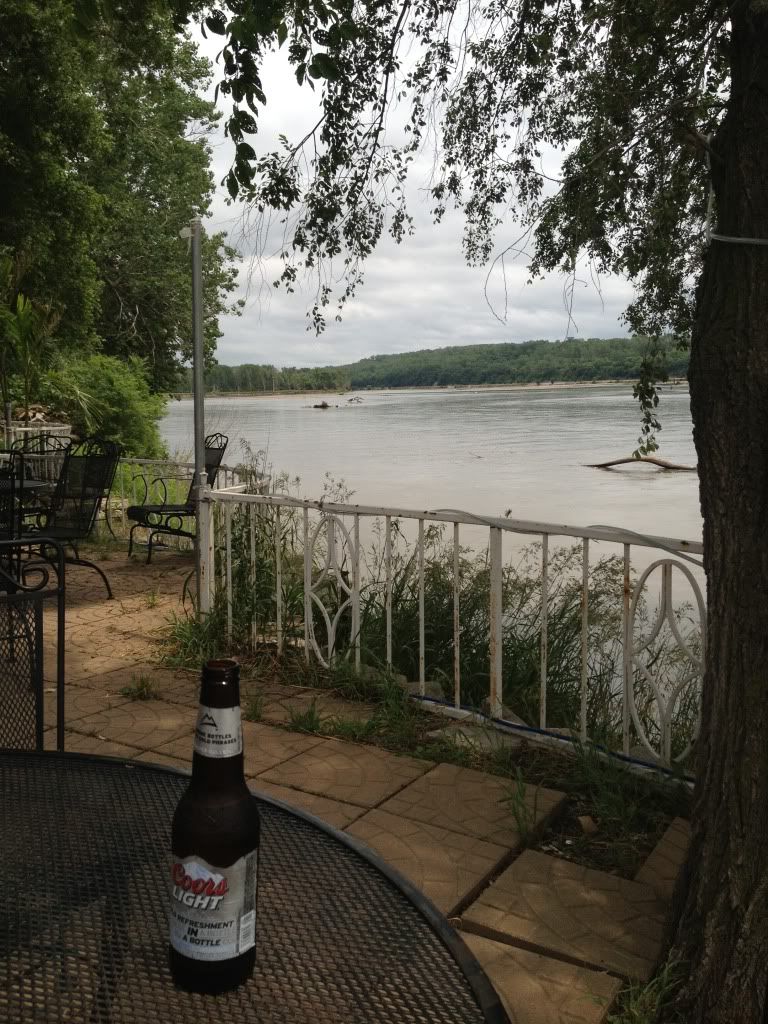 Great view of an overpriced beer