327 North Spruce Street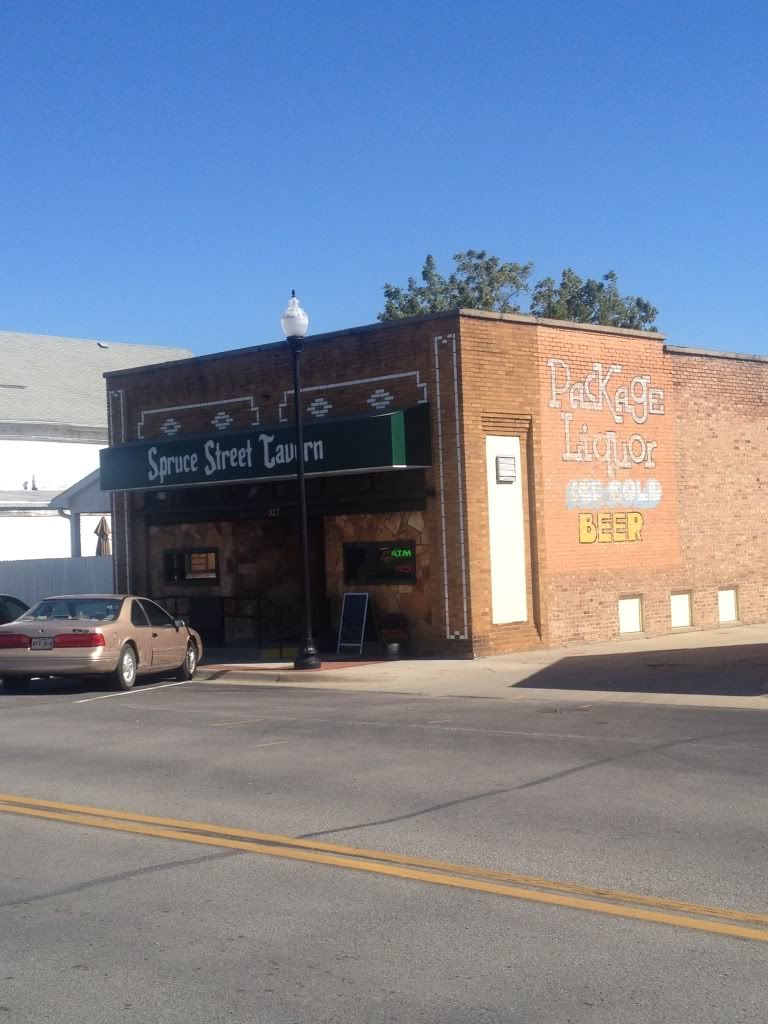 Valley, Nebraska 68064
The only consistent thing about my bar reviews lately has been just how inconsistent I've been about writing them. So, it struck me quite odd yesterday that (out of the blue) I decided to hop into my car and drive to Valley, Nebraska to review a bar I've driven past before, but can never remember the name of the place. Much like the
One Horse Saloon
and the now infamous
Bar-M Corral
that I reviewed earlier in the summer, a drive to Valley makes it feel like you're a lot further out of Omaha than you really are. Just be careful on the drive back on Dodge...the cops are usually everywhere!
PROS: Opens at 7 M-F with three separate happy hours. Great service. Good bar food.
CONS: Slightly dull-looking inside. The price of toppings for my burger.
First Impressions:
Yep...that's the place I was thinking about when I left the house...Spruce Street Tavern...why can't I remember that name? For those of you familiar with the area, this was formerly known as Willie's.
Booze
The new green awnings almost make the place look too nice, but a sign at the front door stating that the first happy hour of the day starts at 7:00 AM, let me know that this was going to be a good time. As I walk in and sit down at the rather long bar two things hit me immediately. One...the fries in here smell like kick-ass bowling alley fries...and Two...did I just spot a jar of pickled eggs behind the bar? Oh HELL yes!
The Bar:
It's kind of bland as you take a look around, but look up and check out the old school ceiling. I will say from the second I sat down there was a cool and relaxed feel to the bar and even though the people in here were nothing but pretty regular,
regulars
, I never once felt out of place. They have four beers on tap, a smaller than average-looking collection of booze and a great smelling kitchen. The long bar easily seats 13 people comfortably, and 6 assorted tables and chairs have plenty of room for you to stretch-out and eat in peace. Do not confuse this place as a restaurant that sells alcohol, this is bar that serves burgers and pizza. Of note...I had to remark just how neat and clean this bar is....something tells me that was NOT the case when it was Willie's.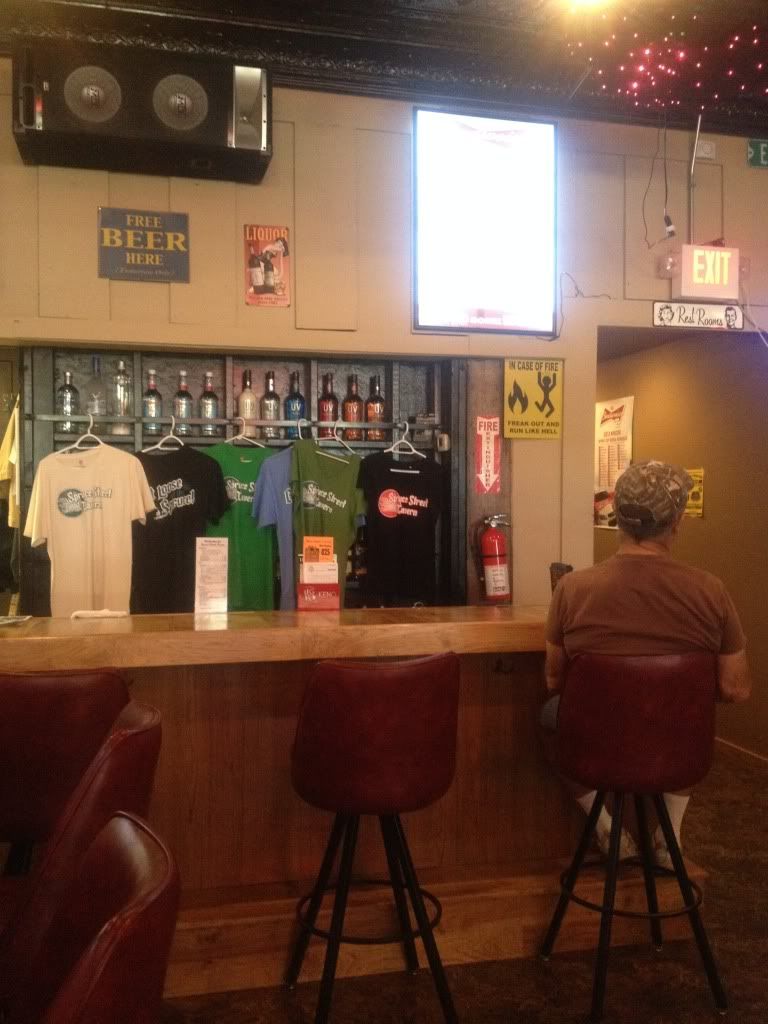 I drink alone
The Crowd:
Pretty decent-sized crowd for a Wednesday afternoon. Most were over 50, carried flip phones, and had a good old time carrying on about nothing much in general. These didn't seem to be the type of people out to make many new bar friends, it seems like they're just fine with the people that they already know. But again, at no time did I ever feel unwelcome, and for once, it was nice to just sit and listen to conversations without trying to be part of it.
Service:
Those that are regular readers of HitThatDive, know that this category alone is where the difference between good bars and bad bars has the greatest disparity. And maybe that's why, ultimately, I like this place so much. It's not that anyone wants a bartender to kiss your ass from the second you walk in the door, it's more about the simple things like: not letting a beer get empty, asking how my burger was, interacting with everyone sitting at the bar and even yelling across the bar "Bless You" as I let out a monstrous sneeze. Not only that, but she also was training a new bartender who fit right in on her first day and was busting everyone's balls. Simple fact, good bars know how to attract good bartenders...bad bars do not.
Roomy and clean
Price:
Three big draft beers in an honest-to-goodness frosted beer mug with a $5 burger (plus .25 cents for onions and lettuce) set me back $11.25, so that makes it like $2 a beer, right? A borderline-looking hobo sauntered into the bar as I was about to leave and ordered a Bud bottle which set him back $2.75. Of note...that dude clearly was NOT a hobo, because hobos always go with the cheapest option in a bar. Also they do have THREE happy hours a day, 7am-10...3pm-6...and 11pm-1am. This bar most definitely will not break the bank for a morning, afternoon and/or evening of fun.
Food:
The brand new kitchen serves up some good old-fashioned burgers with fries, onion rings or tater tots. They also have a few appetizers, pizza and even wings were on the very limited bar menu. Pet peeve on this one, my good enough burger did not come with fries...those were a $1 extra. Would it kill you to throw a handful of generic potato chips from Costco in the basket with my burger like, oh you know...for free? No pickle, all toppings excluding ketchup, mustard or mayonnaise (from a room temperature squeeze bottle) cost extra too. You have a good bar going on here...why charge a few extra dimes for condiments that generally are considered part of the food? Not a huge deal, just kind of seemed odd to me.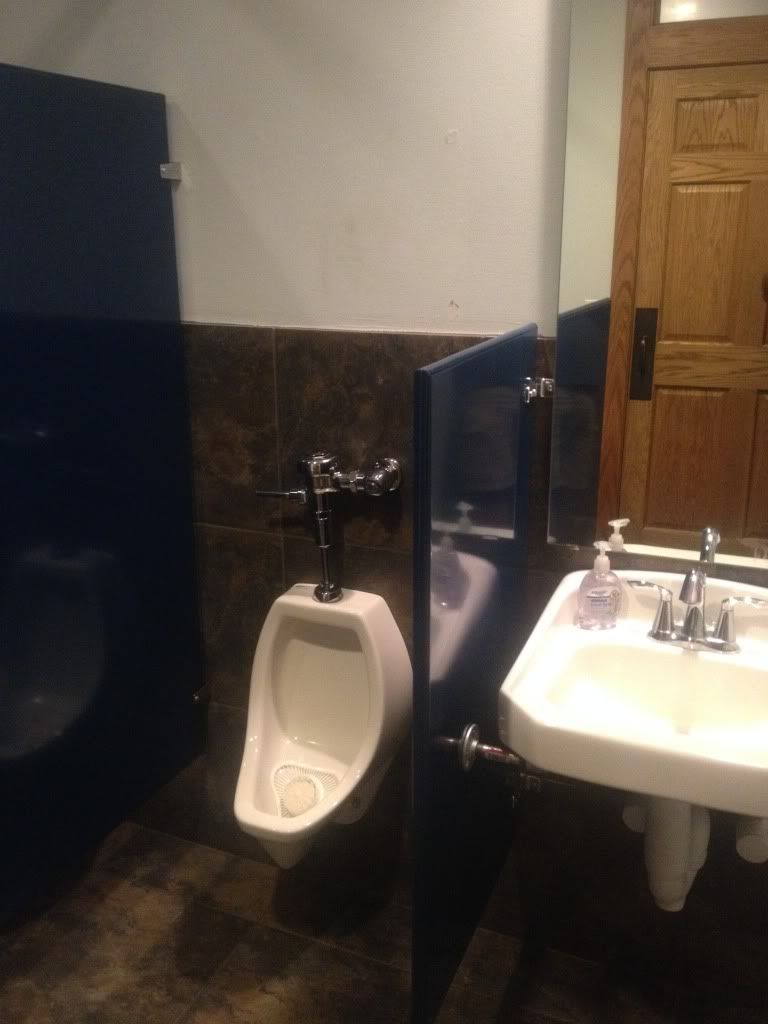 Eat soup right from the urinal!
Entertainment:
Thumbs up to a bar that will play an actual Pandora-like station to keep the mood in the bar fun. I would question, ever so slightly, the choice of the music channel. While it was great to hear "Dancing in the Moonlight" and even "Sweet Baby James", having to endure "Morning has Broken" by Cat Stevens was a bit odd in a bar of this nature. Other than that, there's a pool table, dart boards, Golden Tee and and a jukebox if Cat Stevens is NOT what you care to listen to with your burger and beer.
Bartender Chat:
Line of the day was provided, of all people, by the bartender on day one of her new job. When she asked the regular bartender if she should ring out one of the regular bar goers, she was told "yes". She turned to a few of the other regulars and said "I just wanted to double-check before I got my hand in her drawers." Double entendre with the regulars on the first hour of your shift on your first day in the bar? This woman will workout just fine I think!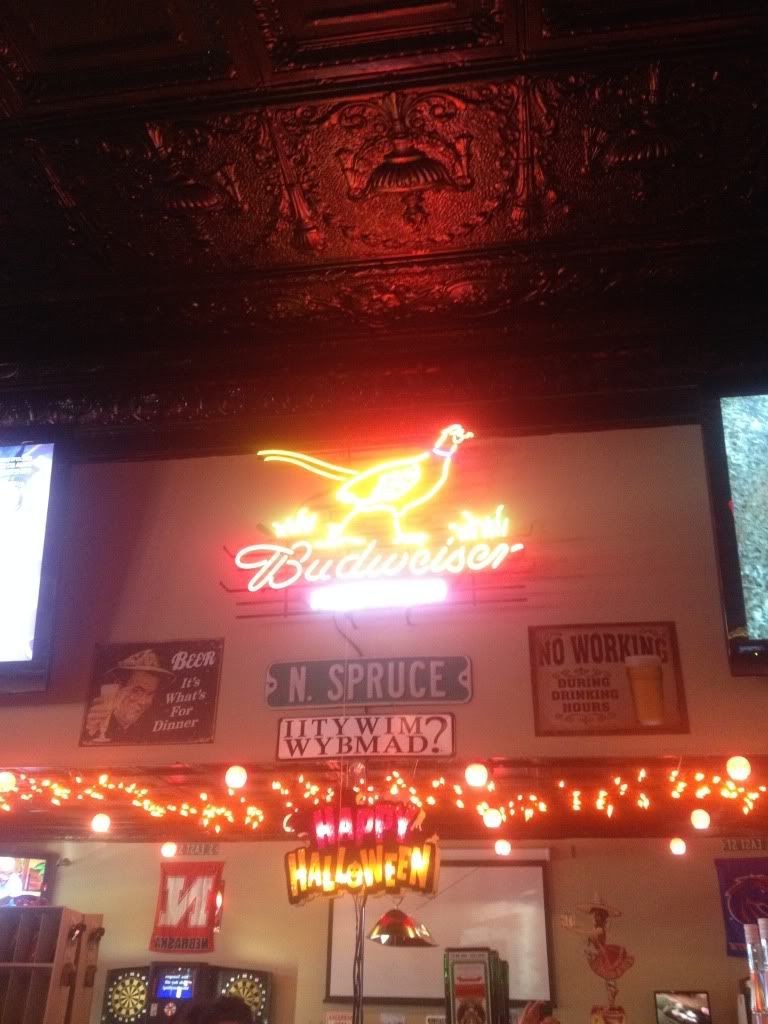 Cool ceilings
Restrooms:
CLEARLY recently remodeled...this men's room is easily one of the newest and cleanest restrooms in a bar in a 50-mile radius. This is even cleaner than what I assume half the bar kitchens look like in town.
How Far Did My $20 Go?:
Hold off on the food, and you're looking at 9 big frosted mugs of beer with money leftover for a tip. Even if you're eating (making sure not to overdo the condiments that will drive up your cost) you're still looking at a burger and 6 beers...not a bad deal!
Final Impressions:
The only real question I had on my way out the the was why did this place have a Husker flag AND a Boise State flag hanging on the back wall? Other than that lingering question, this is a great little place to show up early and drink late into the night in a great bar atmosphere. It's well-run, fun, clean (albeit nearly a bit too sterile) and the perfect place to grab lunch or dinner without ever feeling out-of-place. The only downside was the aftertaste of my .25 cent onion on my burger... but hey...what fun would it be if everything was perfect and there was no reason to write these damn bar reviews in the first place? In any case...
HIT THIS DIVE!
DIVE-O-METER
7.5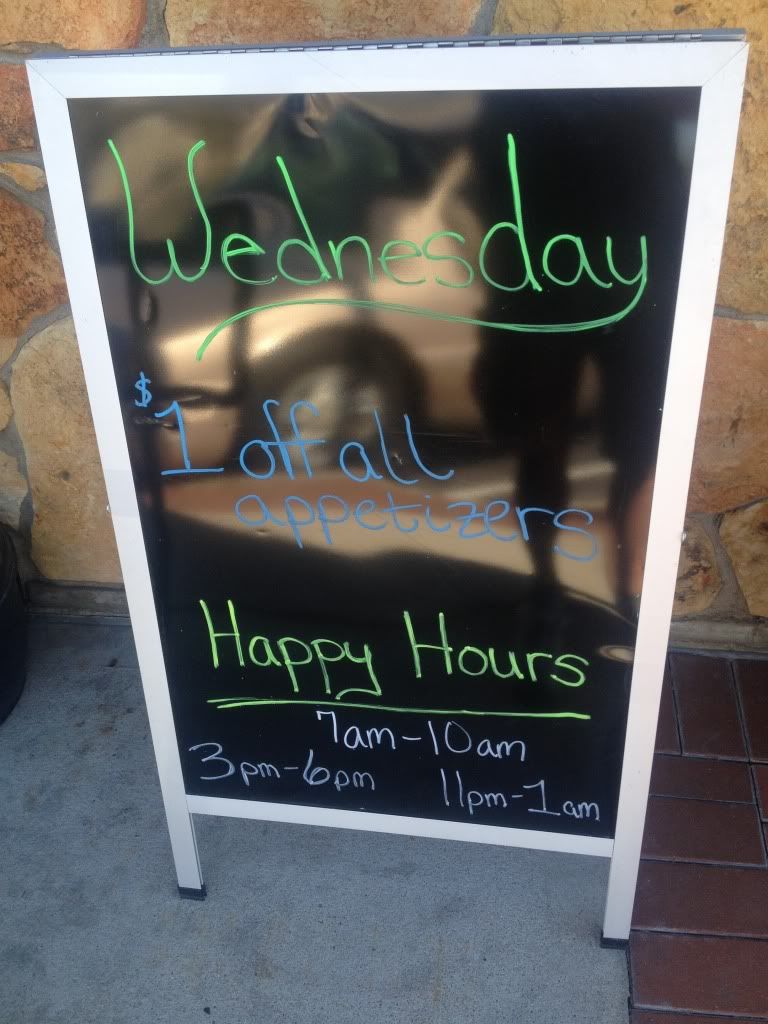 Three happy hours per day!