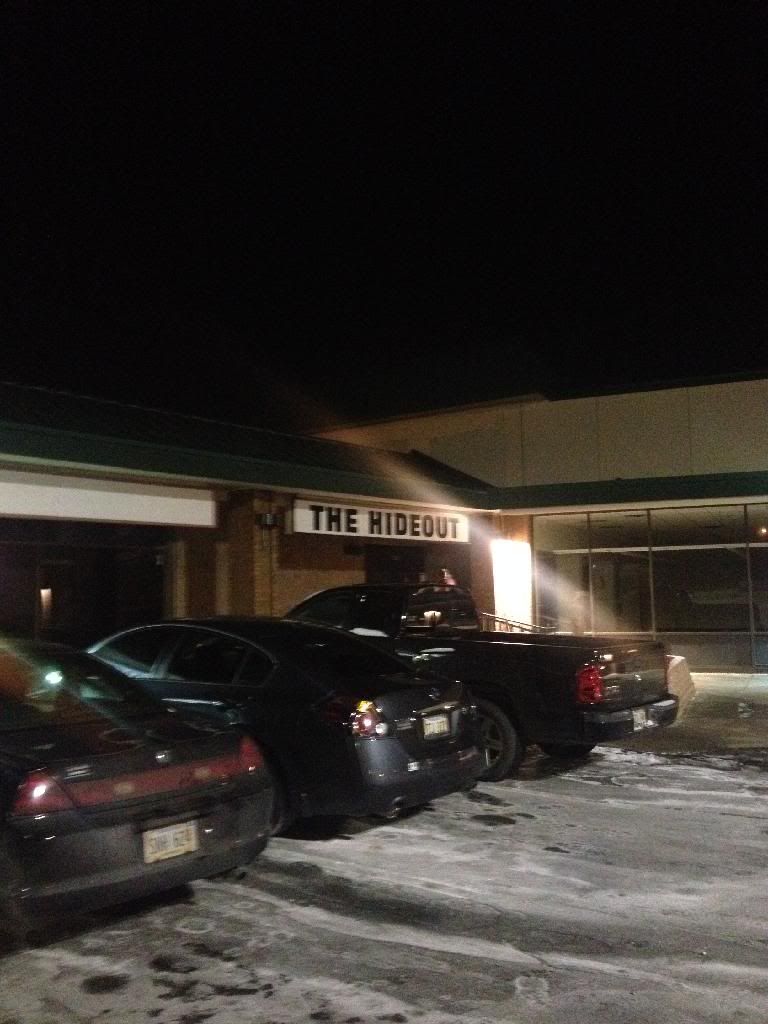 Hidden for sure
320 S. 72nd Street
Omaha NE 68114
402 391 2554
A few days ago, Tom Jackson from The Hideout Lounge posted a picture on the HTD Facebook page which ultimately turned out to be "an ass shaft" out of the bar's claw machine duct taped to the top of Stanley Cup replica with the words "Hit That Dive" written in Sharpie on the ass shaft itself (Lord Stanley would be so proud). ASSuming (get it) that was an invitation to drop by the bar to write down my impressions of the place, I immediately let Tom know I would be there the following day.
As it turns out, I raised the eyebrows of a few regular readers by letting the bar know that I would be stopping by because A) I would stand out like a sore thumb and B) HTD reviews, for the most part, are always done anonymously...and the bar du jour never gets a warning ahead of time. I have said, through social media a few times, where I would be ahead of time. But, as for the sticking out like a sore thumb part...I (as always) needed to channel my inner
Irwin M. Fletcher
aka "Fletch" to make sure my presence wasn't detected.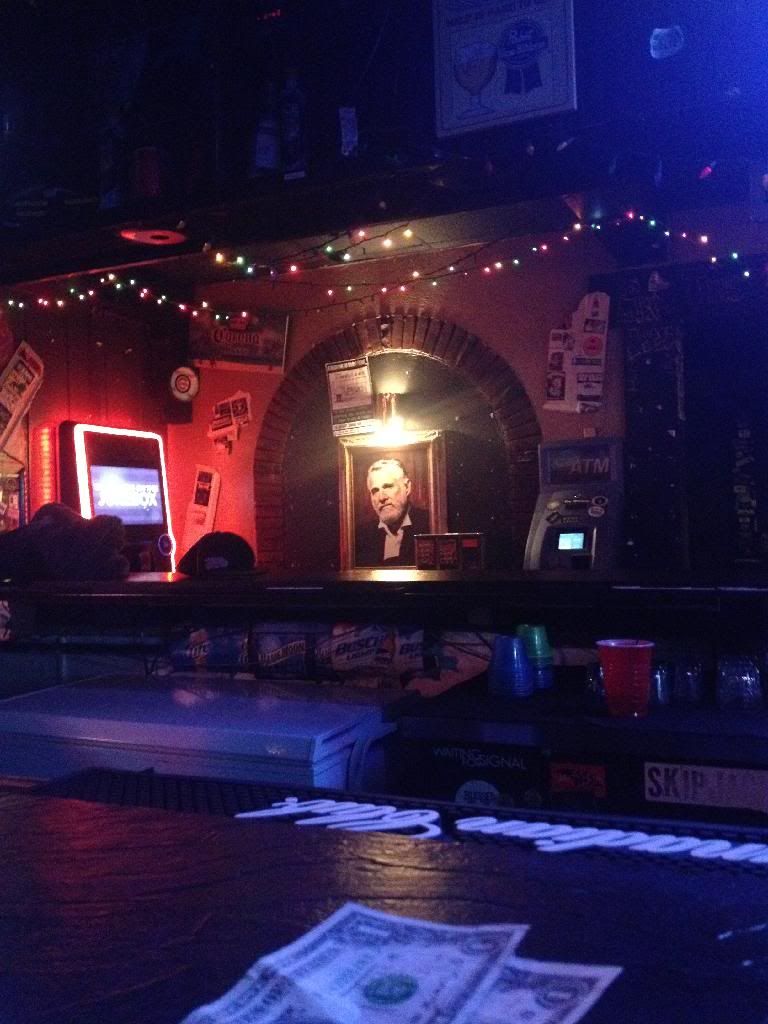 Decor by Mr. Blutarsky
For me, the real test is to see if I can get in and out of a bar without really being noticed. As far as I can tell, I usually do a decent job of blending in with the regulars even though it never fails that I get the "who the hell are you" look every time I walk into a new bar for the first time. Oh, I still get that look at bars I've been to before too...wait...or do I not blend in as well as I thought? Anyway...
PROS: Reminded of the great Double Down Saloon in Vegas. The prevailing "who gives a shit what people think let's have fun" vibe.
CONS: A bit hard to find. Not necessarily the bar for everyone.
First Impressions:
All I really know about this place is from the well done video by
OmahaNightout Guide
...so I at least have an idea what to expect when I open the seeming giant wooden doors. The bar itself is in the corner of a strip mall, but within two seconds you will notice this is NOT a strip mall bar...in the least. Remember those days of getting drunk at field parties and concocting a plan for you and all of your asshole buddies to buy a bar and live in it? Chances are, it would look pretty much like this...including the fact that there was not a single non-dude anywhere to be spotted. (FYI: Two cute girls did show up toward the end of my visit)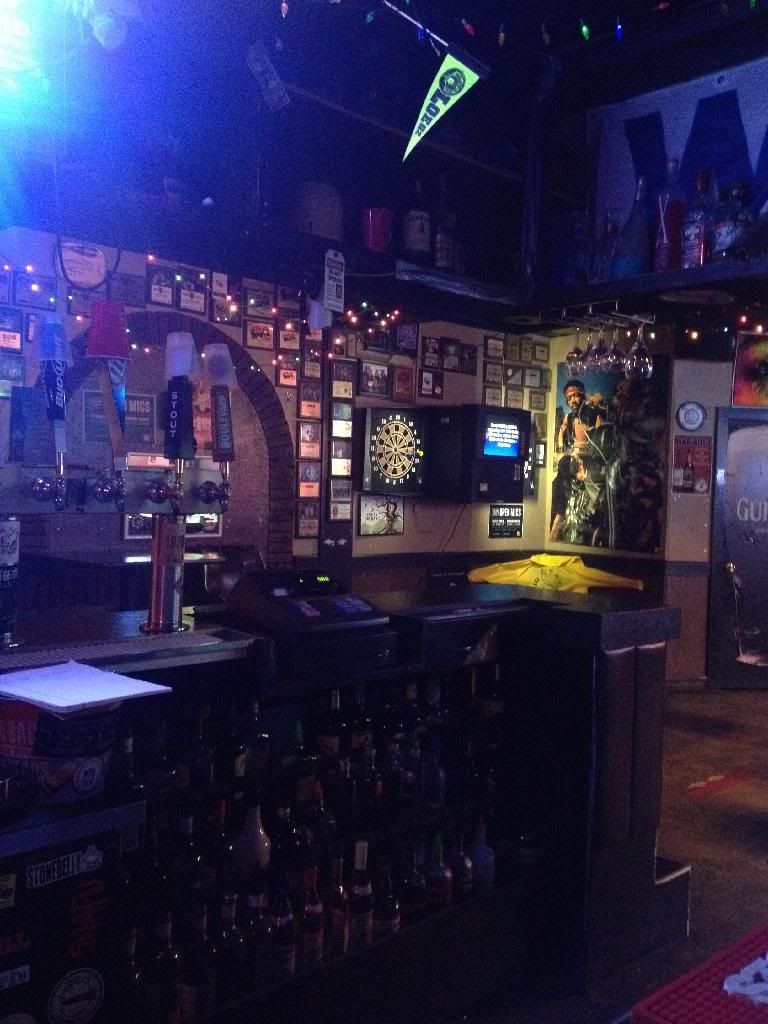 Looking good to me
The Bar:
In looking at my meager notes from my trip here, I noticed that I wrote it reminded me of the toga party scene from
Animal House
in the basement of the Delta House. Part bar, part music venue...and all dude...I dug this place from the moment I sat down. They have five beers on tap, all with cups on top indicating (in most bars) that the keg is empty. There are more than enough pitchers hanging from above the bar to drown
Larry Kroger
(Detla Tau Chi name Pinto)...several times over. It's not a huge place, but there is plenty of room to just sit and hang out...play cards...or watch a show (if there was one that night) on the stage in the other room. Of note...it's impossible to miss the well-lit picture of "The Most Interesting Man in the World" hanging on the one wall.
The Crowd:
At some point I was waiting for "Irish" Micky Ward (played by Marky Mark, of course) to walk through door at any second. Want to fit in immediately? Easy. Hat. Hoodie. Beer in hand...simple as that. Led by owner (and ringleader) Dave Blackman, the regulars are here to drink, smoke, play cards on the pool table and not give a shit about much else. This sort of bare-knuckles approach to bar life might not be everyone's cup of tea...but don't let that scare you off either. Dave, in particular, was great to sit and talk with between hands of cards and watching the action on TV during the Husker/Penn State game.
In the name of love?
Service:
Need a beer? Someone will get it for you. Usually it was Dave, but it seemed like anyone would grab you another round if Dave was doing something else. Actually, using the word "service" almost seems out of place. If you wanted a beer, you got one in no time flat. "Service" almost sounds too fancy for The Hideout.
Price:
Normally, I would have been drinking one of the beers on tap, but like I said there were cups on all five handles, so I went with a bottle of domestic beer that set me back $2.75. Looks like they have decent specials including a happy hour that runs M-F 5:00-7:00. They also do daily shot and beer specials that can get you a $3.00 shot of Polish or a $2.50 Rolling Rock tallboy. Check the sign on your way in, or just ask someone, I'm pretty sure everyone around you knows what the cheap drink is at any given point of the day.
Food:
Come here thirsty...hungry...not so much.
Entertainment:
This is a music venue, so check before you show up, because there may be a touring punk band and there also may be a cover. Show up on a non-gig night and there's a pool table, dartboard, and the crane game where the ass shaft came from. There aren't a ton of TVs, but still enough that is wasn't an issue to watch the Huskers sneak out a win in overtime. For the Chicago sports fans reading this, The Hideout is most definitely a place you will want to be at if and when the Cubs ever make the World Series again in your lifetime.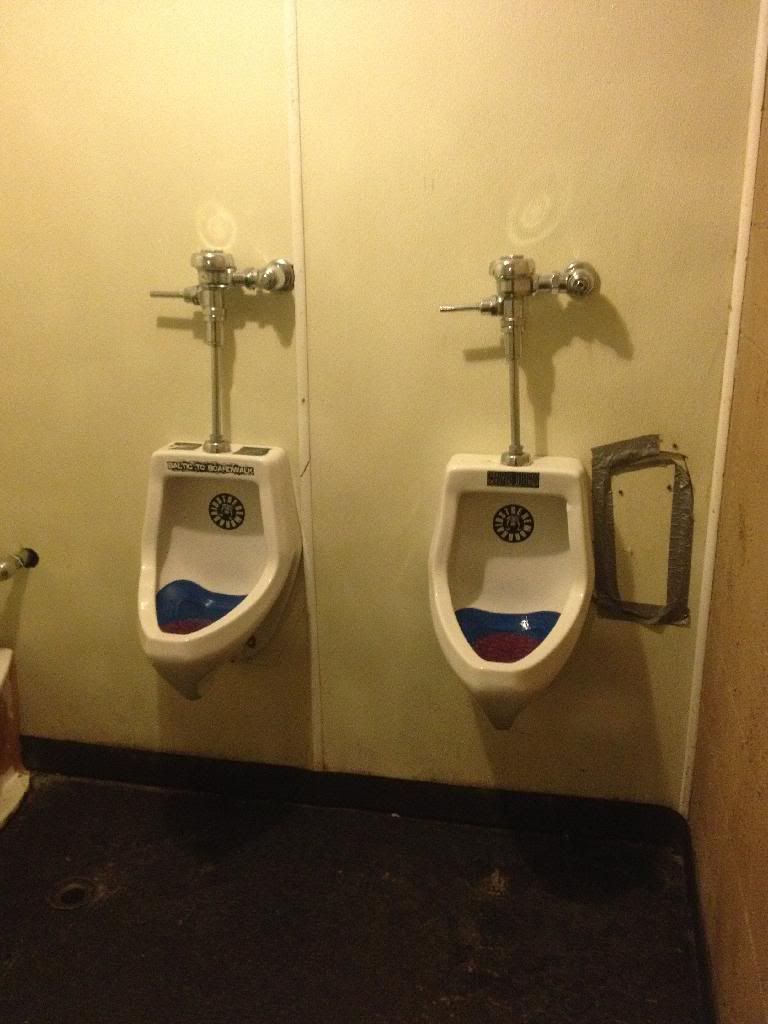 Better than anticipated
Bartender Chat:
Nothing all that major, from what I recall. Just sports and that sort of idle bar
chatter. I'd go back just to shoot the shit with Dave again...other than the fact that he's a Chicago Blackhawks fan...he seemed like a great bartender/owner that was cool to me the entire time a sat in his bar.
Restrooms:
Kind of disappointed on this one. I was under the impression from several reviews on Yelp that these would really be pretty bad, but as it turns out, they were fine enough in my book. Maybe I've become desensitized to bad crappers in bars over the last few years...but I swear these ones were fine to me.
How Far Far Did My $20 Go?:
This was not my first stop of the day, so I didn't make it through my 20 bucks...BUT...time it right and you're looking at eight tallboys (don't forget to tip) and that is one hell of a deal!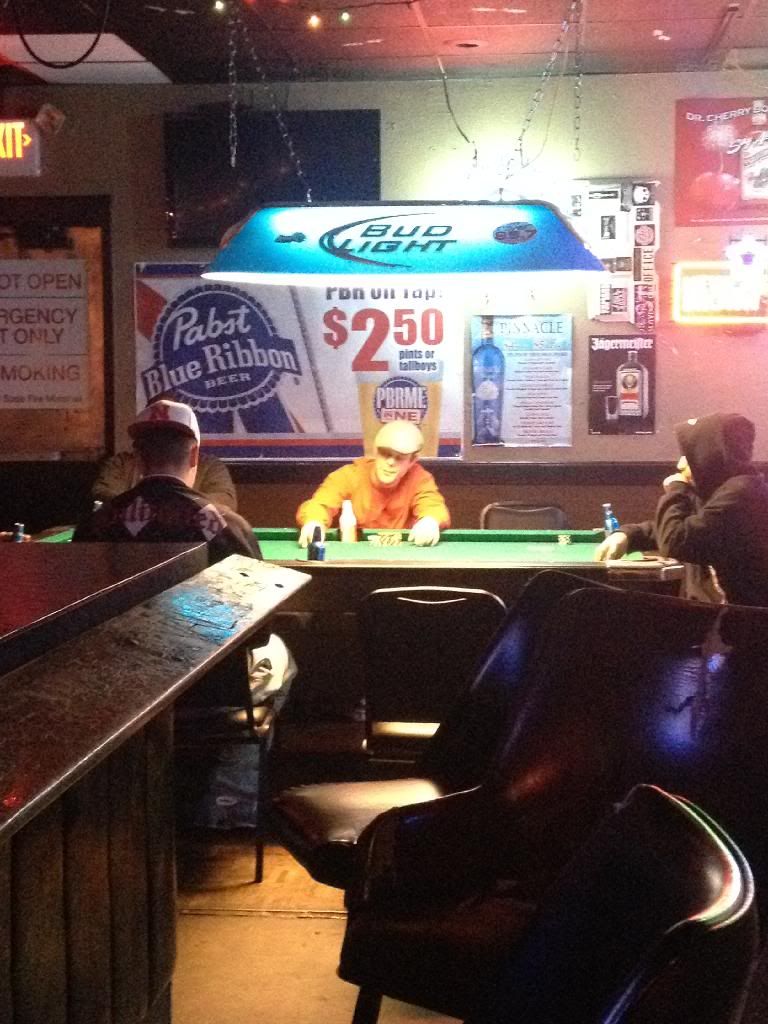 Call
Final Impressions:
Any time I walk into a bar and am immediately reminded of the great
Double Down Saloon
in Las Vegas...that's a very good thing. Every city needs at least one bar that has a "punch you in the face mentality" that The Hideout has. I'm not saying that you WILL get a punch in mouth...I'm saying that a bar that knows what it is, knows what it wants to be to its customers, and probably doesn't give a shit about what you think if you don't like this approach to running a bar.
Oh sure, you can name a bunch of bars with that "vibe" but I bet they can't pull it off in the successful manner that Dave and crew do here. Like I said, this place isn't for everyone...which is just what I assume they want. Even though there's a huge PBR sign on the front door...I guarantee you there will NEVER be an onslaught of hipsters walking in here. In fact, think of a hipster bar and then think the complete opposite... THAT'S the Hideout (just with PBR specials).
HIT THIS DIVE!
DIVE-O-METER:
7.5
Thanks for the invite!