4721 NW Radial Highway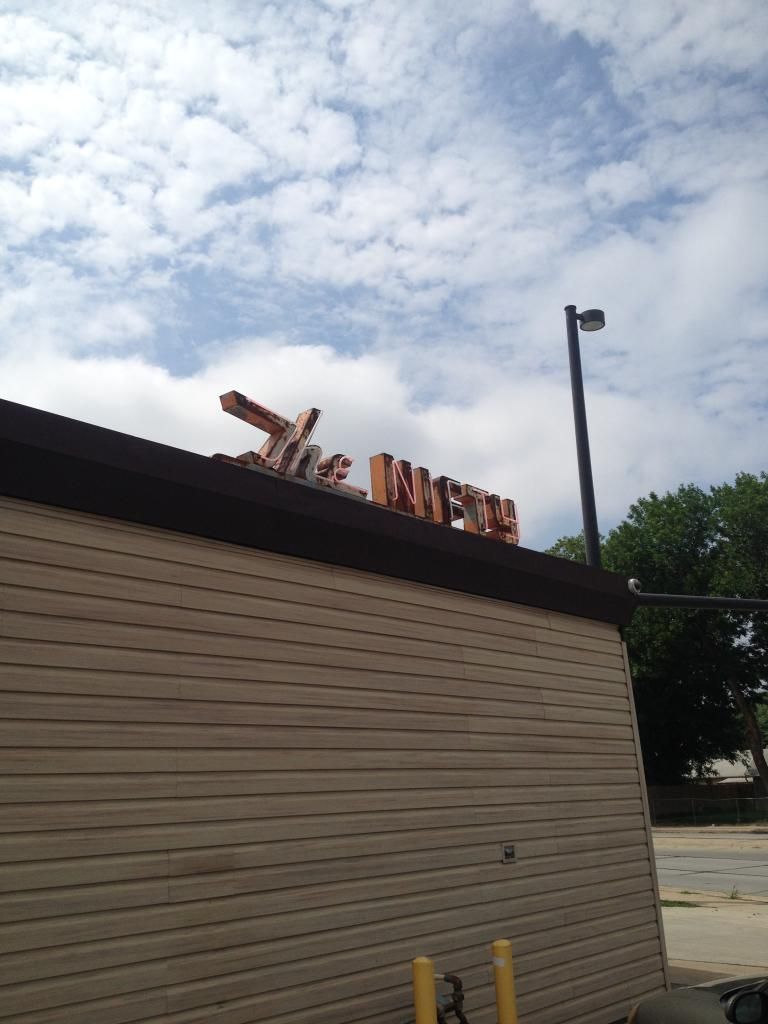 Hard to find the front door
Omaha NE 68104
402-933-9300
Yeah, I know, I haven't written an actual "bar review" in a very long time. And yet, my compensation from writing HitThatDive has remained amazingly the same...NOTHING. See, the cool part about doing this is that I've found some really great bars around town to hang out in. But the downside of that is, when I have some free time, do I go say hello to some friends at their bars or check out a new place that I may (or may not) enjoy? Well, for the last few months I think we all know my answer to that dilemma.
But alas! I was checking my HTD emails over the weekend and saw a message from a guy that just happened to own a dive bar in town. So Chaz, your "shameless plug" paid off and inspired me to once again pick my ass off up the couch, grab twenty bucks, and head off on a new dive bar adventure to The Nifty Bar which has been operating in the same spot since 1950. But, apparently there's been a bar in town with that same name since before Prohibition. Enough with the history lesson...let's get to it.
PROS: Great bartender. Diverse group of regulars. Tall Boy Sunday beers for $2.
CONS: How the hell do you get into the parking lot? Is it almost too nice inside?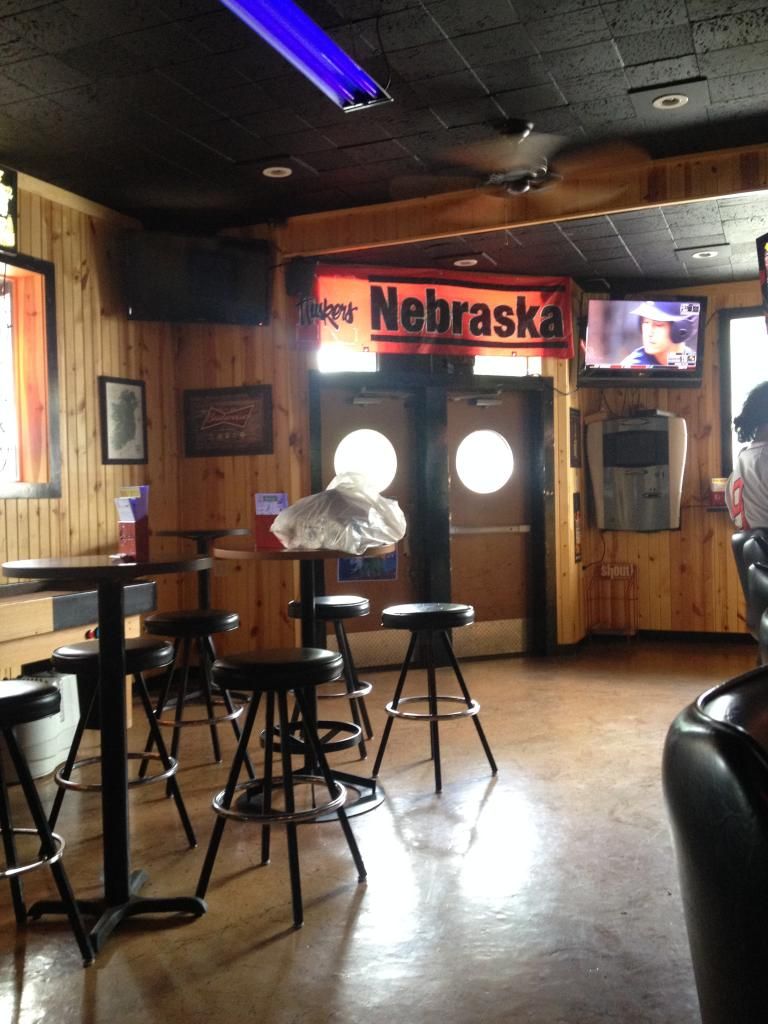 Clean!
First Impressions:
Usually this occurs, you know, like when I first walk into the place. However, in checking out
their website
, Mrs. HitThatDive chimed in before I left the house that their online presence might be too sophisticated to make them an actual dive bar. Of course I told her to leave the dive bar pontificating to me...but I completely saw her point. Be that as it may...
This part of Omaha always confuses the HELL out of me for some reason. As it turns out, it's actually pretty easy to find...until you try and get into the parking lot. How I ended up getting there was through an alley that led me through a used car lot...this might not be the right way to get in here...but it worked for me. I'm not sure that there's a more oddly situated bar in Omaha, and it's not all that apparent where the front door is even located. I decide to walk in through the patio which is in the front-ish, side-ish, back-ish of the building.
I walk through the gate and I'm immediately "greeted" by a drunk version of a biker Santa Claus who looks right at me, in-between puffs of his smokes and says "Be warned, there's a bunch of drunks in there." I quickly shoot back "There's about to be one more." To which Santa laughs and just says "Good attitude!"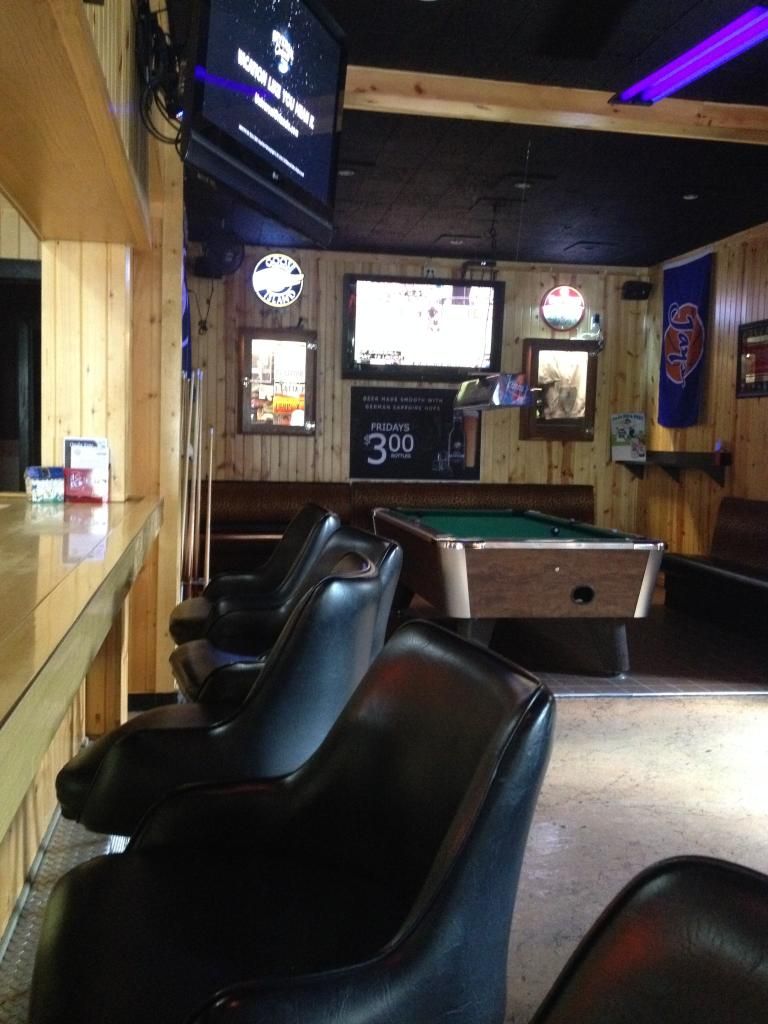 Rack 'em up
The Bar:
Apparently it wasn't always this way, but this is a very neat and clean-looking place. Not in a bad way, but I have to assume this place went under some major renovations in the last few years. The bar itself is long like a an old lunch counter in the 1950s. It easily accommodates 15 bar stools and is a pretty comfortable place to sit. They have 15 beers on tap that range from everything including Busch Light to the latest offerings from Infusion Brewing and the Old Market's
Borgata Brewery
and Distillery.
For as small as the building appears, there is a ton of room on the inside, and even more on the covered patio outside. Not a "sit at the bar" person...there are a few neatly arraigned tables by the shuffleboard table and one of the best dedicated areas to shoot pool anywhere in town. Of note...want to know the daily specials...look no further than the sign on the pillar smack dab in the middle of the bar.
The Crowd:
The bartender remarked that it was pretty slow for a Sunday, but even with only a few people there when I walked in, and subsequently more by the time I left, it's not hard to get a feel for the crowd here. It seems from their website, that The Nifty is going out of its way to distinguish themselves as a "non-Benson" place to hang out. And from what I could tell, they generally attract less of the hipster crowd, and more of a regular old bar people crowd, than a few of their counterparts just up the road.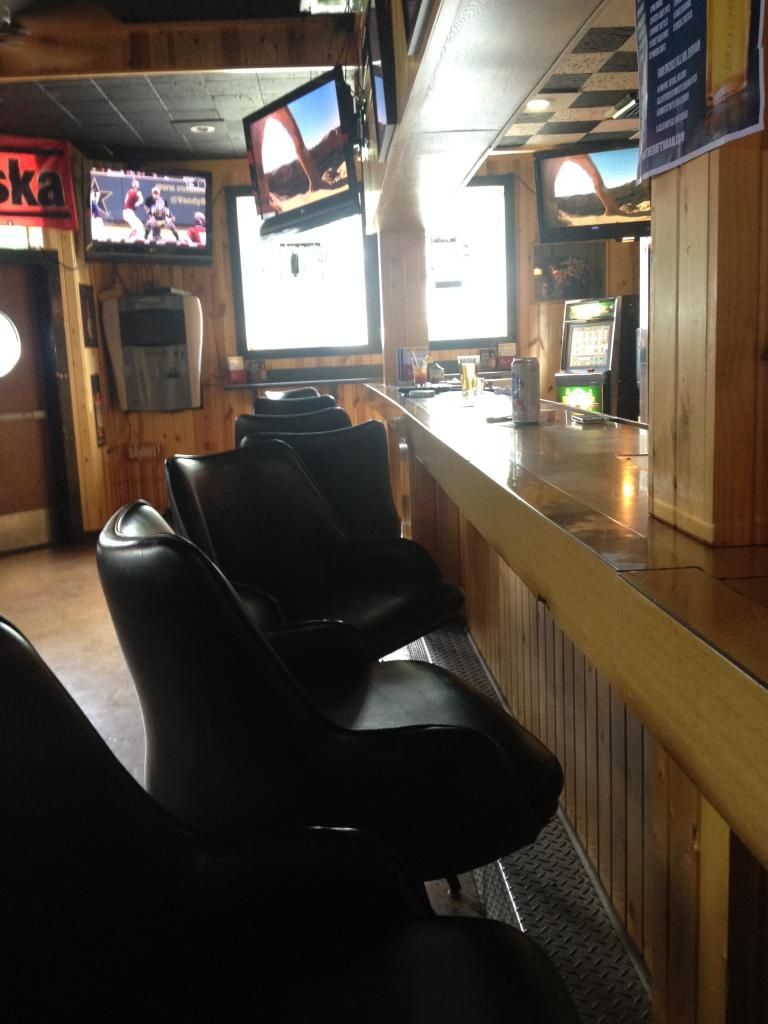 Entire bar on a smoke break
Not really being a fan of much of the pretentiousness I pick up on in a few bars in Benson (
Jerry's Bar
not being one of them) their marketing approach seems to be reaching their target market. (Hey, look at me with all the marketing "buzz words" all the sudden!) But again...does a dive bar really NEED a marketing approach? (See what I did there...of course my thoughts on that will come at the end...keep reading).
Service:
Bah. I hate when it's this easy. The bartender was fantastic! Friendly, helpful and made me aware of the Sunday special before I ordered. He even looked like he gets his hair cut by the dudes at the best place to get your hair cut in town...the
Surly Chap
(yes...that's a plug for them). Good service makes for a great bar experience, but for a lousy review. Hey Adam, do something wrong next time I'm in there so I have something more to write about, will ya'?
Prices:
As noted earlier, it was $2 tall boys for domestic beers. And, also noted earlier, check the pillar in the middle of the bar for some of the Nifty's kick ass drink specials including (depending on the day) $5 pitchers, $1 PBR draws, $2 Fireball, $3 craft beer pints and $2.50 well drinks. For this part of town...these have to be some of the best prices in the area.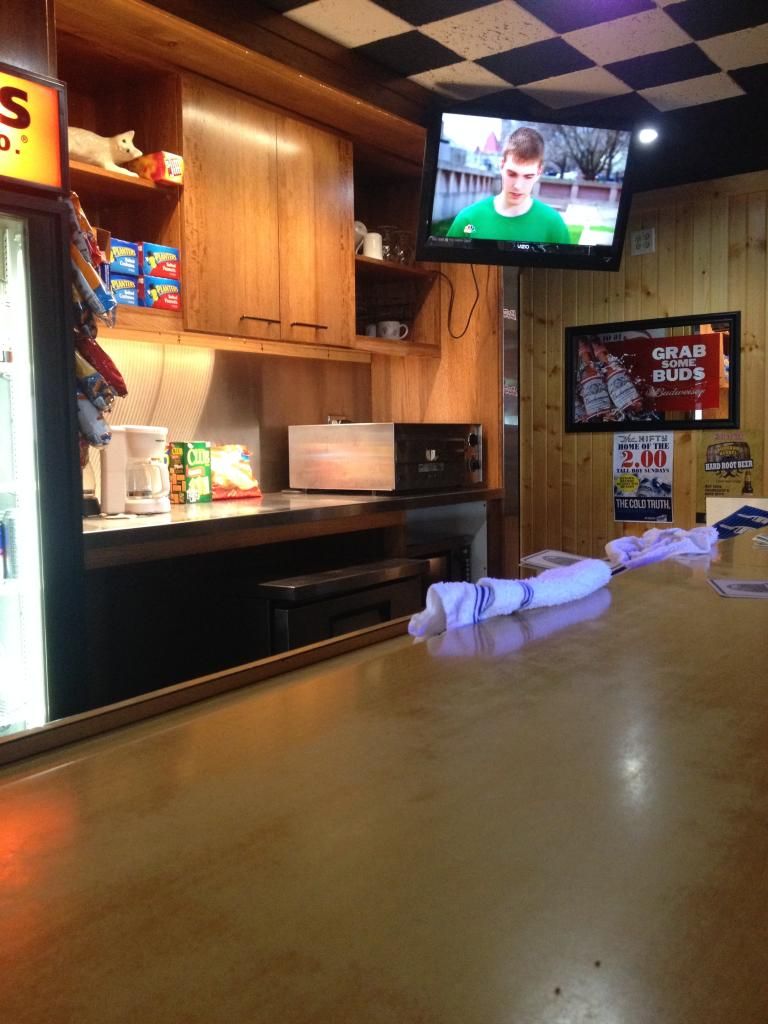 The kitchen?
Food:
There may be a kitchen in the back (not sure of that one) but they definitely more cooking devices to the far right of the bar than most college dorm rooms. They do for sure have food specials "all day, everyday" that include hot dogs, pizza and burritos...all of which seem pretty reasonably priced. For example a pint of PBR with a hot dog and chips will set you back $6.
Entertainment:
I thought that drunk Santa was pretty damn entertaining, but that's not the idea of this section. Let's see your pretty standard fare including a jukebox that did not appear to be working, pool table, shuffleboard, Keno, and one of those shady-looking games of chance that I'm not exactly sure how to play. Six TV's around the bar made it easy to sit and watch college baseball to see who will be making the trip to Omaha for the CWS. Nothing out of the ordinary here...pretty much the stuff you would expect with the exception of the location of the pool table which is outstanding.
Bartender Chat:
I was being bombarded with one-liners from drunk Santa so fast it was occasionally hard to strike up too much of a conversation. Example: Drunk Santa -- "What does a fish say when he swims into a a wall?" Me -- "No clue." Drunk Santa -- "DAM!" I will say that not only was a Adam a great bartender, he's a diligent one too. Some hungover dude came into the bar and asked if he left his credit card there from the night before, Adam asked him for his name and checked. Yep, as it turns out, he sure did leave it there...BUT...before Adam would hand it back to him he asked for the dude's ID just to double check. Now, is that a HUGE deal? Not so much. But, it did say a lot about how the place is run...well to me anyway. That's how I would want a stranger to handle my credit card for sure.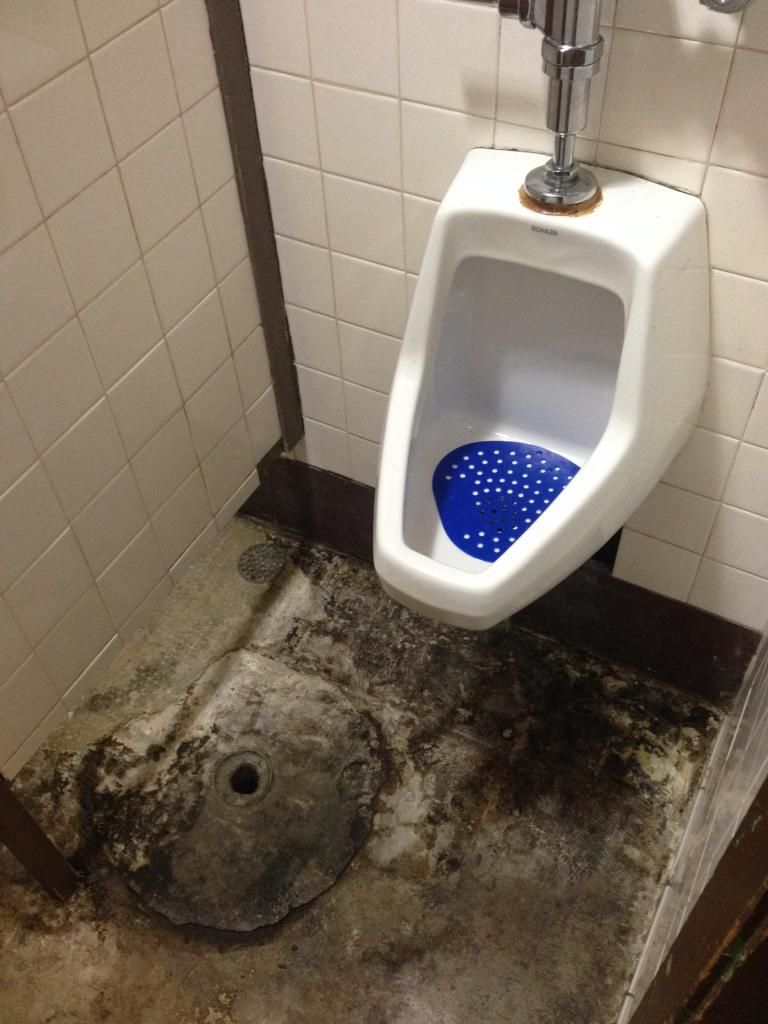 Oh well
Restrooms:
For the most part pretty good, and then I got a good look at the floor. For as clean and neat as the rest of the place is, I was pretty shocked to see the floor looked like the cover of the Black Sabbath album "
Mob Rules
". Again, not a huge deal, but not what I was expecting from the looks of the rest of the place. It's a place to take a whiz with indoor plumbing...I suppose that's really all you need.
How Far Did My $20 Go:
Easy math on this one...well it COULD have gone for 10 Busch Light Tall Boys. Of course, that's a bit excessive for a Sunday afternoon, so I didn't spend it all. This place does have some smokin' good drink specials, so make it a point to come here with a driver if you've got some time to kill.
Final Impressions:
It's an older bar, with it's own history, that's trying to turn a profit in a part of town that's overrun with long beards, silly scarf-wearing men, "ironic" shirts, retro everything and people that generally thumb their noses at you if you're not listening to the latest vinyl release from "The First Discovered Garbage Men" or "The Triplet Flan".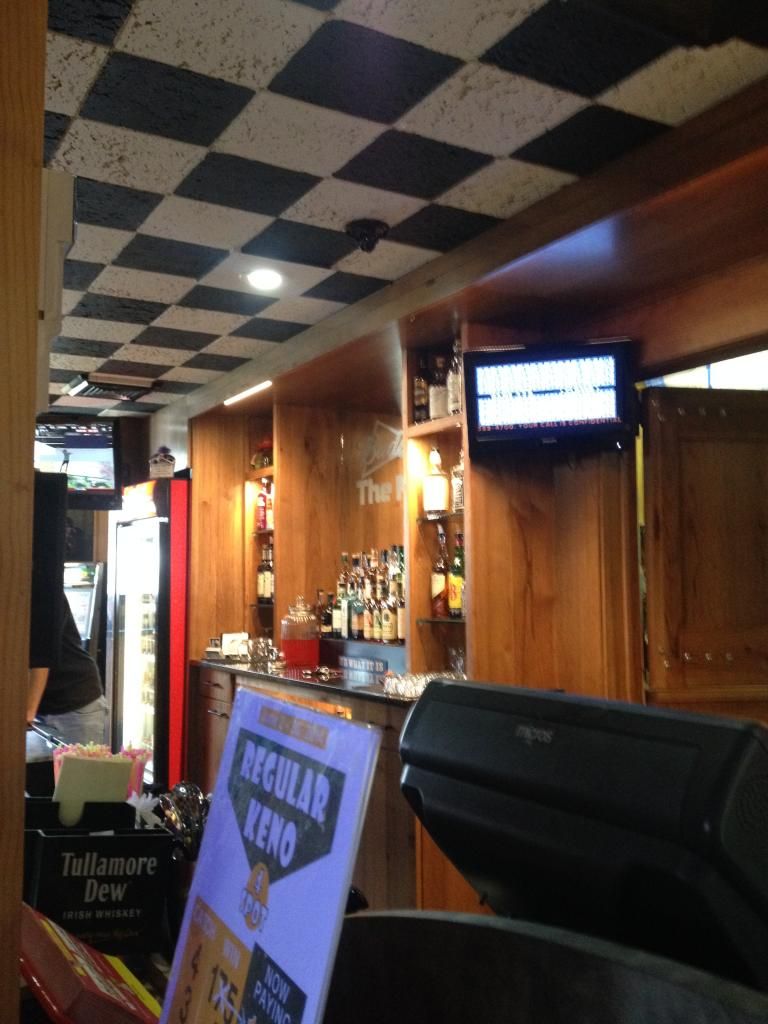 I dig the ceiling
I suppose to compete in that atmosphere, you have to be a bit more sophisticated with your marketing than simply hoping that people migrate far enough away from the bars with ironic "lumberjacks" and down the street to a more traditional place. I guess that's my way of saying that the overly professional website and general cleanliness of the bar shouldn't scare off the usual HTD readers.
I liked it. Quickly in my top two bars in the Benson-area. It's extremely well-run with great prices and just enough character to give it a bit of an edge. If nothing else, I might be a bit more enthusiastic to make a trip to Benson for a few beers more often than I do now. Not to be anti-Benson, I think all cities need areas like it. But, if you're like me and quickly get tired with that "scene", but want to be just on the periphery of it...The Nifty Bar is well worth a stop...if you can figure out how to get to the parking lot!
DIVE-O-METER 7.5
HIT THIS DIVE!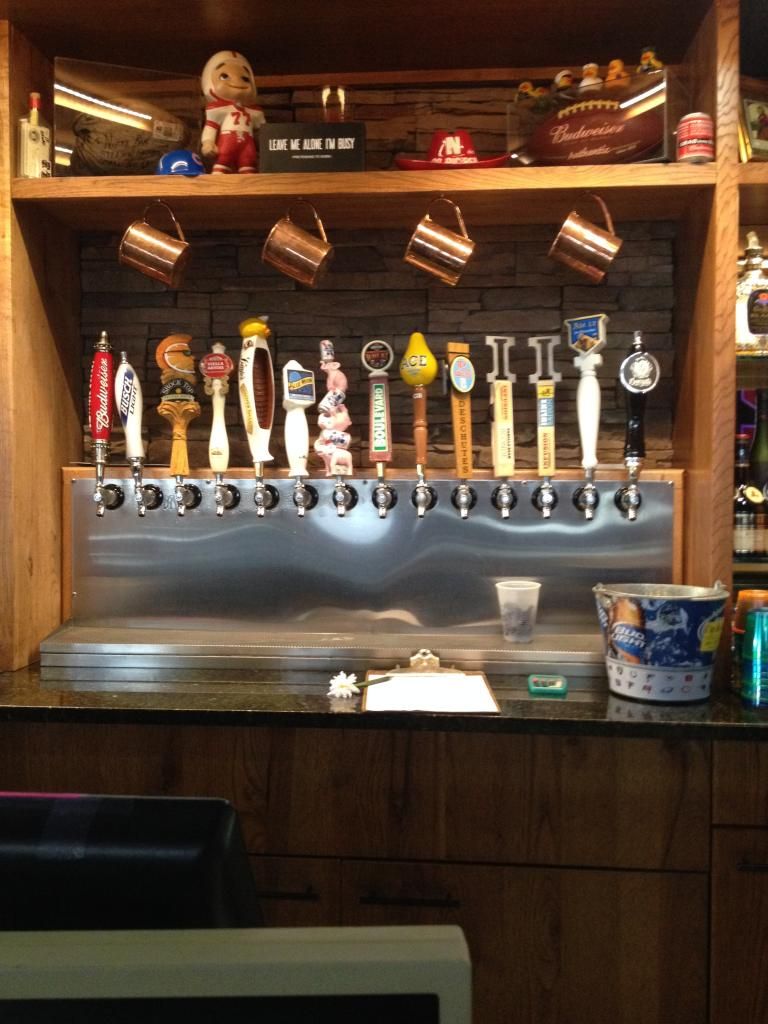 NIFTY!