4725 South 96th Street
Omaha NE 68127
402-592-9999
Last year I wondered into Omaha's Buffalo Company because the Omaha World-Herald named it the place for "Omaha's Best Wings". Please don't make me relive the rest of that review...just go ahead
and read it here
. Let's just say I had the complete OPPOSITE take on their gut-wrenchingly bad wings.
Flash forward to this year. I received an email from the new GM of the NEW Buffalo Company that read:
"Hi Scuba Steve,


I read your last review back in April of 2013 on Buffalo Company and was hoping to talk you into a revisit. Hopefully if I give you the full history on how and why the restaurant was the way that it was when you visited, maybe you will give us a second chance? What happened to a really great place of almost twenty years was that it had deteriorated rapidly over the last two years when the original owner sold the business.
That's why a long time customer and HUGE fan of Tim (the original owner) bought the business when it folded in December 2013. He brought back Tim to train the staff, remodeled the place top to bottom and just reopened it on April 23 2014. All your old favorites are on the menu along with some new exciting additions as well. I think you'll find it to still be the best place in town (again) for Wings, Pizza & Subs. Come back. I know you'll be surprised and thrilled. Hope to see you soon."
Seems legit enough. So I stopped by a month or so ago and sat down with GM Clayton, the kitchen manager Mike, and one of the new owners. All great guys. All want to make that place successful again. And, they paid for all my food. So, it didn't really seem right to me to do a review on wings that I didn't fork-over the cash for.
I vowed to be back there in a week or so, and yadda...yadda...yadda...I made it back there last week with two of my kids.
First Impressions:
Keep in mind that I've been in here once before so I can already tell you that place is 100% cleaner than before. The first thing that will pop out at you when you order is the price. 10 wings will set you back $10.25. Just for comparison sake, that same order at Oscar's will cost you $6.99. Like in the old place, you place you order at the front counter and grab a seat. In 15 minutes or so, they brought out our wings and they looked (and smelled) very Buffalo wing authentic. Always a bonus when they come to your table still steaming hot and the spice from the sauce burns your nose just a bit. Celery? Check Bleu Cheese? Check.
Score: 8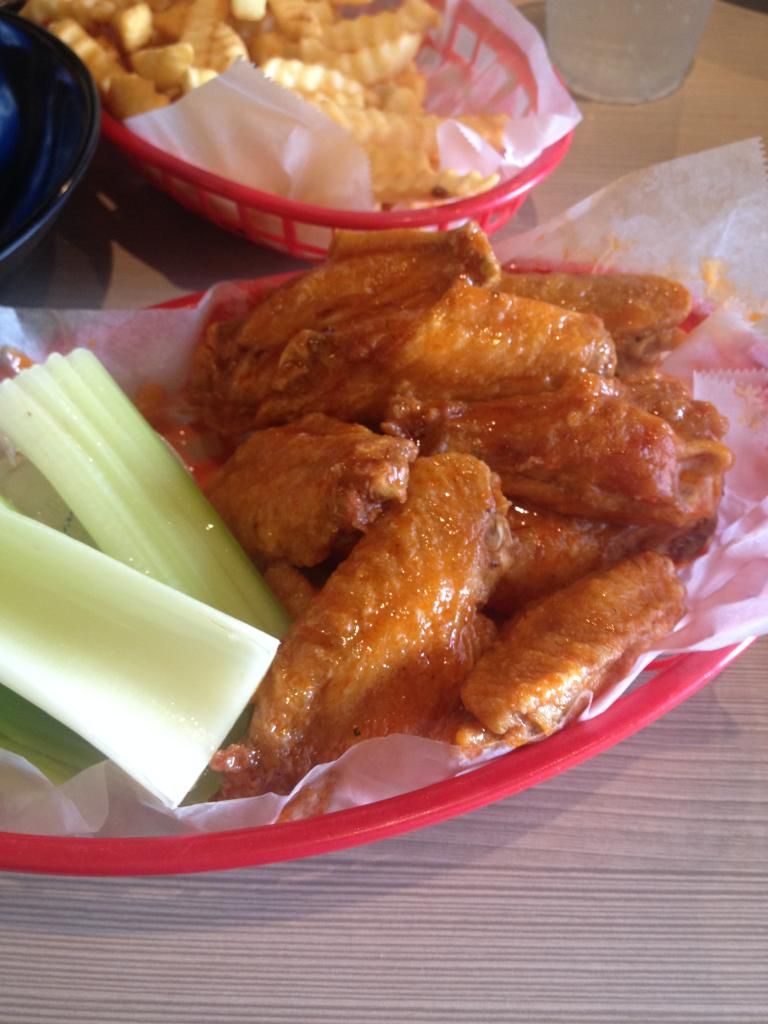 Great Sauce
Sauce:
As usual, I went with the medium Buffalo sauce to keep things consistent, and it was great. Nice orangish color, great smell, and very authentic Buffalo flavor. Some of the best sauce in town. All 10 wings were coated pretty uniformly but there may have been just a bit too much sauce for the ones on the bottom. Not like they were totally drowning or anything, but, you run the risk if your wings aren't always crispy enough that this could potentially make the ones on the bottom a bit soggy.
Score: 9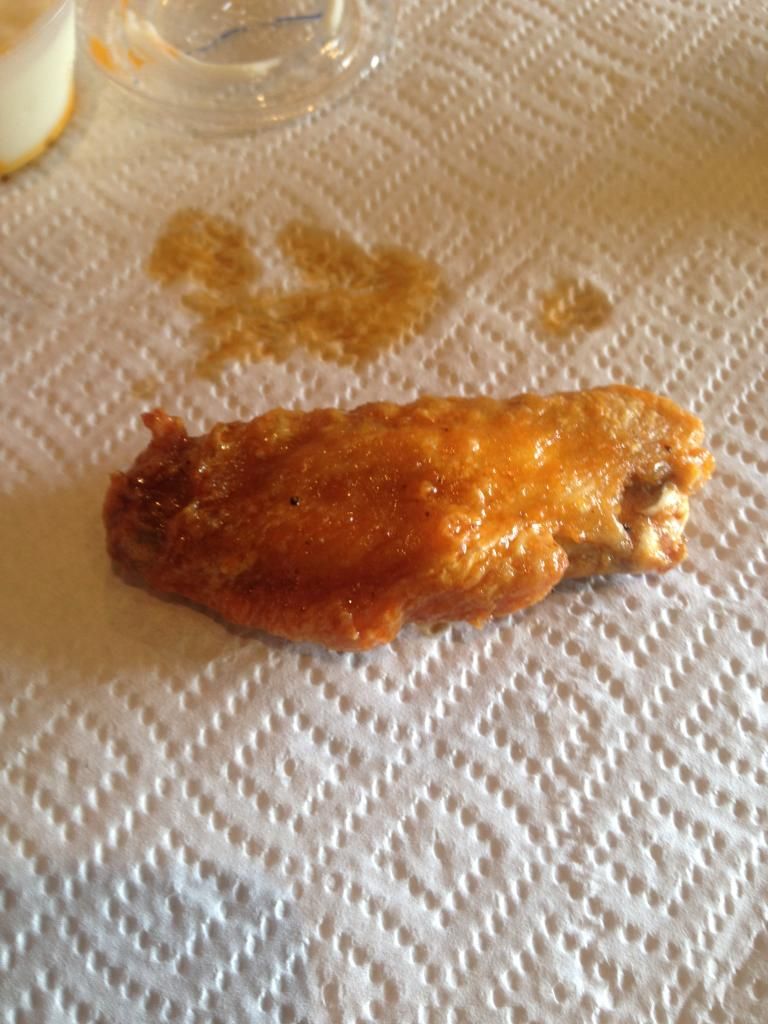 Perfect Size
Crispy:
For those that follow
HitThatDive on Facebook
, you'll see the comments from others that have been here on the "crispy factor". And as you read, the number one complaint that other's have had was the lack of real crispiness. I have to agree here. All 10 wings were thoroughly cooked, yet they all lacked that desired crunch. I know Clayton and Matt will read this, so just leave the wings in 1-2 minutes longer than and I think that takes care of this once and for all. When it comes to chicken, I always err on the side of a bit overcooked as opposed to a bit undercooked. Just my opinion.
Score: 6
Could be More Crispy
Size:
As their menu states: "At Buffalo Company we only use the plumpest, juiciest and largest chicken wings available. Out wings are always fresh, never frozen." I can't argue with any of that. Good-sized wings...big but not HUGE. All pretty uniform in size so they're easier to cook...just leave them in a bit longer.
Score: 9
No Complaints Here
Extras:
Always a thumbs-up for a wing joint that has the common sense to put a roll of paper towels on every table! As far as the bleu cheese goes, I didn't mind it at all. Not great, but not awful. Local wing expert Matt Morinelli did not like the bleu cheese at all...and I generally trust his judgment on everything wing related. So, let's call that one a toss up. My only other observation, and this may be my ADD talking (and the fact that I walked in just after what would be a lunch crowd) is that it gets a tad bit boring as you sit there.
In a place like Chipotle, you already have your food when you sit down. And in a traditional bar/restaurant, you have servers checking on you and swooping in to bring you another beer while you wait, which some how is just enough human interaction to make a wait seem not quite as long. Keep in mind that I generally need a
Mariachi band
following me around to keep me from getting bored in less than two seconds...so this one might just be me.
Other than actually HAVING a Mariachi band, I don't know how this one could be fixed. Maybe the best thing to do for impatient bar people like me is to go next door to the
21st Saloon
and order Buffalo Company food from there...which you can do by the way.
Score: 8
Final Score: 40 out of 50
Keep in mind, that my first trip to the old Buffalo Company ended up with a final score of 16...so these guys are in the right direction for sure. Are there still a few small things to work on...I think so. But nothing glaring...and nothing that can't easily be remedied the longer they're in business.
And while this was strictly a wing review...don't sleep on the rest of the menu. They sell good pizza (even by the slice) and have some of the best bread in town that's flown in directly from one of the oldest Italian bakeries in Buffalo, New York. I would HIGHLY suggest the Buffalo Chicken Sub.
Ultimately, give Clayton and Mike a shot one day for lunch and dinner. Give them your honest feedback...they're looking to make this place one of the best in town again and I can't say enough about how great they are to talk with. Just keep those wings in the fryer a tad bit longer.
Bufalo Chicken Sub on a KILLER Roll