730 Main Street
Only Bar In Town
Rising City, Nebraska
402-542-2400
What are the odds that I can't even get a simple bar review right these days? Gee, I don't know, like a 100%? Last week I ventured out past
Loma, Nebraska
on my way to the "town" of Garrison to stop by the Little Water Bar & Grill. And yep, you guessed it, of course I ended up at a bar called Billie's Bar without ever stepping into the place I just drove more than an hour to get to.
A few things before this one starts: 1) This isn't an "official" HitThatDive review because I didn't meet our "strict" editorial guidelines of having at least three beers. 2) I have a backlog of things that need to be written, so this one will be someone abbreviated. 3) Speaking of abbreviated, did you know that
Rising City
was the home of
Clifton Hillegass
, A.K.A. "Cliff" of Cliff's notes fame? Writing that just made me feel like
Cliff Clavin
...enough with the Cliffs already!
OK, so back to the Little Water Bar & Grill, apparently they don't open until 4:00 during the week. So if you ever feel like driving there in the middle of the week (like I did) please keep that in mind. Looked like a good little dive, and even had fresh horse poop on the street right in front. Well, now that I think about it, so do many of the bars in the Old Market...so never mind that part, horse poop in front of bars is a dime a dozen these days.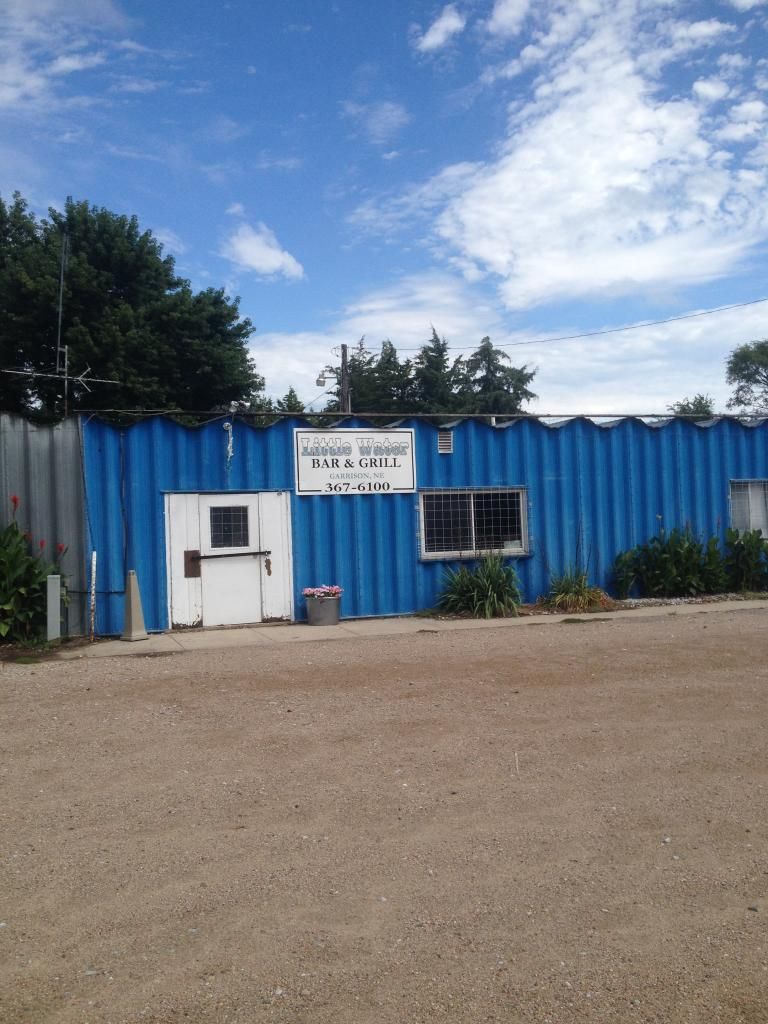 This Place Was Closed
Now I'm just stalling...let's get to it.
PROS: Friendly regulars. Good food. Owner Billie seems like she would be fun to party with.
CONS: Arguably too nice inside to be considered a dive. My picture of the men's room came out blurry.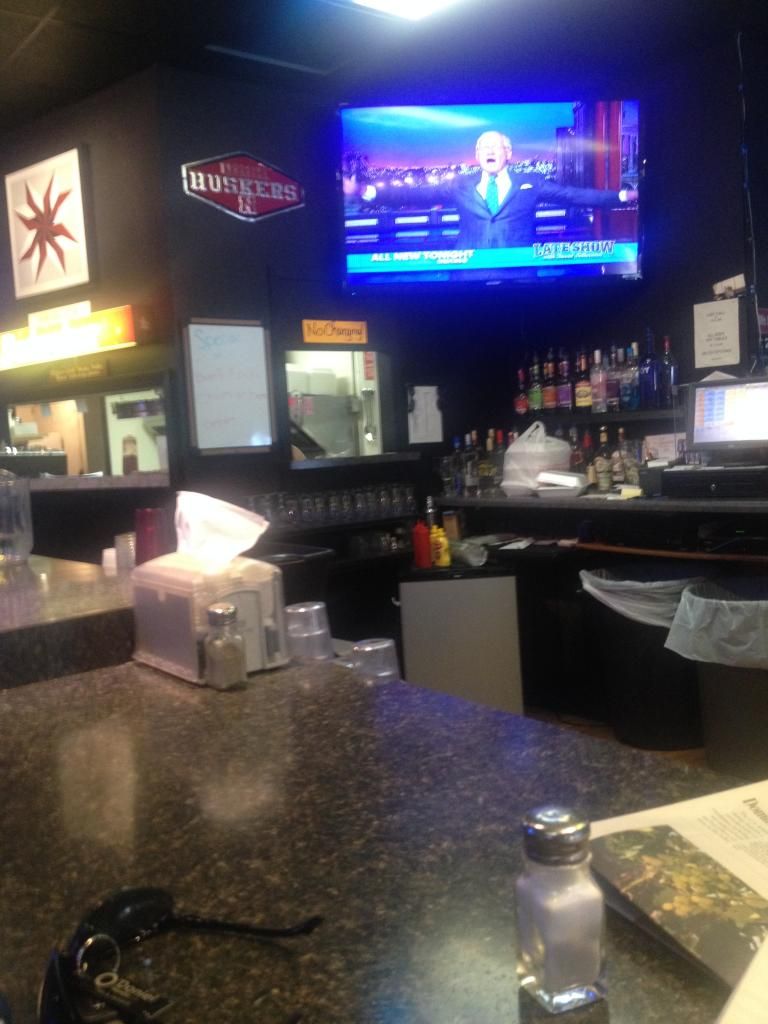 Super Clean
First Impressions:
Knowing not one thing about this bar before I walked in (other than it was listed as Hinkle's Pub on my AroundMe app), I was surprised it was as much of a place to eat than it was a bar. Those of you in Omaha, think in terms of a place like Danny's on 72nd Street. For whatever reason, from my seat at the corner of the very big bar, I was immediately reminded of the diner where
Clark Kent got beat-up
by a trucker in Superman 2...and I have no idea why. To this day however, Superman 2 is one of the few sequels that's better than the original. ..just FYI.
The Bar:
They have exactly one beer on tap (Busch Light), a fairly small selection of liquor but plenty of room to sit at the bar itself. Like I said earlier, this is as much of a place to eat as it is a place to drink. My guess is, in a small town like Rising City, Billie's fills many roles including bar, restaurant, community center...you get the picture. Only other place that a saw where people could meet up was the Post Office next door...but what fun would that be? Of note...this might be one of the cleanest-looking bars in a 50 mile radius. Looked pretty much spotless to me.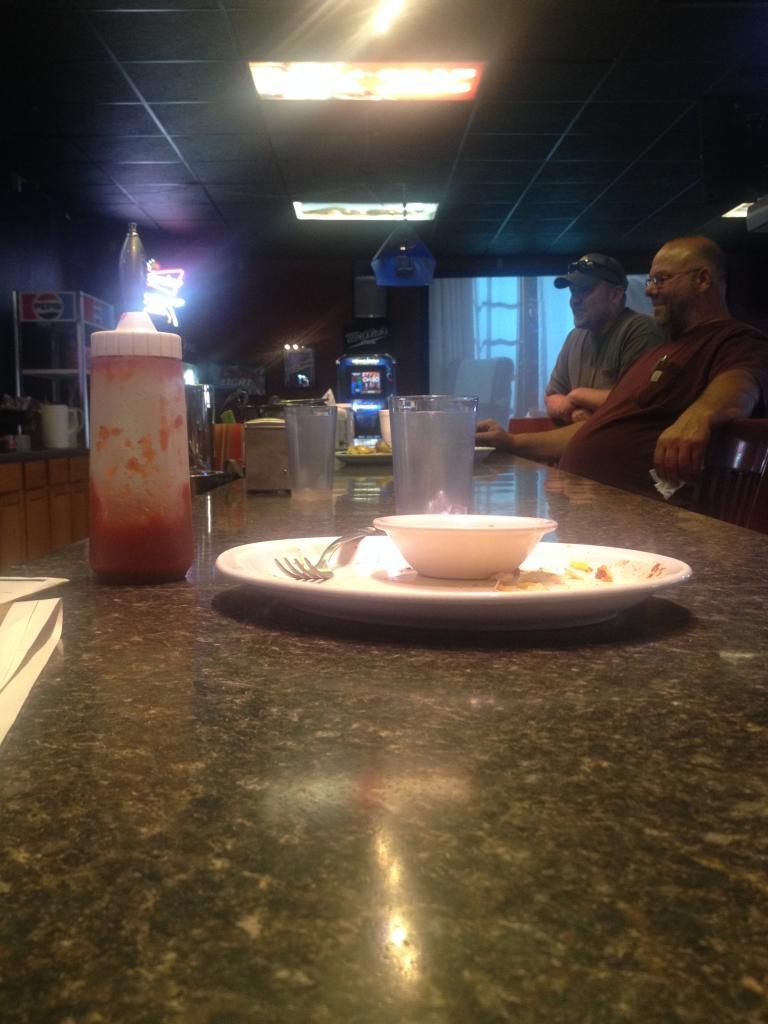 Hello Fellows!
The Crowd:
In reading a lot of the response about Billie's on the HTD Facebook page, I bet this is the place to be on a Friday or Saturday night for a good old time. Now, when I was here, it was mostly just a few older dudes having lunch and drinking lemonade. Toward the end of my visit, a guy that looked like Uncle Rico form Napoleon Dynamite showed up, slugged down a beer, and went on his merry way. The rest of the crowd here could not have been more friendly to the outsider (that would be me) who was clearly the new guy at the bar. I'm sure Billie knows who all was there that day, so buy them all a beer for me and I'll settle up with you on my next visit!
Service:
Friendly small town bar = friendly small town service. (See Cliff's Notes comment above)
Price:
Busch Light cans were setting me back $2.25. And the Philly Cheesesteak that I ordered (and came out on toasted Texas Toast and was surprisingly great that way) was less than $5.
The Tagline Says It All
Food:
On a food note, I was there on enchilada day...and they also looked pretty damn good. What you'll like when you stop by here is the homemade nature of all the food I saw coming from the kitchen that day.
Entertainment:
What you would expect...jukebox...pool table...plenty of TVs to watch a game on. But, in doing some research, I did notice that a few months ago they had an evening of hot oil wrestling. I can only imagine how that evening turned out? For those that were there, any pictures of that evening will be added to this post if you send them to me! And let me know if you have any upcoming "Foxy Boxing" matches scheduled for the Fall too.
Restrooms:
Much like the rest of Bille's, good and clean. There was some sort of spit cup on the wall in the men's room...I'm sure there's some story behind why it's there in the first place. Or, maybe it's just there to spit into. Sometimes I seem to over think things hanging on the walls in men's rooms...character flaw on my part.
Side Note:
Billie's is easy to find if you're driving from Omaha. Drive to Wahoo and get on Nebraska 92 going west. Keep driving until you see a store called "Pump N Munch"and bang a right. (Pun intended)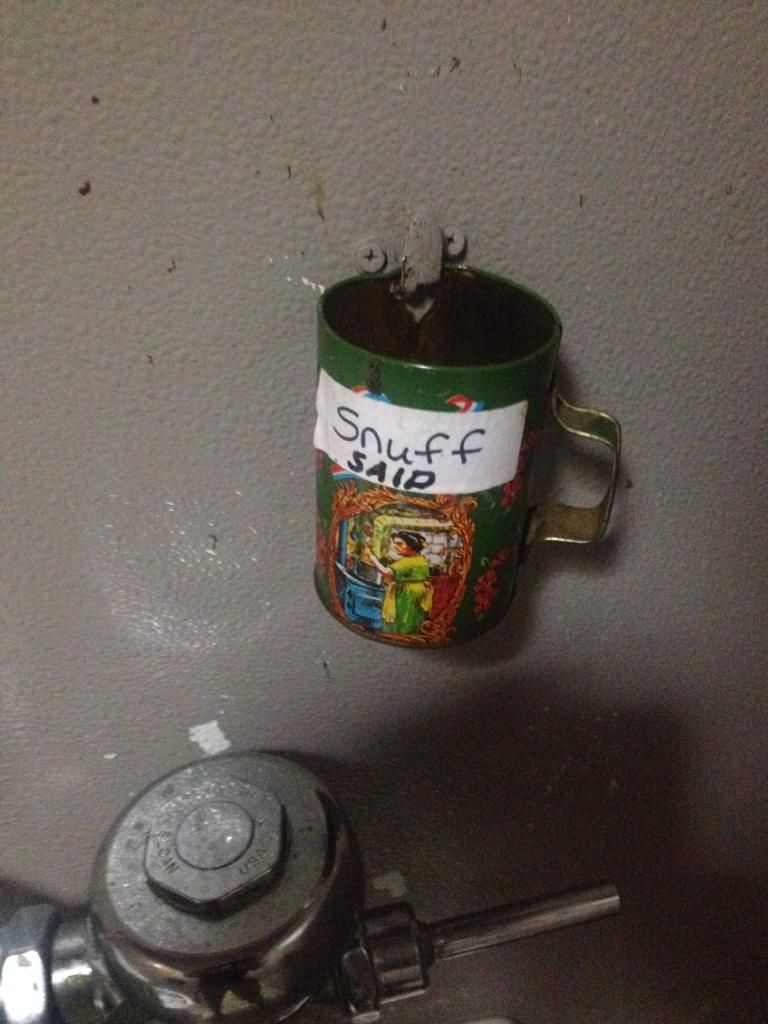 I Didn't Spit
Final Impressions:
I wasn't here long enough to give Billie's a final score...so I guess I'll have to go back! Although, I don't really need to do a whole lot more research to know that this is a great place that if you like a fun down home bar scene, you'll fit right into this bar with no problems. So, back to an earlier question...is Billie's actually TOO nice to be a "dive".
The HTD definition of a dive bar is pretty simple...and that is it's the people IN the bar that make it a dive (that IS a term of endearment) and NOT how a bar looks... for good or for bad. So, much like the Homy Inn IS NOT A DIVE BAR...a place like Billie's is a "dive" simply by the fact that it's frequented by a group of hardworking local people who I can only assume know how to cut loose after work or on a weekend night.
Billie's Bar is definitely worth a stop if you're even in that neck of woods...I know I'll stop by for a few next time I'm out that way. Thanks Billie! Hit This Dive.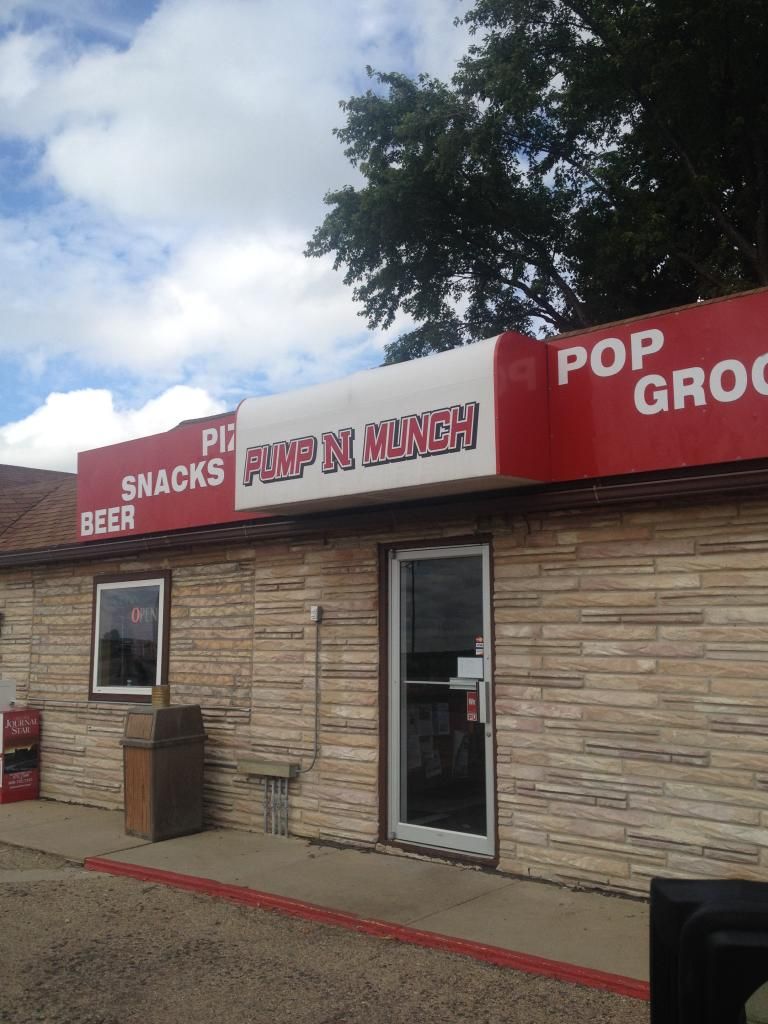 Just Look for the Pump N Munch!