148 North Main Street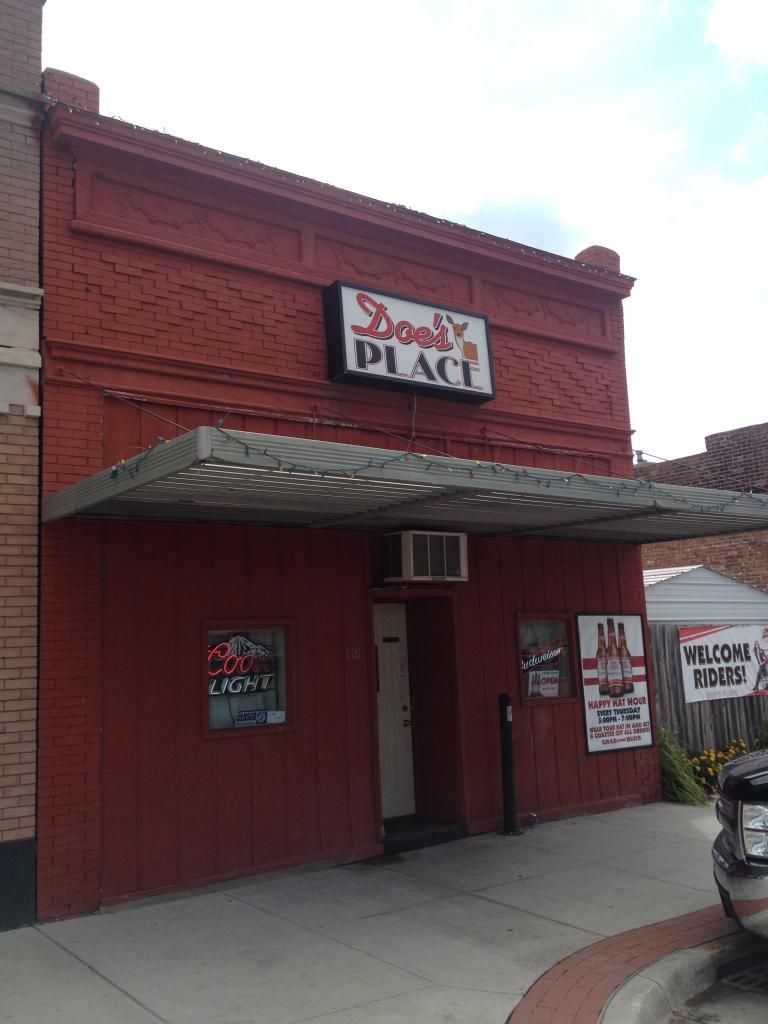 Welcome to Doe's Place
Fremont, NE 68025
402-727-9825
Kids, did I ever tell you about the time I was transported back to the year 1971 after walking into a bar in Fremont? Really? I didn't? Remember, the story that included free "Alabama Slammer" Jello-O shots, a scene right out of the Twilight Zone, and a John Wayne movie that I had never heard of before? I didn't? How did THAT slip my mind.
Well, in that case, go grab me the entire six back of Tall Boys out of the fridge, pull up a chair, and take the phone off the hook. Yes, "take the phone off the hook", that's what I said. You don't know what that means? Oh for crying out loud, just put your damn iPhones on mute. And, before you ask, no you can't get the new iPhone 6...end of discussion.
It all started one Saturday afternoon...
PROS: Great bartender. Real people hang out in here. A melancholy feel, in a good way (if that's possible).
CONS: Some dude sitting in the bar had his new shoes stolen off his feet the night before. Rod Serling never made an appearance.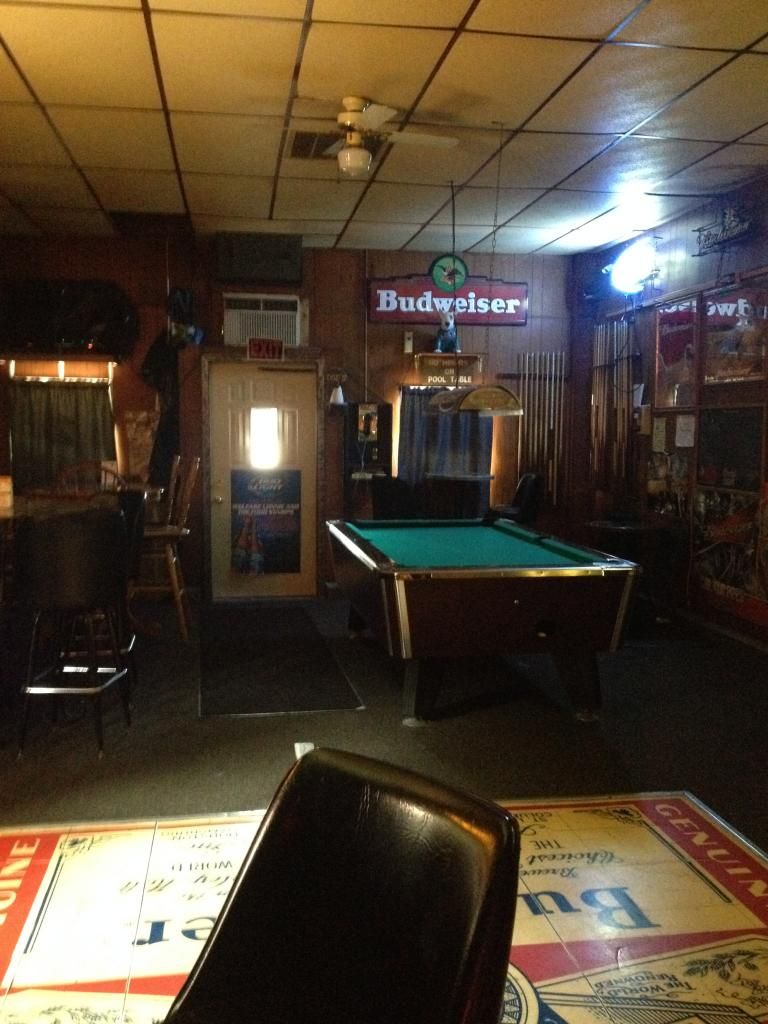 Plenty of room for such a small bar
First Impressions:
Imagine if you will, you're traveling through another dimension. A dimension not only of sight and sound but of mind. OK, that's going a little too deep, but just down Main Street in Fremont, a few blocks from the cluster of dive bars in town sits Doe's Place. It looks like any other bar in Fremont from the outside, but because it's a few blocks down from the other ones, it seems to be isolated in its own decade.
Letting my eyes adjust the the extreme contrast of a sunny day, and a very dark bar, the first thing I noticed was a group of older men sitting at a table playing cards that reminded me EXACTLY of the picture of
dogs playing poker
. As I grabbed a seat at the end of the bar I hear a loud THHHH-WACK! "Just need to get these guts off the counter" the bartender said as I sat down. Pesky fly 0...fly-swatting bartender 1. I take a look around and see that there's a John Wayne movie playing on the TV (this is foreshadowing, remember it for later). So far, so good.
Dogs playing poker!
The Bar:
Standard-looking bar area. Nothing fancy, but certainly not a dump by any stretch. And for what it's worth, Doe's has some surprisingly nice tables throughout the entire place. The bar seats roughly 10 people and has your choice of Bud or Bud Light on draft. Looking to catch a quick smoke? Just walk right outside using the door by the bar and you are good to go rain or shine thanks to the patio covered by a Menard's carport.
And thumbs up to a bar that can cram just about as much stuff in to one tiny bar as I've ever seen, but still has enough room to shoot pool. This place is magical I tells ya'! Of note...my can of Busch Light was a bit smelly, not the beer (although some will argue with me on that too) but the can itself. Hold your nose and drink I suppose, right?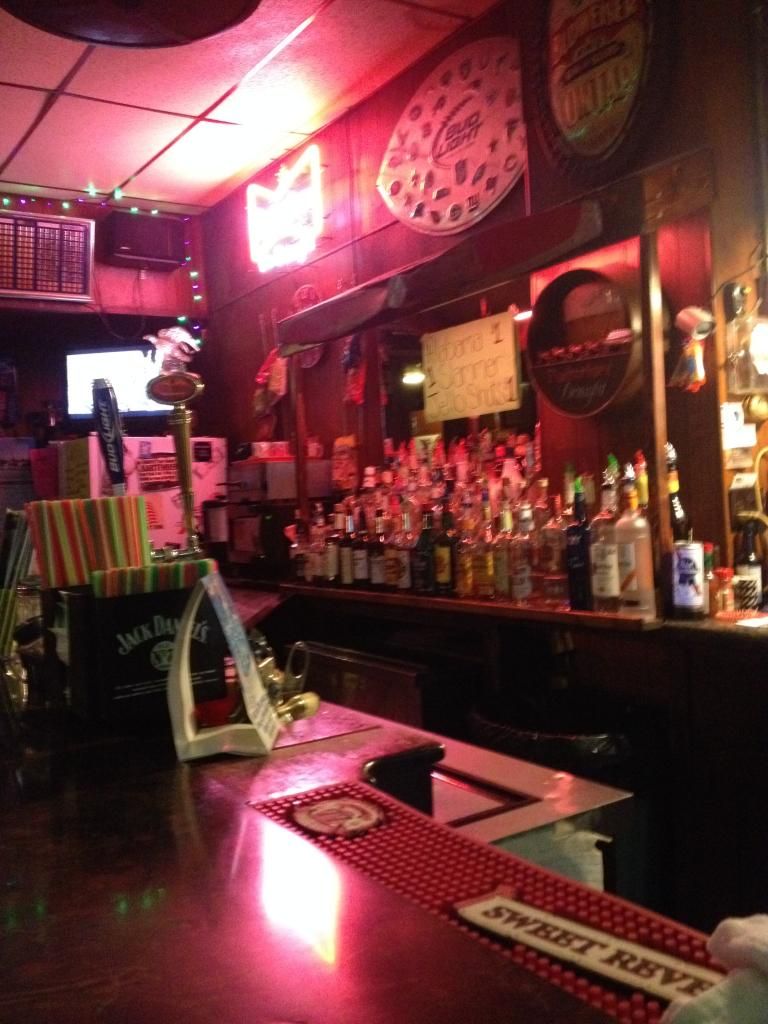 No flies...for now
The Crowd:
Well, let's see...you have the table of dudes playing Hearts...a few people that were trying to shake off yesterday's hangover by drinking cans of pop (or soda, depends on where you're from)...a few hard working farmers...and eventually a tan version of Boo Radley.
In a scene that I will never be able to forget, when asked where his new shoes were Boo, sort of matter-of-factly uttered that they were stolen the night before. Presumably off of his feet while he was "sleeping". He was roughly my age, looked thoroughly defeated in life, and sat quietly at a table by himself.
For those of us that have complains about the size of the new iPhone, or the leather seats in your SUV burned the backs of your legs, take note...this is a person with REAL problems. I wanted to buy him I drink, or snap a quick picture, then I thought to myself some people come to bars to be with other people, and some want to be totally alone (around other people) and decided to leave him alone. Good luck in life my friend, if anyone deserves a new pair of shoes ever again...it's you.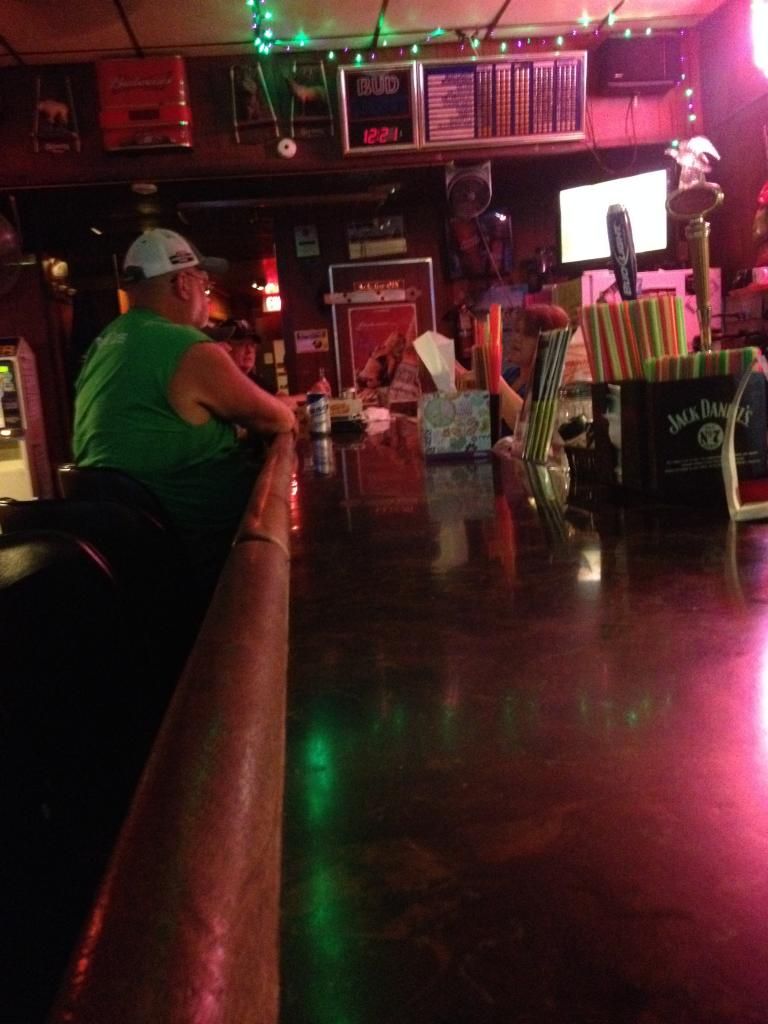 Just chillin'
Service:
Faster than John Wayne with a six-shooter, the great bartender (occasionally on her flip phone) was as fast at slinging me another beer as she was with her trusty flyswatter...KAPOW!! Bartender 2 -- Pesky flies 0. I didn't even finish my first beer out of the smelly can before she cracked another for me without asking. Yes! Two sips into that one and she offers me up a free Alabama Jell-O shot...who am I to say no?
Prices:
Standard dive bar pricing, I think I was paying $2.25 for cans of domestic beer. Looked like the Jello-O shots were a buck, if I didn't get mine for free, and they have quite an extensive collection (14 different flavors) of pop for sale for $1.50. Who comes to a bar and buys a can of Squirt, when you can pay .75 more and get a beer? Well, other than the people to my right drinking Diet Coke, so forget I asked.
Food:
Didn't look like much more than Slim Jims and pickled eggs (.75 each) for food options. But, on a neatly hand-written sign behind the bar they did mention that Friday is "Free Food Friday Noon-until it's gone!" While not actually food-related the sign also noted that the band "Welfare Lonnie and the Food Stamps" played there the night before as well. Almost sorry I missed that one....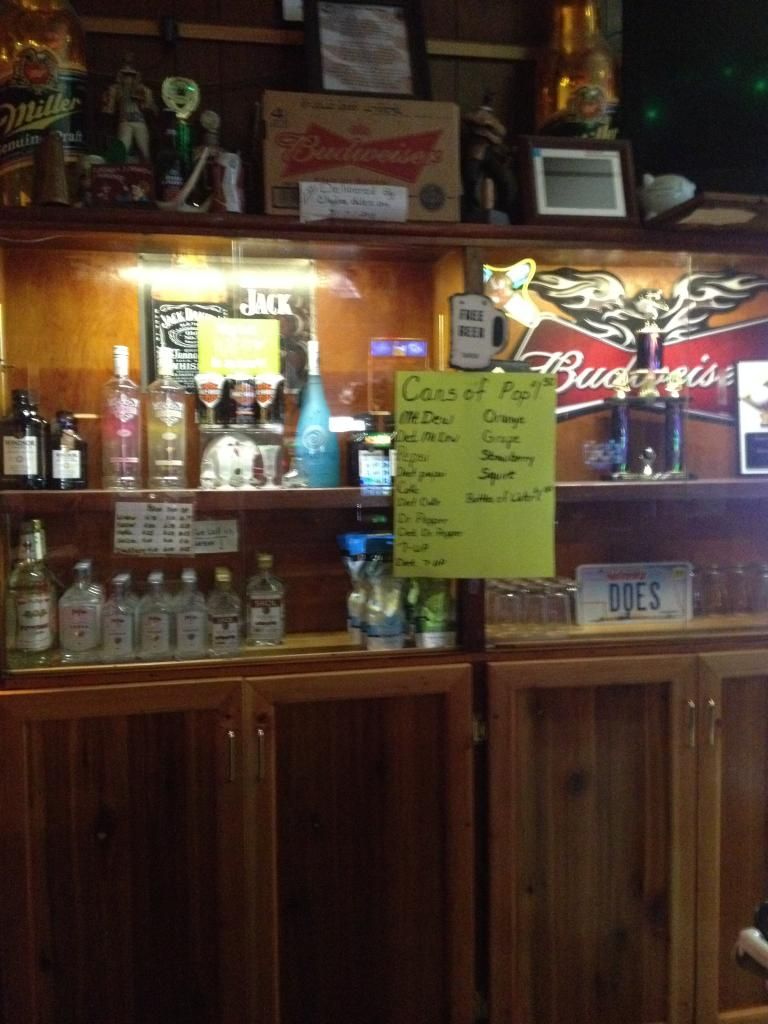 14 kinds of pop
Entertainment:
Standard bar stuff...pool table...dart board...tons of sketchy games of chance that I'm never really sure how to play...and...three TVs. Now, on one of those TV's was a John Wayne movie (as has already been mentioned). Not being the world's John Wayne movie fan, I finally had to ask a guy sitting next to me what movie it was. With out hesitation, the entire bar says in-unison, BIG JAKE!!".
Two things happened at the exact moment, I was immediately reminded of The Lemonheads song "
The Outdoor Type
" because any ounce of dive bar "cred" I may have earned with this crowd was immediately gone for asking such a stupid question. For those that don't know the lyrics from The Outdoor Type here's just a few of them..."I've never slept out underneath the stars, closest that I came to that was one time my car broke down for an hour in the suburbs at night, I lied about being the outdoor type."
For whatever reason, I was OBSESSING about what the vibe of what year this bar was giving off. 1967? Nope 1979? Nah. 1959. No that's not it either. It was like the "spirits of dive bars past" wanted me to write down a specific number...keep in mind that I rarely (if ever) obsess about anything. And certainly nothing as totally meaningless like this. Finally, it hit me 1971...and for whatever reason...it was like I could move on. Like that was the correct answer to a pop quiz from a bunch of drunks long gone. I even made a note that just said "odd" next to the numbers 1971 when I finally was able to do something constructive...like check out the men's room!
A few hours later I got home and decided to look up more information on the movie Big Jake. So off to IMDB I go. Movie -- Big Jake. Starring -- John Wayne. Filmed --
1971
! For whatever reason, that kind of freaked me out, if only for a bit. OK...maybe that wasn't totally from The Twilight Zone...but I think I do need to run this story by Psychic Andy Meyers next time I see him. In retrospect, I should have played the same numbers that day in Keno and moved on with my day.
Restrooms:
Small. Clean. Not too horrible. If anyone from Doe's ever reads this...it looks like it's time for a new Air Wick in the men's room. The current one looks like it's been around since...you guessed it...1971!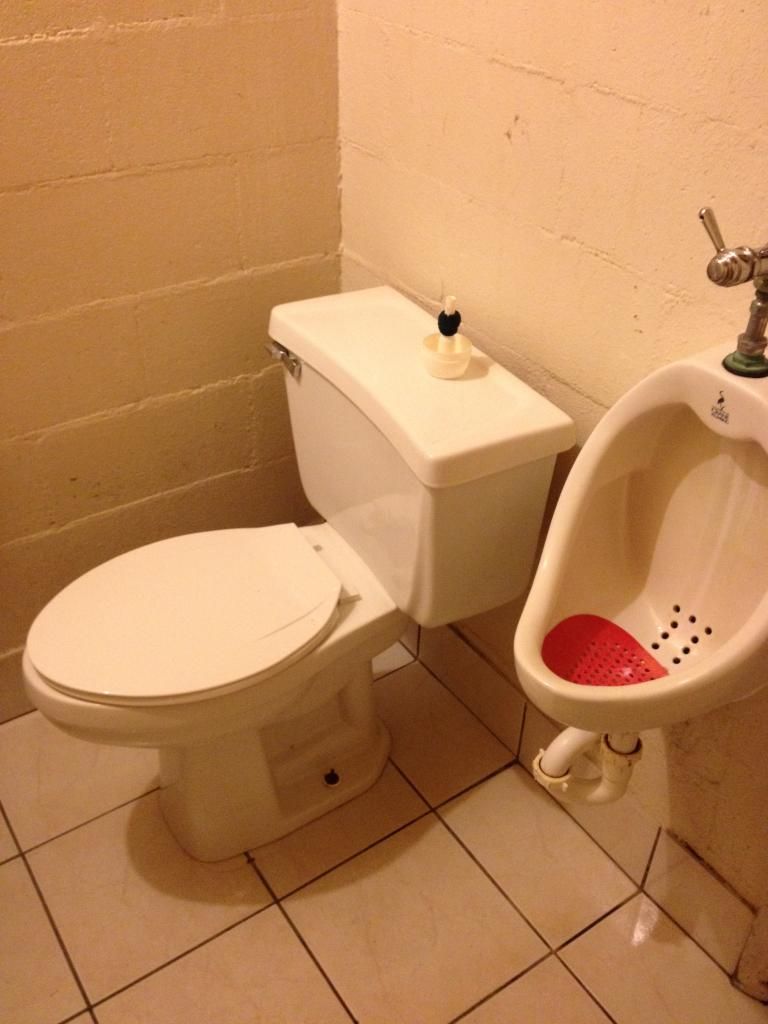 I can live with this
Bartender Chat:
When not hunting down every last fly in the joint, my bartender for the day (Max I believe) was a hoot to talk with too. And, it's hard to argue the logic of a bartender that says things like "When I wanna get drunk, I cut right to the chase. Shots!" Amen, sister. Amen.
Final Impressions:
I walked out of Doe's not really sure what the hell happened? Last time I ever do an Alabama Slammer Jell-O shot...I know that much! Ultimately, I gained an even deeper level of appreciation of people that hang out in local bars, work hard jobs at a place like the nearby Hormel Plant in town for $8.75 and hour, and could spend their entire day complaining that life wasn't fair...but chose not to.
As I said in the "Pros" of the bar that there was "melancholy feel, in a good way" at Doe's...and I'm sticking with it. My time at here was far more moving to me on a personal level than I could have ever imagined. Sometimes life is hard. Sometimes people steal your shoes. And maybe, just maybe, if you acknowledge some of those simple facts (and not let them get you too down) you can find a way to stagger back to a bar where your friends hang out and see if today just might be slightly better than the day before. If not, you're in luck...you're already at a bar so just cut right to the chase...shots!
Hit This Dive!
Dive-O-Meter
7.5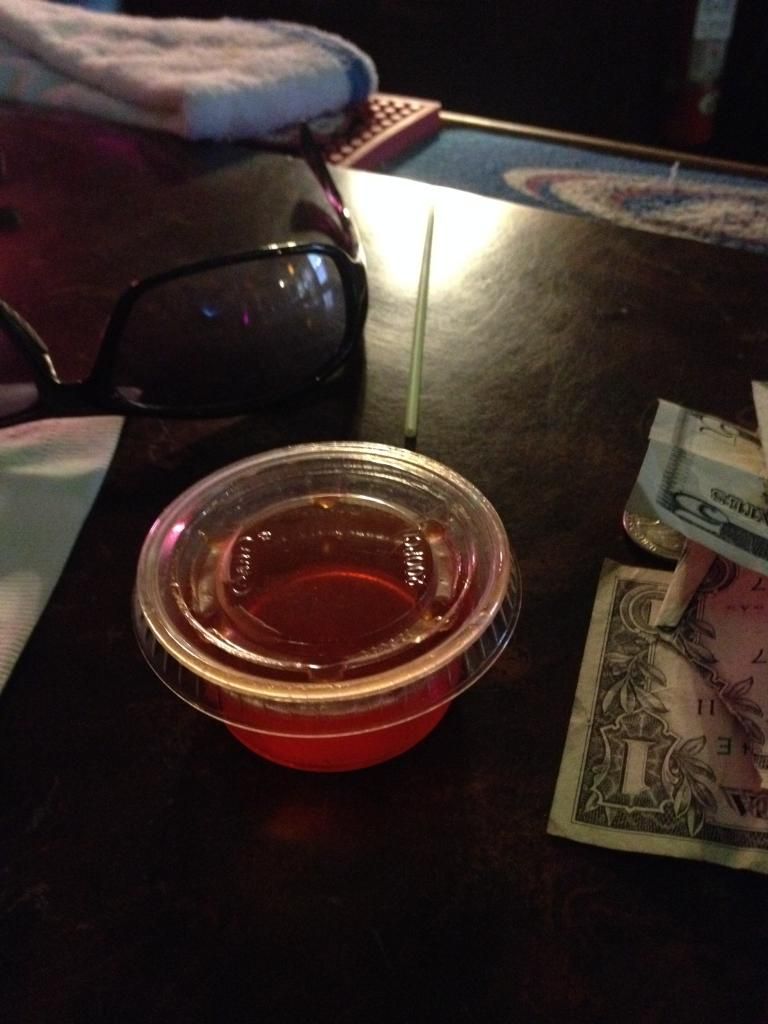 I blame this